Hope Street Writer in Residence
In collaboration with the visual/literary arts and culture journal The White Review, the Centre hosts an internationally renowned writer for one week every year.
Our Hope Street Writer in Residence for 2022 is Joelle Taylor.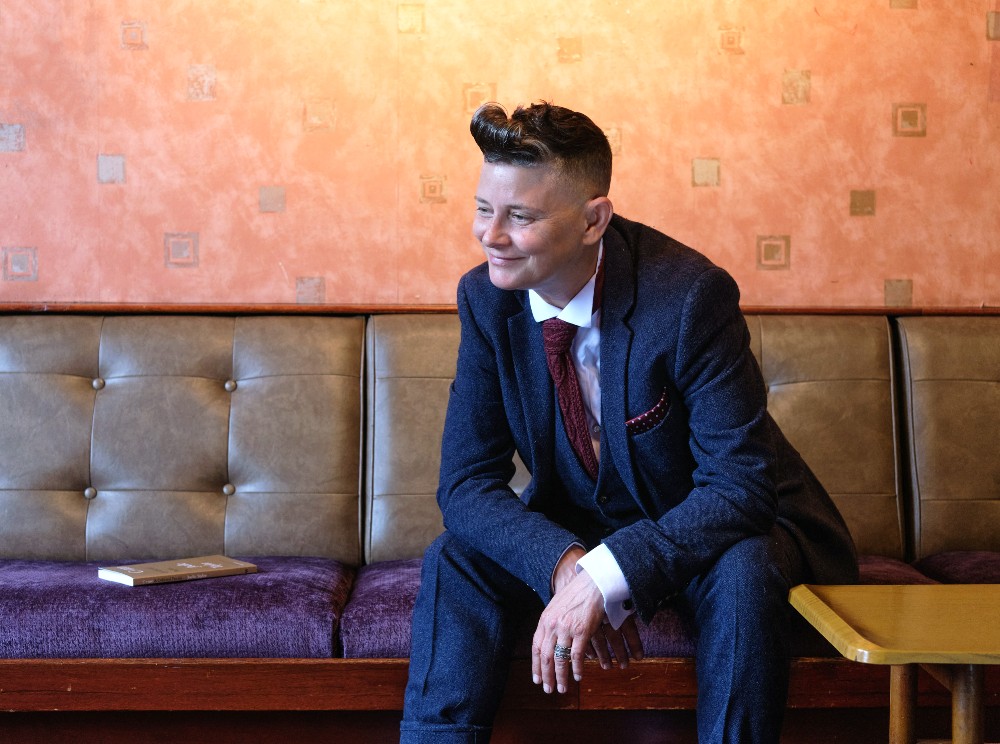 Joelle Taylor is an award-winning poet and author who prior to the pandemic completed a world tour with her collection Songs My Enemy Taught Me. She founded SLAMbassadors, the UK national youth poetry slam championships, as well as the international spoken-word project Borderlines. She is widely anthologised, the author of 4 collections of poetry and is currently completing her debut collection of inter-connecting short stories The Night Alphabet. Her new poetry collection C+NTO & Othered Poems was published in June 2021 and is the subject of the Radio 4 arts documentary Butch. C+nto was shortlisted for the T.S Eliot Prize 2021, been named by The Telegraph, the New Statesman, The White Review & Times Literary Supplement as one of the best poetry books of 2021, as well as DIVA magazine's Book of the Month, and awarded 5 stars by the Morning Star. She has received a Changemaker Award from the Southbank Centre, a Fellowship of the RSA, and her poem Valentine was Highly Commended in the Forward Prize. She is a co-curator and host of Out-Spoken Live, the UK's premier poetry and music club currently resident at the Southbank Centre. She is the commissioning editor at Out-Spoken Press 2020-2022.
C+nto & Othered Poems is the winner of the TS Eliot Prize for Poetry 2021.
As part of the residency, Taylor will be leading a creativity workshop for University of Liverpool students on Monday 25th April, 11AM-1PM in Flex Room 1, 502 Teaching Hub on campus.
She will also be leading a poetry workshop in the Everyman Theatre Bistro from 5:30PM - 7PM on Wednesday 27th April, in collabration with A Lovely Word. Please email alovelywordpodcast@gmail.com with "Joelle Taylor 27th April" in the email subject to sign up.
www.joelletaylor.co.uk
Our Hope Street Writer in Residence for 2020 was Prof Thomas Glave. Born to Jamaican parents in The Bronx, New York, Glave grew up there and in Kingston, Jamaica. He earned a B.A. degree from Bowdoin College in 1993 (Cum laude, English and Latin American Studies) and a Master of Fine Arts degree in Creative Writing from Brown University in 1998. He is a member of the English faculty at the Binghamton University, where he teaches creative writing and courses on Caribbean, African-American, black British, postcolonial, and L.G.B.T./queer literatures, among other topics. Glave possesses dual Jamaican and U.S. citizenship. Glave is the author of Whose Song? and Other Stories (City Lights, 2000), The Torturer's Wife (City Lights, 2008), the essay collection Words to Our Now: Imagination and Dissent (University of Minnesota Press, 2005), and is editor of the anthology Our Caribbean: A Gathering of Lesbian and Gay Writing from the Antilles (Duke University Press, 2008). Whose Song? garnered considerable praise upon its publication, drawing admiration from writers like Nadine Gordimer, Gloria Naylor, Clarence Major, and in reviews in publications like The New York Times Book Review, The Washington Post, the San Francisco Chronicle, the Hartford Courant, and The Globe and Mail. Among the Bloodpeople: Politics and Flesh Paperback – July 2, 2013 Named a finalist for the 2014 Lambda Literary Award in LGBT Nonfiction! Included in the 2014 Over the Rainbow list Selected by Publishers Weekly as a Pick of the Week (July 1st, 2013)! Selected by The Airship/Black Balloon Publishing as a Best Book of 2013 "This collection is wide-ranging, moving from the Caribbean (Jamaica in particular) to Cambridge, England, and from poetry to sex to discrimination." --Library Journal (BEA Editors' Picks feature).
The centre hosted a free online event with Thomas Glave entitled 'A Reminder Letter to England' at 7pm on Wednesday 14th April.
Read two students responses to Thomas Glave's residency from undergraduates Kaya Purchase and Elle Donnelly.
In 2019, the Hope Street Writer in Residence was Nuar Alsadir.
In 2018, Hope Street Writer in Residence was writer Meena Kandasamy. The Centre for New and International Writing, in association with the White Review, hosted Meena Kandasamy and author Preti Taneja reading at the Bluecoat.
Prior to that, it was the philospher and cultural theorist Rosi Braidotti.
In 2016, it was celebrated poet, Forrest Gander.