News & Events
LISCO Involved Sustainable Management of UK Marine Resources (SMMR) Projects
LISCO partners are involved in two of the six projects to successfully gain funding from the Sustainable Management of UK Marine Resources (SMMR) programme of marine research, which aims to address critical gaps in understanding identified by UK policy makers.
The Co-benefit Solutions for Resilient Coasts (Co-Opt) project is being led by LISCO member Laurent Amoudry from the National Oceanography Centre, with the participation of other colleagues from NOC and the University of Liverpool. The project will deliver a new, integrated and interdisciplinary system-based framework that will effectively support the required transition from hard 'grey' defences to softer 'green' solutions in coastal and shoreline management. For more information visit: https://www.smmr.org.uk/funded-projects/co-benefit-solutions-for-resilient-coasts-co-opt/
The Integrating Diverse Values into Management will look at the many dimensions of value including economic values, social and cultural values, aesthetic values, and natural values, and how they might be accounted for in decision-making frameworks. Stephen Jay from the University of Liverpool is a co-investigator in the project. The overarching goal of this project is to generate a step-change in the transdisciplinary capability of the UK marine policy stakeholder and research community to implement diverse values into decision making. For more information visit: https://www.smmr.org.uk/funded-projects/integrating-diverse-values-into-management/
---
SimAtlantic Online Project Conference – 15th September 2021
The SIMAtlantic conference is a free online event on "Lessons from the European Atlantic for implementation of maritime spatial planning in transboundary contexts". The aim of the conference is to share learning and best practice from the SIMAtlantic project and elsewhere around Europe, to assist in shaping future cooperation and coherence in maritime spatial planning (MSP).
The sessions are aimed at a wide audience from researchers to policymakers, practitioners and stakeholders, while including everyone who shares an interest in maritime spatial planning, particularly the benefits and challenges of transboundary working. Sessions will take place in English and are designed to facilitate discussion.
The conference is free to attend, and you can choose up to four sessions that interest you by following the link and registering (times are UK/Ireland time): https://www.simatlantic.eu/conference/
Shared Visions for Marine Planning: Insights from Israel, South Africa & the United Kingdom. Tues-Wed 9th-10th March 2021 .
LISCO is organising this online symposium in collaboration with Technion Israel Institute of Technology, and Nelson Mandela University, South Africa.
Please register here to join this event and receive the full programme: https://shortest.link/MSPSYMP
---
Virtual Day at the Beach - 1st May 2020
Fancy a Virtual Day at the Beach? 1st May 11:30-13:30 and/or 2nd May 12:30-14:30 Join us online to write a coastal community poem and build word clouds about your favourite coastal walks.
To take part in activities visit https://twitter.com/wirewall_noc for instructions starting 1st May from 11:00 and 2nd May 12:00. You don't need a twitter account.
#virtualbeach #beachpoem #coastalhazards #AGU100 #digitalscience&art
---
Crosby Coastal Walk
Through the coming together of science and the arts a narrated coastal walk along Crosby's shoreline, north of Liverpool, has been created between Hall road and Waterloo train stations. This has been developed to raise awareness of shoreline change and coastal hazards. The poems capture changes in land use, coastal processes, shoreline management and observational techniques. By becoming more aware of changing coastal conditions we hope people will contribute to the Vision for Crosby's Coastal Park.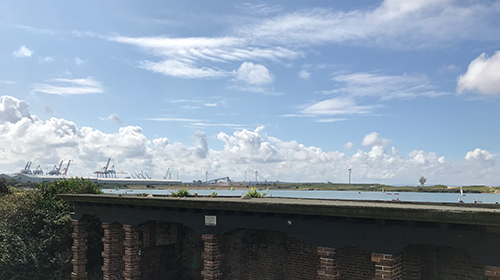 Join us and download the GPS waypoints and MP3s from: http://noc.ac.uk/changing-shores-crosby or take a look at our video playlist: https://www.youtube.com/playlist?list=PLoYJVOchmO7HtiWLMwU8q6WLQcZ91prSf
---
Coffee-Time Discussion - 26th June 2019
Today we held a coffee-time discussion about the Blue-Green Energy Theme. 6 of the 12 people who are affiliated with this theme attended at NOC at 3:30pm today. We discussed the following topics:
Getting people to sign up to LISCO and the theme
Adding links to present and past projects
Identifying activities to carry the theme forward
We agreed it was a useful conversation and we intend to repeat it in a few months.
---
Friends of Crosby Beach Marine Awareness Day – 18th May 2019
On Saturday the 18th of May LISCO representatives from the University of Liverpool and the National Oceanography Centre attended the Marine Awareness Day. Despite initial reports of rain the weather surprised us with what turned out to be a lovely sunny day. The event was a great success and members of the public were invited to discuss all things coastal with members of the team or get involved in the activities on offer. Members of the public had a chance to learn how the WireWall project can help obtain wave overtopping data using the latest technology to help develop site specific safety responses to inform flood risk response plans as well as calibrate and validate overtopping systems and models using a scaled down Lego version of the equipment and water pistols. There was also the opportunity to get involved in some skate and shark egg case identification with some samples collected from the area. There were a host of other interesting stands to visit including Greenpeace, Green Sefton, the RSPB and the RNLI to name but a few. It was a fantastic day and great fun for all who attended.
---
LISCO European Maritime Day Event – 13th May 2019
To mark the end of the first day of the Strategic Partnership for Marine Spatial Planning (MSP) Summer School and to celebrate European Maritime Day LISCO hosted an informal series of talks by LISCO members on some of our areas of research. Sue Kidd from the Department of Geography and Planning gave a talk on the ESPON funded INTERPLACE project which investigates how Land-Sea Interactions can be addressed by MSP. Marcelo Gomes from Earth, Ocean and Ecological Sciences presented his work on fish responses to environmental drivers in nearshore areas. Finally Lisa Eastwood from the National Oceanography Centre spoke about the WireWall project which by monitoring wave overtopping of flood defence can help to mitigate the impact of rising sea level on flood hazards. The event was attended by students from the University of Oldenburg (Germany), University of Nantes (France), Breda Institute for Applied Sciences (Netherlands), and the Leibniz Institute for Baltic Sea Research as well as LISCO members. The event was concluded with and opportunity for networking and some lively discussion.
---
The Ocean Tide and the Port of Liverpool – 11th May 2019
This engaging event held at the iconic Liverpool Maritime Museum was organised by the National Oceanography Centre (NOC) and the University of Liverpool, in association with the Centre for Port and Maritime History (University of Liverpool, Liverpool John Moores University and Merseyside Maritime Museum) and LISCO. The event marked the 100th Anniversary of the Liverpool Tidal Institute, which was founded at Liverpool University in 1919 and is now known as the National Oceanography Centre. The event was opened by Philip Woodworth of NOC who gave an introduction to the Ocean Tide and the Port of Liverpool as well as a brief history of the Liverpool Tidal Institute. This was followed by a series of talks, many from LISCO members who are experts in their field. Topics covered included tidal energy, the impact of tides on the banks of the Mersey and tides and the Earth's climate. All of the presentations from the event can be found on the NOC website.