Dr
Kevin
Hamill
PhD
Senior Lecturer
Eye & Vision Sciences
Research
How does the cellular microenvironment influence cell behaviour?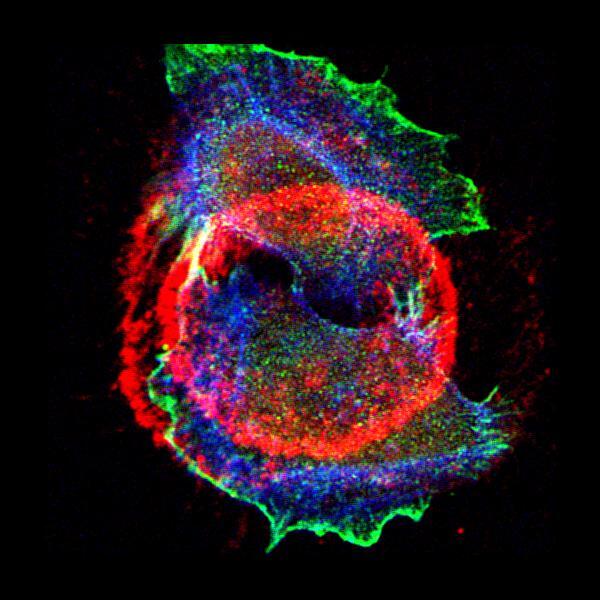 Research in the Hamill lab is broadly focused on understanding how the behaviour of cells is controlled through interaction with their local environment (microenvironment).
Generally, this work is at the protein-protein, signalling pathway and cellular phenotype level and is therefore applicable to a wide range of situations. Indeed, one of our key interests is asking how the specific microenvironmental features of tissue context, developmental stages and disease states influence the way the cells respond.

Specific questions that are currently being investigated;
1) Understanding the role of laminin network assembly status as a regulator of corneal homeostasis, epidermal wound repair, cancer stem cell maintenance and angiogenesis
2) Dissecting the role of LaNt proteins in regulating laminin network assembly and outside in signalling
3) Investigation the contribution to LaNt proteins to squamous cell carcinoma development, invasion and metastasis
4) Post-transcriptional regulation of laminin production

Our approaches span from histological examination of whole tissue, through genetic analysis, -omics, minigene constructs, to cell and molecular biology approaches including live cell imaging and live fluorescent protein imaging in two, three and four dimensions.

Read more about projects in the Hamill lab here as well as seeing images and videos from our work.Hamill lab web pages
Sunscreen application and UV protection
Our discovery science work in the lab has led us to a deep interest in how skin cancers develop and spread. Working with our clinical collaborator Austin McCormick, an oculoplastics surgeon who specialises in eyelid tumours, we have begun to investigate behavioural aspects that contribute to disproportionately high incidence of cancers in the eyelid.

Using a specially modified camera that only responds to ultraviolet light we have investigated if common issues occur in routine sunscreen application in order to inform the public of potential dangers. Ongoing work is looking into make up formulations and longevity of coverage.

Read about some of our research here How well do you apply sunscreen?

This work is also run as public engagement events, for example at the world museum, where we run the "sunscreen challenge" inviting children and adults to see how effective their sunscreen usage really is.

This work has received some press attention, including featuring on programs on the BBC and ITV.Telegraph Story Story on University of Liverpool website

Read about our public engagement events on the lab blog;Sunscreen challenge blog post
RNA-based therapeutics
As our discovery science projects have progressed they have led to identification of new targets and potential new mechanisms to develop interventions for a variety of conditions.
About half of the researchers in the Hamill lab now work on trying to exploit these new avenues, to take our research from the bench to the bedside.

Our focus at present can be broadly classified as RNA-based therapeutics; we are developing three independent projects;
- Modification of splicing and alternative polyadenylation in cancer development, in collaboration with Drs Janet Risk, Simon Tew and Tobias Zech Description of cancer project
- RNA activation as a mechanism to increase expression in haploinsufficiency disorders including aniridia, in collaboration with Prof Colin Willoughby at the University of Ulster
- Using RNA-based interventions to target and reduce expression of proteins driving the development of glaucoma with Prof George Bou Gharios and Prof Colin Willoughby

Each of these projects involve progressing from in vitro cell and tissue model testing of novel compounds including delivery mechanisms moving to pre-clinical models of disease as the projects advance.
Research Grants
Consumables for research of ocular surface wounds with LaNt a31
ROYAL LIVERPOOL AND BROADGREEN UNIVERSITY HOSPITALS NHS TRUST CHARITABLE FUNDS (UK)
December 2019 - December 2021
Super-resolution imaging of laminin deposition and organisation
BIOTECHNOLOGY & BIOLOGICAL SCIENCE RESEARCH COUNCIL
July 2017 - July 2022
Characterisation of LaNt roles in basement membrane formation in wound repair and angiogenesis
BIOTECHNOLOGY & BIOLOGICAL SCIENCE RESEARCH COUNCIL
September 2014 - June 2018
To investigate the role of the extracellular microenvironment in the development of limbal stem cell failure in aniridia
FIGHT FOR SIGHT (UK)
October 2014 - December 2019
Expansion of Foundation for the Prevention of Blindness Appeals Team: Marketing and Communications Officer
FOUNDATION FOR THE PREVENTION OF BLINDNESS (UK)
May 2016 - April 2020
A multimodal imaging platform with real-time super-resolution for research across the life sciences
BIOTECHNOLOGY & BIOLOGICAL SCIENCE RESEARCH COUNCIL
May 2018 - April 2019
Unravelling the molecular mechanism of CCN2 in glaucoma
FIGHT FOR SIGHT (UK)
October 2016 - September 2019
2014 allocation - Wellcome ISSF non clinical fellowships
WELLCOME TRUST (UK)
May 2015 - October 2018
Dissecting the Role LaNts and their Receptors in Epidermal Wound Healing and Squamous Cell Carcinoma
BRITISH SKIN FOUNDATION (UK)
October 2014 - September 2017
Development of enhanced techniques for limbal stem cell culture via LaNt mediated modification of ex vivo substrates.
FIGHT FOR SIGHT (UK)
December 2013 - November 2014