Researchers Receive Awards from Kidney Research UK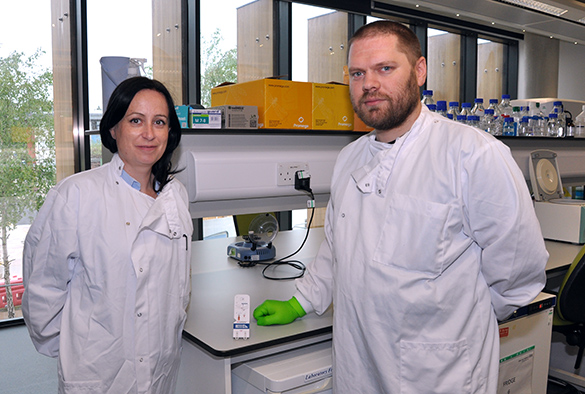 Two Faculty of Health and Life Sciences scientists have received awards from Kidney Research UK to further their kidney research.
Dr Andy Chetwynd – The GlyCAN Study
Dr Andy Chetwynd, a recent Tenure Track Fellow appointment within the Department of Biochemistry and Systems Biology, will receive £304,000 over the next five years via a Kidney Research UK Fellowship, to support his GlyCAN study.
He will expand upon his current work in children to understand the role of N-glycosylation of immunoglobulins in kidney inflammation in both adults and children. As well as understanding glycan-related disease drivers, he will also develop at home micro-sampling to collect samples more frequently, particularly during disease flare ups. This will allow him and the team to correlate glycan profiles with symptoms permitting earlier stratification and therapeutic intervention.
Dr Chetwynd said: "The methods I develop in this fellowship will allow glycosylation profiles to be characterised in a patient population – paediatrics and kidney diseases cohorts - that has been underfunded for many years. The findings will help stratify patients for more targeted treatment programs and the methods can be applied in the future to any other kidney disease or wider afield."
Dr Louise Oni – The SISTA Study
Dr Louise Oni, Senior Lecturer in Paediatric Nephrology in the department of Women's and Children's Health, has received £203,000 to fund her research project into Immunoglobulin A vasculitis.
The SISTA Study, as it's known, will involve a systematic evaluation of urine biomarkers in IgA vasculitis (HSP) to define biological thresholds and stratification for treatment.
Immunoglobulin A vasculitis (IgAV) is a disease that occurs due to an overactive immune system and is more common in children. The disease develops with very few initial symptoms, usually only indicated by a rash on the legs. In some cases, the disease can lead to inflamed kidneys which can be a very serious threat to a patient's health.
Children whose kidneys are inflamed will need a kidney biopsy and immune dampening treatments. At present, the success of this treatment is not guaranteed, and kidney failure is a real risk for many. Dr Oni's study hopes to better understand the root cause of this condition to "predict and prevent" kidney failure.
Dr Oni said: "This award is very special as it will provide important funds to support a rare kidney disease project that has been poorly studied. It also more commonly happens in children who are a vulnerable population in health care research. It will look for clues to stop kidney failure which is devastating for children and their families."
Professor Claire Eyers, Associate Pro-Vice-Chancellor for Research and Impact (HLS) said: "The work of Dr Chetwynd and Dr Oni showcase the possibilities of what can potentially be achieved for patient benefit by linking expertise in analysis with a real clinical need. Their KRUK-funded work, which is a genuine partnership between the University of Liverpool and Alder Hey Children's hospital, will drive understanding of these rare kidney diseases and serve as a platform for building closer ties with Kidney Research UK."