Cilla Ankrah-Lucas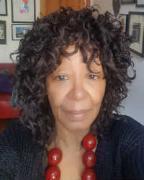 Cilla Ankrah-Lucas is a foster carer and a freelance trainer specialising in Equality and Diversity.
Following a long career in Social Work management in West London she moved to Liverpool in 2004. Cilla then went on to work for Liverpool Social Services as a safeguarding social worker. She has also worked closely with CAFCAS as a court reporter and as a Freelance Form F assessor, interviewing potential foster carers for Liverpool City Council.
She presently sits as a Magistrate at Liverpool Crown Court.