‌Results of a survey of the husbandry and health of pet and smallholder pigs in England
First of all, a big thank you to all 313 people who took part in our survey of smallholder and pet pig owners. Thanks to the enthusiastic response, we collected information relating to 3337 pigs of a wide variety of breeds from all over England. You can see the number of people who responded to the survey, mapped by postcode area below: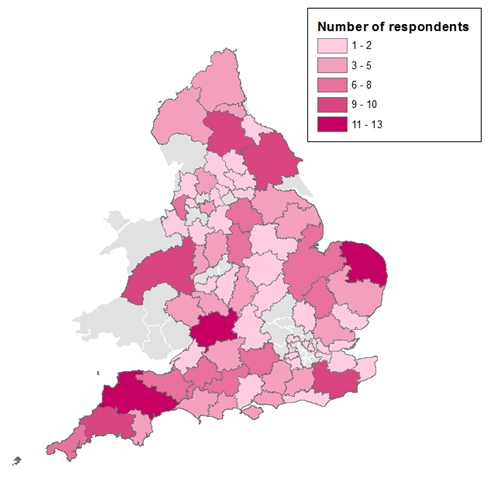 The most common reason for keeping pigs, which 45% of people chose, was to breed for meat, particularly those who owned British Saddlebacks or Oxford Sandy and Blacks. There were plenty of other reasons for keeping pigs such as breeding, showing, land cultivation, working with clients with special needs, and even racing! As you can see in the graph below we also found that pig owners are true animal enthusiasts, with 95% owning other types of animal as well, commonly 3 or more other species.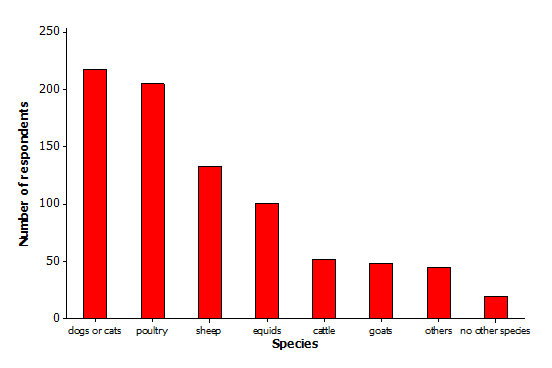 Forty percent of owners were vaccinating their pigs, and almost 80% were using worming products. Erysipelas was the most common disease vaccinated for, with Parvovirus second. A fifth of owners were unsure which diseases they were vaccinating for, this was a more common problem for people who bought their vaccines from a shop or a friend rather than their vet. We were pleased to hear that almost half of people had not seen any health problems in their pigs in the last year. Of those that reported health problems, lameness and skin disease were the most common.
Most people proved knowledgeable when it came to questions about regulations related to pig keeping. A proportion (12%) admitted to not being registered with DEFRA, this was more likely for those with fewer than five pigs, suggesting those with small herds are less aware of the requirement to register. Almost a quarter of owners admitted to feeding household scraps to their pigs, a practice made illegal as part of the swill-feeding ban introduced in 2001. It is tempting to make use of leftovers, especially when they are so well received! However this type of feeding has been associated with outbreaks of foot and mouth disease and African swine fever, so it is worrying that so many people are ignoring this rule.
On a brighter note, we were encouraged that most people were positive about the veterinary services they receive. Eighty percent were satisfied with the service, 90% considered their vet approachable, and veterinary surgeons were the most frequently chosen source of information about pigs. Perhaps less encouraging is that 40% agreed with the statement "I wish my vet knew more about pigs." Since most smallholder and pet pig owners use farm or mixed animal vets (89%), this has shown a need for more training about pigs to be made available to these types of vet, who are perhaps more experienced in dealing with cattle and sheep.