Inaugural Lecture for Professor Joseph Yan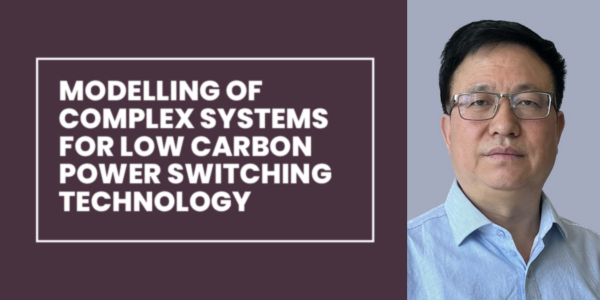 The Department of Electrical Engineering & Electronics at the University of Liverpool is delighted to announce the inaugural lecture of Professor Joseph Yan, a distinguished academic and leading expert in the field.
Joseph's lecture, titled "Modelling of complex systems for the development of low carbon power switching technology" promises to be an enlightening event that explores the forefront of sustainable energy solutions. Join us for this engaging evening as we delve into the world of advanced system modelling and its transformative impact on low carbon power switching technology.
Professor Joseph Yan's inaugural lecture offers a unique opportunity to gain valuable insights into the future of sustainable energy. As the world faces the urgent challenges of climate change, understanding and developing low carbon power switching technology is more crucial than ever. Professor Yan's expertise in advanced system modelling enables us to comprehend complex energy systems and unlock innovative solutions to address these challenges.
During the lecture, Professor Yan will share his ground-breaking research, highlighting the significance of low carbon power switching technology in mitigating climate change. Through advanced modelling techniques, he will demonstrate how we can revolutionize the global energy landscape and pave the way for a greener and more sustainable future.
Attendees will have the opportunity to:
Gain valuable insights: Learn from a renowned expert about the latest advancements in low carbon power switching technology and how it can shape the future.
Connect with industry professionals: Network and engage with like-minded individuals who are passionate about sustainable energy solutions.
Explore potential collaborations: Discover opportunities to collaborate on research projects and initiatives in the field of advanced system modelling.
Support our colleague: Show your support for Professor Joseph Yan and celebrate his remarkable achievements within our academic community.
Don't miss out on this exceptional opportunity to expand your knowledge and be at the forefront of sustainable energy innovation. Join us on 15 June 2023 at 5pm in the Electrical Engineering & Electronics Lecture Theatre (ELT) for an engaging and informative evening. The lecture is open to all students, academics, industry professionals, and anyone interested in the exciting field of low carbon power switching technology.
Registration for this event is required, so reserve your spot now on the Eventbrite page Limited seats are available, so we encourage you to secure your place early.