Climate and Oceans: Outreach and Public Engagement 2022-2023
We have had a busy year in Climate and Ocean Sciences, engaging with students of all ages from across the country, as well as with a few world leaders!
Back in January 2022, Climate and Oceans Professors George Wolff, Chris Hughes and Jonathan Sharples introduced high school students to plankton, ocean circulation and the impact of rising CO2 on the ocean.
In February 2022, Professor Alessandro Tagliabue spoke to world leaders, including French President Emmanuel Macron, on live TV directly from the Weddell Sea. He delivered his message to the One Ocean Summit as chief scientist on board the Tara research vessel to highlight the urgent need to protect the seas around Antarctica from threats such as climate change and exploitation.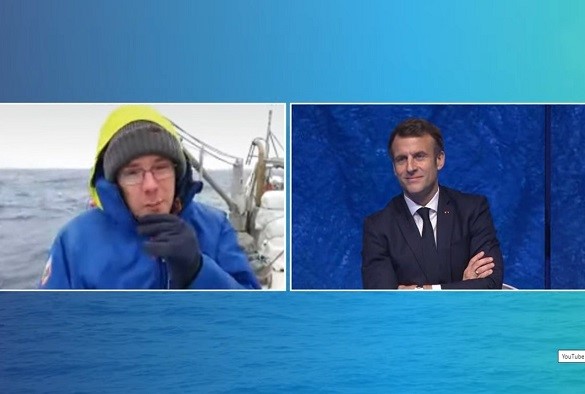 Photo is a screenshot from Youtube, also shown on Liverpool News site: https://news.liverpool.ac.uk/2022/02/11/liverpool-scientist-speaks-directly-to-world-leaders-including-president-macron-live-from-antarctica/
In June, Professors Claire Mahaffey and Jonathan Sharples and spoke with Year 11 geography students at Greenbank High School. They gave a demonstration and discussed oceanography and the climate. Over the summer, Professor Jonathan Sharples and Dr Hannah Whitby shared their career pathway stories with Year 12 students from the Liverpool Maths School. Who knew you could go from astrophysics and vet school to being an oceanographer? You can watch the video of their talks here: https://youtu.be/qJm4qcx2xAg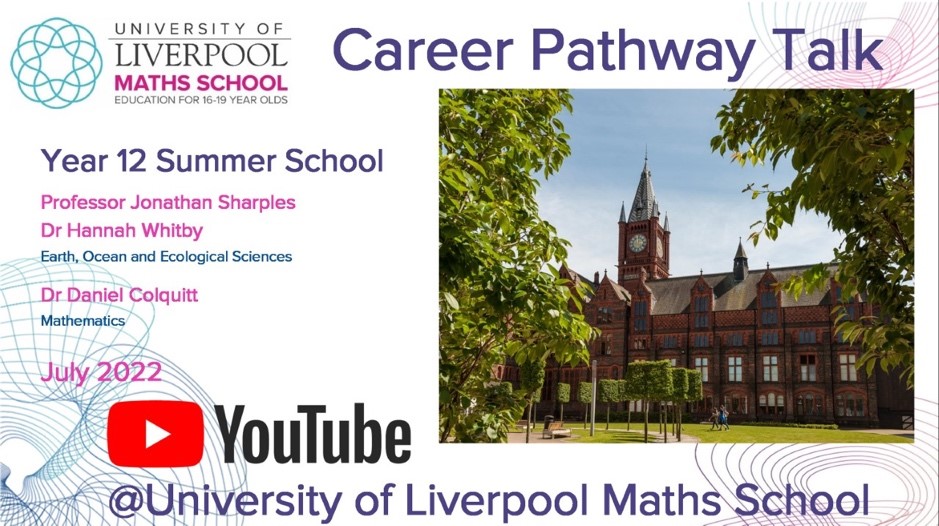 In September, Professor Ric Williams participated in a Science Day event at Heswall Hall, U3A and Rotary Club at the Wirral Arts Festival. The topic of the event was 'Climate change: the science of warming targets'. This was followed by a BBC Radio Merseyside interview on COP27 and warming targets in November. In October, Professor Ric Williams joined other scientists and artists at the SciArt Conference, Creative Industries Trafford, to look at how artists and scientists can work together to build confidence in science.

Photo Credit Richard Evans @CITrafford
In November Professor Jonathan Sharples met with geography and science students from Years 12, 13 at Ludlow College. Students enjoyed the demonstration and learning about oceanography and the climate.
This February, Dr Hannah Whitby and Oceans PhD student Millie Goddard-Dwyer visited St George's Primary School in Chorley for their 'Great Explorers' week. They spent time with each class, from Reception to Year 6, talking about how we study the ocean. The children had a fantastic time looking at photographs of life on board a research vessel and trying on some of the gear we use during fieldwork. The following week, Year 12 students from the University of Liverpool Maths School visited us at the Central Teaching Laboratory on campus to learn about the ocean. They watched a lecture by Professor Jonathan Sharples on how size matters when you're a microorganism. Then they had a chance to look at phytoplankton and zooplankton under a microscope with Dr Hannah Whitby and learnt about stratification and mixing with Professor Chris Hughes. They even brought an Ofsted inspector along with them! We enjoyed discussing just how interdisciplinary oceanography is, and the transferrable skills that a degree in climate and ocean sciences will provide.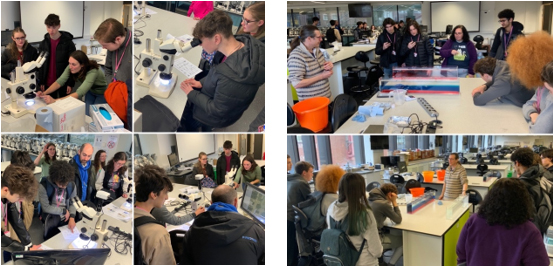 Photo credit David Hemsley Liverpool Maths School @LivMathsSchool
February also saw Dr Hannah Whitby zooming in to an evening session with boarding students at Glynllifon Agricultural College Farm, North Wales, to talk about the Welsh Government's bid to ban some single use plastics, and what the college are doing to try to reduce their plastic use.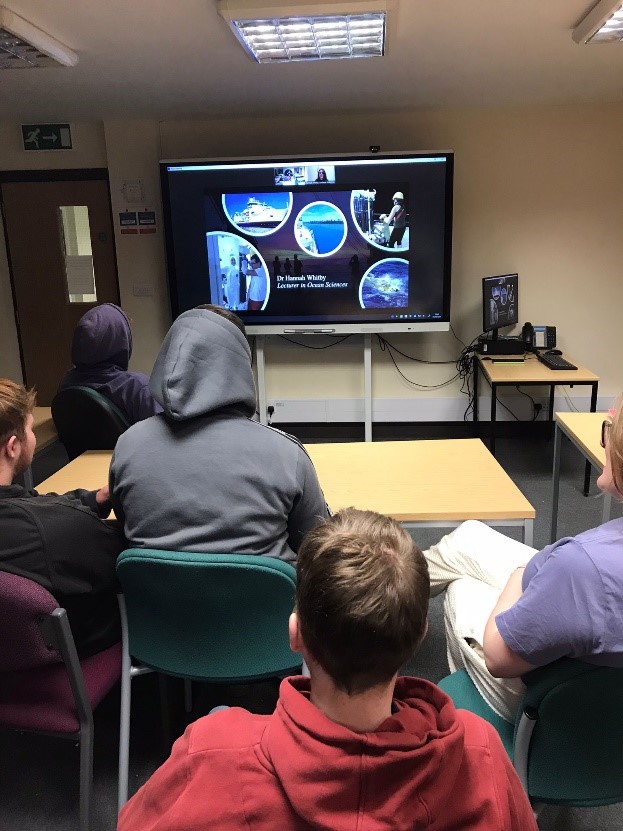 Photo credit: Grwp Llandrillo Menai, Coleg Glynllifon
The same week, Professor Ric Williams joined Professor Karl Whittle to discuss the science of climate change and the challenges of reaching 'net zero' for Liverpool Sustainability Week, while Dr Hannah Whitby and PhD student Millie Goddard-Dwyer spoke to year 10 students about careers for 'Women in STEM' in March.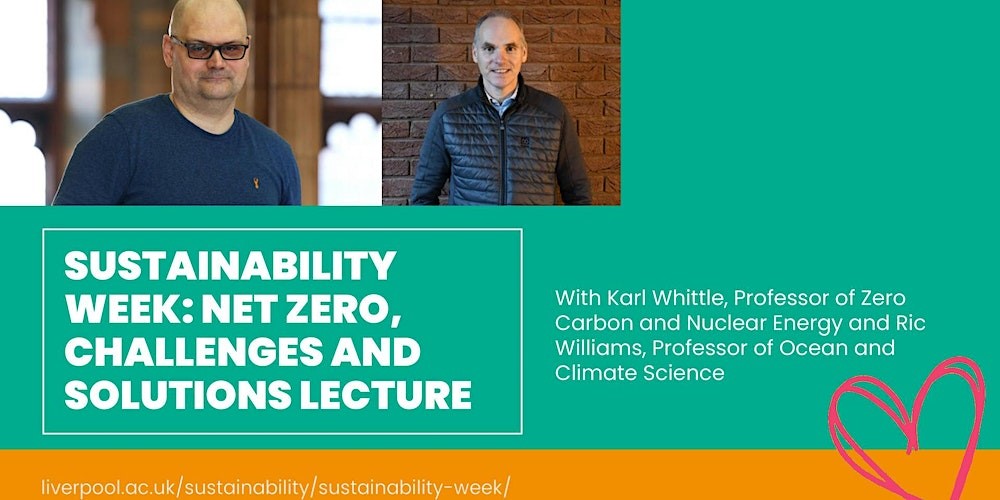 It has been a busy year of activities so far, and we have plenty more events scheduled for 2023 with collaborations planned across the country.
Press releases:
https://news.liverpool.ac.uk/2022/11/09/warming-targets-and-cop27/
Extreme heat warning for the UK and climate change.
https://news.liverpool.ac.uk/2022/10/06/small-eddies-play-a-big-role-in-feeding-ocean-phytoplankton/
https://news.liverpool.ac.uk/2022/02/11/liverpool-scientist-speaks-directly-to-world-leaders-including-president-macron-live-from-antarctica/
https://news.liverpool.ac.uk/2023/03/07/new-study-to-explore-how-the-gulf-stream-affects-climate-change-and-carbon-cycle/