Professional Doctorate in Health
Return to top
Course overview
The Professional Doctorate in Health (DProf Health) is a new flexible programme of study aimed at those working in health-related environments. It provides an opportunity for students to explore real world issues to further research and make an original contribution to knowledge.
Introduction
The Professional Doctorate in Health programme has been designed for those working in healthcare related environments to embed and build upon applied research in advancing professional health care practice in an increasingly complex environment.
The programme of study offers an alternative to the PhD or more traditional research routes and is offered on a flexible part time basis taking into account the applicants' professional context, prior learning, skills, work place priorities and experiences. Professional doctorates provide an opportunity for individuals to situate professional knowledge developed over time in a theoretical academic framework.
Professional Doctorates are available on a part-time basis based on the expectation that candidates will carry out their studies whilst they are engaged in relevant employment which informs their studies.
Who is this course for?
This programme is intended for healthcare professionals, or those working in related environments, who want to advance their research aspirations in health-related fields.
What you'll learn
Analytical skills
Research techniques
Leadership skills
Report writing
Course content
Discover what you'll learn, what you'll study, and how you'll be taught and assessed.
Year one
In year one, students will undertake two modules which consist of an introduction to doctoral research and an evidence-based practice and research module.
Compulsory modules
Introduction to Doctoral Research (HEAL710)

Credits: 45 / Semester: whole session

The DProf Health is a research-based degree for practising professionals in healthcare, social care and educational environments that seeks to develop professional practice alongside knowledge contributions. In this module, students are prepared for doctoral health research and learn what it means to be a scholarly practitioner. We use this term to describe the individual who emerges from the DProf Health and is able to create and use scholarly work to question their own and others' practice and to make a significant contribution to the development of healthcare professions and organisations.
Evidence based Practice and Research (HEAL711)

Credits: 45 / Semester: whole session

This module will prepare participants to use ideas from literature to inform their DProf Health thesis. Reading for a Doctorate is a means of enabling students to see issues from different perspectives. The module will enable students to demonstrate connections between theory, enquiry and healthcare practice.

All health and social care professionals need a critical understanding of how research relates to professional knowledge and practice. Research is generated and used by professionals working in health related environments to maintain clinical currency and to deliver care and treatment safely. This module offers the student enhanced skills for generating, interpreting, and using the findings of professional research to apply to their practice. Students will develop a critical approach to identifying reliable sources of professional knowledge and will be expected to reflect critically on how the evidence impacts on their own area of practice.
This module introduces students to the discourse surrounding the generation and use of health professional evidence, and considers the wider context in which health and social care research is undertaken. It will support students to develop their abilities to critically appraise and synthesise the outcome of relevant research, evaluation, and audit, using the results to underpin their own practice and to inform that of others.

The module serves as an important foundation module for postgraduate students wishing to develop or change practice in the workplace, and for those progressing to the DProf Health thesis stage.
Programme details and modules listed are illustrative only and subject to change.
Year two
In year two, students will explore different methods of research and scholarship and consider how they may be applied to their study.
Compulsory modules
Research Methods (HEAL712)

Credits: 45 / Semester: whole session

This module equips students with the practical research skills needed to conduct the empirical aspects of their doctoral research. To do so, this module focusses on developing comprehensive understanding of a range of research methods, inclusive of data collection and data analysis. Students will develop the practical skills to design effective and rigorous data collection tools, as well as be able to analyse data using a range of appropriate methods. Students will also develop the skills and understanding to evaluate research methods in terms of suitability and commensurability, as well as how to effectively report and write up research findings.

This module will be delivered over a whole academic session. Initial content will be introduced to students in the online classroom where peer discussion and structured activities will guide them to relate material to their work situations, through the use of a reflective log and action learning. A 2-day face-to-face workshop held 2-3 weeks into the module will deepen this learning and underpins the module. This will be followed by further online learning over subsequent weeks. Throughout the module students will be expected to read all resources in the classroom as well as to engage in questioning and discussion with peers.
Designing Scholarship and Research (HEAL713)

Credits: 45 / Semester: whole session

In this module students will learn how to construct and justify a scholarly practitioner research design that (if successfully executed) will generate knowledge of original value in their profession and/or organisation. The production of this research design will involve integrating learning from the taught modules within the programme; whilst its justification will extend students' understanding of the philosophy of healthcare knowledge and major methodologies of healthcare research. The importance of researching with integrity will be explained in terms of the principle and practices of research ethics. Students will consider and reflect on their individual learning journey and plan for future doctoral development and action during Level 8 Study.
Programme details and modules listed are illustrative only and subject to change.
Year three
In year three and beyond, students will undertake work on their professional doctorate thesis.
Compulsory modules
DOCTORAL THESIS (DDSC C105)

Credits: 180 / Semester:

This module is 180 credit doctoral thesis consisting of a literature review and experimental or non-experimental research. The thesis is approximately 50-60,000 words at a level 8 (doctorate level).
Programme details and modules listed are illustrative only and subject to change.
How you'll learn
This programme of study will equip students with the professional knowledge and skillset to become high-level scholar practitioners with primary and secondary research techniques that can be used in professional practice.
Our teaching places particular emphasis on the development of our students' knowledge of key principles and current issues relevant to roles in education, health and social care.
Additionally, our teaching encourages students to engage with theoretical perspectives on local, national and global health concerns, consistent with doctoral level study.
The programme will also support the development of subject specific and key transferable skills necessary for employment in sectors where an understanding of varied dimensions of health are critical.
The curriculum also provides opportunities for students to enhance digital fluency through the use of the Virtual Learning Environment to access programme materials related to their programme.
How you're assessed
This programme includes independent and collaborative reflective exercises, discussions and assessment activities which have been chosen to suit students who learn in different ways or have personalities which are better suited to specific types of assessment.
In year three, students will begin their thesis paper which will allow them to critically explore a specific principle or theory in great detail, providing them with the opportunity to fully display their learning and knowledge in a traditional academic exercise.
Liverpool Hallmarks
We have a distinctive approach to education, the Liverpool Curriculum Framework, which focuses on research-connected teaching, active learning, and authentic assessment to ensure our students graduate as digitally fluent and confident global citizens.
Your experience
Our postgraduate students will benefit from the School of Health Sciences' experience in delivering over 100 years of dynamic, research-led teaching. Our student satisfaction rates, which range from 93-100%, are testament to our School being a great place to improve your professional skills and prospects.
Virtual tour
Chat with our students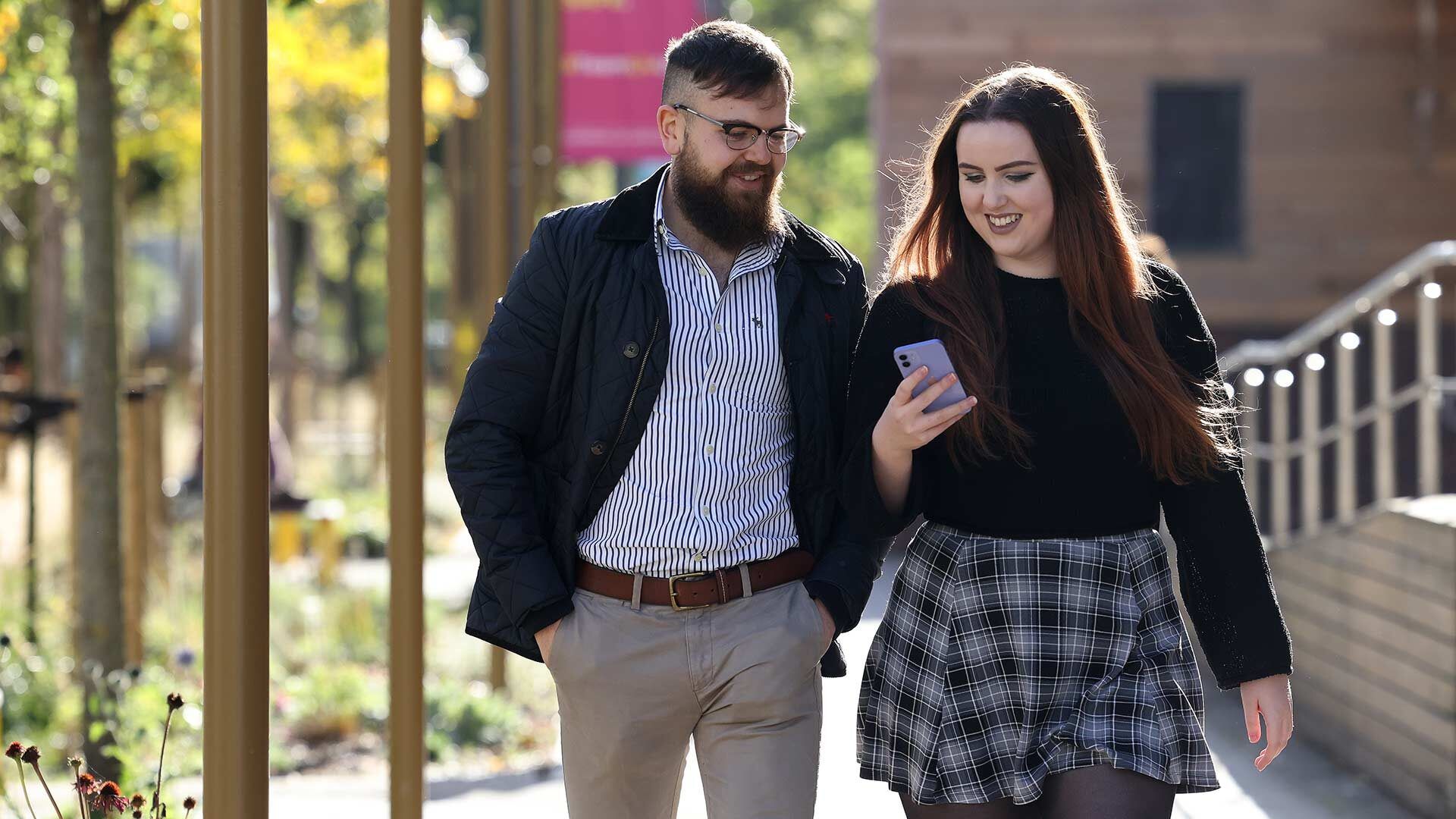 Chat with our students
Want to find out more about student life?
Chat with our student ambassadors and ask any questions you have.
Careers and employability
Your future
Fees and funding
Your tuition fees, funding your studies, and other costs to consider.
Tuition fees
UK fees

(applies to Channel Islands, Isle of Man and Republic of Ireland)

Part-time place, per year
£2,356
Fees stated are for the 2023-24 academic year. The fees for 2024-25 entry will be available from Spring 2024, following the confirmation of Postgraduate Research course costs.
Tuition fees cover the cost of your teaching and assessment, operating facilities such as libraries, IT equipment, and access to academic and personal support.
If you're a UK national, or have settled status in the UK, you may be eligible to apply for a Postgraduate Loan worth up to £12,167 to help with course fees and living costs. Learn more about paying for your studies..
Additional costs
We understand that budgeting for your time at university is important, and we want to make sure you understand any course-related costs that are not covered by your tuition fee. This could include buying a laptop, books, or stationery.
Find out more about the additional study costs that may apply to this course.
Scholarships and bursaries
We offer a range of scholarships and bursaries to provide tuition fee discounts and help with living expenses while at university.
Entry requirements
The qualifications and exam results you'll need to apply for this course.
Your qualification
Requirements
Postgraduate entry requirements

Normally, candidates will be working in a healthcare or related environment in order to advance their research aspirations in Health related professions and fields.

Candidates with an undergraduate degree, along with 2 years professional experience in a health environment, will be considered for Stage 1 entry.

Candidates with a Masters degree and significant professional experience in a health environment can be considered for entry via RPL portfolio up to a maximum of 90 M Level credits.

International qualifications

If you hold a bachelor's degree or equivalent, but don't meet the entry requirements for a master's degree at Liverpool, a pre-master's, delivered by our partner, University of Liverpool International College, can help you gain a place. Although there's no direct pre-master's route to this MPH, completing a pre-master's pathway can guarantee you a place on many other postgraduate courses which may interest you.
English language requirements
Please note – whilst we do accept IELTS qualifications, we do not accept IELTS qualifications that have been sat and gained online. We only accept qualifications that have been sat and gained in person.
English language qualification
Requirements
IELTS
E - (overall IELTS 7.0, no less than 6.5 in component scores)
View our IELTS academic requirements key.
INDIA Standard XII
National Curriculum (CBSE/ISC) - 75% and above in English. Accepted State Boards - 80% and above in English.
More about life in Liverpool
Discover more about the city and University.
Why study at Liverpool?
Liverpool bursts with diversity and creativity which makes it ideal for you to undertake your postgraduate studies and access various opportunities for you and your family.
Accommodation
To fully immerse yourself in the university experience living in halls will keep you close to campus where you can always meet new people. Find your home away from home.
Fees and Finance
Discover what expenses are covered by the cost of your tuition fees and other finance-related information you may need regarding your studies at Liverpool.
Contact us
Have a question about this course or studying with us? Our dedicated enquiries team can help.