Political Science and International Relations
Course overview
The Political Science and International Relations MA provides training in research methods, the application of political concepts and theories, and develops an advanced understanding of politics and political science. Your employability is enhanced through skills training, alongside the chance to gain advanced work experience through our Advanced Placement Scheme that places students with an employer to work on a project.
Introduction
The MA offers a range of optional modules that enables you to specialise or generalise in key areas of political studies including British Politics, International Relations, and Comparative Politics. The MA also provides comprehensive methods training to equip you with the skills required for doctoral research, or a wide range of careers in fields such as journalism, business, the Civil Service, central government, local government, charities, and education.
If you are interested in applying for this MA, or if you have any questions whilst undertaking your programme of study, please do not hesitate to contact the Programme Lead.
Who is this course for?
This course is designed for graduates with a Bachelor's in Politics/International Relations or a broadly related discipline who want to advance their understanding of politics and political science.
What you'll learn
Political science research methods
Advanced work experience from the opportunity to participate in the Advanced Placement Scheme with placements available in areas such as: local government, national charities and trade unions
Application of political concepts and theories
An advanced understanding of politics and political science
The ability to write a political science dissertation at postgraduate level.
Course content
Discover what you'll learn, what you'll study, and how you'll be taught and assessed.
Studying this course part-time
International students may be able to study this course on a part-time basis but this is dependent on visa regulations. Please visit the Government website for more information about student visas.
If you're able to study part-time, you'll study the same modules as the full-time master's degree over a longer period, usually 24 months. You can make studying work for you by arranging your personal schedule around lectures and seminars which take place during the day. After you complete all the taught modules, you will complete your final dissertation or project and will celebrate your achievements at graduation the following term.
Studying part-time means you can study alongside work or any other life commitments. You will study the same modules as the full-time master's degree over a longer period, usually 24 months. You can make studying work for you by arranging your personal schedule around lectures and seminars which take place during the day. After you complete all the taught modules, you will complete your final dissertation or project and will celebrate your achievements at graduation the following term.
Semester one
Students take the compulsory module Political Science Research Methods and then can choose from a selection of optional 15 and 30 credit modules in Semester one.
Compulsory modules
POLITICAL SCIENCE RESEARCH METHODS (POLI530)

Credits: 15 / Semester: semester 1

The purpose of this module is to provide students with an understanding of fundamental issues in political research methods and an overview of some of the research methods used to investigate political and social phenomena. Students will be required to use and demonstrate knowledge of key methodologies, theoretical frameworks, and methods used in practical scientific research.
Optional modules
POLITICS IN ACTION ADVANCED PLACEMENT SCHEME (POLI500)

Credits: 15 / Semester: semester 1

This module provides an opportunity for students to gain credit from experience acquired in a placement, usually off campus, and outside their immediate academic context, in a setting that matches their academic and possible career/industry interests. During this placement students will have the chance to develop materials and/or undertake tasks within a practical or vocational context; to apply academic knowledge from their degree, and to develop their personal and employability skills within a working environment. Students will also be encouraged to critically reflect on their time on their placement, and tie their experiences into a broader theoretical understanding of what constitutes 'politics'.
BRITISH FOREIGN POLICY (POLI511)

Credits: 15 / Semester: semester 2

Anglo-American Relations
The Decline of Empire and the Commonwealth
Britain and the Post-War World
Britain and the Middle East
Legacies and Development
Britain in International Groups
Britain and Iraq
Britain and the Road to Brexit (And Beyond!)
Foreign Policy Ideology
EUROPE AND THE WORLD (POLI501)

Credits: 15 / Semester: semester 1

This is a mandatory module of the MA Contemporary Europe offered by Politics department. This module provides an in-depth analysis of the external policies of the EU in the current context and critically analyzes the role of EU in international affairs. The module will trace the evolution of the EU as an international actor, scrutinize the EU's external action in different policy areas and its relations with its regional and global partners.
Politics of the Environment (ENVS525)

Credits: 15 / Semester: semester 1

Over the last decade the environment, and perhaps more importantly the concept of sustainable development, is claimed to have become a critical dimension that underpins decision making at a variety of different spatial scales, more particularly international, European, national, regional and local arenas. In this module we explore the extent to which environmental concerns are taken into account in various decision-making processes within the public, private and third sectors. The module will be assessed by an essay (50%) and an open book exam (50%) which provides students with significant choice to explore those parts of the module they find most interesting.
SPATIAL POLITICS: GENDER, SEXUALITY AND INTERSECTIONAL JUSTICE (POLI517)

Credits: 15 / Semester: semester 1

This module will explore transnational struggles for rights, justice and equality, foregrounding the significance of gender and sexuality as categories of analysis, and feminist and queer scholarship as rich theoretical frameworks. Over the duration of the module, students will examine the physical and digital spaces that are both an enabling condition for, and object of, political struggle. This may include weeks on the politics of housing, of detention and of sustenance. An intersectional framework will enable students to explore the politics of gender and sexuality as they are co-constituted through other axes of power including race, disability and class.
CHILD PROTECTION IN INTERNATIONAL POLITICS (POLI519)

Credits: 15 / Semester: semester 1

This module requires students to engage with the politics around children's rights and their 'best interests' in contemporary world. It explores how childhood is conceptualised and experienced in different contexts, examines debates about children's rights, and analyses child protection policies and practices as canvassed by governments, NGOs, and INGOs.
WAR WRITING (ENGL488)

Credits: 30 / Semester: semester 1

War Writing addresses the ways that wartime and peacetime are imagined by writers across the 20th and 21st centuries. We will focus on the theory of "permanent war," which is the idea that the economy and discourse of war permeates social relations, even in periods that are notionally "peacetime." We will consider the topic by addressing the essay and the novel, and we will discuss how the boundaries between fiction and nonfiction are sometimes blurred as writers find new forms to accommodate their responses to war.
COMPARATIVE DEMOCRATISATION (POLI514)

Credits: 15 / Semester: semester 1

This module explores how our understanding of the nature and causes of regime change have adapted as more and more countries around the world have joined the category of "democracies," especially since the end of the Cold War. The fundamental aim of the course will be to gain an appreciation for the immense institutional variation that exists across countries holding elections today, as well as examining some of the greatest remaining threats to the quality and consolidation of democratic institutions. Some themes of the course include horizontal versus vertical forms of accountability, varying legacies from the authoritarian period, institutional choices used to achieve democratic "buy-in" among opposing elites, and electoral competition under the threat of violence.
CONFLICT RESOLUTION AND TRANSFORMATION (POLI513)

Credits: 15 / Semester: semester 1

This module follows the evolution of the field of conflict studies: from the early adoption of an IR framework of bargaining to explaining conflicts within states, to testing structural, country-level correlates of conflict resolution or recurrence, to the recognition of multidimensional conflicts and the shift toward dyadic data, and finally, to the recent focus on armed group fluidity and theories about how rebel spoiling, splintering, and alliances lead conflicts to take new forms.
HEALTH & SOCIETY (PUBH150)

Credits: 15 / Semester: semester 1

The module will introduce students to social science and sociological theories and concepts. Students will explore the application of these theories and approaches to health and public health. The sessions will be led by active health researchers who will discuss how they have employed theoretical thinking in their own health and health-related research.  Students will have the chance to explore a public health problem of their choice and apply different sociological theories to the problem in order to develop their understanding of the issue.

Lectures will be delivered via 12 weekly seminar sessions which will involve a lecture element, in-class discussions and in-class group work. Students are expected to do self-directed learning (SDL) and will be expected to prepare for the contact sessions in advance using materials and readings which will be placed on Blackboard one week before each session. Students will need to do the reading and any activities prior to the session and the sessions will then be used to consolidate this learning.

For the assessment of this module students need to carry out a critical analysis of a public health problem from the perspective of different social science theories or concepts. ​  ​
Literature, Slavery and Empire (ENGL750)

Credits: 15 / Semester: semester 1

At the end of the sixteenth century, England was making its first attempts to build a tradition as a nation of travellers and unsuccessfully attempting to establish colonies in north America. By the end of the Eighteenth century the European Grand Tour was a standard part of a British aristocratic education, and the British Empire was a global force actively participating in the international slave trade. This module looks at both literary and non-literary records of and responses to: the relationship between the 'old world' or the Mediterranean and the 'new world' of the Americas; the encounter with unfamiliar people and lands; the rise of and debate about the international slave trade, from the perspective of both the enslaver and the enslaved; the literary and cultural importance of these developments for the city of Liverpool.
RE-INSCRIBING POWER AND IDENTITY IN/FROM CONTEMPORARY EUROPE (POLI505)

Credits: 15 / Semester: semester 1

This module is designed to introduce students to the range and diversity of current research in languages and cultures. In individual sessions, students will be encouraged to consider the range of theoretical and methodological approaches which they could adopt in approaching their individual research projects. This module aims to provide students with an awareness of the key theoretical issues central to cultural studies, and to develop in them an understanding of current methodologies.
Programme details and modules listed are illustrative only and subject to change.
Semester two
Students choose from a selection of optional 15 credit modules in Semester two.
Optional modules
ADVANCED TOPICS IN ELECTORAL RESEARCH (POLI518)

Credits: 15 / Semester: semester 2

This module examines some of the most crucial topics in contemporary electoral research, and aims to provide students with a deep understanding of the factors explaining people's political preferences and electoral behaviour in different contexts. The module takes an interdisciplinary approach that combines sociology, psychology and political science. Geographically speaking, this is a comparative module that focuses on full democracies, and students are encouraged to think about how the mechanisms covered in the different sessions may (or may not) work in other democratic contexts.
BREXIT AND BEYOND (POLI522)

Credits: 15 / Semester: semester 2

The module analyses the process leading to Britain's withdrawal from the European Union and the form it took (referendum and withdrawal agreement) as well as the ongoing implications for British politics, society and culture.
Business and the Environment (ENVS470)

Credits: 15 / Semester: semester 2

Environmental issues are of growing importance to businesses both large and small. Companies and organisations have to comply with a burgeoning body of environmental legislation and environmental considerations are becoming more prominent in relations with industrial partners and clients, suppliers, customers, banks, insurers and local communities. Whilst such pressures are forcing businesses to pay more attention to the environmental implications of their actions, some businesses which are forward looking, perceive the environmental agenda as a great business opportunity. This module is designed to explore some of these issues more fully.
COMPARATIVE PEACE PROCESSES (POLI133)

Credits: 15 / Semester: semester 2

Comparative Peace Processes examines the similarities and differences between peace processes. What common features can be identified in terms of how and why peace processes develop? What aspects of threat removal are most common, such as decommissioning, disarmament and reintegration? What political tools, such as consociation, partition, secession, devolution or integration, might be used? After a short overview, the module addresses these questions via a series of case studies, including Northern Ireland, Lebanon, Israel-Palestine Bosnia and the Basque region.
GOVERNING THE MIDDLE EAST (POLI512)

Credits: 15 / Semester: semester 2

The module approaches Middle East politics beyond the traditional foci on authoritarianism (comparative politics) or war and security (international relations). It looks at the way state, civil society, or capital come together to "govern" key drivers of Middle East politics: Gender, environment, migration, urbanism, and other issues. Students will learn to apply innovative theories of international political sociology and international political economy (IPE). These include techno-politics, everyday IPE, and decolonial thought.

Students research the topics through the secondary literature but will also analyse primary sources from popular culture, technical reports, government statistics etc.

The module puts students in charge of the issue they want to research for their assignments. As a formative assessment, students compose a research proposal in which they formulate a research question and compose a literature review. This forms the basis of their final essay. This not only offers great leeway on topics they want to study but is also an excellent preparation for their MA dissertation.
HEALTH INEQUALITIES: EVIDENCE AND POLICY. (PUBH407)

Credits: 15 / Semester: semester 2

1. To develop an in-depth knowledge of the social determinants of health inequalities both historically and in the contemporary world.

2. To provide a comprehensive overview of the knowledge and skills needed for public health practitioners to develop and implement policies to reduce health inequalities.
HEALTH PROTECTION (PUBH220)

Credits: 15 / Semester: semester 2

Following an extensive review changes have been made to the content, aim and learning outcomes of the module and also an updating of the assessments so that they better reflect the real world of health protection that health professionals may encounter.

Teaching methods have been updated to emply a wider range of teaching and learning methods, to better engage different learning styles of students. The application of current models used in Public Health England to apply health protection principles have been explicitly applied and a group task has been added to facilitate development of employability skills relevant to and important in health protection. ​ The module is designed for students from a range of health professional backgrounds, and will use an innovative framework to develop the in-depth knowledge and analytical skills needed for the investigation, management and evaluation of important health protection cases, situations, incidents and outbreaks. 

The module will deliver an introduction to the core principles of health protection; the theoretical basis for the practice of health protection focused mainly on the United Kingdom; protection from infectious diseases; prevention from harm from hazards involving chemicals , poisons or radiation occur; and preparation for new and emerging threats, such as a bio-terrorist attack or virulent new strains of diseases.

The module will also provide students with some practical insight into the work of Public Health England, and into the roles of other professionals who are responsible for or contribute to Health Protection. The Module will be delivered by staff working mainly in Public Health England.  
INTERNATIONAL RECORD KEEPING (HIST561)

Credits: 15 / Semester: semester 2

The module provides an overview of record keeping developments from an international perspective. It introduces students to record-keeping structures, traditions and practices throughout the world, and to the legislative, cultural and political traditions which affect those practices. In doing so it enables students them to approach record-keeping theory and practice in their home country both critically and comparatively. The module considers the role that records and archives have played over time, particularly, from 1945, in the area of human rights.
LOCAL GOVERNMENT IN THE UK (POLI537)

Credits: 15 / Semester: semester 2

This module will provide students with a detailed knowledge of the nature and workings of local government in the UK, considering its history, structure, political and administrative operation, financing, and relationships with central government and other tiers of local government.

Students will develop a broad awareness of the powers and restrictions placed on councils and councillors, including the challenges and opportunities posed by multi-level governance and globalisation. Special emphasis will be placed on local government in England, especially vis-à-vis the evolving relationship between local councils and mayors, but students will also examine local government across all parts of the United Kingdom. Students will be encouraged to engage in independent research to compare local government in Britain with local government in other European countries.
QUANTITATIVE METHODS AND WORLD POLITICS (POLI510)

Credits: 15 / Semester: semester 2

The module introduces students to the quantitative study of international relations, security studies and comparative politics. Much of the most important research on topics such as the foreign relations between states, public attitudes towards global issues, and violent conflict within societies is quantitative. The module provides a guide to navigating these areas of research.

Beginning at an introductory level with descriptive statistics, it will introduce students to the most frequently-used tools for the statistical analysis of politics. Using statistical software, students will replicate existing studies and familiarise themselves with some of the major datasets in the fields of comparative politics, international relations, and security studies.

By the end of the module, students should have the confidence to replicate existing research in political science, make use of quantitative datasets in the study of politics conduct their own quantitative empirical investigation. Having studied statistics in a previous university degree is not a requirement for the module as we start from an absolute beginner's level.
Programme details and modules listed are illustrative only and subject to change.
Summer Period
The compulsory Political Science Dissertation (60 credits) is completed during the Summer vacation period.
Compulsory modules
POLITICAL SCIENCE DISSERTATION (POLI531)

Credits: 60 / Semester: summer

The dissertation will enable students to demonstrate their research skills and knowledge in a single substantive independent piece of study. Students will select their chosen topic under the umbrella of 'political science and international relations', thereby affording students with a wide range of potential topics upon which to research. The opportunity to conduct this piece of research will enable students to focus on a topic they are intellectually interested in, and so motivated to conduct the research.
Programme details and modules listed are illustrative only and subject to change.
How you'll learn
The modules on the programme are delivered using combinations of lectures, seminars, workshops, personal tutorials, and group tutorials. These are held on the main campus, with timetabled sessions for you to attend. On average, each module would have 2-hours face-to-face teaching per week. For those undertaking the Advanced Placement Scheme, personal sessions are held with the Placement Scheme Director.
How you're assessed
Students undertake a range of authentic assessments such as policy documents, presentations, reports, reflective logs, amongst others. These are included alongside essays and online examinations (depending on which optional modules students select). Students also undertake a 60-credit dissertation, which is undertaken in the second and summer semesters for submission in September.
Liverpool Hallmarks
We have a distinctive approach to education, the Liverpool Curriculum Framework, which focuses on research-connected teaching, active learning, and authentic assessment to ensure our students graduate as digitally fluent and confident global citizens.
Your experience
You will benefit from the expertise and community found within the Department of Politics, which is based within the School of Histories, Languages and Cultures in 8-14 Abercromby Square. Students will be taught in a variety of building on campus.
Watch now
Video
Inside Politics. A conversation with Juliana Christianson and Dr Gemma Bird
Virtual tour
Supporting your learning
From arrival to alumni, we're with you all the way:
Why Politics at University of Liverpool?
We are able to offer an excellent range of modules providing both a national and international focus. Pathways offer students module choices to develop their own specialist interests
We are a small department that works to create a relaxed and friendly atmosphere. Due to the small size of the seminar groups and the MA programmes in general, lecturers know students individually, and are easily accessible
The Department of Politics is home to the Europe and the World Research Centre, through which you will you will be able to take advantage of the strong programme of organised activities such as conferences, guest lectures, seminars
We aim to be a flexible and open department. We adopt a positive and flexible policy towards the postgraduate requirements of overseas and/or part-time students, including effective timetabling on taught programmes and facilitation of language training.
Chat with our students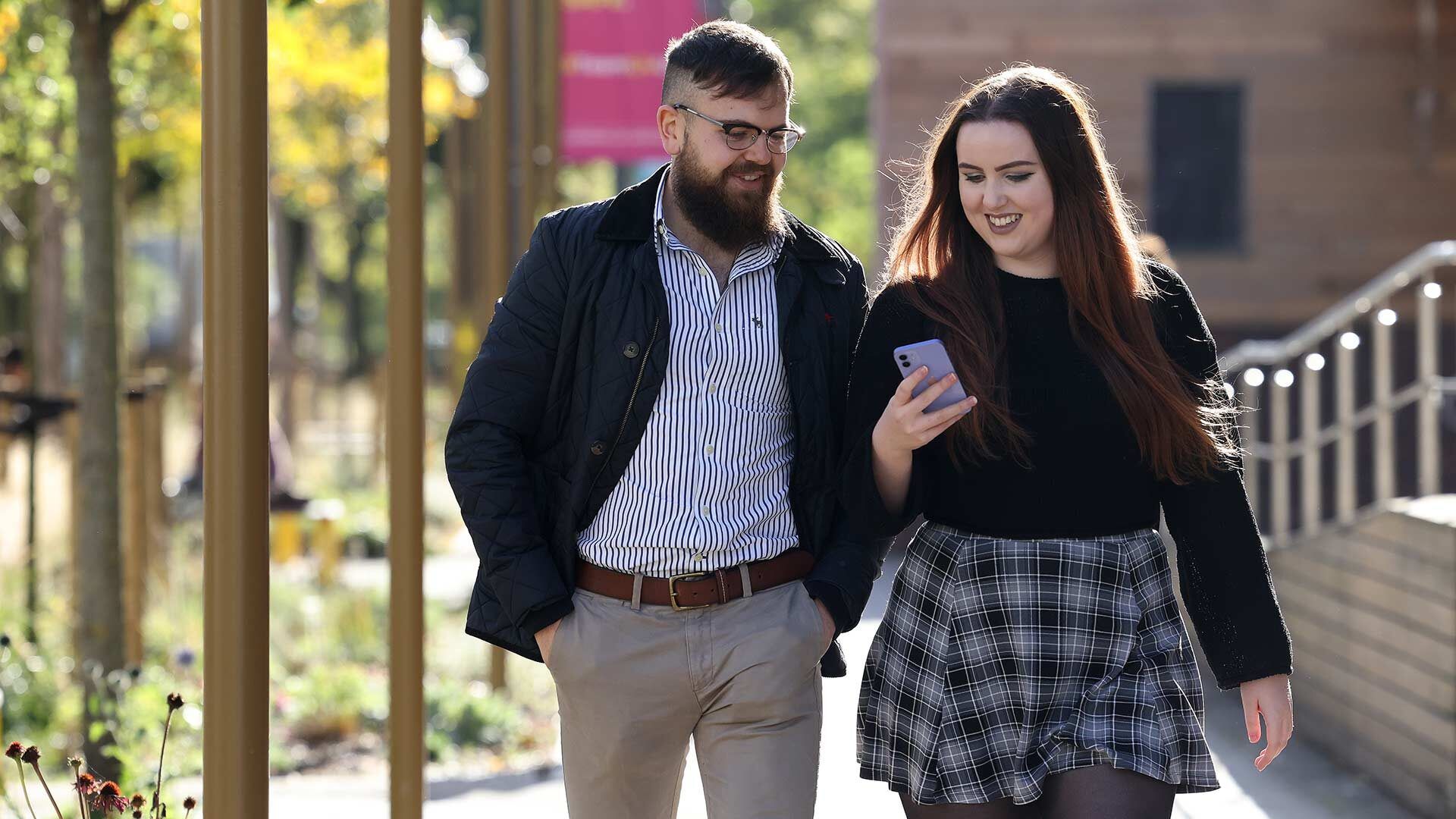 Chat with our students
Want to find out more about student life?
Chat with our student ambassadors and ask any questions you have.
Careers and employability
Student career development is a major interest for the department and we actively encourage you to integrate career planning into your academic studies. The programme offers students the chance to discuss and develop their career options by working to secure placements and other activities that maximize employment potential.
The programme's Advanced Placement Scheme involves you working within an organisation on a set project in its entirety, enhancing your project management skills. Previous placements have been based in various departments within The Liverpool Combined Authority, Communications within Liverpool City Council, Trade Unions and National Charities.
The MA delivers ideal training if you are interested in an academic career in doctoral research. The MA also provides a solid foundation if you are interested in exploring a career in education, media, third sector industries, the Civil Service, central/local government, or business.
If you have a professional background in any of these (or other relevant) areas, the MA provides you with the opportunity for continuing professional development, whilst enabling you to bring your experiences to the cohort which will further enrich the programme.
Your future
Career options are wide and extensive, including working in:
National and international political organisations
Mental health charities
Non-governmental organisations
Media
Education
Armed forces
Civil service
Political parties
Corporate organisations
Financial sector
Doctoral research.
Fees and funding
Your tuition fees, funding your studies, and other costs to consider.
Tuition fees
UK fees

(applies to Channel Islands, Isle of Man and Republic of Ireland)

Full-time place, per year
£10,400
Part-time place, per year
£5,200
International fees
Full-time place, per year
£21,400
Part-time place, per year
£10,700
Fees stated are for the 2023-24 academic year.
Tuition fees cover the cost of your teaching and assessment, operating facilities such as libraries, IT equipment, and access to academic and personal support.
If you're a UK national, or have settled status in the UK, you may be eligible to apply for a Postgraduate Loan worth up to £12,167 to help with course fees and living costs. Learn more about tuition fees, funding and Postgraduate Loans.
Additional costs
We understand that budgeting for your time at university is important, and we want to make sure you understand any course-related costs that are not covered by your tuition fee. This could include buying a laptop, books, or stationery.
Find out more about the additional study costs that may apply to this course.
Scholarships and bursaries
We offer a range of scholarships and bursaries to help cover tuition fees and help with living expenses while at university.
Entry requirements
The qualifications and exam results you'll need to apply for this course.
| Your qualification | Requirements |
| --- | --- |
| Postgraduate entry requirements | You will need a 2:1 Bachelor's degree in Politics/International Relations studies or in a broadly related discipline (eg classics, history, philosophy, sociology, English, modern languages etc.). |
| International qualifications | If you hold a bachelor's degree or equivalent, but don't meet the entry requirements for a master's degree at Liverpool, a pre-master's, delivered by our partner, University of Liverpool International College, can help you gain a place. Although there's no direct pre-master's route to this MA, completing a pre-master's pathway can guarantee you a place on many other postgraduate courses which may interest you. |
English language requirements
You'll need to demonstrate competence in the use of English language. International applicants who do not meet the minimum required standard of English language can complete one of our Pre-Sessional English courses to achieve the required level.
English language qualification
Requirements
GCSE
C
IELTS
C
View our IELTS academic requirements key.
International Baccalaureate

Standard Level (Grade 5)

INDIA Standard XII
70% or above from Central and Metro State Boards
WAEC
C4-6
Hong Kong use of English AS level
C
Cambridge Proficiency
C
More about life in Liverpool
Discover more about the city and University.
Why study at Liverpool?
Liverpool bursts with diversity and creativity which makes it ideal for you to undertake your postgraduate studies and access various opportunities for you and your family.
Accommodation
To fully immerse yourself in the university experience living in halls will keep you close to campus where you can always meet new people. Find your home away from home.
Fees and Finance
Discover what expenses are covered by the cost of your tuition fees and other finance-related information you may need regarding your studies at Liverpool.
Contact us
Have a question about this course or studying with us? Our dedicated enquiries team can help.
Programme Lead: Dr Andrew S. Roe-Crines