Course overview
You will gain an advanced and discerning knowledge of music industry practices on this course. With the experience of our tutors and our international research, you will be introduced to practices within the music industry from understanding music publishing contracts to interpreting audiences and the global market.
Introduction
Through both face to face and online lectures and performances, you will investigate current music industry practices in-depth.
In attending our research seminars, you will meet and learn from expert guest speakers belonging to a multitude of music industry disciplines.
You'll receive comprehensive guidance in events management at both our state of the art Tung Auditorium and the Liverpool Philharmonic hall. You will achieve this by being closely involved in concerts performed by professional musicians from around the world as well as our internal programme of events featuring University of Liverpool students.
You will learn about management practices within the music industry, enabling you to understand the dynamics of managing artists as products.
Who is this course for?
This MA is suitable for you if you have a keen interest in pursuing a career in the fields of music management, events management and the music industry.
What you'll learn
How to identify key legal principles of legislation related to music business.
How to interpret the music economy.
How to examine the ways music is promoted globally.
Fundamental concepts of music management.
How to market music towards different audiences around the world.
Key skills in events management.
Effective communication and teamwork skills.
To develop and practice research skills in order to produce a significant piece of research in the music industry.
Course content
Discover what you'll learn, what you'll study, and how you'll be taught and assessed.
Studying this course part-time
International students may be able to study this course on a part-time basis but this is dependent on visa regulations. Please visit the Government website for more information about student visas.
If you're able to study part-time, you'll study the same modules as the full-time master's degree over a longer period, usually 24 months. You can make studying work for you by arranging your personal schedule around lectures and seminars which take place during the day. After you complete all the taught modules, you will complete your final dissertation or project and will celebrate your achievements at graduation the following term.
Studying part-time means you can study alongside work or any other life commitments. You will study the same modules as the full-time master's degree over a longer period, usually 24 months. You can make studying work for you by arranging your personal schedule around lectures and seminars which take place during the day. After you complete all the taught modules, you will complete your final dissertation or project and will celebrate your achievements at graduation the following term.
Semester one
Please note: programme and module details are illustrative and subject to change.
Compulsory modules
Researching the Music Industry (MUSI510)

Credits: 15 / Semester: semester 1

The module examines some of the interdisciplinary approaches to the study of the music industries and explores these contributions. Drawing on examples it examines, in a practical way, how research in the field is conducted. Students learn how to plan and develop a research project in preparation for their dissertation. Students will develop their understanding through lectures, online class discussions and tutorials. Successful students on this module will develop skills in research appropriate for the study of the music industries at postgraduate level, including bibliographic skills and the ability to find and evaluate various kinds of evidence.
MUSIC INDUSTRY (MUSI526)

Credits: 30 / Semester: semester 1

​The module explores the music economy as a set of practices in which demand for music outcomes (songs, performances of songs, recordings of songs) are reconciled with the supply of songs and performances initiated by musicians. Historically, the recording industry has dominated these practices but the impact of digital technology on music demand (and changes in how demand is conceived and expressed) has re-configured relations among the key music industries of recording, live performance and music publishing. In turn, this re-configuration is manifested in the decline of formerly dominant music companies and the rise of new music companies. Further, the music economy as a whole has been opened up to impacts from beyond music – whether in the form of 'tech' companies (such as Apple, Google, Amazon, Facebook and so on) or in the need of musicians and music companies to form alliances with commercial companies beyond the digital sphere. Further still, as transformations in demand associated with digital technology show no sign of waning, the music economy is now continuously turbulent; this turbulence impacts unrelentingly on music industry and must be understood by students should they seek careers in music.
MARKETING LIVE MUSIC (MUSI540)

Credits: 15 / Semester: semester 1

This module will cover methodologies and practices for identifying audiences for live music performances and explore how to apply strategies and tactics for managing and marketing live music events and/or venues.
Programme details and modules listed are illustrative only and subject to change.
Semester two
Compulsory modules
ASIAN MUSIC MARKETS (MUSI546)

Credits: 15 / Semester: semester 2

This module explores the development of Asian music markets and the associated dynamics of cultural, social, economic and political globalisation in both their interregional and international contexts. Particular emphasis will be given to various regional and global popular music genres and Western classical music in Asia to investigate how different Asian music markets develop and operate in the contemporary system of music production, distribution and consumption.
GLOBALISATION AND THE MUSIC INDUSTRY (MUSI520)

Credits: 15 / Semester: semester 2

​The module will explore issues of globalisation and the music industries focussing on case-studies and considering a range of perspectives. The module will explore different perspectives to consider how the processes of globalisation impact upon aspects such as the evolving nature of digital music distribution and consumption, the character of different music markets, the popularity of music genres and strategies for the support of domestic music markets.

Students will be required to conduct an independent project related to the themes of the module. They will be supported in their research process via tutorials. Students will report on key themes and issues from their research project within a marked group presentation.
MUSIC CONTRACTS (MUSI516)

Credits: 15 / Semester: semester 2

​This modules explores the key agreements entered into between musicians and music companies. Central among these are the contracts which seal the assignment of rights in songs publishing and recording. Further, there are agreements made between musicians and managers and between live agents, venues and promoters that, together, create the legal frameworks within and through which music industry takes place.
MUSIC INDUSTRY MANAGEMENT (MUSI522)

Credits: 15 / Semester: semester 2

​The function of this module is to examine in closer detail the practices of music industry identified in the semester one module, 'Music Industry'. Music outcomes are symbolic products and musicians work with music companies in their production. Various specialisms will be discussed – notably but not solely Artist Management, Record company management, musicians' self-management, and brand management.
Programme details and modules listed are illustrative only and subject to change.
Final project
Compulsory modules
DISSERTATION (MUSI524)

Credits: 60 / Semester: summer

· To deepen the student's knowledge of the chosen topic

· To develop and practice research skills

· To develop and practice writing and presentation skills
· To develop the ability to conduct extendedarguments
Programme details and modules listed are illustrative only and subject to change.
How you'll learn
The MA Music Management is distinct from the MA Music Industry Studies in that incorporates a close working relationship with the Royal Liverpool Philharmonic Orchestra. The RLPO inputs into the programme in a variety of ways – notably in contributing guest lectures from senior managers to offering internships at Liverpool Philharmonic. In this way, the programme involves lectures but is also discussion-focused and is high in hands-on work experience. There are three modules per semester which means seven hours of class contact time in semester one, but less class contact time in semester two as work placements are undertaken then.
How you're assessed
You will primariliy be assessed through coursework. This will be a combination of essays, portfolios and presentations throughout semesters one and two.
You will then complete a dissertation in semester three, using the research skills gained throughout the academic year.
Liverpool Hallmarks
We have a distinctive approach to education, the Liverpool Curriculum Framework, which focuses on research-connected teaching, active learning, and authentic assessment to ensure our students graduate as digitally fluent and confident global citizens.
Your experience
We are a very friendly and inclusive Music department with a lively study environment designed to help you gain the most you can from your time here.
Virtual tour
Supporting your learning
From arrival to alumni, we're with you all the way:
Why study Music at Liverpool?
We pride ourselves on being an innovative department that embraces the full spectrum of music, from the great works of the past to emerging trends such as sound for computer games
Our staff and students come from a variety of performance and non-performance backgrounds and share interests that span classical, popular, world and film music
Long established as a classical music department, in 1988 we created the Institute of Popular Music – the world's first specialist centre for the study of Popular Music
Music placed in the top quartile for impact classified as outstanding (4*) (REF 2021)
Our recently refurbished facilities boast brand new studios, teaching spaces, and industry standard equipment. These include recording and production studios, an SSL studio, practice rooms with Yamaha pianos, a multipurpose rehearsal and performance space, iMac suites and a games research lab
In March 2022 we opened the Tung Auditorium, a new state-of-the-art performance venue seating up to 400 people, with space for a 70-piece orchestra.
Chat with our students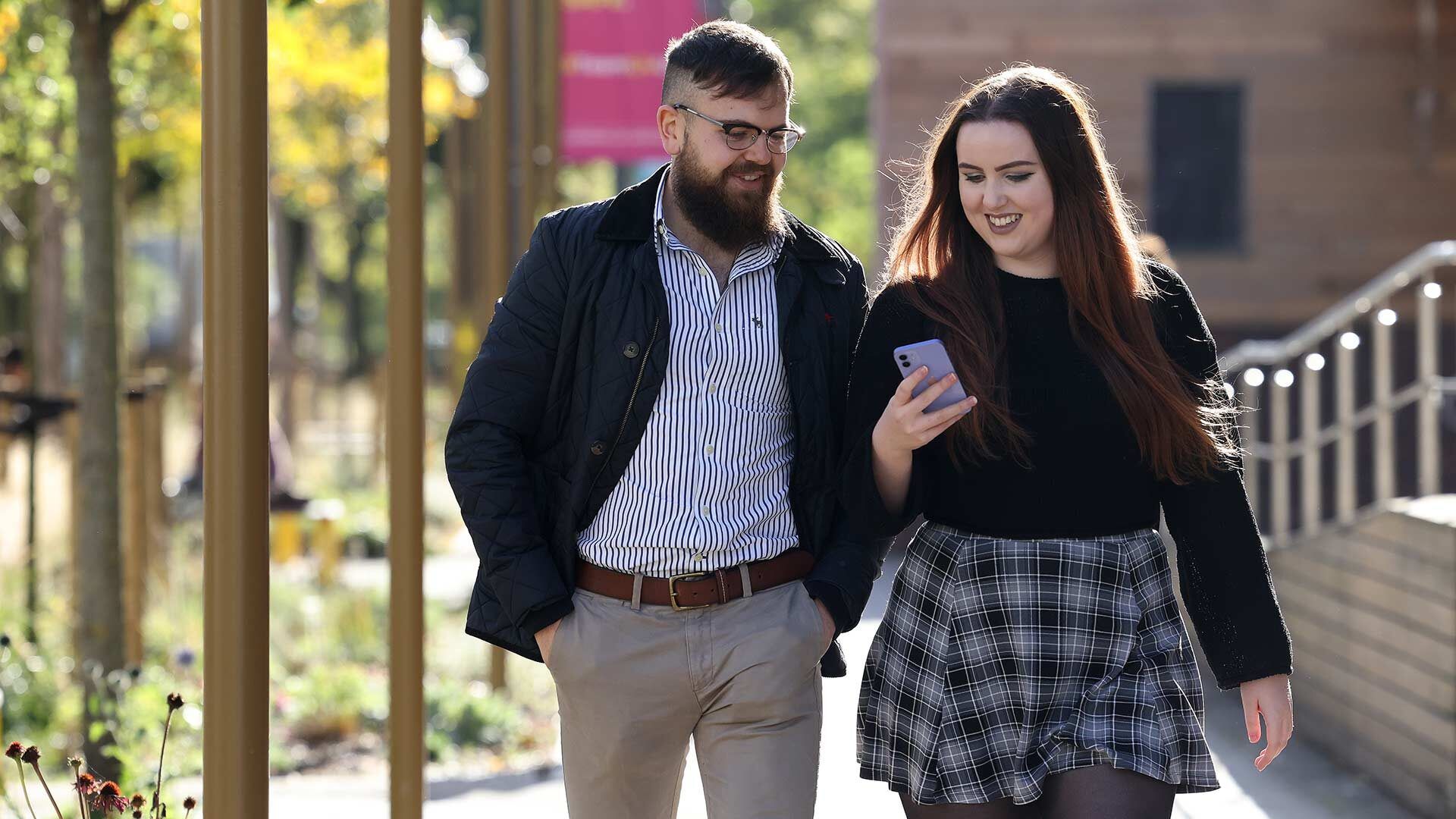 Chat with our students
Want to find out more about student life?
Chat with our student ambassadors and ask any questions you have.
Careers and employability
The MA is very much industry-focused. Members of staff for the most part have wide-ranging music industry experience and are able to draw on this in the preparation of classes. Familiarity with local and national practitioners means that classes are current and highly-informed. The ability to draw on the vast experience of the RLPO is priceless. This is a music organisation with 200 employees, which not only runs an orchestra but manages a venue and delivers an extensive educational programme. The range of expertise the programme can draw upon is second-to-none.
All this noted, the MA is still an academic degree in a Russell Group university and staff academic standards are equally high. All members of staff hold PhD qualifications in relevant disciplines and all are experienced PhD supervisors. Every year, a small number of graduates indicate that they would like to carry on their studies at PhD level and we see 'employability' as preparation either for industry or for academia and support students, whatever their proposed career paths might be.
Your future
The course opens up career opportunities which include working in:
Music management
Events management
Music composition and Music technology
Teaching
Media and Journalism.
You will also have a strong foundation upon which to study a PhD.
Fees and funding
Your tuition fees, funding your studies, and other costs to consider.
Tuition fees
UK fees

(applies to Channel Islands, Isle of Man and Republic of Ireland)

Full-time place, per year
£10,400
Part-time place, per year
£5,200
International fees
Full-time place, per year
£21,300
Part-time place, per year
£10,650
Fees stated are for the 2023-24 academic year.
Tuition fees cover the cost of your teaching and assessment, operating facilities such as libraries, IT equipment, and access to academic and personal support.
If you're a UK national, or have settled status in the UK, you may be eligible to apply for a Postgraduate Loan worth up to £12,167 to help with course fees and living costs. Learn more about tuition fees, funding and Postgraduate Loans.
Additional costs
We understand that budgeting for your time at university is important, and we want to make sure you understand any course-related costs that are not covered by your tuition fee. This could include buying a laptop, books, or stationery.
Find out more about the additional study costs that may apply to this course.
Scholarships and bursaries
We offer a range of scholarships and bursaries to help cover tuition fees and help with living expenses while at university.
Entry requirements
The qualifications and exam results you'll need to apply for this course.
Your qualification
Requirements
Postgraduate entry requirements

You will normally need a 2:1 honours degree or above, or equivalent, in an appropriate field of study.

We shall look at candidates in the light of conventional profiles, and also with regard to individual qualities. Mature students with non-traditional backgrounds, particulary if you have music industry experience are encouraged to apply.

International qualifications

If you hold a bachelor's degree or equivalent, but don't meet our entry requirements, you could be eligible for a Pre-Master's course. This is offered on campus at the University of Liverpool International College, in partnership with Kaplan International Pathways. It's a specialist preparation course for postgraduate study, and when you pass the Pre-Master's at the required level with good attendance, you're guaranteed entry to a University of Liverpool master's degree.
English language requirements
You'll need to demonstrate competence in the use of English language. International applicants who do not meet the minimum required standard of English language can complete one of our Pre-Sessional English courses to achieve the required level.
English language qualification
Requirements
IELTS
C
View our IELTS academic requirements key.
International Baccalaureate

Standard Level (Grade 5)

TOEFL iBT
88 or above with minimum scores in components as follows: Listening and Writing 19, Reading 19, Speaking 20.
INDIA Standard XII
70% or above from Central and Metro State Boards
WAEC
C4-6
Hong Kong use of English AS level
C
More about life in Liverpool
Discover more about the city and University.
Why study at Liverpool?
Liverpool bursts with diversity and creativity which makes it ideal for you to undertake your postgraduate studies and access various opportunities for you and your family.
Accommodation
To fully immerse yourself in the university experience living in halls will keep you close to campus where you can always meet new people. Find your home away from home.
Fees and Finance
Discover what expenses are covered by the cost of your tuition fees and other finance-related information you may need regarding your studies at Liverpool.
Contact us
Have a question about this course or studying with us? Our dedicated enquiries team can help.