As it was approaching low water with a predicted height of only 0.6m above CD at 6:13pm, I then returned east, to go through the Rock Channel - to check my waypoints - and then explore the Training Wall - to see how much they actually dried at low water; since I have never, in 30 years of sailing in and out of Liverpool, actually seen any part of these walls. I also planned to anchor in Lagoon to take a break, out of the current, while waiting for enough water for the marina lock to open (around 9:30).
Some images of the training wall near LW (with MSC Messina loading containers; Stena Mersey incoming near C23 buoy):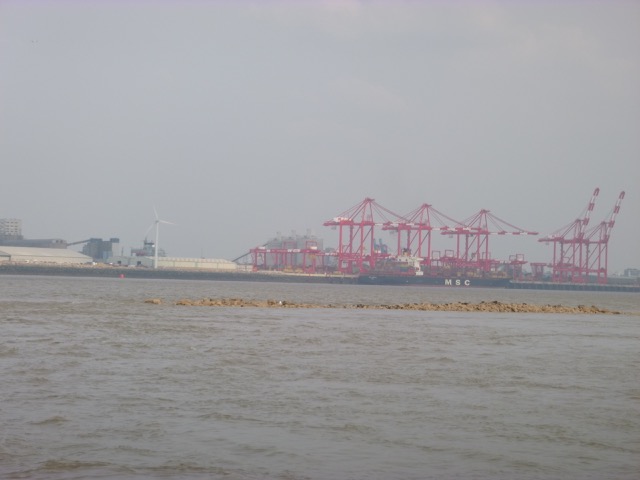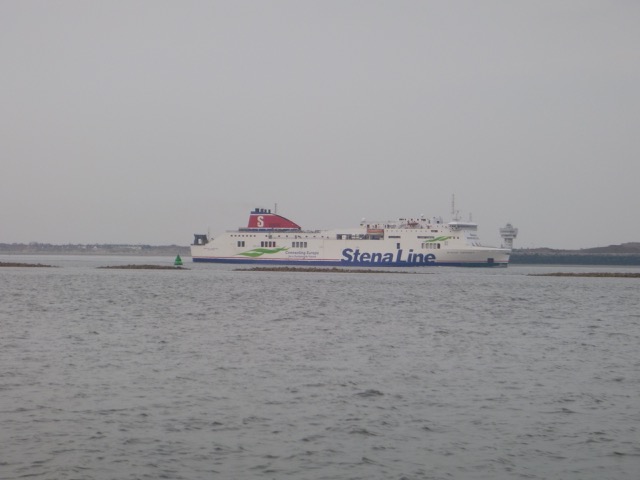 After exploring the Rock Channel and Murphy's Gut, I decided to anchor in Lagoon. This is the local name of an inlet on the east side of Brazil Bank. At low water, it is protected on 3 sides by Brazil Bank and by the Training Wall on the remaining side. It thus has rather little current and is fairly calm. I anchored at 53°27.11N 3°3.305W at 5:10 (before LW). From here, I could see the Brazil bank, Training Wall and Murphy's Gut and note at what tidal depth they covered/uncovered.
My conclusion, for Brazil Bank itself, is that it is in two parts: the southerly part dries about 3.6m; the northerly part dried 4.0m while the joining part (west side of Lagoon) dries only 1.3m. Note that these results may change as tides, storms etc push the sand around. Note that the chart of this Bank shows data from MDHB surveys from 1988-1997.
As I was at anchor in Lagoon at low water, I was surprised to see a boat coming in through Murphys Gut. It was a small local fishing vessel (registered as LL506; 5.8m long). So I am not the only person who goes through Murphys Gut. It was very peaceful anchored in Lagoon - except for a low rumbling noise from the big ship engines (generators?) coming from the docks on the Liverpool side.
Lock in to Liverpool Marina at 9:30. There was a 4 knot current off the marina at that time - convenient for me since Marlin has a least speed, in gear at tickover, of 4 knots: so I can easily keep stationary in the river off the lock.
Exploration to Hoylake and back from the marina added 24 nm to my distance run: so 63nm in total.
For my results for the Rock Channel and Murphys Gut, updated by this trip, see Rock Channel.
MARLIN trip up Mersey to Eastham June 2019
Thursday 5 June (Liverpool HW 13.14 9.2m). Wind S 3-4; mostly overcast.
Enter river from marina at 11:45. Main reason for trip was to test AutoPilot with new electric hydraulic pump installed. Because wind was from S, decide to hug the Wirral coast for more shelter. So head over to Cammell Lairds shipyard and then proceed up river towards Eastham:
Cammell Lairds: Polar Research Vessel under construction (aka Boaty-Mac-Boaty-Face);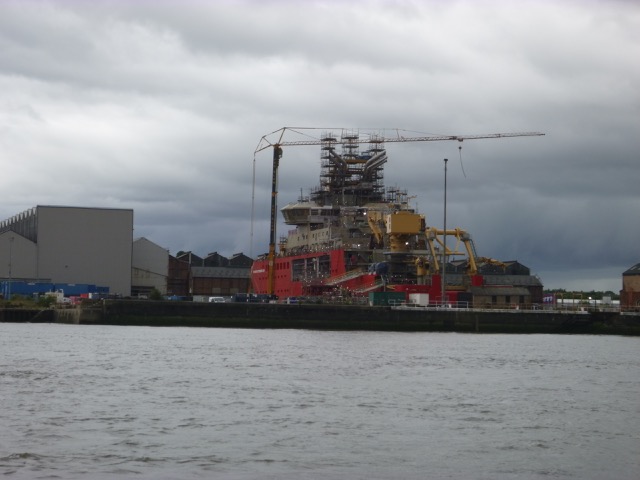 Vessels under repair in Cammell Laird's Dock - RFA Tidespring (grey) at centre; P & O European Highlander (Cairnryan - Larne Ro-Ro Ferry, 163x23m) at right in dry dock.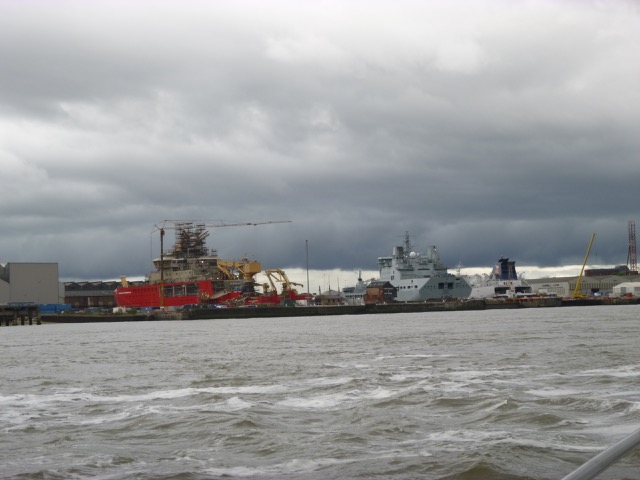 Pontoons used by windfarm boats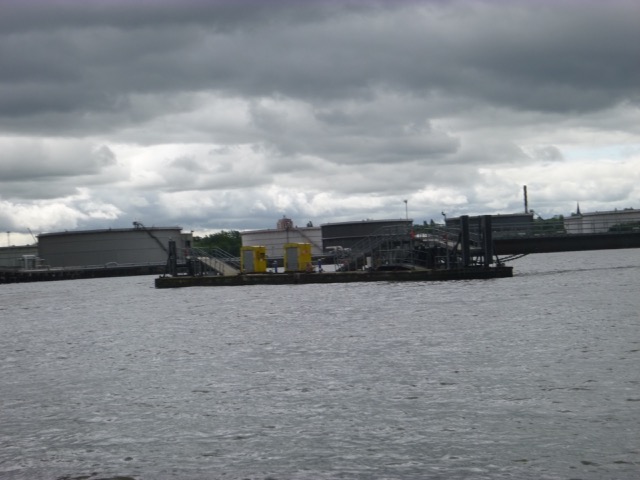 Floating crane-barge (Lara1, ex-Mersey Mammoth, 60x24m);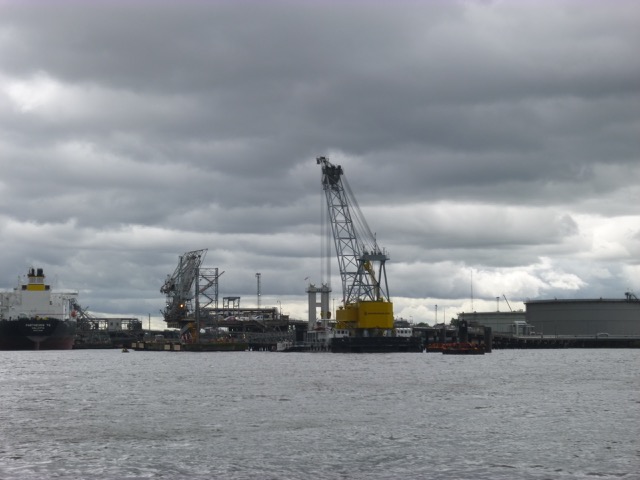 Tanker Parthenon (250x44x12.5m) on Tranmere oil stage

Bromborough Wharf (here called Mersey Wharf) - no vessels alongside;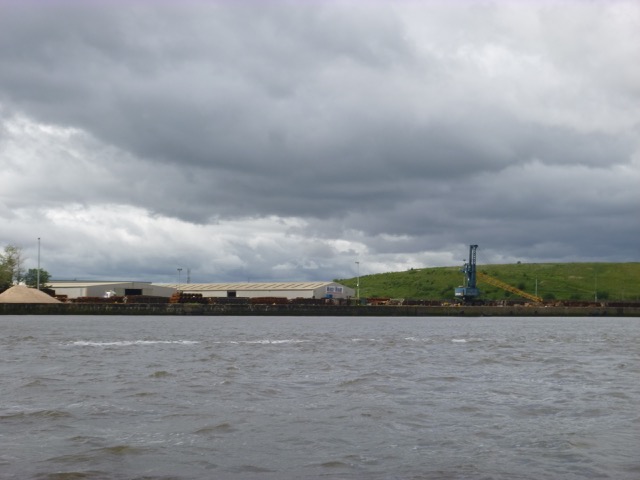 McTay Marine built many vessels from 1971 to 2015 when they closed. Their premisies and slip were taken over by Carmet who continue to repair and build.
Spud-leg barge (Haven Seafield?) alongside near McTay's shipyard (now Carmet).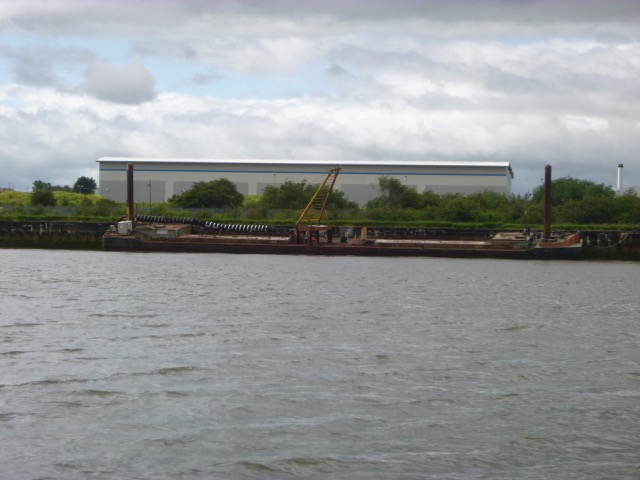 The slip at McTay's (now Carmet) with ferry (Royal Daffodil) being restored and overall view including jack-up rig: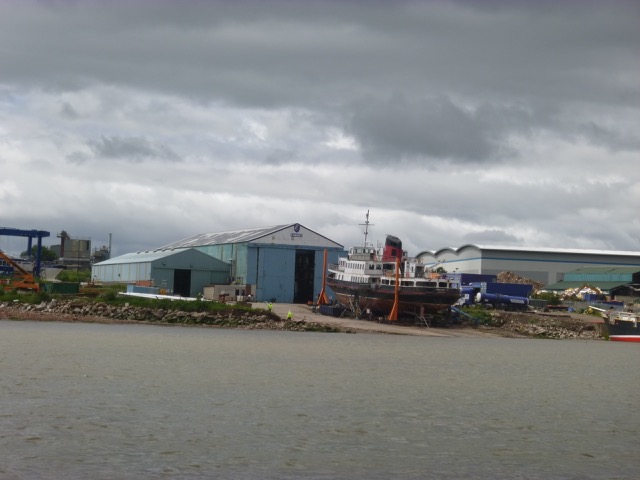 &nbsp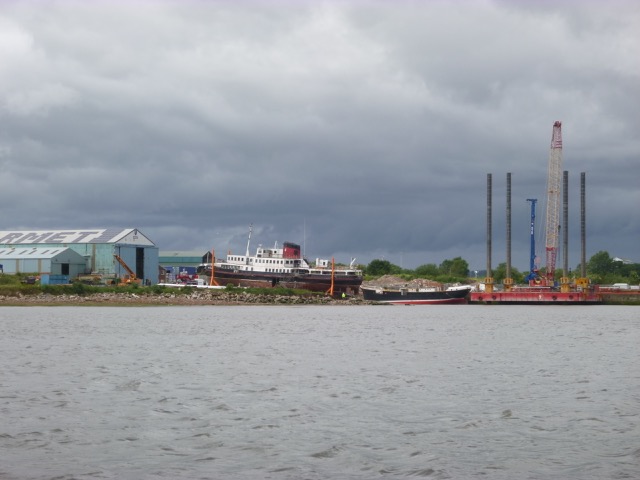 Eastham: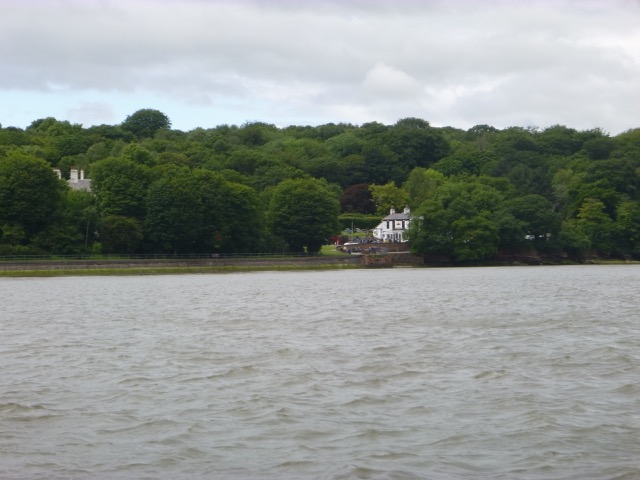 Bit Eco (120x20x7m, described as asphalt/bitumen tanker) passing Eastham after leaving ship canal lock: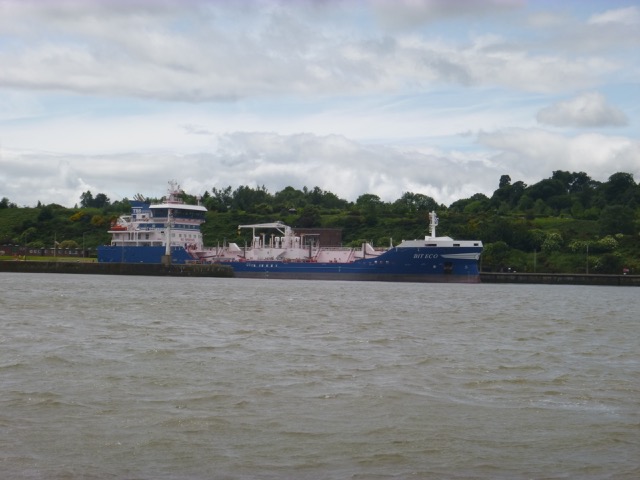 Survey vessel (Peel Port's Royal Charter 11x4m):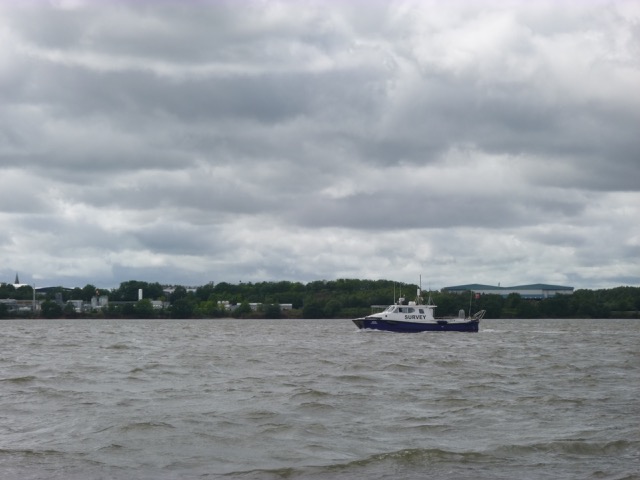 Oil Tanker Stella Theresa (126x21m) inbound to lock at Eastham, with tug: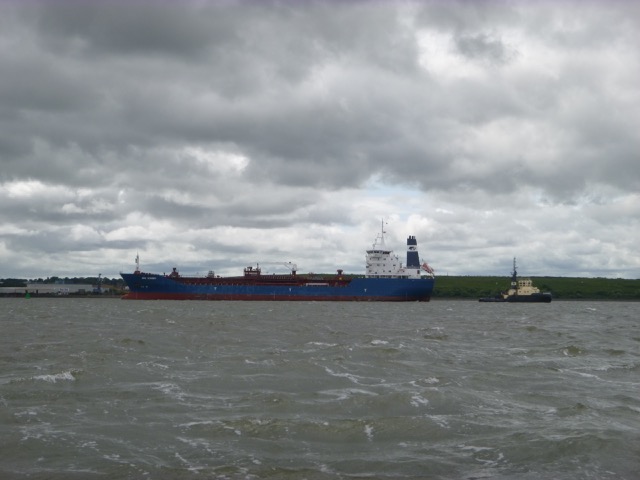 I reached Eastham by 12:45 and remained close by, since it was sheltered, to eat lunch. Then cross over towards the airport - with increasingly choppy seas. I explored some of the routes I had taken previously to get data on the current depth.
Depths (from 2019 trips, corrected to CD using Liverpool tide-gauge data, taken 15 minutes earlier), distances in metres, showing estuary from Eastham to off Airport.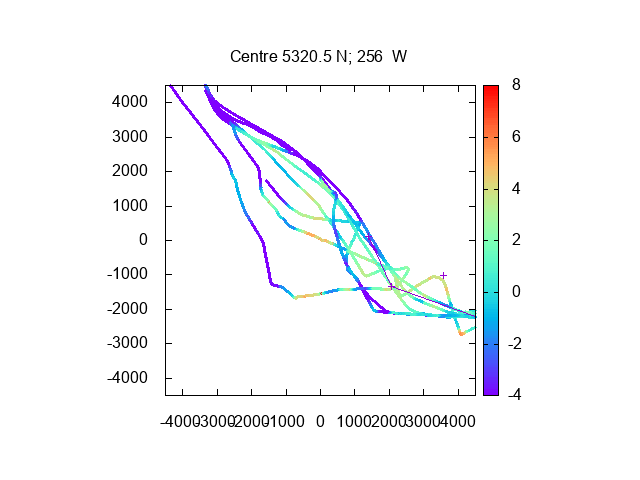 Lock back into marina at 2:00. 12.1nm run.
MARLIN trip up Mersey to Eastham, Hale July 2019
Tuesday 2 July (Liverpool HW 11.30 9.0m). Wind SW 3-4; mostly overcast.
Enter river from marina at 10:26. With wind SW, Wirral shore was more sheltered. So head over to Cammell Lairds shipyard and then proceed up river towards Eastham:
Cammell Lairds: Polar Research Vessel under construction (aka Boaty-Mac-Boaty-Face);

Slow moving container ship (RMS Veritas which takes containers from Liverpool up the Manchester Ship Canal to Irlam).

Bromborough Wharf with coasters Fluvius Teign and Wilson Tees alongside.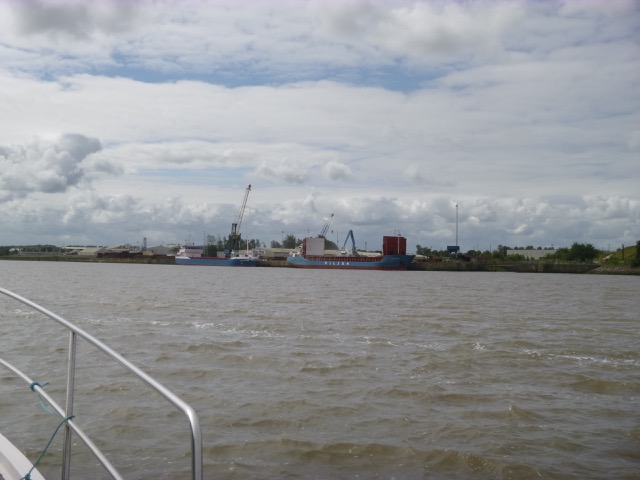 Vessel Britain alongside at Carmet (ex-McTay) yard [Built Dublin 1910 as Lightship Penguin, 100ft long, for the Daunt Rock station, on the western approach to Cork near where the PS Killarney was wrecked, then converted in 1966 to a sea training vessel Halloween, then converted in 1980 to a 3 masted schooner Arctic Penguin, then alongside at Inveraray as a Maritime Museum until 2015 when it was bought to be restored to a 3 masted motor yacht, to be based at Barrow].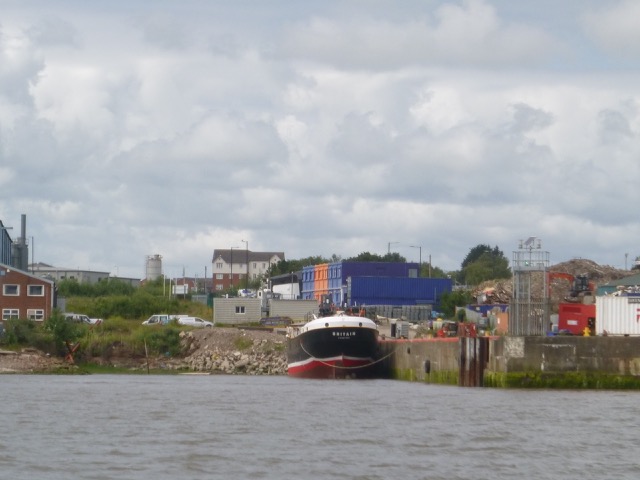 Reach Eastham by 11:07 and head east along shore from there (not charted). Part of this area is called Poole Hall bay/rocks/sands. The tudor Poole Hall (at Netherpool) was demolished in 1938/9 to make way for industrial development (Paper Mill). The area of ground on the seaward side of the Manchester Ship Canal is raised (man-made from the MSC construction and called Mount Manisty) and should be quite wild since access is not easy. Another feature of interest is that the stream that used to discharge into the Mersey near here is now carried in a tunnel (Poole Hall syphon) under the MSC and then reaches the sea.
The depth was quite shallow even a significant distance offshore.
Eventually decide to head across to Hale Point - since the channel there was well known to me.
Head around the shore close in - past reed beds, tank traps and the abandoned quay.
Lattice Perch off Dungeon Point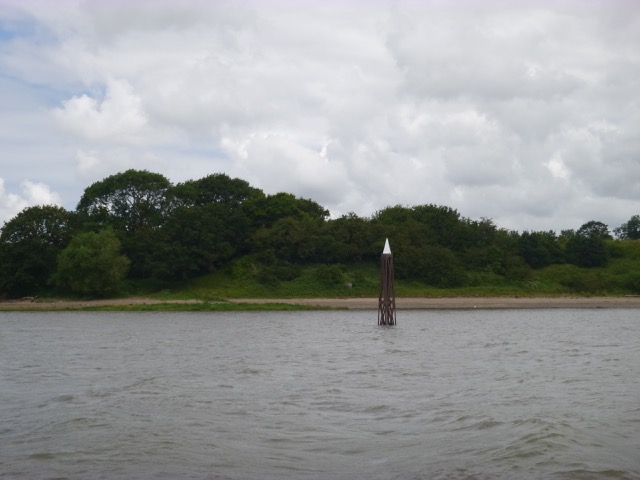 Pass Dungeon head at 12:13; Garston at 12:45 and lock in to Liverpool marina at 13:10.
Birders on board reported seeing the following during this trip: Cormorants, shelducks, oystercatcher, lapwing, grey herons, lesser black backed gull, herring gull, black headed gull.
Depths (from 2019 trips, corrected to CD using Liverpool tide-gauge data, taken 15 minutes earlier), distances in metres, showing estuary from Eastham to off Airport.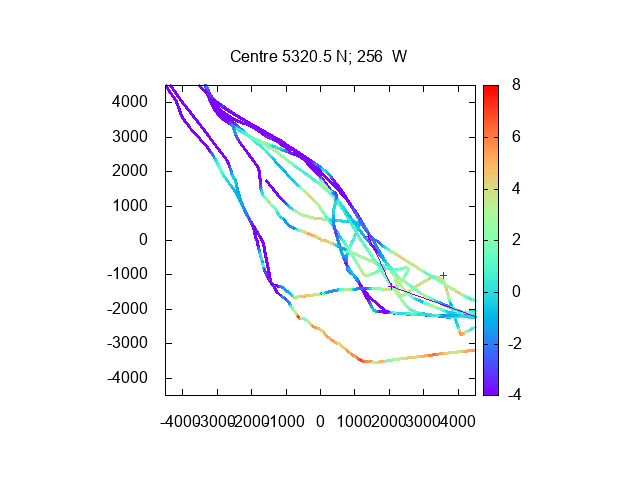 Depths (from 2019 trips, corrected to CD using Liverpool tide-gauge data, taken 30 minutes earlier), distances in metres, showing estuary between Dungeon Point and Hale Head.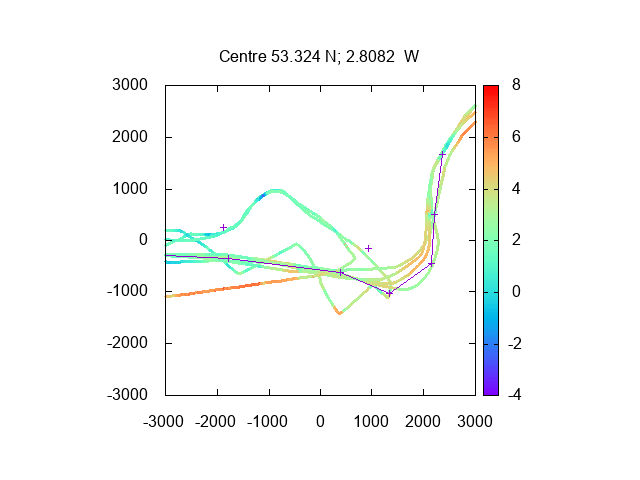 19.8 nm run, mostly at 7 knots through the water.
MARLIN trip up Mersey to Eastham, Mount Manisty August 2019
Friday 2 August (Liverpool HW 12.51 9.6m). Wind SW 0-2; sunny.
Enter river from marina at 11:37. Plan to fill in some gaps from my previous surveys. Aim to locate the sandbanks - since, with a big tide, there was no chance of running aground.
Cammell Lairds: Royal Fleet Auxilliaries under repair/refit [two in Cammell Lairds Dock and RFA Tiderace arriving],: (also the red vessel is the new Antarctic Survey Vessel, aka Boaty-Mac-Boaty-Face);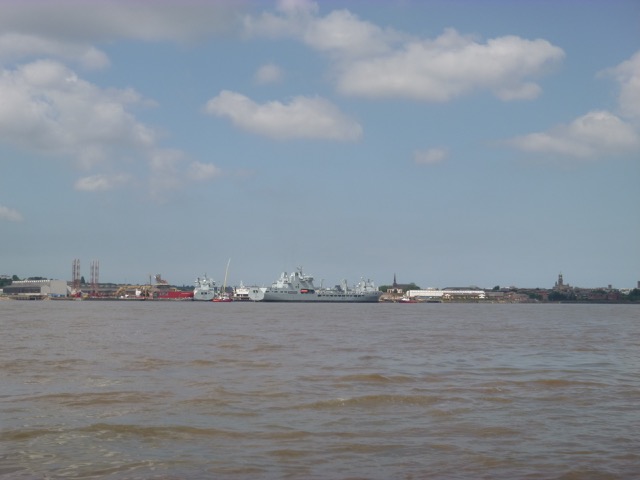 The recent heavy rain has washed a lot of logs down - some were quite big: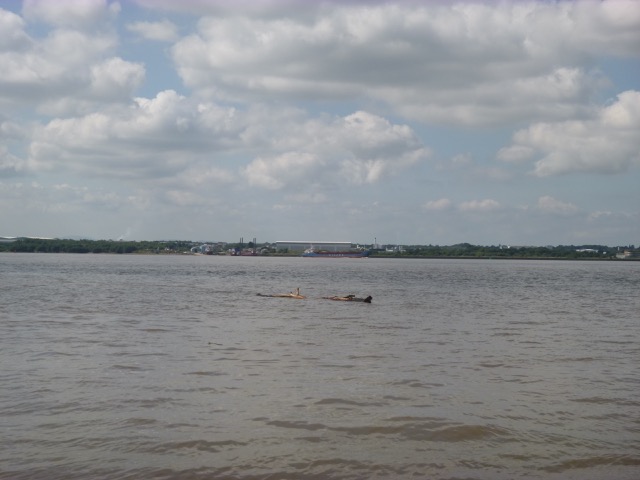 I headed for the MSC [Manchester Ship Canal] entrance at Eastham and then followed the MSC route (it follows the shore line) to the SE. This is an image of the outer wall which impounds the MSC, with a gap where a stream can cross under it.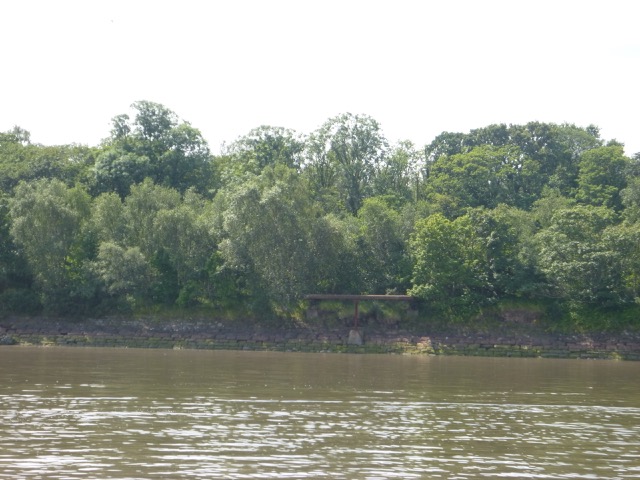 I planned to get as close as feasible to Mount Manisty: this is an artificial hill on the offshore side of the MSC - so inaccessible except by boat. It reportedly has a fair sample of wild life. It seems to have grass/reed on the shore at spring HW. View of Mount Manisty with Stanlow Oil Refinery to left: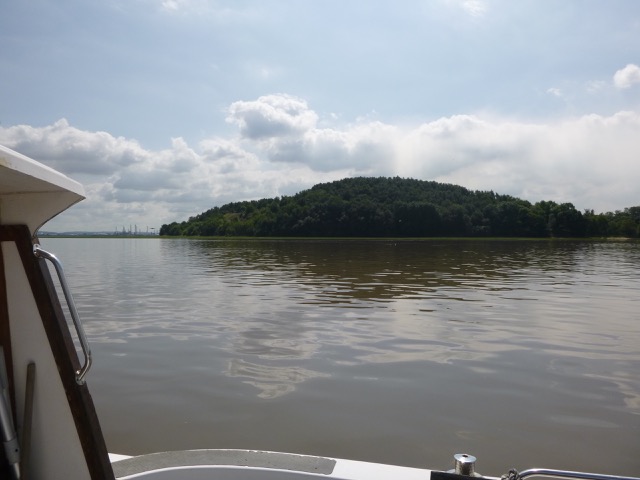 Shelduck (fuzzy image):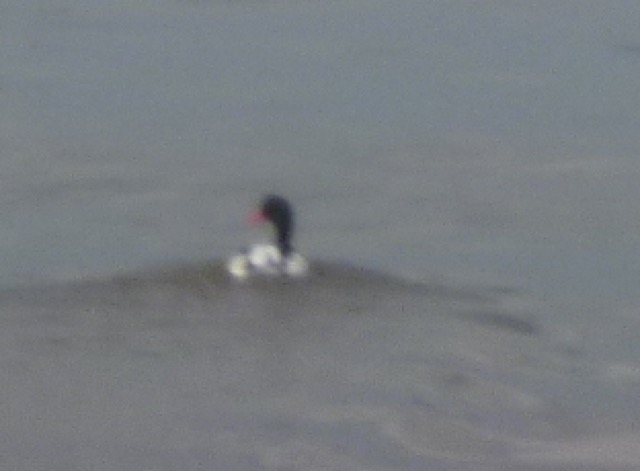 The wind had dropped completely - so it was very calm. View of Stanlow Oil Refinery: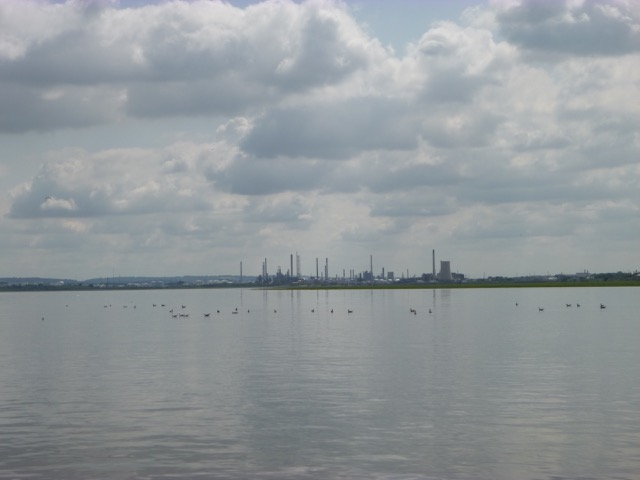 Incoming jet, approaching Liverpool Airport over me: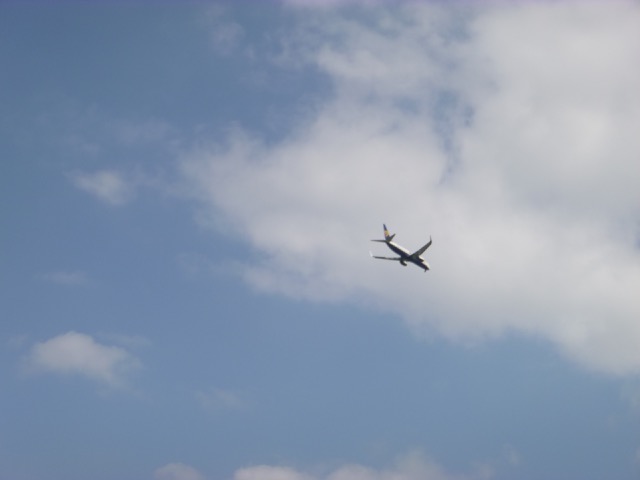 After zig-zagging around, I headed back towards Liverpool Marina following the Eastham Channel (though keeping offshore of the buoyed route).
Carmet's shipyard with vessels under repair: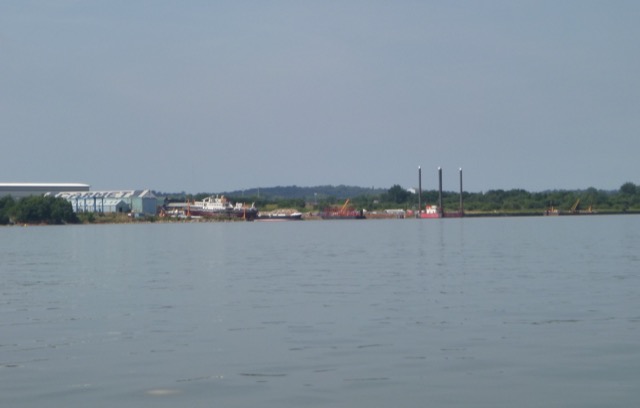 Oil Tanker fest: Sten Idun (144x23m) inbound to Eastham and Eagle Torrance (246x42m) on Tranmere Stage (both with tugs)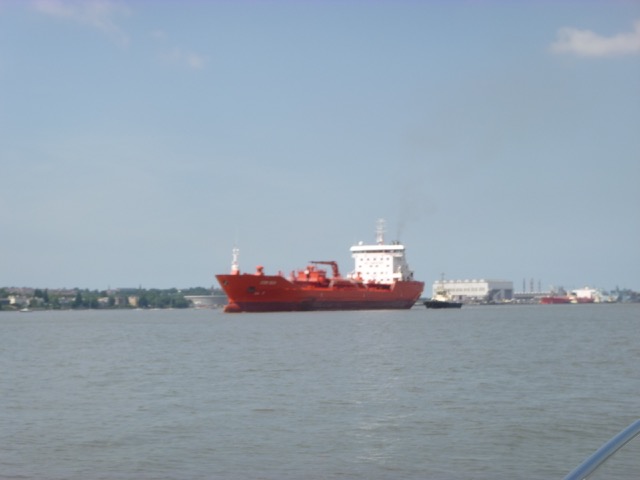 Cruise Ship Mein Schiff 5 (295x36m) on the Liverpool Cruise Terminal: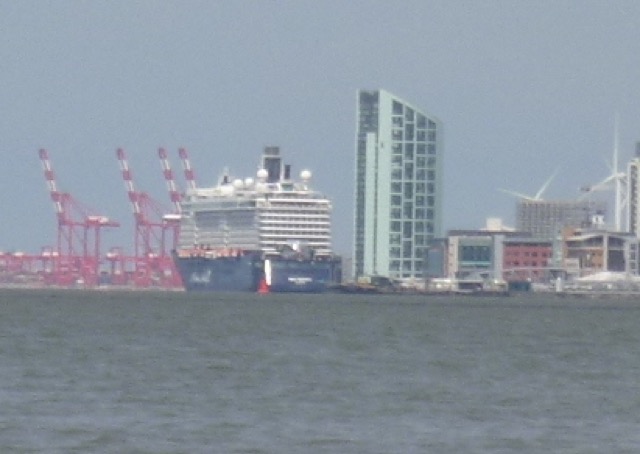 General cargo vessel Pex (91x16m) passing Cammell Lairds inbound to Eastham with several RFA vessels (Tiderace, Tidespring, Fort Victoria) under repair/refit.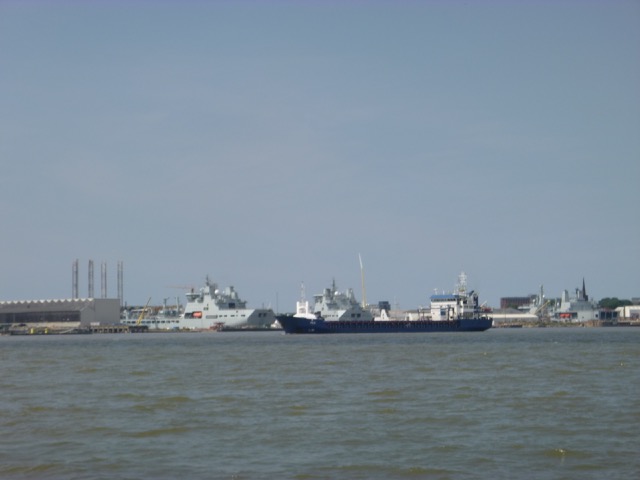 Depths (from 2018-2019 trips, corrected to CD using Liverpool tide-gauge data, taken 15 minutes earlier), distances in metres, showing estuary from Eastham to off Airport. [Mount Manisty is at bottom right of centre]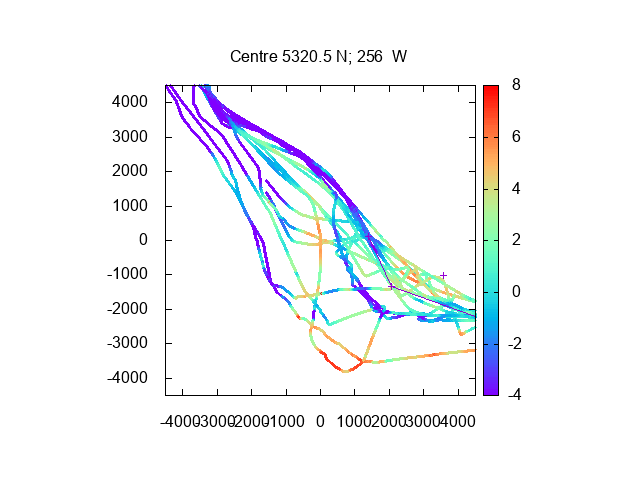 Depths (over CD) shown on HO chart - darker is shallower:

From my trips, Google Earth and other sources: it seems that the southern area of the Mersey Estuary is mainly shallow and dries to mud at low water. Several streams and rivers flow into it and they leave meandering channels which are deeper: working west to east
(i) Just west of Mount Manisty is a stream (Pool Hall Brook) that issues from a syphon under the MSC. This syphon was designed to allow fresh water to pass out, but has a tidal flap to stop seawater coming through at high tide.
(ii) Just east of "Stanlow Island" where the tankers berth, the river Gowy issues from a syphon under the MSC.
(iii) The Holpool Gutter emerges further east.
(iv) To far east, near Runcorn, the river Weaver flows into the MSC and then, if the level is too high, pours over the "Weaver Sluice" to enter the Mersey Estuary.
Lock back in to Marina at 1:35
15 nm run, mostly at 6 knots through the water.
MARLIN trip up Mersey to Hale and Runcorn September 2019
Thursday 19 September (Liverpool HW 14.43 8.6m). Wind 0; sunny.
Enter river from marina at 12:57 along with a survey cat Valkyrie. Very calm and sunny day forecast - so aim to check out the upper Mersey again.
Fleet auxilliary vessels at Cammell Lairds: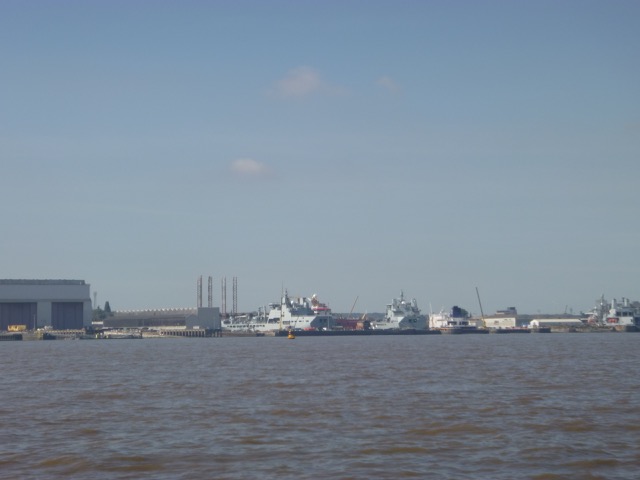 Two large tankers on the Tranmere berth: Sti Pimlico(184x27m) and Signal Alpha (258x44m):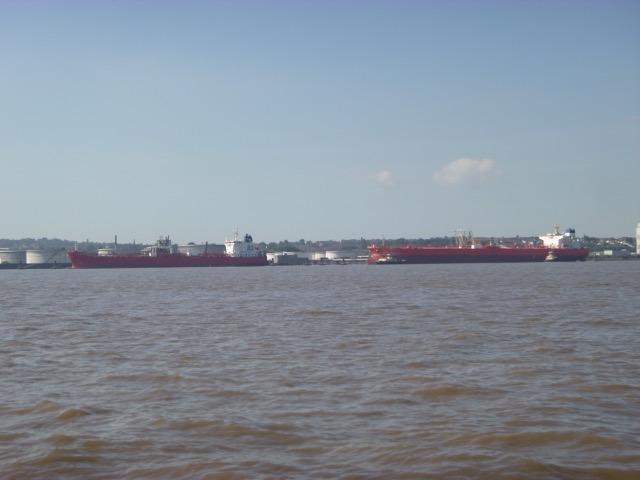 Liverpool Airport from the Mersey: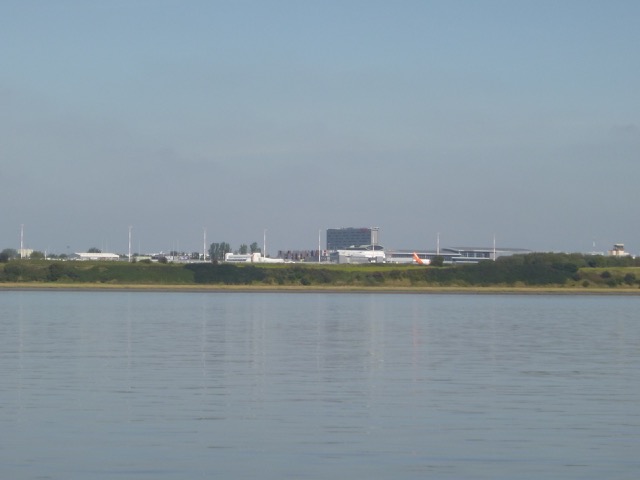 Once or twice I was worried by a sudden noise that sounded like my engine was malfunctioning. A quick look outside - and a jet landing or taking off from the airport was the culprit.
The river Weaver flows into the Manchester Ship Canal and then empties through a controllable sluice into the tidal Mersey. This causes a flow which scours a channel from the sluice out to sea. I decided to seek out this channel. It is charted as running close to the southern edge of the estuary initially (also on Google Earth). As it was still 60 minutes before local HW, I could explore without prior evidence. My efforts to get to it were thwarted - I ran gently aground and had to back out and head away. A view of the sluice from the Ship Canal.
Weaver Sluice from the estuary: where water from the River Weaver runs out from the Manchester Ship Canal, near Runcorn: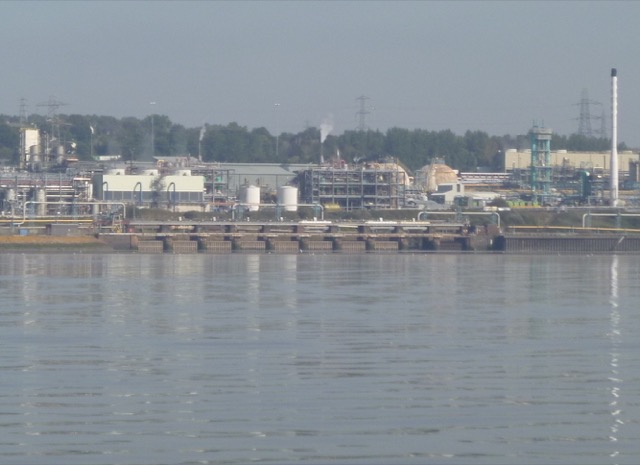 Another iconic building is the abandoned church at Runcorn Docks. It was built in 1841 mainly for employees of the Weaver Navigation. With the construction of the Manchester Ship Canal and the Runcorn and Weston Canal, it was left on an uninhabited island - only accessible by crossing the lock gates if closed. It was deconsecrated in 1995 and is now in an abandoned state. Another view.
The old Docks church (Christ Church) at Runcorn - overshadowed by industrial buildings: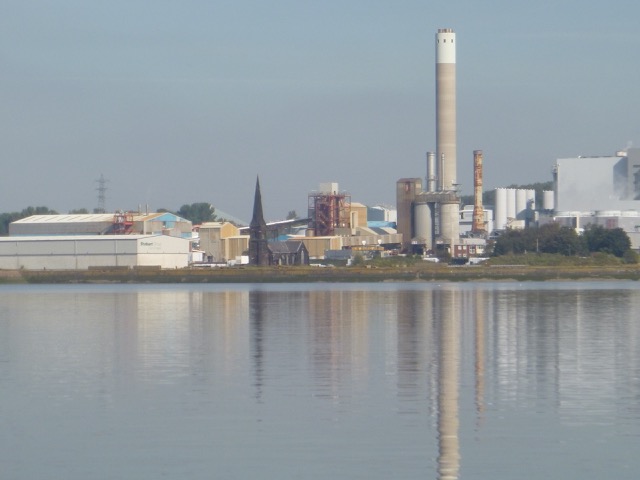 The abandoned lock gate from the MSC (just south of the church) to the tidal Mersey (just visible with old wooden lock gates behind).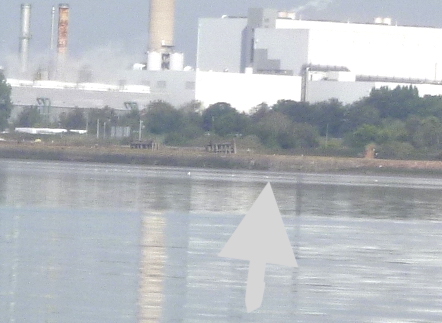 For some views of the abandoned locks etc on the outer wall of the Manchester Ship Canal.
Three Runcorn-Widnes bridges seen from downstream: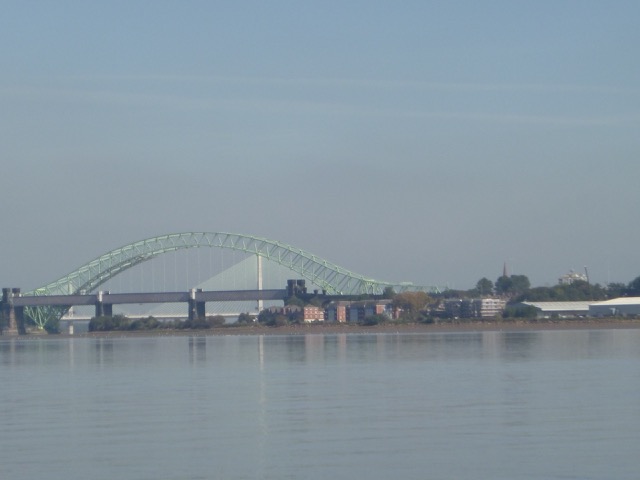 I decided to head on up to Pickerings Pasture - a nature reserve on the NW bank of the tidal Mersey.
Two grey herons on the river bank at Pickerings Pasture.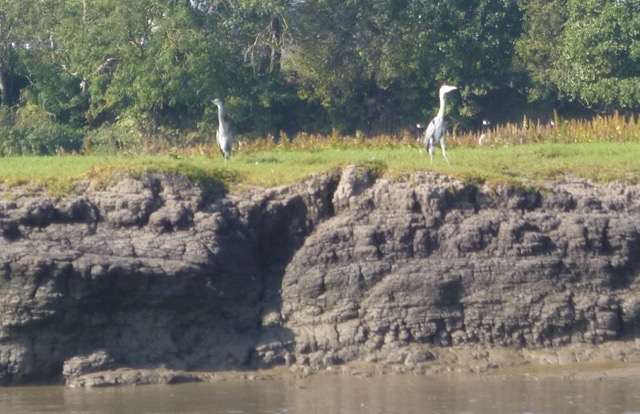 Canada Geese on the river bank at Pickerings Pasture.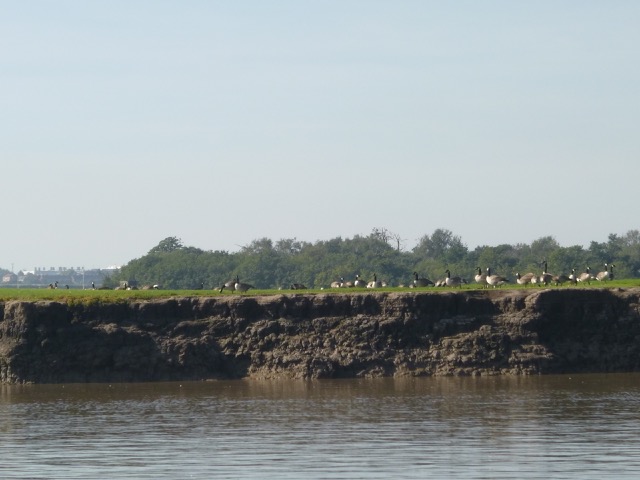 I turned around at 2:35 (local HW-40 minutes) with current still running up river at about 2 knots. Once I had passed Hale Head, the current slackened and then turned favourable.
The obligatory photo of Hale Head Lighthouse: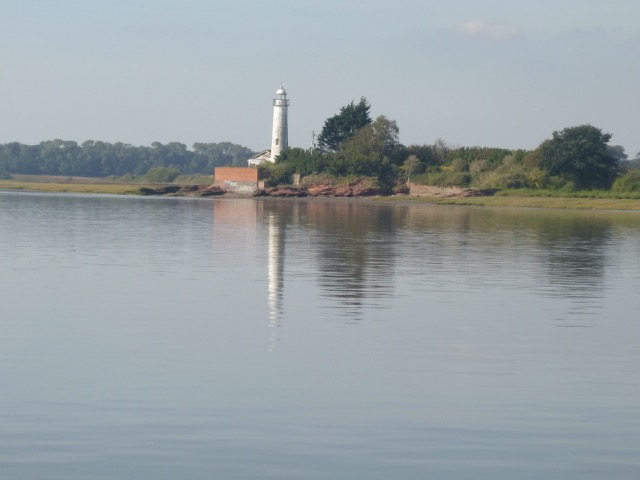 Liverpool airport control tower (in very calm conditions):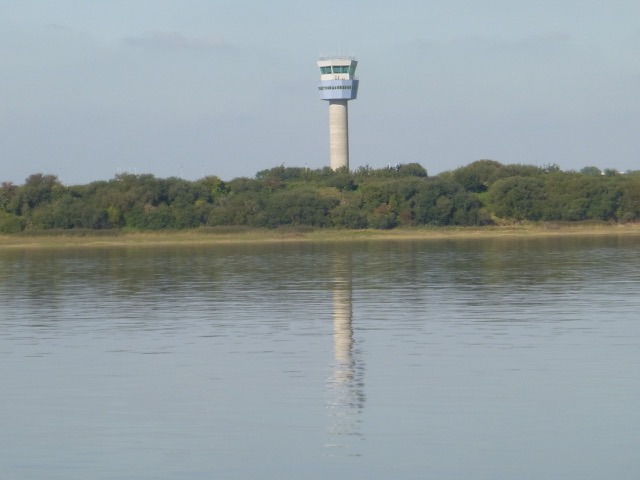 One of the Garston Channel buoys (G11) with houses at Grassendale behind.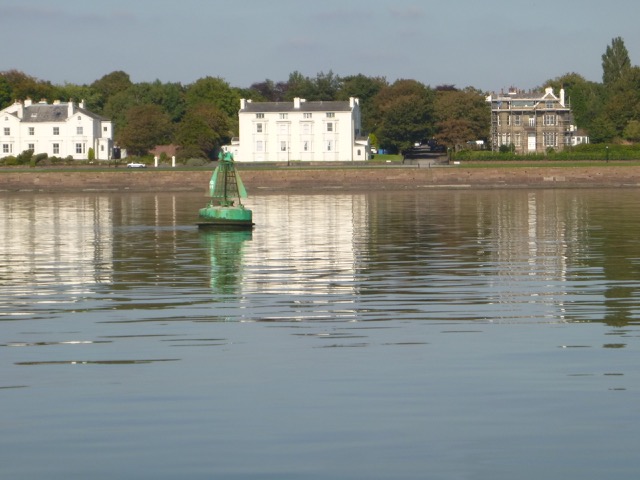 During this trip. I saw no other boat in the upper Mersey - there were no yachts moored off LSC either.
My tracks (with depths in metres above CD) from this trip and others from 2018-9. From Dungeon Point to Hale Head. Attempt to reach the Weaver Sluice is at bottom right. Pickerings Pasture is at upper right (to left of tracks).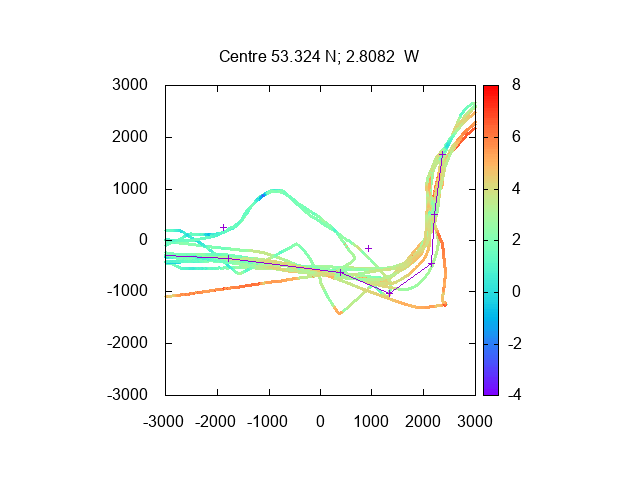 Lock back into Liverpool Marina at 4:15.
22.3 nm run.
MARLIN trip up Mersey to Stanlow and Runcorn October 2019
Wednesday 2 October (Liverpool HW 14.18 9.6m). Wind NW 2-4; sunny periods.
Since the HW level was a metre more than my previous (September) trip, I could explore anywhere that was covered on that trip. So ideal for continuing my survey of the southern (Cheshire) side of the Upper Mersey Estuary.
Enter river from marina at 12:28. The lock was quite full - with "powerful" boats: Navy Reserve HMS Biter and a Police RIB. Also a survey cat, Valkyrie, and two yachts.
Marina Lock with HMS Biter beyond Valkyrie and a Police RIB: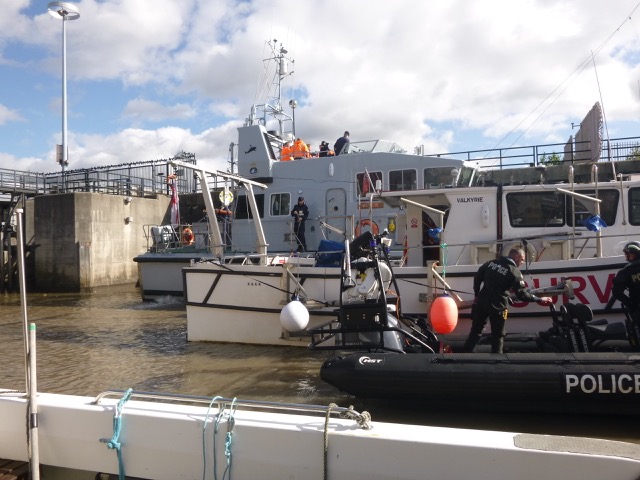 Head up river, towards "Stanlow Island". This is a triangular piece of land between the Manchester Ship Canal (MSC) and the tidal Mersey, close to where the River Gowy emerges from a syphon under the MSC. It has the remains of a monastery and some abandoned buildings of much later date. It also has "laybys" where tankers berth to load refined products from the Stanlow Refinery. It is reached by using a ferry service across the MSC, provided by the Stanlow Refinery.
&nbsp Since the River Gowy scours a channel, there is likely to be sufficient depth at HW, if you can find that channel. Google Earth from 2010 shows a deepish channel along the southern shore of the Estuary from Runcorn to Eastham, including Stanlow. By 2018, this channel appears to have disappeared - except for a small section west of the Weaver Sluice (more on this later).
&nbsp Images: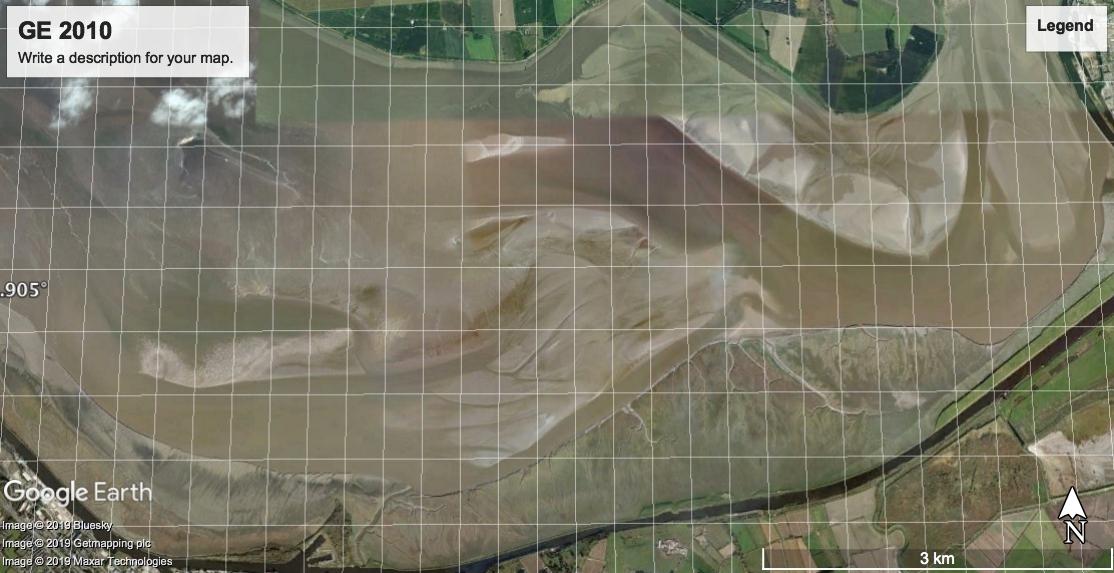 &nbsp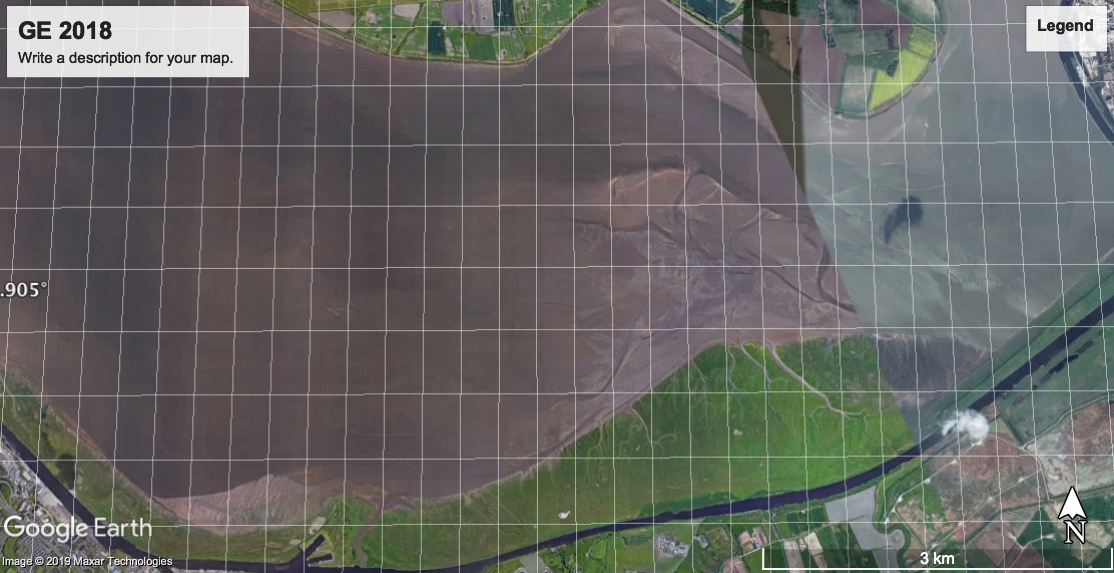 See also the section off Runcorn in 2015: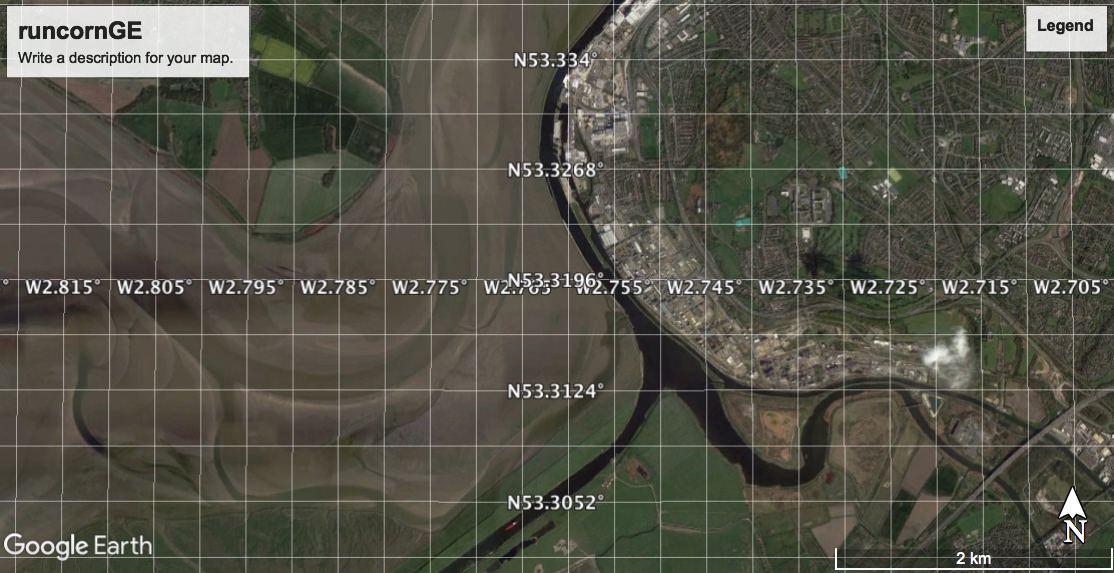 There were some large logs floating - presumably washed down by the recent heavy rain. After crossing some very shallow banks, at 1:07 pm reach the deeper channel of the River Gowy, off Stanlow Island.
Stanlow Island (tops of Tankers just visible). River Gowy emerges at left side.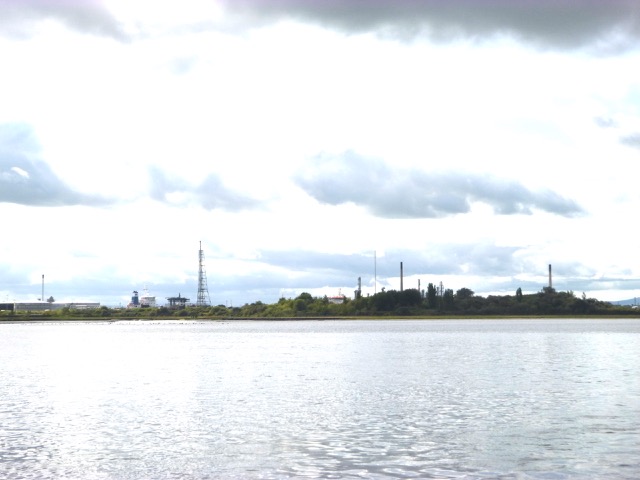 I then headed for the channel of the River Weaver (using Goggle Earth 2018 images for guidance). Again some very shallow banks (but a making tide still, so no worries). By 1:30 I had reached the somewhat deeper channel and then headed in close to the southern shore.
Sheep grazing on the land between the MSC and the tidal Mersey.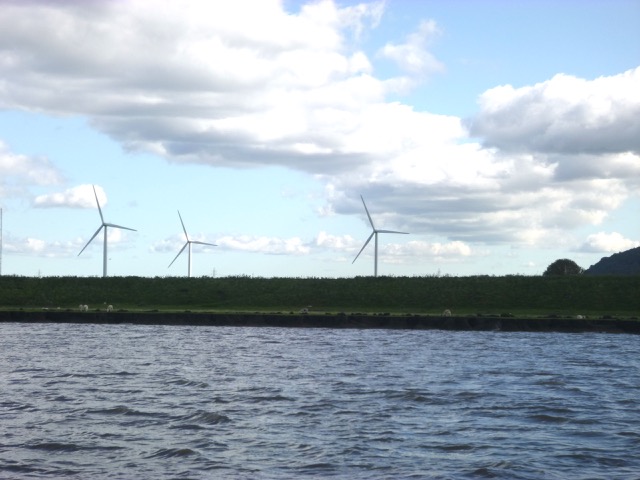 The River Weaver enters the MSC and then the water is released (in a controlled way) by the Weaver Sluice (see proposal to operate a hydro-electric power plant at Eastham Locks which would redue the flow over the Weaver Sluice].
Weaver Sluices (closed).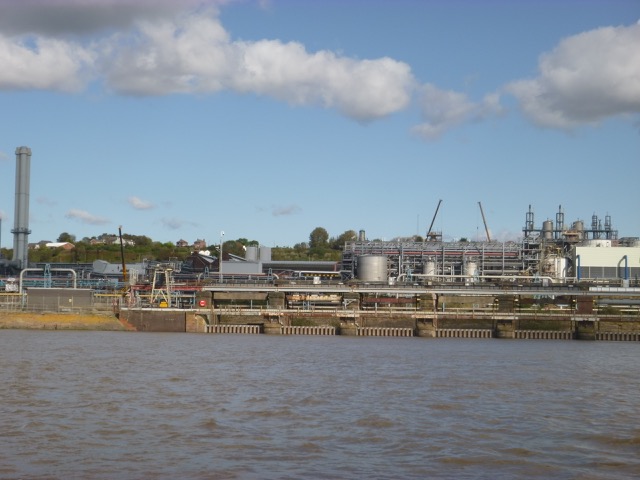 I then proceed upriver, close to the MSC embankement, with a view of the industrial buildings at Runcorn.
Abandoned Power Station at Weston Point (Runcorn; closed around 1998 when the gas-fired Rocksavage plant was built). More info.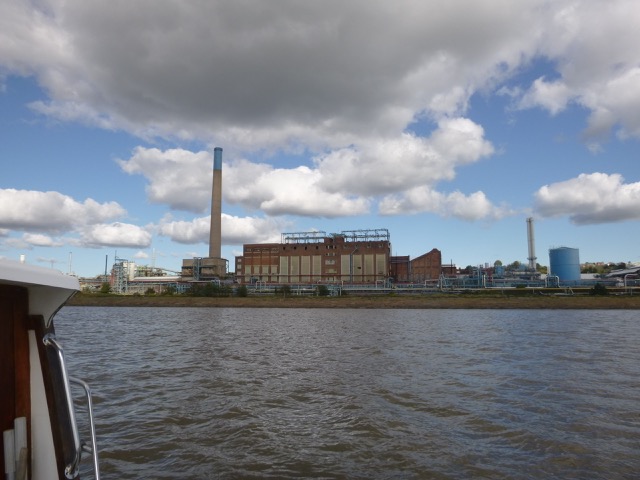 Lots of Canada Geese on the embankment:

The (abandoned) lock gate from the tidal Mersey to the MSC (Christ Church spire just visible) with abandoned wooden lock gates:

At 2:05, I then headed across the Mersey Estuary towards the shore near Hale Head, with current still incoming quite strongly.
View of a vessel (Frisian Lady 104x15m, which subsequently left for a port in Finland) at the cement berth in the MSC at Runcorn seen from the tidal Mersey, with the Runcorn road bridge and Fidler's Ferry Power Station beyond: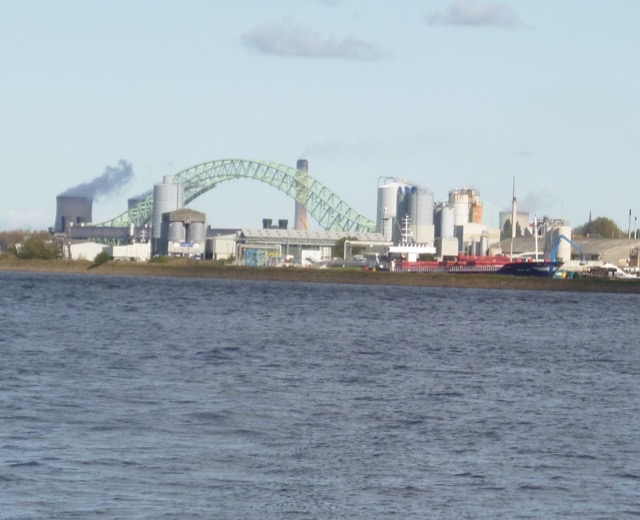 Head back (west), against the current, around Hale Head and the keep close inshore around the bay between Hale Head and Dungeon Point. This has a deep water channel close to the shore and is a back-eddy at this tidal state, so the current was helping me along.
In the Bay between Dungeon Point and Hale Head: abandoned tank traps and the quay (from the salt works that were once there):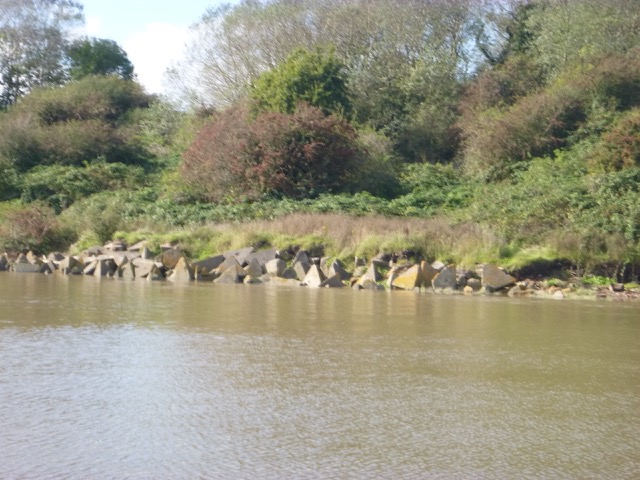 &nbsp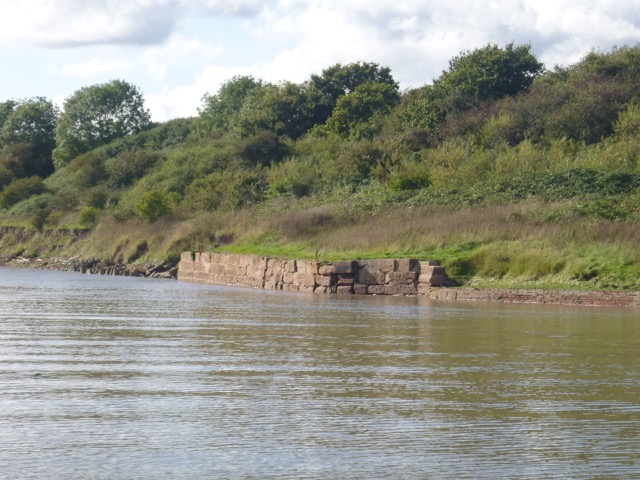 Reach Dungeon Point (Lattice Perch) by 2:41 with the current fairly slack. Head west, close inshore, past the wooden perch and the Airport Gantry.
Liverpool Airport Light Gantry: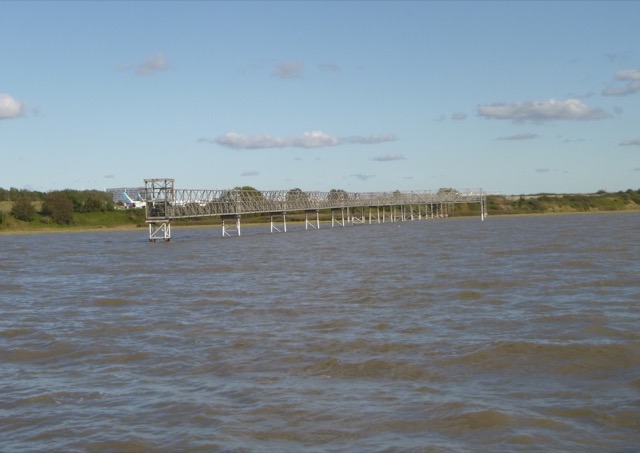 Proceed past Garston with increasing waves (wind NW 3-4; wind over tide) towards Liverpool Marina.
Two Tankers, Seamuse (180x32m) and Minerva Atlantica (250x44m) on the Tranmere Oil Stage with Cammell Lairds beyond (Fleet Auxilliaries under repair) seen from the Garston Channel:

Further up-river than Garston, I only saw two other vessels: a small survey boat Osprey and a very small RIB. There were 3 yachts sailing back and forth just upriver from the marina entrance.
Lock in to Liverpool Marina at 3:39. 22.3 nm run.
My tracks (using depth over CD using Liverpool tide gauge 30 minutes earlier). The southernmost track is from this trip: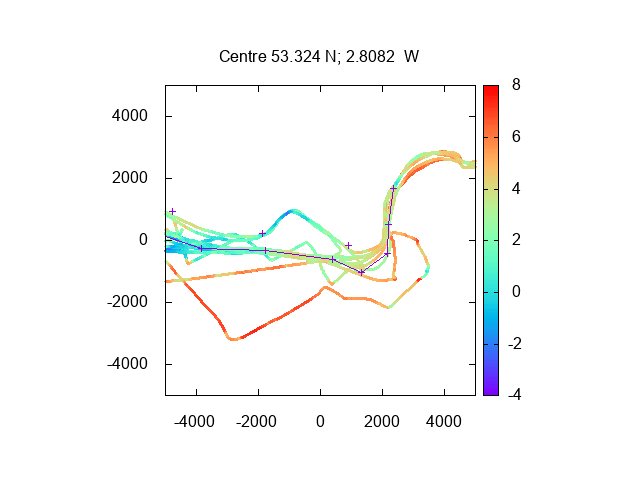 Depths (over CD) of my tracks shown on HO chart - darker is shallower. Also waypoints shown. First plot shows the south shore of the upper Mersey; second plot is the Hale Head - Runcorn area,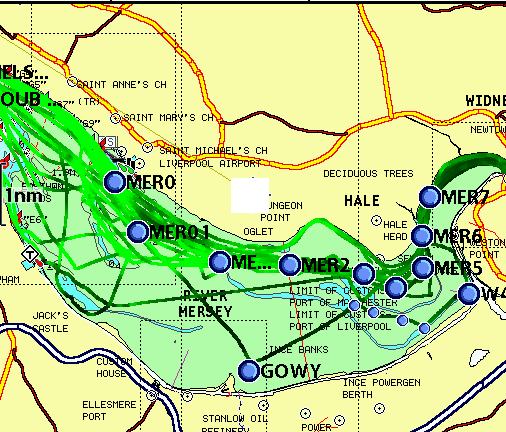 &nbsp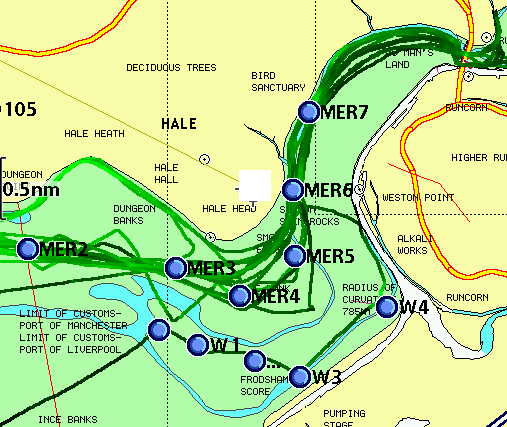 Soon afterwards the CG helicopter was hovering over the river near the marina and several CG vehicles were about, fashing lights going. A subsequent report indicated that a body had been possibly sighted and it was searched for by several lifeboats and the helicopter, with the Hoylake Lifeboat eventually recovering a body.
Later reports suggest that it may be that of a woman who went missing near Warrington on 25 September.
MARLIN trip up Mersey to Eastham and Widnes November 2019
Monday 18 November (Liverpool HW 14.36 8.4m). Wind N 1-2; sunny; calm. Leave marina lock at 12:50 and head for Eastham (MSC entry lock).

Pass Cammell Laird shipyard with Royal Navy Fleet Auxilliaries (Fort Victoria, Tidespring and Tiderace) under repair: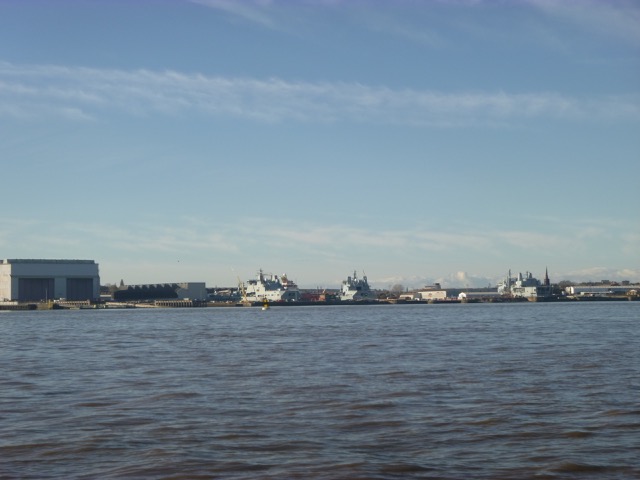 Then pass Tranmere oil stage with two tankers (Nord Vantage (182x32m) and Ingrid Knutsen(257x43m)) moored

As I proceeded up the Eastham Channel the oil products tanker Amuleth (102x15m) passed me outbound.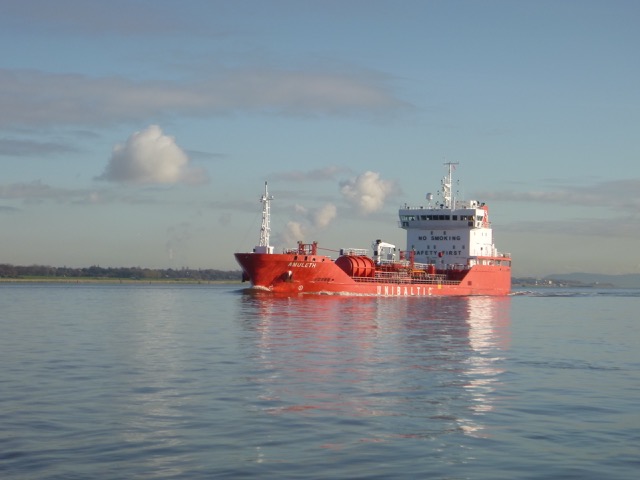 Further along I passed the Carmet shipyard with various vessels under repair: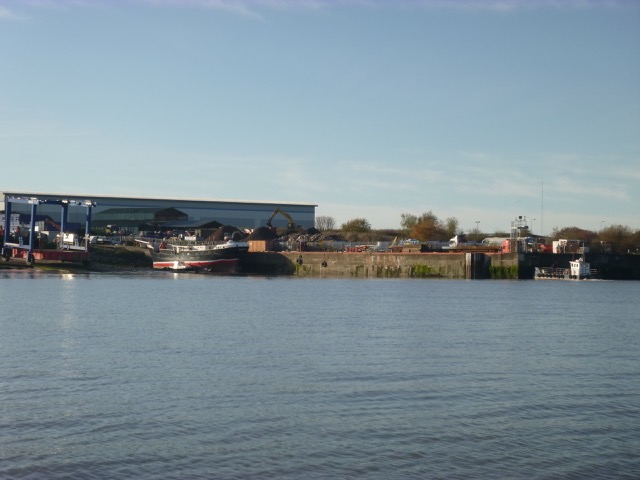 I reached the MSC entrance lock at 13:20 and then headed across the estuary to near the airport - to survey the channels. I then continued along the northern side of the Mersey - passing Dungeon Point, Hale Head, Pickering Pasture, and approaching the bridges.

Hale Head with Fidlers Ferry Power Station chimney behind.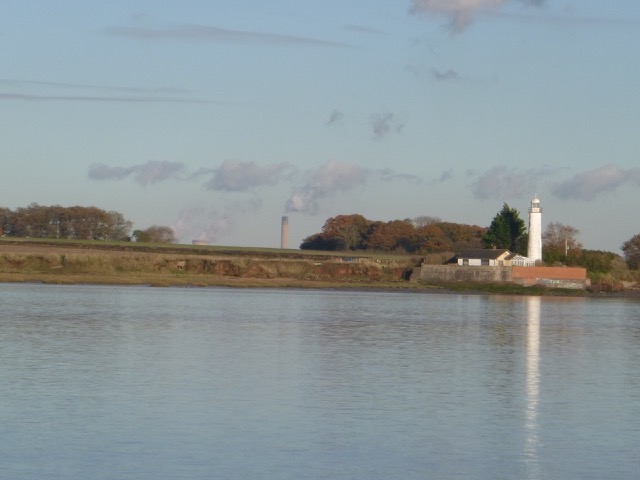 Three bridges: Rail; Road(Suspension) and Gateway(cable stayed) with Fidlers Ferry Power Station beyond.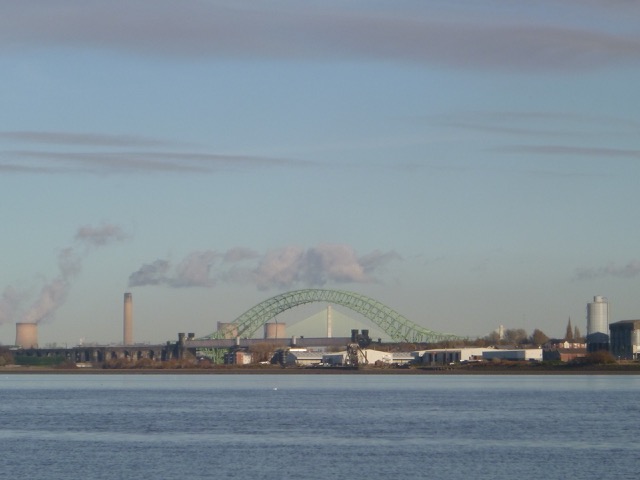 I passed under the Runcorn-Widnes bridges at 2:30 and could see repair work (with a cherry-picker) high up on the road bridge: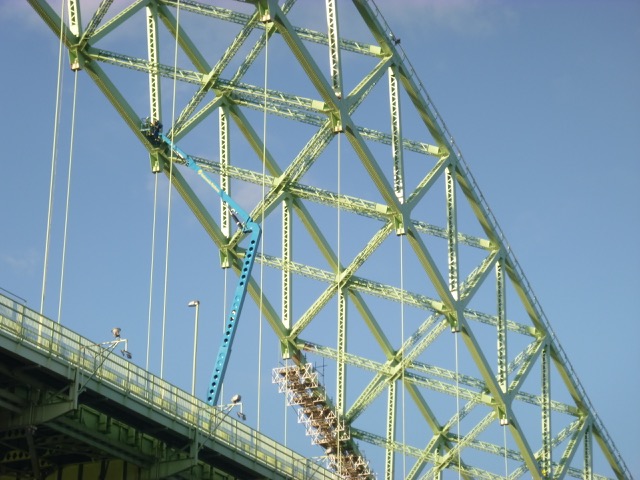 I turned around near the entrance to the St. Helens Canal at Spike Island (Widnes) used by the West Bank Sailing Club - with a yacht moored alongside.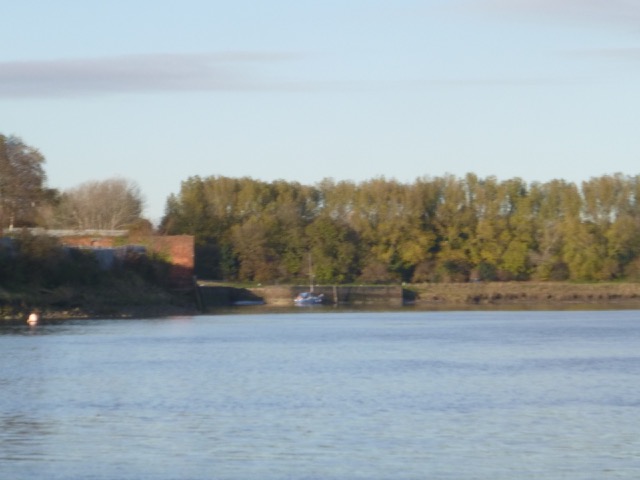 From here you get a fine view of the new Gateway Bridge: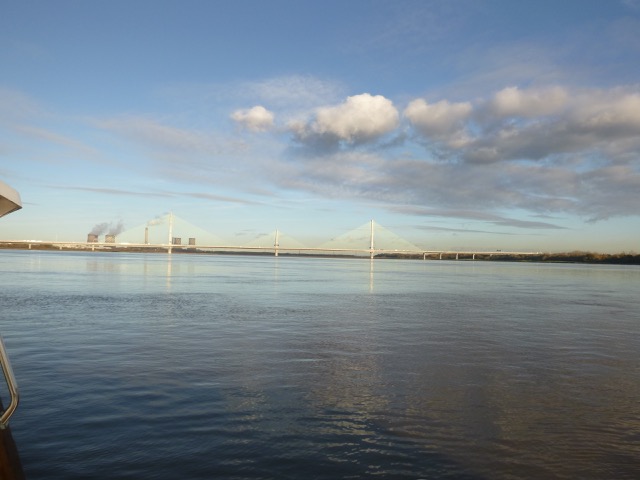 In order to get back to Liverpool Marina in good time, I upped the revs to give me 9 knots through the water since I had adverse current from when I turned around at 2:35 until I was off Hale Head at about 3:03. Again, because of recent heavy rain, there were several large logs floating in the river - one, that was almost underwater, created quite a thud when hit.

I was off the marina lock by 3:52 and locked in soon afterwards. Two other boats (one small fishing boat and one sailing boat) had also been out enjoying the sunny and calm weather.

Chart of depths (from this trip plus all other trips in the previous year) over CD showing the Eastham Channel at left, Garston Channel at right and airport (gantry marked +) at lower right.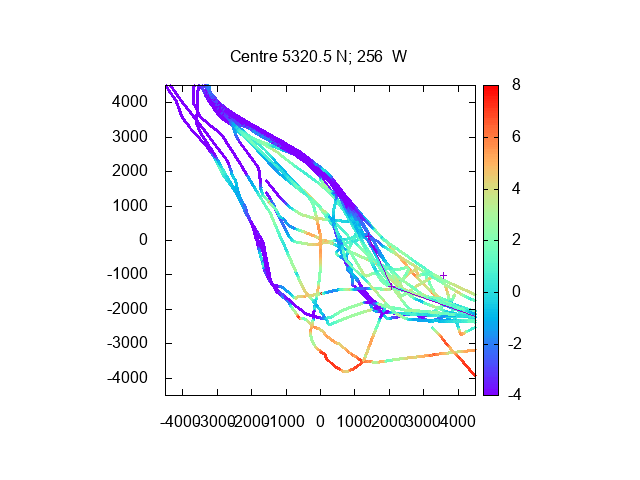 25.3 nautical miles run.

A record of the depth and track of my voyages are available from teamSurv

If higher resolution versions of the above images are wanted, please contact me. All information given in good faith, but please do not rely on it.

Back to index here