Wreck of the PSS Killarney
The Passage; The Wreck; The Rock; The Rescue; The Cause;
The Wreck Site; Ship Registry;
Contemporary Reports; Baron Spolasco's narrative.
The Passage
After the new cut of the Avon was constructed at Bristol in 1809, the original stretch of the river became a "Floating Harbour", always in water and accessed by locks near high water. This was the point of departure for ships carrying passengers to Ireland.
Cork was one of the principal towns of Southern Ireland and was accessible at most tidal states - with steamers using Penrose Quay on the north bank of the river Lee near where it splits into two branches at the centre of Cork. As well as Cork itself, steamers called at the deep water quay at Cobh (pronounced "cove" and so named in the 1830s).
A steamer service from Bristol to Cork was started by the War Office Steam Packet Company of Bristol (so named because they had a contract from the War Office). Later they became the Bristol General Steam Navigation Company.
As well as the PS Killarney, the General Steam Navigation Company of Bristol lost several other early Paddle Steamers, mainly on the South Wales coast:
Frolic 15 March 1831 on Nash Sands - all 15 crew and 63+ passengers lost
Albion 18 April 1837 beached Marloes after hitting a rock in Jack Sound - all saved.
City of Bristol 17 November 1840, driven onto Llangennith Sands, 21 crew and all 5-6 passengers lost, 2 crew survived.
Queen 1 September 1843, hit rock off Skokholm Island in fog - all crew and passengers (except one) saved by sloop Hope and own boats.
As well as passengers, their ships carried cargo. Pigs were a valuable commodity and were carried both under deck and on deck with wooden barriers to contain them.
On Friday 19 January 1838, PSS Killarney departed from Cork at 9am as scheduled with cabin and steerage passengers and hundreds of pigs on board. She reached Power Head (about 3 miles east of the outer entrance to the Cork Harbour) and was turned around by Captain Bailey because of adverse weather, returning to Cobh about 1:30pm. Here some passengers left, fearing further delays or a rough passage.
About 4:30pm, Captain Bailey decided to set off again, believing that the weather was moderating. Once they got into open water the conditions were very bad - big waves and lots of motion. At around 2am the next morning (Saturday) there was cause for alarm: the ship was taking in water. The engine room was partially flooded and a deadlight (commonly called a port-hole) in the passenger accommodation was letting in water. The water in the engine room, together with the violent motion, made tending the boilers difficult. The engines were stopped and she drifted. Attempts to hoist a sail were thwarted as it was blown to shreds.
Their position was estimated to be off Youghal. To make the vessel more buoyant, it was decided to jettison the deck cargo of pigs. This improved the rolling somewhat. Pumping and bailing was keeping the water level under control but was getting harder as the motion increased and as pumps got choked by debris. At 1pm, an attempt was made to light the fires in the boilers but they could not be kept going sufficiently to raise enough steam to provide power to the paddles. Another attempt to raise a sail was also unsuccessful.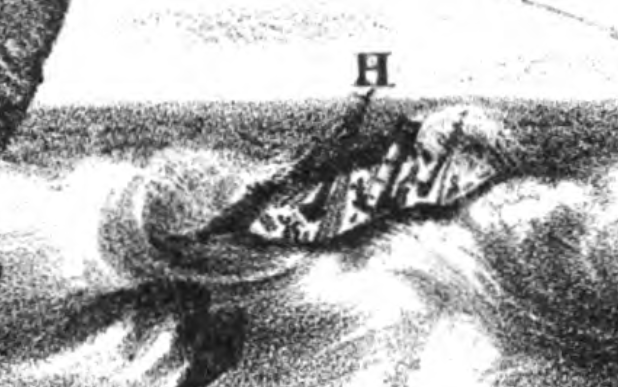 Fig. 1: PSS Killarney drifting towards the coast.
The Wreck
They drifted blown by the wind towards the coast, but were not sure of their position. As the visibility improved, they saw that they were now west of the entry to Cork Harbour - a region with which the Captain was unfamiliar. An attempt was made to head for Robert's Cove but the huge waves made the vessel unmanageable. One large wave swept some steerage passengers overboard. The Captain ordered the anchor to be set. This caused the vessel to head into the waves with her stern to the rocky coast.
The anchor gave way and, at 4:30pm, she struck a rock in Renny Bay (variously written as Renny, Reanie, Rennies, ..). This bay was between Barrys Head and Flat Head and near Novahal Cove. She first struck an outer rock and was then carried on to an inner rock where she was wedged alongside. The passengers and crew timed their escape, as the ship swung about in the waves, to get onto this rock pinnacle. Some did not make it - and drowned.
The Rock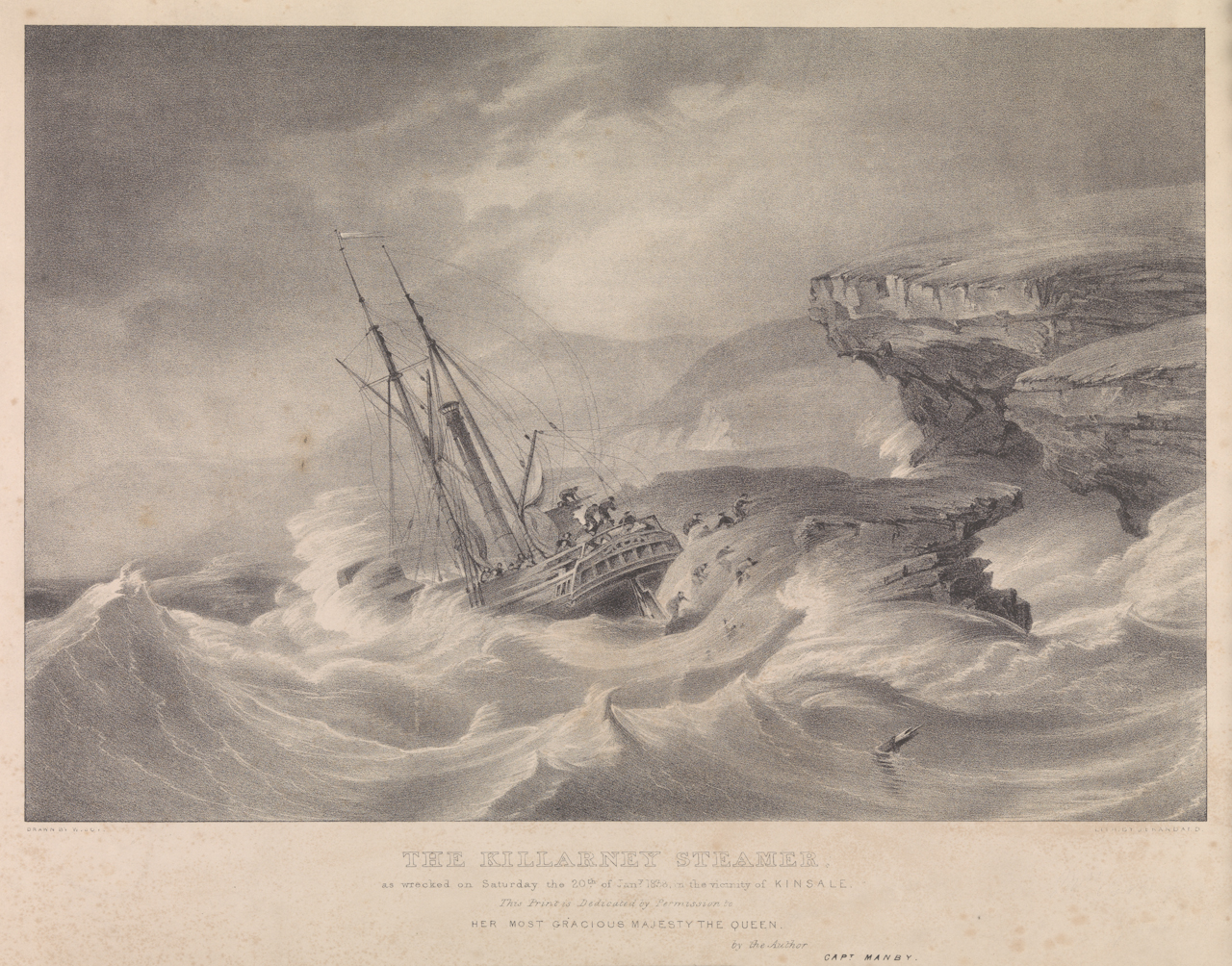 Fig. 2: PSS Killarney wrecked alongside the rock with survivors getting on it.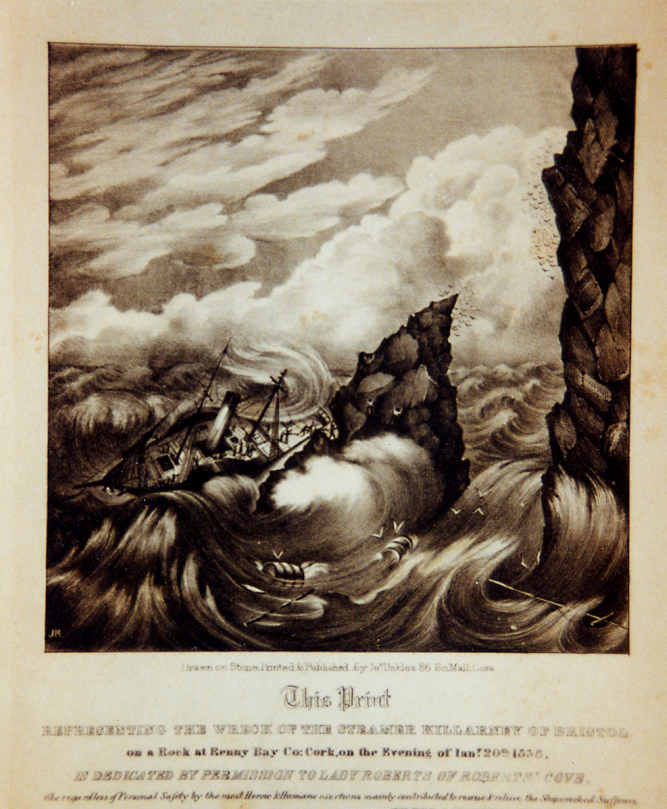 Fig. 3: PSS Killarney wrecked alongside the rock.
The rock pinnacle was above high water level but was being covered in spray from the breaking waves and was steep with limited places to hold on. Some of the passengers had wet clothing (from the water entering the cabins), some had partly stripped off and removed their shoes to give them a better chance to swim. Some were injured from the violent motion of the vessel in the waves. About 20 crew and passengers were able to get onto the rock.
One of the cabin passengers who succeeded in getting onto the rock was Baron Spolasco: a colourful character who was most probably a British conman rather than foreign nobility. He is best described as a medical quack. He was travelling with his 9 year old son Robert to practise in Bristol. He was a survivor and he wrote a detailed and rather melodramatic account of the passage, wreck, rock and rescue. This account is appended here. He got onto the rock with his son, but his son, who was not well, was not able to hang on and was lost.
Several of those who gained access to the rock pinnacle failed to hold on overnight and were lost. When morning came, those still on the rock could see that the rock was isolated from the cliffs of the shore by surging waves. They could see people ashore - but they seemed to be fully occupied in helping themselves to the "pig harvest". During the day, Sunday, some of the local coastguards and gentry appeared on the cliff top and tried to help the survivors on the rock.
The Rescue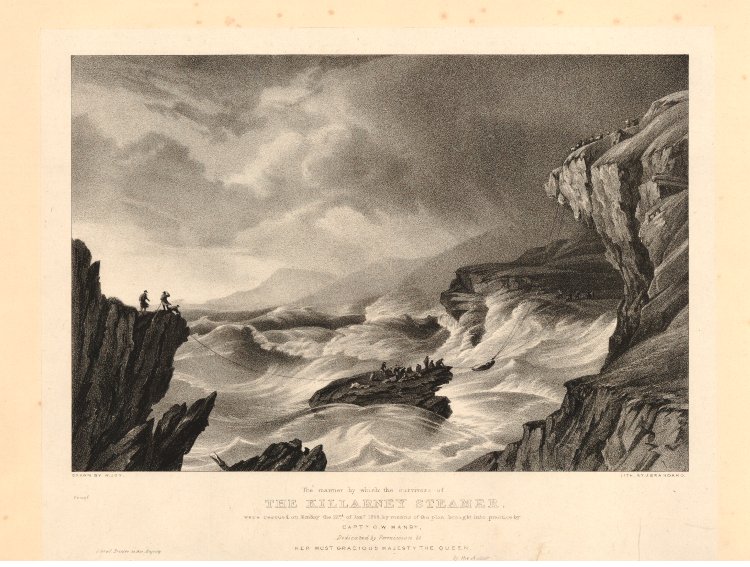 Fig. 4: Survivors being rescued from the rock on which PSS Killarney was wrecked.
Caption: Coastal view showing the manner in which the survivors of the wrecked steamer were rescued, using Captain Manby's method; a group of men stranded on a rock amongst rough sea, hauled up individually in a hammock on a rope up to safety of cliff-top at right.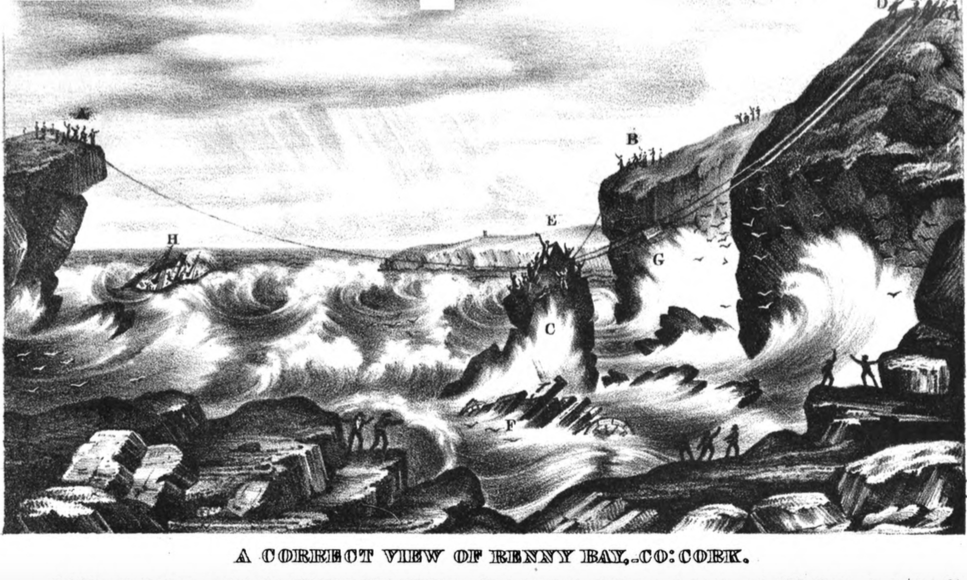 Fig. 5: Rescue of the survivors from the rock.
Caption: [From Baron Spolasco's Narrative]
Explanatory of the Sketch of the Rock, Apparatus, etc. THE VIEW IS A SIDE ONE.
A, the East Promontory. B, the West. C, the Rock upon which the sufferers were. D, the Cliff or main-land in front of the rock, which rises 400 feet above the level of the sea. The rock, upon which they appear, is an equal distance from both promontories. E, represents the Baron Spolasco upon the rock waving his cap at the success of Mr. Hull's admirable contrivance. F, the Boiler and remnant of the Machinery of the Steamer. G, the Cot in which the sufferers were, one by one, brought to the cliff. H, the Steamer nearing the Rock, a short time before she struck.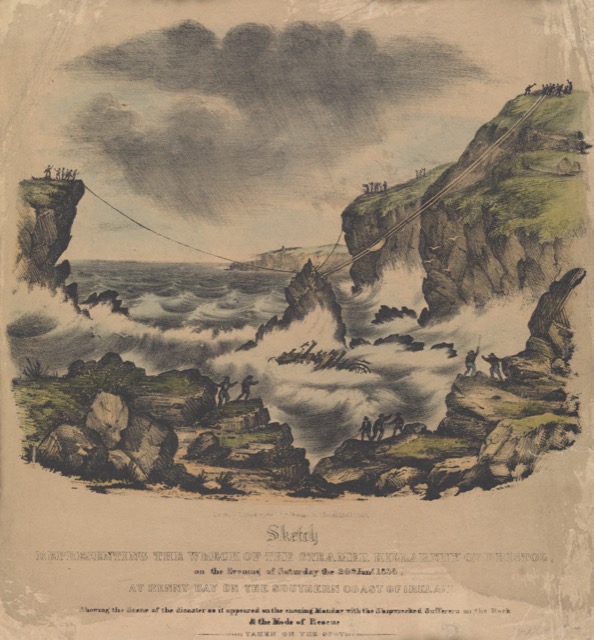 Fig. 6: Rescue of the survivors from the rock.[coloured version of Fig.5]
Those on the cliff-top threw stones with cord attached, launched ducks with line tied to their legs, shot a musket ball with a line attached. None of these attempts succeeded in linking those on the rock with those on land. Then one of the rescuers, Edward Hull (brother of the Robert's Cove coastguard) suggested using a very long rope strung between neighbouring headlands so that it would pass directly over the pinnacle. After acquiring enough rope, this was tried and the rope reached those on the pinnacle. They then sent another rope down this one - to be used to extract the survivors.
One man attached himself to this rescue rope, but when a pig-boy grabbed the rope too, it could not support both of them and broke, drowning both of them. As darkness arrived, rescue operations were halted. The remaining survivors realised that they would have to spend another night on the rock. Several perished overnight and one man, who attempted to swim ashore, was also lost.
The next morning, at first light, the cliff-top rescuers reappeared. They first tried to use a howitzer system devised by Captain Manby to try to shoot a line to the rock. After this failed, they resorted to stringing a line between headlands to reach the survivors. This, as the previous day, was successful. One of the first actions was to send down a basket of food and drink - with a note describing the rescue method. The survivors, who had only drunk seawater and rainwater for two days, were vary glad of the drink provided - but were unable to eat much because of their dehydration.
The survivors were then hauled up, one at a time, in a cot which slid along the rope. This recovery operation is shown in Fig.5. They were helped from the cliff edge - itself a very exposed position - to the fields nearby. By 1:30pm they were all on shore and then they were then taken to accomodation nearby to recover. Fourteen were rescued from the pinnacle, one of whom died soon afterwards. Many were injured, but all 13 survived their injuries.
The Cause
An inquiry was conducted into the wreck. A topic of much discussion was the transport of pigs. Since they could move around the decks - this could affect the stability of the vessel. Also any pigs in the hold would need the hatches open to provide enough air so that they would not suffocate - with open hatches allowing water ingress in stormy conditions.
Evidence was provided that transport of pigs in winter had been accomplished in stormy weather. So no ban was imposed on carrying pigs on passenger steamers.
The Wreck Site
Details about this wreck on a rock in Reanies Bay west of Cork in 1838. See here for wreck details.
Focus here is on location of "Killarney Rock".
Report from divers to Hydrographic Office:
**H1282/75 8.4.75 'KILLARNEY' WAS WRECKED ON THE ROCK NOW KNOWN AS KILLARNEY ROCK UNDER 200FT CLIFFS IN OR AROUND 1846 WITH LOSS OF ALL CREW WHO WERE MOSTLY NEGROES. WK DIVED ON IN 1974 & WAS FOUND THAT THERE WAS WRECKAGE AROUND THE SEAWARD & NORTHERN SIDE OF THE ROCK, WHICH TOWERS ABOUT 10FT OUT OF THE WATER AT HIGH TIDE. THE MAIN SHAFT LIES BETWEEN THE ROCK & THE CLIFFS & PART OF THE WK IS COVERED BY RECENT LANDFALLS. (M COLLINS, LETTER DTD 3.4.75).
INS AS F IN 514252N, 082230W [OSI]. NC 1765.
**13.4.78 NOT SHOWN ON NC 1765. EXISTING SCALES TOO SMALL.
Divers quote position 51 42 52N, 8 22 30W in OSI datum and 10 ft dry at HW.
Converting OSGB-> WGS84 gives 51 42.89N, 8 22.54W (as deg min.dec_min).
These rocks are in the centre of Reanies Bay; between Barry's Head and Flat Head.
Positions from Google Earth:
outer rock 51 42.851N, 8 22.316W.
inner rock 51 42.898N, 8 22.433W
Position given in wrecksite.eu is of inner rock (and was read off the latest sea chart by me). Outer rock is about 130-170 yards from the cliff base. Inner rock is quite close to the cliff base. The height of the cliffs is about 85 metres above mean sea level. Tidal range at Robert's Cove is 3.5 metres at springs.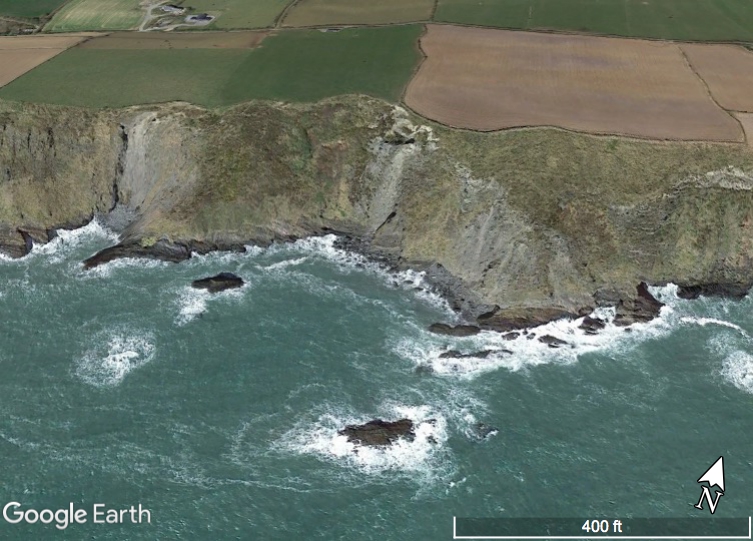 Rocks in Reanies Bay viewed from offshore (Google Earth): inner and outer.
OSI map showing innermost rock (and outline of outer one) with inner marked "the Killarney steamer was wrecked on this rock on the 20th of Jan 1838". This (inner) rock is about 145 metres from the (current) top edge of the cliffs.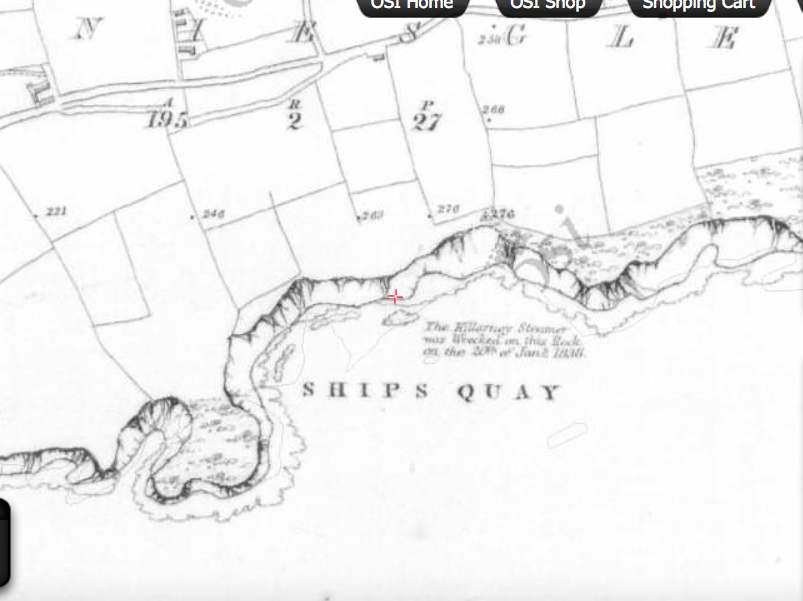 Conclusion: these two rocks (shown above) are the only plausible candidate. The inner rock is closer to the divers' position and agrees with the annotation on the OS map.
The best way to check would be to ask local dive clubs where they have found wreckage, since the 1974 information predates GPS so the position quoted is not accurate.
Details of PSS Killarney from Bristol Ship Register
The paddle steamer KILLARNEY was built at Hotwells in Bristol and launched from the War Office Steam Packet Company's yard there on 27 March 1830.
She was registered at Bristol on 17 July 1830: 272 tons; length 147' 4"; breadth (above) 25'; depth 16'.
2 decks; 2 masts; schooner rig; square stern; false galleries; woman head; a steam vessel.
Her owners were all Bristol merchants. She was re-registerd on 22 May 1834 with tonnage revised to 264 tons and length 146' 2".
In 1836 ownership was transferred to the Bristol General Steam Navigation Company.
Her master was George Bailey from 27 April 1832.
See also the detailed account of the loss of the PS Killarney in Early Bristol Paddle-Steamer Shipwrecks by George Harries, 1993 Merrivale.
Contemporary Reports
Summary
from Annual Register Volume 80; edited by Edmund Burke 1839.

Loss of the KILLARNEY STEAMER. The Killarney steamboat sailed from Cork for Bristol on the 19th [January 1838], with nine cabin and a number of steerage passengers. The wind soon blew hard; and the captain was obliged to put back in a storm of snow. He ran up as far as White Point[west end of Cobh], where he dropped anchor, but went to sea again about five in the evening, although the weather had not moderated. The vessel got as far as Youghall; when one of the pipes of the engine became choked; the engine-room was filled with water, and the fire put out.

The captain set sails, but they were shivered in the gale; and the vessel drifted at the mercy of the waves, till she struck, on Saturday night, the 20th, upon a rock called the Rennies, to the westward of Robert's Cove. This rock was in the centre of a bay, the jutting promontories of which are a mile apart. It is about 200 yards from the cliff (there is no beach) and the cliff, which is quite perpendicular, is about 300 yards above the sea. About twenty persons got upon the rock: where they all remained till Sunday morning, except a young man of the name of Foster, who slipped from the rock, and a Mrs. Law, who was washed off, her husband having previously been drowned upon the wreck of the vessel.

On Sunday morning, great efforts were made to rescue the persons on the rock; and a rope was passed from one headland to another, till it could be thrown on the rock. Unfortunately, two men got upon the rope together, when it broke, and the poor fellows were drowned. There was no time to procure better apparatus, and the passengers were obliged to spend another night in their dreary quarters. Five of the number died during the night from cold and hunger, and one man, a seaman, was drowned in endeavouring to swim ashore. Next day those who remained were taken off by means of a rope and a basket. There was not a vestige of the vessel left; twenty-five persons went down in her.

The inquiry into the cause of the wreck of the Killarney steamer terminated on Friday evening last; when the jury found, that the deceased Morrisson, on whose body the inquest was held, was drowned in the Killarney wreck, on Saturday, the 20th ult. They also find, that George Bailey, the master, did his utmost to save the lives of the passengers and the vessel, except inasmuch as he did not go below to the engine-room to see what stopped the engines. They also find, that the great number of pigs in the vessel accelerated her destruction; and they recommend that an application should be made to the proper authorities for some salutary regulations in the future navigation of steamers on this coast, and that life-boats, and such means, should be resorted to for the preservation of life, etc.
Coast Guard Report
Wreck of the Killarney Steamer
We have been favoured through the politeness of J. Dombrain, Esq., Inspector General of Coast Guard, with the following copy of the local inspectors report, in reference to the above melancholy catastrophe:-
Kinsale, 22nd January, 1838.
It is with extreme regret that I have to report the total wreck of the Killarney steamer, on this coast, on the west side of Flat Head, which took place on the evening of the 20th, blowing a gale from the S.E. Hearing at 6 p.m. yesterday, on my arrival home from a wreck at Old Head, that 17 poor souls were alone on a rock under the cliffs on the west side of Flat Head, I immediately proceeded in that direction, taking with me hawsers and small rope, which I procured in this town, ordering the life apparatus to follow me from Old Head, and arrived at Potoral[Novahal?], at 11 last night, but from the violence of the storm that again commenced, I found it impossible to render them any assistance till daylight, and at 7 this morning I proceeded to the spot, and found that 14 persons out of the 17 were still alive.
The howitzer having failed twice to reach them, I passed the end of a line to the extremities of Flat Head and the promontory to the westward, tying weights in the centre of the line to prevent its being so affected by the wind as to cause the bight not plumbing the rock. I soon had the satisfaction of finding that this plan perfectly answered my expectations. The poor fellows making the centre fast to the rock, I brought one end into the cliff exactly opposite, which enabled me to send out a hawser, refreshments etc. and by running a cot with iron grummets along the hawser, we were enabled in a short space of time, to bring on shore, without the least injury, at 1h 30min p.m., the whole that remained alive on the rock (fourteen persons) one of whom died shortly after - the rest are all doing well.
It is with heartfelt gratification that I find among those so rescued was poor Captain Bailey, and his first and second mate, the former, a very fine fellow, who did most of the work and remained the last on the rock; one poor female, a passenger, was saved, also a German Count (Smolensky[sic]) and a young man, about 17, a Mr. Foster, from Cork; the remainder were seamen. I understand that about twenty-five persons have perished - three were left dead on the rock, three perished trying to reach the shore yesterday and the rest when she struck. I cannot conclude, without stating that in the performance of this service I met with every assistance from Lieutenant Charlesson, Chief Officer, of Oyster Haven, Mr. Hull, of Robert's Cove, and the coast guard under them; the exertions of the former were unremitting from noon yesterday, until all were safe. The Killarney sailed from Cork on Friday evening last, laden with pigs etc., for Bristol, with which the whole coast is strewed.
(Signed) J.Irwin. (to) J.Dombrain, Esq., Inspector General, Coastguard
Baron Spolasco's Narrative of the Wreck
NARRATIVE OF THE WRECK OF THE STEAMER KILLARNEY, WITH INTERESTING DETAILS NOT YET PUBLISHED
Relative to The Sufferings of those who were left desolate upon the Rock in RENNY BAY, For the greater part of Three Days and Two entire Nights, without food or shelter, exposed to the fury of a tempestuous sea, which constantly washed over them; accompanied by Mr. HULL's description of the ingenious contrivance by which they were finally rescued.
THE WORK IS ADORNED BY A BEAUTIFUL AND CORRECT LITHOGRAPHIC REPRESENTATION OF THE ROCK AND SURROUNDING SCENERY. TO WHICH IS ADDED, A VIGNETTE PORTRAIT OF THE AUTHOR, AND AN INTRODUCTORY DEDICATION TO LADY ROBERTS.
BY BARON SPOLASCO, ONE OF THE SURVIVING SUFFERERS.
CORK : PRINTED BY F. JACKSON, SOUTH MALL. 1838. [Entered at Stationers' Hall.]
Narrative of the total Wreck of the STEAMER KILLARNEY. The Passengers and Crew of which amounted to about 50 - over 30 of whom were lost, and 14 rescued from a watery grave, by means of a peculiar Apparatus, as hereafter shall be detailed - one of which fourteen died immediately after having been brought on shore.
Excerpts from the above Narrative:
Jump to Crew and passengers lost and saved; Letter from Edward Hull describing rescue.
Having been urgently and unexpectedly called to England, to meet the Agent of a very high Personage, with regard to a difficult surgical case - on the day previous to my embarkation, I sent on board property, to a very considerable amount, consisting of money, and several hundred volumes of the latest and best editions of surgical and medical works-surgical instruments, on the most modern and improved principle, in every department of the art; namely, fifty cases, in value about three hundred pounds - a gig, with harness, and appointments for travelling, complete - several trunks, containing wearing apparel, jewels, and jewellery-house-hold furniture, (as I intended to practise in Bristol for some time), and a great deal of other valuable property; besides which, a considerable variety of interesting surgical preparations, deeds of property, and recipes. I accordingly embarked on board the Steamer Killarney, commanded by Captain Bailey, on the morning of Friday, the 19th of January, 1838, at about half-past nine o'clock, from Penrose's Quay, Cork.
The weather was very severe on that morning, in consequence of frost and snow; the wind blowing from the east. It would really almost appear as if I had been destined by the unalterable hand of Providence, to suffer as I have in the late wreck; for on that morning, I was too late for the Steamer, my carriage could not be put on board, and I actually turned away, taking my little son by the hand, having made up my mind to remain for some days, that is to say, 'till the Tuesday following, and embark in the Victory; when two men hailed me, and stated they had a two-oared boat at my service, and that they would put me on board. - I deliberated for a moment - unfortunately consented, and returned with them. The Steamer stood some fifty yards from us, and upon hailing her, she "slowed" to take us on board. In the same boat I placed my son and female servant; also, a carpet bag and two large favorite dogs. I had shipped my gig and other property the day before, as I have already observed, and nothing remained to be put on board but my carriage.
It therefore occurred to me, that it would be the most prudent course to send back the servant, to take care of the property left behind, which I accordingly did; thus was the poor woman's life providentially saved, but she unfortunately lost all she possessed, having the day before, with my property, shipped a large chest, containing every article of hers, save what was on her person.
The Killarney proceeded on her voyage as far as Cove, where it was observed by several persons on the beach, that she made but little way, and was greatly out of trim. This may be accounted for by the circumstance of her having had between six and seven hundred pigs on board, in addition to a general cargo. When we had got to about Passage, Mrs. Morrison approached, and apprised me, that she intended to consult me professionally concerning some inward complaint, and would then take the opportunity of getting my advice. On her saying something about my fee, I informed her, that being fellow-passengers I would give it her freely and gratuitously. She shortly afterwards went on deck, saying, that she would call upon me, after dinner, in the cabin; but Providence willed that she should consult me no more. Having gotten out of harbour, the fall of snow became heavier, which made it quite impossible for any of the passengers to remain above; even the Captain and such of the Crew as it was necessary should be in motion, found it almost impossible to retain their footing. We had proceeded on our voyage a few leagues, the weather continuing tempestuous, when Richard Callaghan, Esq., (brother to the worthy Member for this City), looked out from the top of the companion, and in a few minutes returned and informed us, that the captain had turned the vessel round, and was again making for Cove harbour, where he soon arrived, and immediately cast anchor. This was the first intimation we had that we were on our way back. Mr. Callaghan upon this occasion expressed his gratification at this circumstance, as the weather was boisterous, and said that he would avail himself of the opportunity thus presented, of taking his luggage and going ashore - his business at the other side not being so urgent as to make it of importance that he should proceed on his voyage that day. I said I was sorry to say, I also could not get out, as I was engaged to meet the agent of a high personage in England, on a consultation relative to a surgical case of importance. Mr. Callaghan said he would remain until Tuesday, and then proceed by the Victory steamer. He retired, accompanied by lieutenant Nicolay, of the 99th regiment, who was also a passenger on board, a young gentleman of fine personal appearance and truly amiable disposition, whose premature death I sincerely deplore.
I have this day, 14th February, received information from the Rev. Charles Adams, curate of Nohoval, Cove, in the immediate vicinity of the wreck, that he had interred the bodies of 17 of the sufferers; and I understand, that in consequence of a communication made to Mr. Hardy, the Coroner, by the relatives of lieutenant Nicolay, that his remains should be diligently searched for, in order that they might receive the rights of sepulture, a diligent search was made, and it was discovered that his body was one of those just enumerated.
The body was placed by the Rev. Gentleman above named, in a shell, and conveyed to Cork, where it remained three or four days; from which place it was removed in a hearse-and-four to Fermoy - where his regiment is at present stationed, and interred at Castle Hyde church-yard, near that town, on Saturday, 11th instant, in the following manner: - The entire of his own regiment, and the 10th, together with the depots of the 34th and 66th, marched in procession. The scene was solemn and highly im posing, and several thousand civilians assembled to witness it. The dead march in Saul was executed in the most masterly manner, by the band of the 99th and 10th-relieving each other as occasion required; the distance from Fermoy being over two miles. The day was extremely propitious, and the military display, connected with the sad fate of him to whom these last honors were paid, rendered the scene one of peculiar interest. It is said that poor Nicolay was about to be united to a most amiable and accomplished young lady, daughter of an officer in the army, of whom he was greatly enamoured, and who earnestly requested him, not to proceed on his intended journey to England, which has proved so fatal to him, and it is feared, a source of long sorrow to the lady in question. It appears she has not quitted her room since she heard of his melancholy fate.
This fine young fellow was proceeding on leave to London, to meet his father, General Nicolay, governor of the Mauritius, who was in England. It was his anxiety to meet his parent that urged him on to his sad fate, as I understand he felt greatly distressed and disappointed in Fermoy, on Thursday evening, from the prospect of his not having room on the car; by perseverance, however, he obtained a seat. His having been put on shore, and again re-embarking, also shows that filial affection to meet his father, whom he had not seen for a long period, predominated over every other consideration - alas! he is no more. I would drop a tear to his beloved memory.
The weather continued very bad; we remained at anchor, and after some time my dear little boy complaining of hunger, I sent for Ward, the head steward, a very smart, intelligent and obliging person, whose readiness to contribute to our comforts in every particular was so manifest, that it could not fail to gain the approbation of all on board. Poor fellow! I shall never forget the look he gave when buffetting with the terrific billows, that almost instantaneously swallowed him. I saw him no more.
To return to our subject - he said that dinner would be soon ready - when served, which was in about an hour after, I sent for the captain to join us, but he did not come - his answer was through Ward, that he would not dine in the cabin that day. I was aware that in some steamers it was customary for captains to dine with the cabin passengers, which was one reason for my sending for him - the other was, that I was most anxious to ascertain his intentions respecting our voyage, and the course he intended to pursue. I felt somewhat disappointed at his not having made his appearance; however, not supposing but that I should have an opportunity of seeing him before we put to sea, I allowed this circumstance to pass without further observation. Ward, the steward, said "Gentlemen, I will do the honors if you desire it; I will stand at the table and carve for you." The cloth had been removed a short time, and while over our glass of punch, Lieut. Nicolay returned on board, joined us, and said - that he had been dining with his brother officers at Spike Island, - and continued by saying, "Baron Spolasco, I would feel most happy in taking a glass of punch with you." He seemed very anxious to make my acquaintance, in preference to any other, and we consequently entered into a very agreeable conversation, and between table talk and some favorite airs with which I gratified the company from a large musical box of mine, which I prized very much, the evening passed away most agreeably. The conversation turned upon different topics, during which he facetiously related some amusing incidents that occurred during his five years' residence in India. On hearing which, at his early time of life, (for he seemed no more than one or two and twenty) I felt a pleasure in complimenting him, being able to count so many years of honorable military service.
I should now observe, that shortly after Lieutenant Nicolay joined us, to our great surprise we heard the engines in motion, and learned that we had got under weigh. At this, there was a strong expression of surprise from all present; but there was no remonstrance, to my knowledge, with the captain against his going.
The vessel proceeded on her way; it was now dark; I was not on deck - the weather gradually becoming more tempestuous. - I should observe, that although not on deck on our leaving Cove a second time, I could perceive by the heaving of the vessel, and violence of the storm, that there was no difference in the weather then, and when the ship returned from sea in the morning; I would be understood, that the storm had not in any degree subsided. All the cabin passengers retired to their berths, except myself; Mr. and Mrs. Lawe retired to the ladies' cabin, and undressed; I remained upon a sofa, having no inclination to undress, in consequence of the storm. Previously to this, my little boy through illness had been put to bed. Mr. Collis was throughout the passage so affected with sickness, that he was unable to join us at dinner. I lay down upon a sofa, as I before observed, and dozed for a short period. I was awakened by Ward, the head steward, who, perceiving that I was not in a sound sleep, approached me, and requested that I would favor him with the key of my musical box, as he wished that the Captain, Mr. Welday, and himself, (as I supposed), should be amused with a tune.
At this time I looked up, and perceived two gentlemen at tea in the cabin, whom I considered to be the captain and young Welday; but whether I was right in my conjecture, I am not certain. I continued to slumber up to twelve o'clock, and then went to my berth, but did not undress, the vessel heaving dreadfully. All the furniture that was not secured by fastening, was thrown about the cabin, and broken. About two o'clock the following morning, as nearly as I can remember, Ward came down entered the gentlemens' cabin, and exclaimed, "Gentlemen! for God's sake, get up; the vessel is filling, - we shall all be lost!" or words to this effect. At this announcement, the consternation and despair which were depicted on every countenance, can be more easily conceived than described. The passengers so awfully summoned, rushed from their berths; but the scene that awaited them, was terrific in the extreme - each expecting instantaneously to go down. I, not being undressed, was the first out of my berth. The water at this time was rushing through the apertures of the water-closet, and making its way under the closet door. I threw off my night cap, (the only part of my night dress I had on), and instantly seized my dear child, in order to dress him; but I feared that I had not time for even that little gratification ere we should be swallowed up.
I now pause a moment, to ask each parent what his feelings would be on so trying an occasion? His ideas may depict what mine were at that melancholy instant - words are totally unequal to the task. I, however, still struggled to dress him. Poor little fellow! bathed in tears, crying out, "papa, shall we be drowned? shall we be drowned? kiss me! kiss me!" as he hung round my neck with all the strength he could command.
I would here observe, that the displaced and broken state of every article in the cabin, at that moment, afforded evident proof of the excessive rolling of the vessel, and violence of the tempest; even to the wash-hand basin, which was hurled from its deep recess in a fixture, to the opposite side of the cabin, and broken to atoms; carpet bags, glasses, candlesticks, etc., were strewed in confusion around, besides which, the gentlemens' wearing apparel, which on retiring to rest they had laid upon the sofas, were thrown upon the floor, and were floating about. In this single particular, - I had the advantage of my fellow passengers, - but it was merely momentary - not having undressed the night before: - but however terrific the scene at this moment, my feelings of agony were considerably augmented, by being obliged to dress my son in his wet clothes, having no other alternative. Previously to dressing my child, I threw open the closet door under which the water was forcing itself, and immediately closed the air-apertures; in doing which, the sea beating with great force against the vessel's side, I was drenched to the skin, but however succeeded. I hastily seized my child, and took him into the state cabin, and was much surprised at seeing Sheahan, the under-steward, the only person there, resting upon a sofa, and holding on by the rail; the vessel at this time rolled fearfully - he appeared to be hurt; I inquired what ailed him? he replied, "my leg is broken." I examined it, and found, that this was not the fact, that his ankle had been merely sprained. I then inquired, whether he had a bandage on board, and commiserating his situation perceived, that under the two-fold circumstances of distress, he could use no effort to save himself, in his then state, even should an opportunity offer. I inquired of the stewardess, whether she had a bandage? She replied in the negative. I then demanded that a sheet should be brought, as it was no time for hesitation. She brought me a sheet, scissors, needle, and thread, but with much difficulty, in consequence of the violently agitated state of the vessel. I secured my child, by placing him upon a sofa, and requested him to hold fast by the table that was screwed to the cabin floor; by which - by the way - I myself was obliged to hold. I then tore two or three shreds of the sheet, which I requested the stewardess to sew together by the ends.
Having rolled up the bandage, I crawled on hands and knees to the opposite sofa, upon which Sheahan was resting, and commenced bandaging with one hand, while I held fast with the other by the leg of the table. Having firmly, and perfectly bound his ankle, by which he was immediately enabled to move, I felt a glow of gratification at having relieved a fellow creature, in a moment of such imminent peril; but I grieve, that truth compels me to say, that this ingrate, as I must call him, gratuitously endeavoured in his evidence on the Inquest, to lessen my character in public estimation; although I had been so occupied in unflinchingly administering relief to him. I may here observe, that I was not unmindful of my duty to the most High, to whom I offered my fervent ejaculations, who alone could appease the seas, and arrest the awful tempest - for an awful tempest indeed it was! - and if it were not His will to save us from a watery grave, to receive our souls. I would here remark, from the commencement of the tempest, to the time of my being safely landed from the rock, though we had no opportunity of congregating in prayer, yet, as far as I myself was concerned, I unceasingly poured forth fervent aspirations to the throne of mercy, during the space of the principal part of three days and two nights; and while engaged in this duty, I feel persuaded, that my fellow sufferers were similarly engaged.
Immediately after I had finished the bandaging of Sheahan's leg, being most anxious to ascertain the correct state of things, I got upon deck, followed by Sheahan, who was then able to move. The answer that Welday gave me on questioning him, was, that "no one could tell where we were.?" The mist at this time was so dense that we could scarcely see the vessel's length before us. It was at this period I ascertained that during the night about 150 pigs had been washed over board - that the strong pig planks had been forced from their places, and that my gig had been forced from its lashings, the shaft of it broken, and its boxes and cushions carried overboard. I also learned that the engine had stopped for some time, and that the vessel had been laying to, and "across", during the principal part of the night - she was heaving dreadfully. They did not indeed appear to me to know which way to steer to make the land. She had no sails set at this period. I returned in dreadful suspense and with agonizing feelings to my child in the cabin, and to add to my harrowing sensations, I perceived the sea now rushing in with more tremendous force than before, through one of the dead lights in the stern, which had been previously forced in, together with sash and glass - the other five having been firmly secured A great volume of water had thus effected an entrance. Ward, the steward, and the ship carpenter, did all in their power by means of a mattress and boards to stop the aperture, which endeavours, however, were four or five times rendered useless, owing to the violence with which the sea struck the vessel's stern. This dead-light was in a direct line with the gentlemens' cabin, separated only by a door. The poor stewardess during most of this time was exclaiming, "we shall all be lost!" Poor creature! She was well qualified to fill her situation - although but deputy in this instance. My dear little boy experienced from her the greatest attention. "I hope to God," she exclaimed, "that we shall not be lost; I was once wrecked before and we all nearly perished." I sincerely regret her untimely end. Her name I then knew not, but have since learned that it was Ellen Donovan, from my friend, the Rev. Charles Adams, Curate of Nohoval, Cove, who administered spiritual consolation to the protestant portion of the sufferers, and whose humanity on this occasion was particularly conspicuous. This poor woman - the stewardess - was making her passage in order to join another steamer belonging to the Bristol Company, on her arrival - to which she had been recently appointed.
The knowledge of this fact renders her case the more afflicting to her surviving relatives, inasmuch as this was a solitary trip which she had entered on filled with hope. It undoubtedly will be some gratification to her friends to know that her body has since been found, and interred in the church-yard of Nohoval.
My fellow passengers having all dressed, were running up and down in melancholy confusion; some assisting at the pumps; others the image of distraction and despair. The pumps had been kept going most of the night, owing to the great quantity of water shipped. I regret extremely to say, that the hatches had not been battened down, - if they had, the pigs no doubt must have died of suffocation; but they ought to have been sacrificed to save the lives of those on board. - It afforded me much gratification to perceive, that my lord Ebrington alluded to the late wreck in pointed terms, in his place in the House of Commons. I therefore trust, that something will be done by the Legislature, to prevent in future such peril and destruction of human life.
In my opinion it would be highly desirable that there should be distinct vessels for the conveyance of swine. If I recollect rightly, this plan has for some time been adopted in Limerick, - the Garryowen steamer being set apart for the conveyance of passengers, and the Clarence for pigs, etc. Even should the Legislature not persevere in thus endeavouring to enact a law for so desirable an object, the public should unanimously refuse to embark in vessels that convey live stock. Indeed the Company themselves I presume, from the sympathy they have evinced for the sufferers in this case, and from the wealth they possess, being enabled to do so - will, I am persuaded, see the necessity of adopting such a regulation. There is, I believe, no doubt, that the Bristol Steam Packet Company have vessels of the first class in the trade, and that they are for the most part commanded by experienced naval officers - were they therefore to make the above salutary regulation, it would in a considerable degree facilitate the communication between the two countries, and insure the safety and comfort of the passengers. Should even one human being's life be sacrificed in consequence of having life stock on board a vessel, it would indeed be sufficiently melancholy; but when more than thirty one lives (as in the instance of the Killarney) have been plunged into eternity, owing to such proceedings, it is a consideration dreadful in the extreme. Had the tarpaulin been drawn over the cranks of the engines, it would in some degree have prevented the rushing in of the water in such large quantities. To this, and the before-mentioned cause of the hatches not having been battened down, the great weight of pigs on deck, and in the hold, going to leeward, I attribute the lurching and rolling of the vessel. The water which rushed in, in consequence of this, had the effect of extinguishing the fires, and consequently stopping the engines. The lurching of the vessel was so violent that it was totally impossible for any one to keep his seat; even the hooks in the pantry lost what was suspended from them - all was confusion, darkness and despair. Mr. Lawe in particular, being infirm, was thrown from one side of the cabin to the other; Mrs. Lawe displayed the greatest fortitude; all-through she manifested not the least fear, but on the contrary, endeavoured by every means in her power to cheer the depressed spirits of her husband, who frequently called out from the cabin, "Why are not the pigs thrown overboard?" - "Why are not their throats cut? Why are not they all knocked on the head?"
About three or four in the morning, I held a conversation with Lieut Nicolay and poor Foster, who alas! are now no more. I asked them what was to be done, and how we were to act under the dreadful circumstances? They replied, "that an observation would be taken at the proper hour that day". About this time M'Carthy the engineer who, poor fellow, died beside me upon the rock, came down and requested to have a bottle of porter, he seemed much fatigued and greatly distressed. Several of the crew came down in succession, and each asked for a bottle of porter, all seeming to stand greatly in need of refreshment - Lieutenant Nicolay said, "I don't like to see this, it is a bad omen, I don't like to see these men getting porter in this way;" he continued, "I was once at sea in great danger and the sailors through desperation commenced to drink." Though Lieutenant Nicolay made this remark, I deem it right, in justice to the men to state, that no man drank more than a bottle of porter each, as far as I observed, except poor M'Carthy whom I have just named; he after the lapse of a short period came down a second time and asked for a glass of spirits. He evidently required it, in consequence of his great exertions to get the water below the plates of the engines, in order to re-kindle the fires, and get the steam up. About ten, or between ten and twelve o'clock, Mrs. Lawe was observed notwithstanding the general terror that prevailed around her, to deliberately take off her night-dress and put on a black silk gown. I make this remark, as it appeared to me under the circumstances, to evince a wonderfully great degree of self possession, and calm deliberation.
Mr. and Mrs. Lawe from the time of embarking until the vessel's return to Cove, and indeed to dinner time, were occupied in the cabin, (as it was snowing and blowing freshly) - in reading news-papers, with which they seemed to be provided, and at intervals, occasionally conversing with myself, and the other passengers. They appeared to be particularly happy in each other's society. Poor souls! little did they suppose that that was the last time they would have the pleasure of dining together! I extremely regret their sudden, disastrous, and melancholy death. Requiescant in pace. Poor Mr. Lawe was, I believe, washed overboard, and I think, dashed against the paddle-wheel. With regard to Mrs. Lawe, I struggled hard to save her, and succeeded to a certain extent, by having placed her upon the rock at a moment of imminent peril - whether she died of cold, hunger, or was soon after carried from where I placed her, by the dreadful surge, I cannot positively say.
The sailors as they came down to the cabin, were of course asked many questions relative to the state of the weather, vessel, etc. and I recollect the replies and observations of a few; they were as follow: - first, the carpenter remarked, "that although he had been at sea for above thirty years, as I understood him, he had never experienced such a gale." He frequently exclaimed, "my God! that I were again at home with my poor wife and family!" Others, "we never shall see home again!", "there is no chance for us!", "all is over!" Dismay was depicted upon all their countenances, as if death were inevitable. Their sighs and groans were distinctly audible and truly heart rending.
In this state of dreadful uncertainty and confusion, we proceeded on 'till about noon on Saturday; the morning cleared a little, but the vessed laboured considerably.
It was at this time said, that the captain had determined to do something, - meaning thereby to try for land: I, on hearing this, left my child, and hastened upon deck, but was met about half way upon the cabin stairs by a heavy sea which had struck the vessel, and then striking me with the weight and force of at least half a dozen pails of water, deprived me of the power of breathing for some time, and had I not held a firm hold with each hand of the brass rail, I should be forced and borne down to the cabin head-foremost. However, as soon as I recovered from this shock, I re-ascended the stairs and got upon deck. The first thing I heard was the captain giving orders that, the main-try-sail (if I recollect correctly) should be hoisted - not being a nautical man I cannot be positive as to the term he used. I was informed that, it was the intention of the captain to run for the land - but no one appeared to be aware whether we were 20 or 50 miles off, or indeed, which way to steer for it - having been totally at the mercy of the elements nearly the whole of the night, and up to this time - being a period of from eight to twelve hours.
I cannot say whether it was owing to the storm or to the imperfect state of the sail, that so small a portion was unfurled, but whatever part of it was raised, was immediately shivered to atoms. During this state of agony and distraction, I passed occasionally from the deck to my child in the cabin, and frequently appealed to young Welday in preference to the captain, whom I did not wish to trouble, he having quite enough to attend to. Young Welday was a very nice, obliging, genteel fellow, eminently calculated to win the esteem of every person; poor Mrs. Lawe, as well as myself was much taken with him, from his readiness on all occasions to give every information in his power, when applied to by either of us.
He dined with us on the Friday, while at anchor in Cove harbour, after our putting back from sea; and gave a very interesting detail of his services for some years on board an East-indiaman. He walked with a lame step, and if my memory serve me, he said he had received a severe hurt while engaged in that service. I since learned that he was the son of a captain Welday who sails out of Bristol. Welday told me after dinner on Friday, the only time we had an opportunity of sitting together in the Killarney, and that was on the day we embarked, that he was engaged taking a few trips between Cork and Bristol, in order to make himself more perfectly acquainted with steam navigation, preparatorily to his joining the great western steamer, which it is intended shall ply between England and America.
I think I before remarked that Mrs. Lawe, as well as myself, appeared to be much interested about, and to confide wholly in Welday, he being a practical navigator. He gave me some hopes, but I imagined they were simulated; I consequently requested him to tell me the truth, upon which he did not re-assure me. To poor Mrs. Lawe he also held out hopes - but poor fellow! he was one of the first to realise that great romance in actual life.
The day passed up to two o'clock in the deepest incertitude of every thing; nothing seemed sure to us but inevitable death. Distracted and confused as we were, and separated in different parts of the vessel, we had recourse to frequent and fervent prayer and supplication to the Almighty to receive our souls; not one on board, at this moment, entertaining the slightest hope of escape. Fear was now evidently depicted upon every face. Dismay and despair were observable upon even the countenances of the hardy mariners - yet there was no cursing or swearing: neither was there intemperance - all appeared resolved to brave the worst, and resist, if possible, the impending destruction.
Owing to the agonised state of my child, who seemed to seek safety in his fond embrace of me, crying out, "Oh! Papa save me! - papa save me!" - Oh! my God! what a trial! what a moment was this for a parent. Alas! I had not the power, I could not aid him. That rested with the Omnipotent alone; I staid with my darling child as long as I could; I left him but as little. My feelings and agonies at this moment cannot be measured by any standard with which I am acquainted. The fond feelings of any parent, however warmly attached to his child, unless placed in similar circumstances, could not conceive the part I filled in this truly tragic drama.
In these trying moments the captain, mate, and crew endeavoured to perform their duties, and used every exertion in their power to weather the dreadful storm. I think I have before said, that every means were resorted to, that could be devised to keep the water out of the vessel's stern, but all efforts were found unavailing. The vessel rolled fearfully, and continued to fill, and being nearly on her broadside, the deck was almost perpendicular. In addition to this, the sea broke over her continually, and when we attempted to move about, we had to crawl on hands and knees, which we accomplished with the utmost difficulty.
I believe I before stated that M'Arthur the Engineer, only man that asked for (as far as my distracted memory serves me) a glass of spirits. I think it was at this time, or soon after, that I entreated him to tell me, whether there was any chance of getting the water down, so as to get up the steam. He seemed much exhausted and said, "we are getting the water down to the plates of the engines," I presume he meant the plates of the floor of the engines. He continued by saying, "the fires are re-kindled, we are getting them up, and shall soon have steam on," or words to this effect. I shortly after saw him again, and requested him to inform me exactly how long it would take to get up sufficient steam to propel the vessel. He replied, that he thought it could be done in about ten minutes. He continued to answer in this way for more than half an hour, at the expiration of about which time the engines were set going.
Some little time previous to this, Mr. Foster, son of the late Clement Foster, Esq. of Ballymaloo, and nephew of Cuthbert Kearney, Esq. of Garrett's-town, a young gentleman of pleasing and unassuming manners, and who was a fellow-apprentice of Mr. Collis', and also a companion of mine in suffering, being one of the survivors upon the rock, addressed me, saying, "Baron Spolasco, your gig is thrown from its fastenings, the shaft broken, and the boxes and cushions thrown out of it - overboard". Messrs. Foster and Collis were proceeding to England to pursue their professional avocations under Richard Beamish, Esq. Civil Engineer. A short time before the vessel struck, he - Foster - partially undressed, by taking off his shoes and trousers. He was one of the few who were fortunate enough to gain the rock - he even succeeded in attaining the top of it - in this respect widely differing from myself, who had to hold on by my hands, grasping the crevices, while my feet were mangled and cut by the spiculae upon which they rested. In addition to this, being on the weather side, the surge washed over me at every swell, while the spray surmounted the rock to the height of twenty feet, and in its fall poured in torrents upon my head; while my hands and feet were so benumbed that I apprehended every moment I should fall into the sea, through want of power to hold on any longer. Indeed I on more than one occasion made up my mind to terminate my sufferings, by committing myself to the fury of the agitated element, which seemed, with all its horrors, to await its prey.
Foster suffered a most deplorable death; being nearly destitute of clothing, and exposed to the inclemency of the weather, he became so benumbed that he was no longer able to retain his position, from which he tumbled to the bottom of the rock, a distance of at least thirty feet; upon which Mr. Collis exclaimed, "poor Foster is gone! I heard his neck crack," the waves instantly carried him off. This was one of the most melancholy deaths that occurred among us. It may well, indeed be said, that - in the midst of life we are in death! - I deem it necessary here to remark that Mr. Collis, very humanely took from his person, a large handkerchief, which Foster wrapped round his waist, and which he was several times observed to take off, wring, and again wrap round his body. I felt the most poignant regret, seeing his intense suffering, that I had not a second coat to offer him; and I am convinced, that such was the feeling of all his companions in distress upon the rock, who happened to be so situated as to witness his very hard fate.
To recur to the vessel - Lieutenant Nicolay was the first who announced the sight of land - at least to the passengers. He at this time ran down to the cabin and shouted out "land at last !" "land at last!" At this all hearts beat with renewed hope at the joyful news. Indeed all seemed as if they had gained new life at this information; but we were all greatly puzzled, and indeed mortified, that we were unable to ascertain what land it was. Some said it was Poor-head; others, that it was Kinsale, and, if I mistake not, others, it was Youghal, and some said it was Cork harbour. The jib was at this time set, and the vessel altogether unmanageable, and nearly on her beam ends. All endeavours were now found ineffectual. The vessel thence-out became utterly disabled. To keep on her deck was a matter of considerable difficulty.
Were I to live a thousand years it would be quite impossible for me ever to forget my frensied feelings upon that truly melancholy occasion. The sea at this moment was mountainously high, and the storm dreadfully terrific! We but too clearly saw, indeed we felt firmly assured, that in a few - in a very few moments, all must - yes, must perish! Oh! what a terrible anticipation1 We had no alternative! What a fatal conviction! Yes, that in a very few moments we must all be as silent as the tomb. Not one among us left to relate but one word - to whisper to others our sad fate - our truly melancholy end.
Then again attempt to judge of my feelings, a parent's tender solicitude for his beloved child, claiming of him too, his assistance, his protection - ah! yes, his safety. The parent's consciousness of his incapability to shield his child, shook his very soul, and rent his heart's core! I pause one moment to offer up my most fervent supplications to my God, to spare such of you my kind readers, as are fathers and mothers, to spare you ever from having to go through, to witness, to feel, to suffer, even a thousandth part of - what I did, for my dear boy. Alas! he is no more, he is still, he is quiet - he moves not - he breathes not - he no longer enchants me as he was wont to do, morning, noon and night, with his sweet, his prattling, his but too sensible conversation. He is dead! he is lost! he is no more! he - sweet boy - sweet little fellow, is no more! He is doubtless in Heaven! The only consolation now left me, is, that he is happy. It is true, I loved him too much I thought too much of him, I seemed to live but to enjoy his sweet society, it was wrong; perhaps you pity, but I did wrong. He is happy, he is in heaven! and after his brief but painful transit may say,
After great struggling and agitation I found myself weak and enfeebled, - powerless as a child to rescue myself and boy - until in fact I became desperate - frantic with desperation. I seized the dear little fellow in my arms, as if determined to preserve him - he on his part, clapping me on the back - urging me on to prosecute my determination, as if I had the power; thus hugging, and struggling with a frenzy almost bordering upon madness, sea after sea striking the ship, and as often hurling myself and my child from one side of the cabin to the other; and, when perhaps in the act of recovering myself and child, struck again while on my knees, by another sea, and forced to a different part of the vessel. Struggling in this way for a considerable time, 'till I was nearly exhausted; with the utmost difficulty I reached the foot of the stairs, and seizing hold of the brass railing with one hand, and clasping my child firmly round the waist with the other, I gained the ascent of two or three steps, but sea after sea striking the vessel, forced me down as often as I attempted to ascend. I thought I should expire with fatigue, so weak was I at this time, - I however, at length, gained the top.
The Captain did everything he could to make Cork harbour, but it was out of his power, the sails having been shattered to pieces by the tempest, and the fires put out, owing to the repeated shipping of the seas. The engines went on pretty well when they commenced working a second time, but they shortly became less and less powerful, from the cause I have just assigned.
About 3 o'clock, this afternoon - Saturday - I continued to hold on by the companion with one hand, while I endeavoured to support and shield my child with the other - the vessel the while nearing the rocks on her beam ends - in fact she was nearly side upwards. It was therefore with extreme difficulty we could hold on by the ropes, bulwarks, etc.; and it was indeed evident from the horror on every countenance - that the dreadful crisis was approaching-
Oh! my God! the moment has arrived! how truly awful! she has at length struck! There was a simultaneous thrill of horror in unison with the shock of the vessel. The last time I saw poor Welday, was about a quarter of an hour before the vessel struck. His last words were, "Spolasco, don't give up, - there is some hope yet!" Poor fellow! in a moment I missed him - nor can I say what his fate was; but I strongly conjecture, that he was swept off the deck by the same sea that carried away poor Nicolay.
A heavy sea then struck abaft our paddle box, carrying off all before it. I descried poor Nicolay on the top of a wave, like a mountain over us, as it were riding on, and buffeting in vain with his gigantic enemy. Oh! my God! what an awful and terrific scene I witnessed while grasping my child and the companion! I believe it was the same sea, or one instantaneously succeeding it, that struck the companion, and carried me and my dear little charge across the deck. Had it not been for the remnant of the bulwarks, viz: - two uprights - across which a deck-form was forced, which proved the simple means of saving our lives at that period - were it not for this circumstance, my child and myself must have perished with Nicolay and others. Several fragments of deck-rigging fell upon us - such as ropes, spars, splinters, etc.; and it was with the utmost difficulty that I was enabled to extricate myself and child from them; in doing which, I lost a shoe. It is worthy of remark, that I had not worn shoes for more than six months before, having put them on that morning, considering that they would contribute to my ease while on board. My little boy also lost a shoe and cap owing to this circumstance.
I now ought to remark, before I proceed further with this painful narrative, that immediately, or rather before the engines stopped the second time from the vessel filling with water, the engineers and firemen came upon deck, from the impossibility of their remaining any longer below, the steam gradually going down, and the engines consequently decreasing in power, till they came to a stand. All further efforts on their part being unavailing - and destruction being inevitable, all rushed upon deck, leaving the engines in order to save their lives.
Matters for some time continuing thus, the sailors and some of the deck passengers exerted themselves, and were engaged in endeavouring with buckets to lighten the vessel of some of the water in the hold; and after several hours hard work, they so far succeeded, (the pumps all the while kept going) as to be able early on Saturday afternoon, to get up the steam partly again, as I think I before said.
Mr. Foster pointed out the bay, which, he said was Roberts Cove, and recommended the Captain to run the vessel in there, as there was a boat harbour in it, and beach her. The Captain said that he did not think there was a harbour there, but at all events it would be impossible to make it. The vessel was all this time drifting nearer the rock, on which she ultimately struck, and in about an hour after Mr. Foster had given the recommendation alluded to, the Captain got the vessel round, and endeavoured to make Roberts's Cove. Just as he had got her before the wind, however, she was pooped by a tremendous sea, which carried away the taffrail, staunchions, the wheel, and two men who worked it, (John Price and James Atfell), the companion, the binnacle, and the breakwater. Price and Atfell fortunately caught part of the rigging and were saved, but the sea, which did the damage, carried away the bulwarks, with some of the steerage passengers, who were standing near the funnel, and cleared the deck of all the pigs that were on it.
In consequence of all the hands having endeavoured to save themselves, the vessel was left to herself, and continued to strike piece-meal on several minor rocks, as she was driven before the fury of the element over them with a clap - a crash resembling thunder, carrying off at each stroke, one or more human beings, together with some portion of deck, - deck-furniture, deck-trimmings, rigging, etc. To hear the wrenching of the vessel, now between the roaring billows and the rock, together with the cries of the sufferers, was soul-piercing in the extreme.
Poor Mr. Lawe, I believe, maintained his hold on the deck, although greatly buffetted and knocked about; and being somewhat infirm, he was the less able to bear up against it; which, when I saw without being able to afford him the least assistance, then - then - even for the last time, I felt the deepest commiseration, - the strongest pity. He is alas! no more. His death, it is true, was sudden; his life had been a meritorious one - and he went, I trust, not unprepared into the presence of his Merciful Creator - his awful Judge! Mr. Law was for many years a highly respectable merchant of this City, and supported, up to his sad fate, an unblemished - an unimpeachable character.
He was the fondest of husbands - the best of fathers. From his very gentlemanly deportment, although this voyage was the first opportunity I had of being in his society, I could not but esteem him; and I now sympathise with his sorrowing relatives and fellow-citizens, in their feelings of sincere regret for his melancholy decease. He has left an amiable family to mourn and to regret his loss. His honorable fame will assuredly survive him.
It was absurd to think, even for a moment, of lowering our quarter-boats; the tempest raged so furiously. Previously to the vessel's striking on the rock, which rent her asunder, and upon which she went to pieces, passengers and seamen, all ran up as I just observed, for self-preservation on the quarter-deck. A terrible rush was then made for this, our last resource, and catching my only care - my darling child, I held him in my arms, and he clung close round my neck with all the strength of his little embrace, looking imploringly in my face for protection, and, as if forseeing his fate, the dear boy said, "papa, kiss me! papa, kiss me! we are all lost!"
The last moment now approached; the awful crisis was at hand. The scene was awfully terrific; dreadfully sublime! Struggling on with my beloved charge; my sweet, my intelligent boy, my last plank between me and shipwreck of heart! my Robert; I sprang forward with him, clasping him closely to my breast, and making my best exertions, creeping on my hands and knees, dragging my child along under one arm, while I held by the fragments of the bulwarks, shifting my hand from splinter to splinter, until I slowly and gradually reached the stern, the heavens louring; the tempest raging, and the billows washing over us. Drenched to the skin, and every instant gasping for breath, - the waves suffocating us - the billows every instant beating against us.
Some time previously to this, both passengers and crew knew not how to act or what to attempt to secure their safety, such was their distraction of mind. Instant death was too plainly - too clearly presented to their mind. The further directing of the vessel was no longer thought of, or attended to; each individual holding on by any thing that he could possibly grasp, for temporary safety with one hand, while he was seen pulling off his clothes with the other, in readiness to be freed from the in cumbrance of them, that he might be enabled to make a last - a desperate effort to swim to shore.
This was indeed a struggle for life and death, but bordering so nearly on the latter; some dressing again, and again undressing, again hesitating, frantic and desperate, - till another moment was not left for deliberation. Crash! crash! crash! in awful quick succession, and in peals, as if of the loudest thunder, together with the whistling and the howling of the frightful tempest, mingled with the piteous - the soul-harrowing cries "for pity's sake, help! help! help!" Oh! the deep anguish of my soul; to be compelled to listen, without being able to aid, was cutting, truly cutting, was a thousand darts through my heart's core.
More than half an hour previously to the vessel's striking on that Saturday, between three and four in the afternoon, although instantly expecting to go down, on seeing ten or twelve persons on the mountainous promontory, (for such I may call it,) it afforded us some little glimmering of satisfaction - some faint ray of hope, that we should not perish totally unobserved.
I may here remark that I considered it very strange, and quite out of the nature of things, that we should have been observed at so early an hour as three o'clock on Saturday, in such imminent peril, while, to the certain knowledge of those on shore, the destruction of the vessel must have been inevitable; at the same time it must have been perceived by them that the lives of some of the sufferers had been spared. Having gained the rock, previously to the night's setting in, we undoubtedly were observed by those on land, as some of them were seen to wave their hats, notwithstanding which we remained in this frightful situation, unassisted, and even unobserved by any respectable person up to Sunday afternoon. I have since, with painful feelings ascertained, that some of those persons we descried, were of the Coast-guard of that identical station; whose station it was, I will not pretend to say.
But this I must say, if proper means had been resorted to without loss of time, an account of our situation could have been conveyed to Cork, Cove, Kinsale, or any other place within 20 miles, on that evening. Although during the darkness of that night, there could be no deliverance from that frightful rock, yet preparations might at least be made to get us off the following morning at an early hour. But instead of this, what will my readers think, when they shall have learned from my narrative, that we were left not only 'till daylight next morning, without aid - without help without food or sustenance of any kind, but even up to the afternoon of Sunday, we were uncheered by the sight of any respectable person, who at all looked likely, or seemed willing to render us any - the slightest assistance. About that hour our jaded, our drooping, our depressed spirits were in some degree renovated at the sight of a respectably attired gentleman, descending from the summit of the cliff to a point, as nearly on a line with us as possible, not, however, without some hazard to his own safety. He immediately took off his hat and waved it several times in order to cheer us, and though he shouted loudly to communicate to us his intention, and the plan of relief that he had devised, the distance that intervened and the noise of the tempest precluded the possibility of our understanding him, notwithstanding we could perceive that his motions were indicative of friendly feeling. That individual, I am proud to record, was one of the Messrs. Galwey of that neighbourhood, Mr. Edward Galwey I believe. He soon after appeared in company with other gentlemen, to whom I shall bear honorable testimony before I shall have concluded this historical, and I trust, interesting narrative, which from the tragic sufferings and unprecedented hardships in real life that it details, I hope will find its way to the shelves of every gentleman's library in the United Kingdom.
All that Sunday afternoon, and night, and Monday up to the hour of two o'clock, we remained in our dismal situation before we were finally rescued, several having died upon the rock from wet, cold, hunger and starvation since Sunday morning, at which period they ought to have been rescued, had the time from which we had been first observed by those on the cliff, been devoted to making the preparations necessary for our deliverance. I perfectly agree with Sir Thomas Roberts' remarks before the Coroner and Jury on the inquest held on the body of Morrison, they are as follow: -
Sir Thomas Roberts of Britfields-town came into Court at this stage of the investigation, and begged to say a few words privately to Mr. Coroner Hardy. After a short private conversation with the Coroner he said, "what I desire to have explained Sir, is this: we are all aware that the wreck occurred on Saturday; it was then known in the neighbourhood, - then why was it, that intelligence was not sent into the City of Cork, the scene of the catastrophe being but a few miles from it, before Sunday at noon? Then Sir, again, I wish to have it explained, why it was that the unfortunate sufferers were left all day on Sunday without proper exertions for their recovery, and until Monday, when it was effected". Mr. Reuben Deaves said, that there was blame certainly attachable somewhere.
Sir Thomas Roberts - "That is what I desire to have explained, why the lamentable intelligence was not communicated, that efforts might be speedily made to rescue the sufferers?" - Hear, hear, from the Court - "blame is certainly somewhere attachable, and we want to saddle the right horse with it." Yes indeed Sir Thomas, I entirely agree in opinion with you. An enquiry ought surely to be instituted for this purpose, and that, with the least possible delay; and whatever the result of that investigation shall have been, it will afford me much gratification, in the second edition of this pamphlet to set it before the public, exculpate the innocent, and do justice to all parties.
I desired my child, as he loved me, to cling close, while I went to render assistance to others, who were loudly imploring for aid. The darling child, who was evidently sick and exhausted, obeyed; and I alas! trusted to his puny strength to hold on. My dear little fellow! - my sweet boy! - whose life, I need scarcely here say, I was all-through most solicitous to save; for which, I had up to that moment, bravely and most successfully fought.
I sat for a moment on the rock, kissing him, till I looked round and reflected on the awful scene before me, and beheld (with what emotions I leave you to guess) the dreadful destruction which was going on.
Previously to my jumping on the rock, I observed Mrs. Lawe on the quarter-deck, on her knees - frantic - without her cap her hair dishevelled all around her shoulders, in dreadful anguish, striking the deck with one hand, while she held on with the other. Mr. Lawe, her husband, was at this time drowned.
About this period, the midships of the vessel were thrown by the terrific sea and raging storm into a position favorable for those yet on board to make their escape upon the rock; thus it was with comparative ease the surviving remnant on board now forsook the vessel.
In short, if the sufferers could have anticipated, and waited for this opportunity, the lives of many who were lost, might be saved. They would at least be fortunate enough to reach the rock, and would have the same chance of existence as others, provided their constitutions were sufficiently strong to bear the dreadful privations that there awaited them.
I should here observe that the Captain, Mate, and some of the crew had got a rope from the larboard[port] side of the vessel to the rock, which some of them held in order to assist those yet on board in their attempt to gain the rock, the captain as well as I remember, remaining nearly the last, if not the last on board. Indeed, in justice to the Captain, Mate, and crew, I am bound to state, and I feel much gratification in being enabled to do so, that they used every exertion, and did all that in their power lay, to render every assistance, and save the lives of the passengers.
I stretched forth my hand and assisted several as they approached, taking hold of the first that presented, making of course no distinction of persons, and continued to act thus 'till I saw a female in a very perilous situation, seemingly at the last gasp, still holding by the rock after the receding of a wave, - it was Mrs. Lawe. Then with all the force I could command, I dragged her forwards, one or two paces. She was indeed, poor good lady, in the last state of exhaustion, and fell on my arm, and her weight caused me to slip, by which we were both precipitated towards the frightful chasm, but luckily I again seized the rock ere the wave retired, or we might both have been swept away, and I held fast by one hand, while with the other I supported the lady, during which, two or three waves washed over us, - neither she nor I could breathe.
I collected all my remaining strength for this, the last effort I was equal to, in order to save her, and folding her in my arms, crept up the rock quite above the surge, where the spray only could reach us.
She was speechless, but sufficiently sensible to acknowledge my attention, with looks of fervent gratitude. I then left her, anxious to return to my child, but judge of my sensations! - I found him not! He alas! was gone, I could not tell where, or what had become of him!
I shouted out aloud for my poor little fellow - my dear boy - my sweet Robert! Though silent, I yet had a hope, that my only solace against all opposition and adversity in this life had not perished.
With eager search and frantic feelings, I crept round the rock as far as the sea would permit me, calling on my darling Robert! my lovely boy! but he answered not. No! I never heard more his voice! He was gone! I lost him for ever!
My sweet boy, - my beloved child being thus irrevocably lost to me - O! unendurable - and to me ever - killing - cutting thought!
But to proceed, drenched with spray and with rain - hopeless and in despair, I gave way to the full horrors of the scene around me - nothing but the impulse of nature made me cling to life.
Unfortunately too, my large, warm, comfortable cloak was lost, and myself personally injured; and to add to my sufferings, one of my shoes was gone, - dragged off in extricating myself and my child from the lumber of the deck.
I, as well as my fellow-sufferers, had to make a virtue of necessity, and was obliged to endure hardships, so many and in such various forms, as I think never fell to the lot of man to suffer. Indeed but a very few could survive under such an accumulation of privations; - none but those who possessed strong frames and sound constitutions; as a proof of which numbers of my fellow sufferers, apparently the strongest and most hardy, and seemingly formed to wade through every hardship, died of wet - cold - hunger or starvation, either because they were so torpid or be numbed, that they lost their hold or footing, and dropped into the sea, or died on the rock - not being longer able to hold out for the greater part of three days and two entire nights, without food or sustenance of any kind - or without shelter - exposed to snow, sleet, rain, and the tremendous tempest already described, without one moment's cessation.
The sympathising and kind reader will be pleased to remember, that our exposure for such a length of time, was in the month of January, - the winter being one of the severest we experienced for many years.
But to continue my narration, we had no other alternative, we therefore ascended the rock to seek safety - and, as darkness was fast approaching, endeavoured to take advantage of the best position, that presented itself to our view, knowing that we must maintain the same, - that is, if we were able, at least till low water, or until the tide should have, in some degree, receded; - in fact, till day.
However, notwithstanding our anxiety to gain a good or favorable position for the night on this bleak and barren rock, which was incapable of affording us the least possible shelter, my situation, and that of Mr. Collis, my friend, and poor fellow sufferer - if he will allow me the expression: M'Arthur, the engineer, and the young, but hardy female, Mary Leary, were peculiarly distressing. We had not the good fortune to reach the top of the rock - we only attained to between one and two yards of the top of it, and that part two facing the sea, where we had to hold on, all night, by our fingers and toes.
We were not able to rest ourselves even for one moment. In fact, I had, most of the time, actually to stand on my left foot, to preserve my right one, (the shoe of which I had lost) - from a further laceration and mangling, caused by the sharp spiculae of the rock, upon which there was but just toe-room enough, and hardly enough to rest; the sea beating over us every moment. The other portion, who were saved, had been fortunate enough to gain the top of the rock, where they could sit - which was not my case.
In this dreadful situation I awaited the approach of night, obliged to cling fast to the rock; to attempt to move from which, must have been instant destruction - added to this, the spray and storm were indescribably powerful and violent.
To return to the final destruction of the vessel, and to repeat, as I before said, the last moment approached - the crisis was at hand - the scene was awfully grand and sublimely terrific.
The main-mast, funnel and rigging had given way, torn up by the tempest; they bent and cracked for a time over the rock, and then yielding with one crash to their conqueror - the storm broke with the sound of thunder, and, in their rupture from the deck, left us the mere wreck to gaze upon, which, within an hour totally disappeared, save the heavy part of the machinery, boiler, etc.
I ask, where now are the busy and affrighted beings, that a brief space ago crowded the Killarney's deck? They are all gone! All silent as the grave! save the few - the very few upon the rock, whom Providence, in its merciful dispensation, had thought proper to preserve! O God! how grateful should we be! how inscrutable are thy ways! We on the weather side of the rock, exposed to the devouring element, could neither see nor hold converse with our fellow-sufferers. We were not however, in the least apprehensive but that when day-light should have appeared, and the tide have finally ebbed, we should have little or no difficulty in reaching the main-land; not for a moment supposing that such a gulf and troubled sea separated us upon the rock from the mountainous promontory before us. It was this hope that principally enabled me to go through a night of such unheard of hardships, resting so many hours solely on my fingers and toes, which were lacerated by every motion made even to relieve myself, having lost one of my shoes, and being without gloves.
To such dreadful shifts were we driven, that during the night I was obliged to hold on with one hand, while with the other I grasped the hand of a fellow-sufferer, in order that each might receive some portion of vital heat; this we did alternately, with right and left hand. But we were all so depressed in spirits, and suffering so grievously from the cold and the rain, as the night advanced, that we did little else than turn our thoughts to the Most High, and calmly await the approach of day, and with it some hope of relief. About two o'clock in the morning, I perceived by M'Arthur's nodding, that he had a strong disposition to sleep. His teeth chattered, and his whole frame shook violently. Being next to me on my left, not more than the distance of a foot, I watched him closely, and at every nod he gave, I nudged him with my elbow - my hands and feet being engaged, as I before described in endeavouring to support myself on the side of the rock. My face, nose, and particularly the inside of my mouth were dreadfully mangled, and my teeth loosened, being so repeatedly forced by the billows against the rock to which I was clinging. In short, I think no human endurance equalled ours. For towards morning, when my fingers became so benumbed from wet and cold, that I lost the use of them, and I found that it was impossible to hold on longer, I twice felt resigned to commit myself to the deep, and was on the point of doing so, - invoking Heaven to receive my spirit. Again arousing myself, as if by divine impulse, I nerved myself as much as possible under these most trying circumstances, determined to make another effort. Being no longer able to hold on by my fingers, necessity obliged me, in order to retain my truly perilous position, to force to the very wrists, my hands into the crevice of the rock, by which, though mangled, I supported my body until the forenoon of Sunday.
The very lacerated state of my nose, mouth, hands, and feet, when I was borne from the rock, were indicative of the sufferings I had endured. I before just alluded to the strong inclination that M'Arthur had to sleep. He seemed either quite regardless of, or insensible to my repeated warnings of his danger. He at last put his hands into the pockets of his trousers in spite of my remonstrances to the contrary. The point of the rock upon which he stood, affording him a better foot-hold, or standing than mine, and that portion of the rock immediately before him not being so perpendicular as that before me, allowed him to bend forward. This last advantage, coupled with that of his better footing, and his being overpowered with sleep, induced him to be so incautious of his safety; on the other hand, it is possible that his sufferings were too great for him any longer to bear up against, - consequently disregarding further watchfulness, he gave up in despair. But almost instantly a fearful and tremendous sea struck the rock just below the slight shelves or openings which supported our toes, and immediately rebounded over us many feet in height; then breaking and falling with great force upon our heads, it had the effect of hurling off on the instant poor M'Arthur. Finding himself going, he made a desperate effort to disengage his hands from his pockets, and grasped determinately at me, but failed in catching me. Had he succeeded, I must have been with him in another world. O Gracious God! I never can be sufficiently grateful for thy bountiful goodness and singular preservation in protecting me through so many imminent perils! so many hair-breadth escapes! For, of all the passengers, with whom I dined on Friday, in the Steamer Killarney, I am the only survivor! Even the cook who prepared the dinner, and the steward, steward's brother, and the stewardess that served it, are all in eternity?
It was not until about ten o'clock on the morning of Sunday, that we endeavoured to change our position, being up to that time terrified by the difficulty. We had to descend a yard or two, in order to gain the point, upon which it was necessary to climb, to attain the summit. - I leading the way, followed by M'Arthur the engineer, Mr. Collis, and the woman, Mary Leary, and I believe some other person of the crew. I must not neglect to state, that one of the steerage passengers, with whose name I am unacquainted, a friend of Mary Leary's, - and accompanying her to London, being unable to attain a position as elevated as my own, supported himself a great part of the night holding on by my legs. I was thus exposed to the greatest peril of being dragged by him from my position, and lost; and I had many times to exclaim, "for Heaven's sake! let go your hold, or you will drag me into the sea." The poor fellow retained his precarious hold until about midnight, when a sea heavier than usual struck him, and with the force of a cannon ball, in an instant, carried him off. I had in this another miraculous escape, for had he held me at that moment, I should undoubtedly be carried off with him.
On gaining the summit, I perceived with horror, that many had disappeared during the night, and among them the lady, whom I had rescued at the loss, I may indeed fairly say, of my dear boy.
There was not one among us, who did not entertain the fullest hope that we should be relieved at an early hour on that morning, (Sunday.) Our consequent disappointment was in proportion to the expectation raised.
We saw at an early hour, a crowd of peasants amounting to hundreds, some of them busily employed at the wreck on the beach - others bearing away pigs' heads, sides of pigs, etc., up the steep cliff, more bending their way down again intent upon gain. It cut me to the heart to perceive that so many thus occupied, witnessed our deplorable situation, with so much apparent indifference. Although very weak from my sufferings up to this time, I exerted myself the whole of that day at repeated intervals, in cheering my fellow-sufferers to keep up their spirits and hold on, - and as often taking out my purse and shaking it with one hand, I waved my cap with the other, in order to induce the peasants to afford us assistance. All my efforts in this way seemed to be of no avail, - for they regarded us not, but persevered in their plundering. Their indifference to our state cut us keenly. At which time many expressions were forced from me; I exclaimed, "O my God! in England we should not experience such cold, such chilling neglect! - no! nor in any other country." I however kept on, trying all in my power, to attract their attention and obtain their aid. At one time as well as I was able, from the benumbed condition of my hands, placing them half closed to my lips, trumpet like, I shouted through them, and endeavoured to make myself heard, again and again exhibiting my purse, and offering what I had, if they would but make a raft of the two large round pieces of timber, each I suppose from fifteen to twenty feet long, which had been washed on shore, together with a great quantity of rope and rigging on which they were walking, and some of which they were cutting, and carrying away. I make not a doubt that the raft would have been brought to the rock by the receding Wave.
The feasibility of this my plan may perhaps be accounted for in this way. One breaker succeeded another nearly every minute and almost mountain high, which continued with great force even to the beach, except that portion which the rock intercepted. This, from the force with which it struck the rock, had the effect of rising like a sea, some twenty or thirty feet above our heads; the divided portion continuing its violent course towards the immense cliff before us, which it instantly struck, its extremities immediately coming together in juxta-position, forcibly receded to the foot of the rock upon which we were, bringing in its refluent train huge pieces of timber, etc. which pieces we had the instant before seen dashed with impetuous force, against the cliff - And even lighter substances were acted upon in a similar way. I instance my servant's livery coat, which I could distinguish by its scarlet cuffs and collar, floating about most of the day, at one period carried and dashed against the cliff, and at another time at our feet at the base of the rock. I speak of these matters to shew the practicability of my plan, which, by shouting, I endeavoured to make those on shore understand, and which, if they had thought of, and had carried into execution, having all the necessary materials at their feet, we could have been landed early on Sunday: and many who perished upon the rock from starvation, or dropped into the sea, would have been saved. The only difficulty in our deliverance would then have been, the dragging of us individually through the intervening surge. This however, could be effected by one at a time being tied to the rope of the raft, to which raft another rope being attached and held at the rock, would have enabled the sufferers to draw it to them, and thereby effect their release.
All this, from Sunday morning up to Monday, the hour of our deliverance, I endeavoured to make those on shore understand by shouting, 'till I became so hoarse and weak, that I was unable to make any further exertion; added to this the approach of night on Sunday, all efforts having failed, and having another night of hardship to endure without food or shelter, - I had all but died broken hearted. Although what I have just said regarding the poor peasants was prompted by my feelings of acute suffering, and which undoubtedly would have been the sentiments of any other individual alike situated, seeing that no one, during this - to us painful period - attempted to relieve us. I would have it understood, that it is not my wish or intention to cast any stigma upon the poor peasants before alluded to. I dare say that they looked upon it as next to impossible to afford us any effective assistance, and that they knew not even how to go about it. This, on reflection, is my firm conviction, arising from what I have seen of their subsequent kindness and attention, as far as in their power lay.
To return to poor M'Arthur, the engineer, who lost his hold and fell. I have before stated that had he grasped me in his fall, the weight of both in the descent must have taken us finally into the sea. M'Arthur falling, by some singular fortune or other, which I cannot explain, caught hold of a jutting position of the rock, in his descent, some thirty or forty feet below, by which he contrived to hold on, the breakers going over him with great force. By great struggling, he, however, eventually got a higher position upon the rock than that which he had lost. His face was much cut, and he seemed in considerable pain from the fall; but what surprised me most of all was, that he was now capable of holding on through the remainder of the night, and up to Sunday morning, about ten o'clock, when he went round with us, and was able to reach the top, where however he died early on Monday morning, and was one of those dead bodies we had left on the rock when taken off by means of the cot, etc., on Monday afternoon. Poor fellow! he possessed a mild, patient disposition, and seemed to me to be a better informed man than the generality of those, who fill similar situations. I understand he has left a wife and family to deplore his loss.
Some time after, poor Forster fell from the rock head foremost, who, if not already dead from starvation, was nearly so - he was followed by young Ward, the steward's brother, who having dropped asleep, was seen and heard to fall. Then followed the Messrs. Adams' boy, that had been in charge of pigs, - and towards morning, the cabin boy! How many others, and who they were, in addition to those just enumerated, I cannot say; but on reaching the top of the rock on Sunday morning, I ascertained from the captain, mate, and some of the crew, that seven had disappeared, including poor Mr. Foster, - that seven had fallen from the rock during the night, either through want of sleep, cold, or starvation. I should think out of the number of fifty we had on board, including passengers and crew, that twenty-five at least gained the rock; and alas! what an awful reflection - the other twenty-five in so brief a period, hurried into eternity! into the presence of their Creator and awful Judge!
I would here entreat my kind readers to pause for a moment, and consider what an instructive lesson may be derived from our sufferings. How clearly do they prove to us the necessity of being at all times prepared for that solemn change, that at one period or another, awaits us all! Should these lines meet the eyes of even the humblest in society, let them be filled with gratitude to their God - for having a roof to cover them - raiment to clothe them - a bed to rest upon - and food, be it ever so plain. Let them contrast their situation with ours. Let them look on this picture - and on that!
"Oh! the dreadful, protracted horrors of shipwreck. When there is nothing to engage the mind but new and increasing harbingers of destruction - when exposed to the ceaseless war of the surge, and the keenness of the wintry blast, whose more than Siberian cold enters the bones, and freezes the very marrow - when the blood slowly circulates in the strongest - when unconquerable drowsiness steals over the faculties - until the benumbed and exhausted sufferer is compelled to loose his hold (which with desperate tenacity he had tried to retain to the very last!) and then into the deep,"
&nbsp"With bubbling groan, He sinks unknell'd - uncoffin'd, and unknown!"
The train of our sufferings upon the bleak and barren rock which we reached, was altogether as romantic and horrifying as could be conceived - not to say, realised. This rock upon which myself and fellow-sufferers were, rose into a long sharp and narrow ridge, about sixty feet high at low water, one part of which was not more than a foot, another, but a few inches in breadth-affording us no shelter. It is the last, and next to the shore, of a chain of black, craggy rocks, separated from each other by deep chasms, into which the sea lashes its terrific volumes.
The series of shelves, which I am now describing, commences about a quarter of a mile from the base, and doubtless, in the fury of the storm, the Steamer was raised by a heavy surge, and after surmounting the intermediate rocks, dashed stern-wise against the last, or those close to it, upon which, as many on board as could do so, jumped out and clambered up the wretched - yet only resting place in the wild waste around us.
The breast or front of this rock is jagged and sharp, which aided, in one point of view, myself and fellow sufferers in ascending - though by it we were exposed to a horrid death, had we made a false step in our perilous progress.
On the level part of the rock, which was the summit, that alone afforded us a little space to sit on, we who were fortunate enough to reach it (and it was not my good fortune, until Sunday morning, after having spent a luckless night, supporting myself by fingers and toes,) had to arrange ourselves with as much fortitude and resignation as we could muster. Had not the rock been so formed, but all over a pointed crag, 'tis questionable whether a single individual would have survived.
To give the reader a fair idea of the nearness of this rock to the beach, I need only say, you must bend over the cliff to see it. Yet such was the violence of the storm that raged all along, not a single boat, had any been in sight, could approach, or even put out. On Sunday, the seaman, though able bodied, who attempted to swim ashore, was, as it were in an instant, carried off - sank and perished.
The great height of the cliff, rising about four hundred feet above the beach, is calculated to deceive the eye; yet, one would imagine that the proximity of the rock, on which we, the sufferers, were perched, would have rendered assistance a matter of easier accomplishment than it proved to be. The precise distance I cannot state; but from the fact that no rope could be slung from the beach to us, or a ball be made to carry a rope attached from a two pounder, it could not have been so inconsiderable as would appear to the eye at the first glance.
The circumstance of its not being practicable to render us, poor sufferers on the rock any aid, although within so short a distance, aggravated our horrors.
This period brings us up to three o'clock, or something later on Sunday. Hunger was now cutting gnawingly, for up to this I had had no refreshment, (save a little sea-weed and salt water, which I was enabled to get with considerable difficulty) since we dined in the Steamer Killarney, on the Friday, between four and five o'clock, a period of nearly forty-eight hours. We indeed thought not, that we should have to hold out, without sustenance, other twenty-four hours, or that we were able to do so, - yet, as the sequel will prove, this was the awful fact, as we were not rescued from the rock, 'till the afternoon of Monday.
To return to Sunday; I have in a previous page stated that during the entire of the morning of that day, indeed up to the afternoon, all we saw was a crowd of peasants on the beach ascending, each carrying his or her burden from the spoils of the wreck of the Steamer Killarney; and on the cliff above us, numbers - altogether amounting to some hundreds. It was in vain we looked for some respectable person among them who would be likely to tender us the desired assistance, 'till as I said, we hailed the presence of a respectable gentleman, by whose kind gestures we could understand (for it was impossible to hear his voice,) that we yet should be saved. After waving his hat, and doing all in his power to cheer us, he retired and ascended the lofty cliff, and in a reasonable time afterwards again returned with several other gentlemen, whose names I shall hereafter mention, who, (may God for ever bless them,) were as active in our cause, as Mr. Galwey.
Several descended with him to the edge of the precipice - a dangerous declivity - bringing with them ropes, slings, etc. and indeed every other requisite that the short period of their absence allowed them to procure, or whatever appeared to them necessary for the object they had in view. Having arrived at the brink of the precipice somewhat in a direct line (though still above us,) with the rock upon which we were - the distance I would compute to be from a hundred and fifty, to two hundred feet, they commenced throwing stones to which were attached small lines, several in their turn - one having failed, another tried, and so on, - 'till they were sufficiently convinced that all such efforts were altogether fruitless, - the strongest of them not being able to pitch such stone more than half way towards us.
Some one then suggested the propriety of trying slings, which they immediately prepared - in turn, taking off their cloaks, coats, etc. having first tied round their waist a strong rope, as a prudent precaution of security for their safety in making the bold attempt, viz. - of slinging a stone, having attached to it a line, to us, unfortunate expectants upon the rock. These efforts too, like the former, were attended with want of success.
Mr. John Galwey, with whom was Mr. Edward Hull, and other gentlemen, apparently in a most perilous position confronting us, formed a footing with crow-bars, etc. Mr. Galwey was then observed several times to try to pass a duck with a small line fastened to its leg - but without effect. We also discerned him coiling a wire or line into the barrel of a musquet, with the view of firing off the ball to which it was connected, hoping that when the ball should have passed the rock, the line might fall upon it. This expedient too was ingenious, but unsuccessful.
The next attempt for our rescue was thought of, and entered upon by a brave young gentleman, Richard Knolles, Esq. son of the worthy Captain Knolles of that neighbourhood, by which he nearly lost his life. He had with him a favorite dog well trained to the water, and apparently to his command, with which fine animal he descended as nearly to the edge of the beach as the billows, breakers, and foaming spray would allow him, and rather farther - for being young, brave and anxious to be the means of saving us, he ventured somewhat too far for his safety, being met by a tremendous surf which struck him and dashed above him some twenty feet, or more, with such violence, that he was not only wetted to the skin, but had the narrowest escape that man could well have of being lashed into the furious sea and yawning gulf below him.
I feel in gratitude bound to stop one moment, to tender him my individual and sincere thanks for such adventurous and noble conduct in our cause; and I will also take it upon myself, to thank him on the part of my fellow survivors.
All those praiseworthy attempts to save us, being attended with such ill success, evidently wearied and damped the ardent zeal, which but a short time before pervaded the breasts of our ever to be thought of friends on shore - the gentlemen of that neighbour hood - whose names in turn I shall hereafter particularise, and who by me shall be remembered to the last hour of my existence with the deepest gratitude. My kind and sympathising readers, if the failure of our friends in their attempts to preserve us, filled their hearts with regret and dismay - though safely situated - what must our minds, hearts, and feelings have been? What must have been the emotions of our breasts? Must they not have been filled to overflowing? Pause one moment and think of our excessive anguish, mental as well as bodily; seeing some one or other of our suffering brethren ever and anon starving and dying around us, no longer able to retain his grasp, and, if not dead, reduced to the last stage of inanition; relinquishing his hold and then hurried into the yawning abyss! This, added to our perfect knowledge of the speedy approach of night, without the slightest prospect of relief, and it being mani fest to us that we must suffer another night - that is, if human nature could endure it, - unless some speedy means were used of which, at this late hour of the day, we saw no apparent probability - our hearts bled; our frames shook; our teeth chattered! It was now the strongest of us became unnerved, unmanned, and perhaps it was here we exhibited the weakness of childhood, and dropped a tear of anguish wrung from our very souls, for our own sufferings, and of deepest sympathy for each other.
The news of our cruel sufferings having ere this spread around the country, - this being Sunday, and rather more favorable than the previous days - thousands of both sexes assembled, from miles around, to witness the awful scene.
We could clearly distinguish among the vast assemblage upon the cliff, a great number of Ladies, by their veils, drapery, etc., who doubtless had been attracted to the fatal spot through sympathy for our peculiar hardships. The shore appeared so near, and the day was so fine, that through the greater part of it, we did not think, nor could we bring ourselves to believe it possible, that we were cruelly doomed to suffer another night upon the desolate rock, and it was thought by some of us, (seeing that the distance to the cliff on the main-land was not very great,) that a brave plunge into the waves would bear us on shore.
Hunger was keen indeed; it was piercing; and perceiving the parties upon the cliff apparently unable to give us relief, one resolute but unfortunate man volunteered, and attempted to swim to shore, and creeping down the rock, bade us farewell. We wished him, with all our hearts success; each meaning to follow his example, if successful, rather than remain to perish upon the rock. He boldly rushed into the surf - we all awaited his re-appearance with breathless anxiety, but he was rapidly hurried into the deep below, and we could discern him no more. All such attempts, or hope of such, to gain the shore by these means, were then abandoned.
Having observed that some preparations were being made on shore, with extended ropes from promontory to promontory, a distance of from half a mile to a mile - the second night now closing fast upon us, - were all in fact gasping between hope and fear.
This was indeed "hope deferred," not knowing what it was they were about to try for our rescue. Through intense anxiety not one of us durst scarcely breathe. The whole lost for some time in a reverie. A deathless silence reigned among us. Our gallant Captain with an accuracy of perception and quickness of thought that to do him much credit, at length exclaimed, "I have it!" We all in breathless suspense awaited his explanation. He then said, "they are carrying one end of the line to yon jutting promontory, (east) and are running with the other end to the other promontory, (west) the two ends of the line being drawn tight at opposite directions, the centre will overhang the rock and be within our reach." True it was, for as the sequel proved, his words were verified.
We now placed our whole reliance on the success of the efforts of those on shore with the ropes - but the apparatus employed was imperfect - time passing rapidly, and the night quickly approaching. Just at the commencement of dusk the rope reached us, which we were enabled to seize by a small tripping line, that hung pendent from it, when it was stretched over our heads, being drawn tight at each promontory by the many assembled.
On the captain or some one of us catching the line and drawing it a little down towards us, we all seized it. Having accomplished this, we in unison loudly cheered. I would here observe that this circumstance, however trifling it may appear to some of my readers, had a powerful effect upon our minds, and we actually became revivified; and although the rope reached us at too late an hour to be of any effectual service in the way of deliverance until the following morning; yet, in my opinion, it was the hope that it kindled in our breasts, that enabled us to endure another night of torture.
Yes, I repeat - the captain was right in his conjecture. The line was extended from head-land to head-land. The plan was a good one; - it was indeed excellent; - it was the one by which we were saved. Had not the fortunate idea struck the inventor, I should not now be in existence! - now breathing to detail to you the story of our misfortunes! - yes, I repeat, neither myself, nor my twelve fellow-sufferers, now survivors, would be in this sublunary scene, spared to thank the individual who was the means, under the Most High, to snatch us from the devouring element which so long awaited to engulph us!
The inventor, Mr. Edward W. Hull, to whom we are all so much indebted, is one of three sons of the late William Hull, of Lemcon, Esq. who was a highly respectable gentleman, and a magistrate of twenty-three years' standing of the County of Cork. During the whole of which period, upon inquiry, I find that there was no gentleman in the commission of the peace, who, by the impartial administration of justice, ever gave more general satisfaction, not only to the Government under which he acted, but also to those within his jurisdiction.
I have just stated that when the rope was conveyed to us, "we all cheered," as if re-animated by a new existence; and although it reached us too late to be of any service on that night, such was our eagerness to be delivered from the rock, that one man volunteered, and immediately descended to the base of it, and by a triangular knot, made himself fast to the hawser which had been conveyed to us by means of the small lines already alluded to. The rope or hawser, although not a new one, I think was sufficiently strong to bear one at a time to shore, and indeed up the lofty cliff in safety; but a boy in care of pigs, unfortunately through over anxiety to escape from the rock descended, and most imprudently attached himself also at the same time to it, notwithstanding our earnest remonstrances to the contrary and when they said "all was ready," - meaning that they were secured to the rope, at the same time directing us to shout to those on the mainland "to pull them ashore." We did so, and they immediately drew them towards the cliff, upon which we heard a splash but could see nothing, it being at this time dark.
During the night, when we occasionally conversed - for we had but little to say, each being wrapped up in his own gloomy meditations, we felt a glow of satisfaction, that at last a contrivance had been resorted to, by which two of us at least were rescued from spending another night upon the rock; we not at this time at all considering that both had met a watery grave - for we could see nothing - it was dark - neither could we hear anything, from the howling of the storm, and roaring of the tempest.
In the morning, however, in consequence of the rope having broken, we entertained a melancholy surmise of their unhappy fate; but upon landing in the afternoon of Monday, we ascertained the piteous fact. It was rumoured, and the report gained wide circulation, that the peasants during the second night (Sunday) of our dreadful suspense upon the rock, had cut the rope. This arose in consequence of its having been found divided early on Monday morning.
On the departure of our anxious friends on the preceding evening, they, I am sure, scarcely entertained a hope that we could endure another night of such horrifying anguish, suffering and despair.
Our friends with eagerness repaired to the heart-rending scene of our sufferings. Their first exclamation when assembled upon the impending cliff was "whether any of the sufferers upon the rock still survived the horrors of the night." Among them at that early hour was to be seen, Lady Roberts, with about thirty of her men, (Sir Thomas being from home at the time) ready under her guidance and persevering exertions to assist in every way where help was required, to accomplish the ardent wishes of her Ladyship.

Her Ladyship's unceasing exertions on this truly tragic occasion are another instance of what the amiable sex is capable of perform ing, when engaged in the cause of humanity.

As the day advanced, some upon the rock died; - Jephson, the black cook, was the first - Neil Bartlett, the second engineer, and about 11, A.M. (on Monday) M'Arthur, the principal engineer - the two last mentioned were natives of Scotland. After many attempts had been ineffectually made to assist us, our hopes were at this time somewhat revived by a man of the name of M'Carthy, who was seen upon the shore to strip, with the evident intention of swimming to the rock, with a rope around his waist. He could not possibly live in such a sea, and at the humane suggestions of many he did not venture, in consequence of his having a wife and family of seven children.

I could not refrain from frequently drinking salt water, although well as my fellow-sufferers could not resist the temptation of moistening our parched tongues for the moment, although conscious of the violent pain it would induce.

About this period or a little after, Lady Roberts made her appearance, attended by her steward, Mr. Thomas Walsh, who was indefatigable in his exertions to afford us aid, and who brought to the cliff a car, laden with ropes and other matters necessary for our deliverance, and about thirty of Sir Thomas' workmen, who exerted themselves nobly. I feel particularly bound to mention the names of the following, whose exertions, I understand, were very conspicuous - viz: - Charles Callaghan, who bore me up the cliff after having been landed from the rock; his brother, Timothy Callaghan, James Drinan, John Hurley, and Son, and Daniel Murley.

I feel much gratified at having an opportunity of here stating that Mr. Walsh, above named, for his excellent conduct was presented by Sir Thomas and Lady Roberts, with a valuable silver cup, bearing an appropriate inscription, and a watch value £10, and I extremely regret that my circumstances will not allow me to present him and the rest of the brave fellows, who so manfully assisted upon that trying occasion, with some suitable token of my gratitude.

Mr Hull, officer of the Coast Guard at Roberts' Cove, was most persevering in his exertions, and took the precaution of leaving two of his men in charge of the ropes, etc. during the night, and was himself on the spot early on Monday morning, with the entire of his party. Lieutenant Irwin, from Kinsale, also appeared, togethether with the men under his command, bringing with him Captain Manby's apparatus, ropes, lines, etc. Lieutenant Charlesson, from Oyster-haven, likewise came to our aid, whose efforts were unremitting; also, Messrs. John and Edward Galwey. Captain Knolles and his two sons - Richard in particular exerted himself - Messrs. George and Arthur Daunt, Newboro' - Messrs. Beale, Conway, and Robinson, of the St. George Steam Packet Company, - Rev. Mr. O'Flynn, Mr. Welland, Jun., Rev. Mr. Adams, Dr. M'Dermott, Dr. O'Brien, Mr. Charles Newenham, and Mr. Edward W. Hull, the inventor of the successful apparatus. Of this gentleman I feel bound to speak felt acknowledgments. Indeed I feel almost afraid to make any distinctions, lest they may be considered invidious, seeing that the kindness of all ranks and degrees has been such as to excite in me sensations of gratitude, to which I feel at this moment altogether unable to do justice. I must however here particularly mention the kindness of Richard Callaghan, of Lota House Esq.; this gentleman brought me medical and surgical aid, not knowing whether I had either - offered me his purse, and inquired whether there was any thing in his power which could alleviate my suffer ings, and if there was, to command his services. To Dr. M'Dermott of Glenview, I also beg to express my best thanks. I was removed to the house of this gentleman, after having been taken from the rock, at his particular desire, where I experienced not only his professional attention, but likewise the utmost hospitality and kindness. To his kind lady and her amiable sisters, whose unwearied assiduities claim my peculiar gratitude, I would also express my most fervent acknowledgments. To Doctors Woodroffe, Herrick, M'Evers, and Beamish, (my fellow student at the college of Surgeons in Dublin for two years,) I would also tender my heart-throbbing gratitude

The first plan attempted early on Monday morning was Manby's apparatus, viz. the firing of a two-pound shot with a line attached, from a howitzer. After many fruitless attempts, this plan was relinquished. Slings, etc. were then resorted to, but with the same result. Owing to so many failures, and the day rapidly advancing, added to our certain knowledge that not even the strongest of us would be able to endure another night of suffering. A deadly sickness of the heart came over us all - an awful a breathless silence for some minutes ensued; each seemed thoroughly convinced that there was no help for us. I at length aroused myself and exclaimed, "O my God! are we to perish thus, after having suffered so much from shipwreck, and subsequently upon the rock, in the sight of so many of our fellow creatures, and so near to land" At this moment I endeavoured to stand upright, but found myself altogether unequal to the task; I could but kneel, being supported on either side in that attitude, by some of my fellow-sufferers. I took off my cap and repeatedly waved it, in order to attract the observation of those on shore. Having succeeded, I raised my voice and extended my arms, pointing with one hand to one promontory and with the other hand to the other, signifying that unless they immediately had recourse to Mr. Hull's plan, as I afterwards ascertained it to be, our fate was decided. Fortunately for us they understood by my gestures, what I meant, my voice they could not hear. They at once acted upon my suggestion, all put their shoulders to the work. The plan was prosecuted to its completion. They again extended the lines from head-land to head-land, with this variation only, that they now attached two tripping lines instead of one, hanging about a yard apart, and a weight to the end of each, which had the desired effect of causing them to fall immediately over the rock, upon which, we grasped them. Our hope of safety was now fully revived, and we once more cheered with exultation. We upon the rock retained a secure hold of the centre of the line, while those upon either cliff proceeded to a centre point on the mainland immediately opposite us, and instantly attached the hawser to one end of the line in question. Having accomplished this, they made signs to us to draw towards us the hawser, to which they had fastened a small basket containing a bottle of wine, a bottle of whiskey, and some bread. To the kindness of Lady Roberts we were indebted for this invaluable relief, after having fasted for so many days and nights. It was indeed invaluable as far as regards the liquids, but as to the bread except a few crumbs, we could not swallow, owing to the length of time we were exposed upon the rock, to cold, etc. We completely lost the power of mastication and deglutition. The basket was handed to the captain, who shared out a portion, giving to me first a little wine. I cannot find words sufficiently strong to express how grateful the wine was to my parched lips. Each having partaken of this seasonable relief, we all huzza'd and waved our hats and caps in token of gratitude for what we had just had, and in the hope of being speedily relieved.

Had relief been withheld from us longer, to perish, and that by the slow, lingering tortures of madness induced by thirst, would have been our melancholy lot; but the ingenuity of Mr. Hull, and the intrepid assistance of those about him, gave us assurance that our deliverance was at hand. The night before, I would give all I possessed to obtain some food, or reach the land; both, thank Heaven, were now within our grasp, but we yet dreaded the failure of the contrivance. The seamen upon the rock felt the hawser, and all agreed that security was attended to, for the ropes were disposed of in a nautical manner. When we felt assured of this, we gave three wild cheers of desperate joy; tears of gladness rushed to every eye, and the bold feat was accomplished.

The basket also contained a written paper, instructing us as the hawser was sufficiently long, to make it fast round the rock, that it might be the more secure, and that they would pass a cot along it with iron grummets. Having so fixed the cot, they made signals to us to draw it towards the rock, by means of the small line. The awful example we had, in consequence of perceiving the rope broken on Monday morning, induced us to believe, indeed caused us to fear that the two men who had been made fast to it had perished; but of this we were not certain until we had been landed from the rock.

There was a great deal of hesitation into who should venture into the cot first, to be drawn on shore; seeing that it had to be hauled a distance of from sixty to a hundred feet above the level of the sea, in order to land upon the lowest accessible part of the cliff, where Mr. Hull, the inventor of the plan was stationed to receive us. On landing, we had to be carried to the summit of the nearly perpendicular cliff, about three hundred feet on men's backs, supported on either side by others of our deliverers, to guard against any casualty, for the least false step would have hurried us headlong to the immense depth below, the kindness of the gentlemen before alluded to, in thus hazarding their lives in aiding us in our dangerous ascent to the top of the cliff, was truly praise worthy. It was mentioned by some upon the rock that the experiment was a dangerous one, and that he would be a brave fellow who would make it first; upon which I exclaimed, "my dear friends, to prove to you that I do not wish you to hazard a dangerous experiment, in order to consult my own safety, I will venture first, I will set the example." I immediately prepared to do so, but a cry from the shore, and a waving of hats, with other signs, induced me to suppose that they wished the woman should go first. Under this impression, I gave way to the female Mary Leary, who was assisted into the cot, and drawn through the air to the frightful height, amid the cheers of all. On her being landed, the cot was lowered to the rock, and I myself entered it, lying upon my back; and giving the signal that I was ready, those on the main-land pulled, and in a few minutes had me landed upon the cliff, where I received the kind congratulations of the gentlemen there assembled. I was then borne to the summit, by Charles Callaghan, one of Sir Thomas Roberts' men, who kindly volunteered his services. James Mason the carpenter who was evidently ill, was then placed in the cot, and died soon after landing. Mr. Collis' was, I believe, the next person placed in it; the others then followed, the captain humanely remaining upon the rock, and giving precedence to all the other sufferers.

I was taken to a cottage adjacent to the cliff, on landing, where Messrs. Beale, Conway and Robinson of the St. George Steam Packet Company, my friend, Captain Berkeley Cotter of Cork, Mr. John Galwey and other gentlemen, came to congratulate me upon my narrow escape and final rescue, all being anxious to ascertain the state I was in after such protracted sufferings. Mr. Robinson of the St. George Company was particularly kind and attentive to me. He took in charge from my person whatever money I had about me - also my gold watch, chain, etc. - had my wet clothes removed, and supplied me with dry ones. Mr. J. Galwey earnestly requested me to partake of his hospitality and care, in my enfeebled state, and requested that I should be taken to his house. Two or three other gentlemen likewise made a similar proposition to me, - Dr. M'Dermott was one, - and as he was a medical person, I acceded to his request, in order to avail myself of his professional services. I believe indeed, but I am not positive, that an invitation also came from Lady Roberts, to whose mansion my friend Collis was afterwards taken. Having been sufficiently supplied with gruel and wine, I was placed in a car and conveyed to Glenview, the residence of Dr. M'Dermott; Captain Bailey was conveyed to the Water-guard station, two of the crew, the chief mate, and female to Mr.Galwey's; three sailors to Captain Welland's, two persons to the Rev. Mr. O'Flynn's, and Sheahan, the second steward, to the house of a poor man at Bally-feard.

I should not omit to mention that Mrs. John Hull, on two successive days sent provisions, but they could not be conveyed to us.

After the expiration of about a week, viz. on Saturday the 29th of January, we all with the exception of the Captain, were removed to Cork. On the day previous, the gentlemen connected with the Steam Packet Company kindly sent out a supply of clothes of every description for the crew, and I myself was supplied, through the kindness of Mr. Callaghan with an entire suit of under-dress, viz. flannels, etc. The Company sent four cars, one for myself, and three for the crew; but my friends Messrs. Campbell and Price very kindly brought a chaise for me, which I preferred. I also perceived my friend Mr. George Parris, Veterinary Surgeon, of Limerick, who left his professional avocations, and came a distance of 80 miles to see me; also Mr. Pollen, Veterinary Surgeon, Mr. Scraggs, Mr. Howard. and others. I was placed in the chaise by my friend Campbell, and we proceeded towards Cork. The sight along the road from Carrigaline to the wreck was exciting and curious. Numbers of citizens in cars and on horseback, rushed with eagerness to the spot, desirous to afford every aid in their power, did an opportunity offer. The enquirers on the road were numerous and most solicitous respecting our melancholy situation. I arrived about 6 o'clock, P.M. at Abraham's Hotel, Winthrop St., where I was visited by my before-mentioned medical friends, from whom I received every attention. Crowds of my friends here assembled around me, among whom I perceived Mr. Fitz-Simmons and Mr. Conway of the Steam Packet Company.

Previously to our arrival in Cork, Dr. M'Evers, House Surgeon, of the South Infirmary, waited upon the St. George Steam Company and proffered his services, and the refuge of the Hospital to them, which were thankfully accepted. Preparations were made for them on the best possible scale that the Institution could afford, and nothing was wanted to make them as comfortable as possible. On Saturday evening at 7 o'clock, nine men and one woman were brought in covered cars to the Infirmary, three of the men were so much injured that they were obliged to lean upon others, when limping up the ward. All of them immediately sat down to a substantial dinner of beef-steaks, bread and porter, for which they displayed a remarkably keen appetite. One of the invalids George Price, partook merely of bread soaked in hot milk, as he laboured under fracture of the jaw. They then retired to bed, and on Sunday morning six of them were discharged, all more or less suffering in the legs and feet, yet able to walk sufficiently well to leave the Hospital. Three men remained, and the woman Mary Leary. Price was uninjured except in the jaw, which was broken by a blow from the wheel in the engine room. George Porter, carpenter's mate, was confined to bed, with ulcerated knees, from kneeling so long upon the sharp spiculae of the rock. There was also an abscess over the patella of one knee, which burst soon after admission into Hospital. Sheahan the second steward suffered much in the legs, in consequence of having plunged them into warm water after having been landed from the rock. The heat was doubtless very grateful to him, he therefore concluded it must be serviceable; but the pain he endured before his feet were long in it, he represents to be most agonising, to use his own words, it drove him nearly mad. The crew were chiefly from Bristol, to which, when convalescent they repaired, and I am happy to learn that a munificent subscription is at present being raised for the sufferers, widows, and orphans, already amounting to eleven hundred pounds, to which are to be added the proceeds of an Oratorio, which is to take place under the immediate patronage and sanction of the Right Rev. The Lord Bishop of Bristol; the Right Worshipful John Kerle Haberfield, Esq. Mayor; the Earl of Cork; Right Hon. Lord Segrave, Lord Lieutenant of the County; the Members for the City of Bristol; P. W. S. Myles, Esq.; the Hon. F. H. F. Berkeley; R. B. Hale, Esq. M.P.; the Hon. Grantley Berkeley, M.P.; the Rev. James Taylor, minister of Clifton; his Curates, and a committee of nearly forty of the most influential gentlemen in Bristol. This indeed reflects the highest credit upon those benevolent Individuals who have so promptly and nobly come forward to ameliorate the sufferings of their fellow creatures.

Having now brought this painful narrative to a close, I have only to thank my kind friends (many of whom I am happy to say, were brother masons,) for their exertions in my behalf, and to beg their indulgence for my deficiencies, if this pamphlet should not be found as consecutive as I could wish it to be. The public will bear in mind the great shock my nervous system has sustained, and the great mental anxiety, as well as physical suffering, which I have endured. Providence has however perhaps spared me for beneficial purposes.

I beg to return my sincere thanks to that eminent artist Signor Fabroni; also to Mr. Unkles, Lithographer, and Mr. Jackson, printer. The first named gentleman kindly came forward, on hearing that I intended to publish this narrative, and gratuitously tendered me his valuable services; and the latter gentlemen, taking into consideration my circumstances, required no profit of me, they merely charged what they themselves had to pay for paper and printing. To Mr. W. Wheeler, for his very kind exertions in my behalf, I have also to return my best thanks.
Passengers and Crew

From above Narrative:

Cabin Passengers Saved: Mr. Collis and Baron Spolasco.
Steerage Passengers Saved: Mary Leary, William Hancock, Sailor, and another Sailor, whose name I do not at present recollect.
Crew Saved: Captain Bailey, George Rowles, John Price, 2nd Mate, Shehan, 2nd Steward, James Atfield, Seaman, John Champion, ditto, Charles Goodland, ditto, George Porter, ditto.
Cabin Passengers Lost: Baron Spolasco's Son, Lieutenant Nicholay, Mr. Foster, Mr. and Mrs. Lawe, Mr. Welday.
Steerage Passengers Lost: Mr. and Mrs. Morrisson, Mr. Crawley, Mr. Evans, Ellen Donovan, and about Ten others whose names I do not know.
Crew lost: John Ward, principal Steward, Maria Hayes, Stewardess, Jephson, the black Cook, William M'Arthur, principal Engineer, Neil Bartlett, 2nd ditto, Thomas Neill, Fireman, James Walsh, ditto, James Bolton, ditto, Patrick Burns, ditto, John Murphy, ditto, James Mason, Carpenter, James Hucker, Seaman, Richard Reed, ditto, George Ward, ditto.
Letter from Edward W. HULL

to the BARON Spolasco; quoted in Spolasco's Narrative.

Agreeably to your desire, I beg leave to present you with a detail of my proceedings relative to the plan by which yourself and fellow sufferers were rescued from the rock upon which the ill-fated KILLARNEY had been Wrecked.

Permit me here to state one circumstance that may not be uninteresting to the readers of your Pamphlet. Some time previously to that tragic event - the wreck - I had arrived here from a distant part of this County on my way to London. On the Saturday preceding the day upon which the Killarney left the Harbour, I had determined on proceeding to Bristol the following week. Desirous to see my Brother, the Chief Officer of Coast Guard at Roberts' Cove, about fourteen miles from this City, on business of some importance, I proceeded on the above-mentioned Saturday to that place. I was then resolved that nothing over which I could have control should detain me there longer than the next Monday, in order that I may be in time to prepare for going in the Killarney. On this day I accordingly left Roberts' Cove. My Brother accompanied me a mile, and when about to return, asked me to go with him. At the moment, I imagined I could not be induced to do so. However, Providence had determined in my favor - and I agreed on remaining that and the following day (Tuesday). My brother requested me to accompany him to Kinsale, where he had an affair of importance to transact, and though indeed unwilling, I consented to do so; it being a matter from which he in all probability may derive considerable advantage. I went to Kinsale, and calculated on remaining there only one night: but circumstances interposed, and I had a delay of two days. Fortune smiled on me in this undertaking, for had I proceeded to Cork on Monday, I should be in the unfortunate Killarney - and in all probability this moment in an eternal world. But the Merciful and Divine Director of our ways, had not decided it to be so. He preserved me perhaps to be in His hands, the humble means of rescuing thirteen human beings from a watery grave.

The first intelligence my brother and myself received of the Wreck was from Mr. John Galway, at about Nine or Ten o'Clock on Sunday morning. We proceeded towards the scene of the dreadful catastrophe, which is about five miles from Roberts' Cove, and arrived there at Eleven o'Clock. My brother's men of course accompanied us. On our reaching the place, I descended the frightful precipice, at the foot of which I discovered Mr. Galway letting ducks fly with lines attached to them. I joined him in the experiment, though indeed I entertained not the least hope of its proving effective. We abandoned this plan - and having taken off my coat and hat and placed a rope round my waist, to prevent my falling over the lower cliff upon which we stood, I commenced using all the means I could devise to convey a stone with a line attached to it to the rock. I first made an effort to throw a stone from my hand; next, I with others had recourse to slings, but all our experiments, as the sequel proved, were useless. I may here without the least exaggeration assert, that the danger to which Mr. John Galway, young Mr. Knolles, and myself were exposed, was beyond the power of conception. Below us appeared a hideous gulf almost yawning to receive us from the cliff upon which we stood, while from above we saw large stones rolling down from a height of two hundred feet. To avoid being struck by these, we had not the power of moving an inch from the place in which we respectively stood; so that in this as in all other circumstances connected with our dangerous undertakings on the occasion, we were protected in our frightful situation by the peculiar interposition of Providence. We next had recourse to the plan of a person named Mills, of the Coast Guard, at Roberts' Cove. It was that of attaching wire to bullets and firing them from guns. This plan likewise proved unsuccessful.

At this time when all our plans had become unavailing, those who had been acting with me below went to the top of the cliff. Being exceedingly exhausted I was unable to follow. I lay down on the brink of the precipice nearly on a line with the top of the rock upon which the sufferers were, and feeling as a human being should at so heart-rending a spectacle - when all hope of saving a single individual was almost extinct, I exclaimed, "Good God! are there no means left to save them!" At this moment I took a view of the east promontory and the west. The thought - the happy thought - flashed across my mind. I immediately perceived that Providence favored us with a tolerable certainty of success. I ascended the precipice, and made my brother acquainted with my plan. We both suggested it to others, but it was disregarded, owing to the great distance between the promontories, and the immense height of the cliffs. However, I saw a glorious prospect before me of rescuing my fellow-creatures from an awful death. Heaven inspired me with confidence, and in conjunction with my brother, I could not be diverted from making a trial. My brother and the neighbouring gentlemen sent in all directions for lines and ropes. On getting them, we commenced putting my plan into execution. The first attempt failed through want of sufficiency of rope, and the setting-in of night. When the rope was carried to the rock and there secured, I perceived that one man got upon it. Had he alone ventured all would be right; but the eagerness of another poor fellow was so great that he attached himself to it; and the weight of the two was over much for the rope to bear and it consequently broke. How we felt at this dreadful occurrence, your readers may imagine, I cannot describe the fearful thrill of horror which pervaded every breast. lt was now dark night, we had therefore to discontinue our efforts until the next morning. We left the lines during the intervening night, as we had adjusted them the evening before. I deem it right to state, in justice to the country people, that the report of their having cut the rope was totally unfounded. The people certainly carried away portions of the wreck, but they were most willing at all times to afford every possible assistance to the sufferers. Some of them assisted even in the most arduous undertakings; never did poor fellows exhibit more readiness to respond to every call made upon them. My brother left two of his men, with one of Lieutenant Charllesson's, to preserve the rope and property during the night.

To return to the subject of my communication - I should state, that on ascending the cliff, I met Lady Roberts and Captain Knolles. I told them of the loss of one man, not knowing at the time that a second had also suffered: - this information indeed, I afterwards received from yourself. I, notwithstanding this sad disaster, felt persuaded that if I had a sufficient quantity of rope all would be saved. I mentioned this to Lady Roberts, upon which her ladyship assured me, that I should be plentifully supplied with this article. Though painful to our feelings to be obliged to leave you to spend another night of gloom and horror, we were under the necessity of doing so for want of a sufficient quantity of rope. On the following morning - Monday - I arrived at the cliff accompanied by my brother and his men an hour before day-light. The weather was dreadful beyond conception; rain and snow falling incessantly. We immediately proceeded to bring into operation the plan of the former day. We were at this time much better enabled to do so, having obtained a sufficiency of rope by the directions of Lady Roberts, who, to the honor of her sex, was present at that early hour, exposed to the inclemency of the weather. No praise is too great for this amiable and humane personage. She indeed acted the part of the "good Samaritan", for which she has the prayers of thirteen of her fellow-creatures. Lieutenant Irwin, inspector of the Coast Guard at Kinsale, arrived about this time with captain Manby's Apparatus. This gentleman having I presume, had some previous experience of the capability of similar machines, commenced discharging balls from it. This suspended the operation of my plan for some time, but it was found altogether ineffective. But I consider it right to state, that no man could have manifested a greater anxiety than Mr. Irwine to do good. The lines and ropes which he brought us were essentially necessary in putting the successful plan into execution; - he also brought the cot.

I perceived, my dear Baron, by your motions when on the frightful rock, directing with outstretched hands and arms, (as the distance, together with the height of the storm prevented us from hearing your voice,) our attention towards the east and west promontory, that you clearly and painfully saw that the apparatus had failed, and that you wished my plan should be adopted. By the unceasing exertions of Captain Knolles and his Sons, the Messrs. Galwey, Mr. Daunt, Lieutenant Irwin, Doctor O'Brien, my Brother, and others, the plan was brought into execution.

In about two hours I had the satisfaction of seeing fourteen persons safely landed from the rock; but one of them I regret to say, died of exhaustion a short time after having been brought on shore.

The hawser, as you perceived, had to be taken down a precipice, of nearly three hundred feet. To the end of it was joined the line which you had primarily received upon the rock, also a basket of refreshments. I myself took the entire down to the lower cliff, where I received each person on being drawn from the rock. The dangers to which myself and three of the coast guard were exposed on that occasion, were not I assure you trifling.

Having heard some observations made, relative to the neglect of the George [sic] Steam Packet Company, in not having sent a Steamer on the Sunday evening to render assistance to the sufferers, I consider myself bound in justice to them to assert, that no efforts used in that way could be in the least degree serviceable.

No vessel of any kind could have approached nearer to the shore than three fourths of a mile, and I presume, that distance was sufficient to make exertions quite hopeless. I feel no small degree of surprise that, persons altogether unacquainted with such matters, as well as the localities of the coast, should exhibit their ignorance, by making any remarks whatever on the subject.