I decided to head up the Ribble (against the current) to anchor in shelter off Lytham. I cut the corner with least depth of 1.2m under my keel and reached the outer Ribble Channel at 12:57 (Liv HW+3:30).
It was so calm in the Ribble that there was no surface disturbance to mark where the stronger current (and hence deeper water) was. I used my tracks from a visit in 2016 but the channel appears to have shifted in places since then. The adverse current was about 0.7knot and I was near the 11 mile post when depth ran out on me. Advice from the Ribble Pilot Guide suggests that I should have been at the southern edge of the channel here (near 11 miles) to get by at that tidal state. So I did not get to Lytham, but was in a very sheltered spot since the banks on either side were dry. I backtracked a little to anchor at 1:40pm in 2.5m at 53° 43.53 N, 3° 0.73 W. Glassy calm and time for a siesta.
At anchor in the Ribble (Lytham in the distance)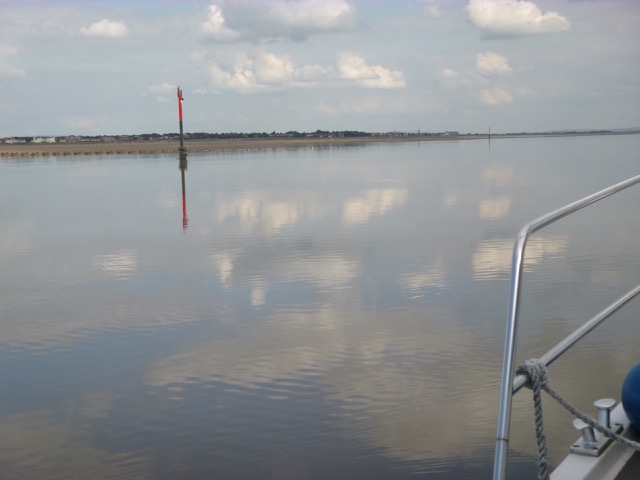 LW (Liv) was 3.0m at 3:56pm, so I raised my anchor at 3:50 in slight (still inward) current and headed back out. I managed to get out without grounding - mainly by following quite close to the northern training wall which was now mostly visible. I was out of the Ribble channel at 4:35 and headed for Liverpool.
I again headed to join the main shipping channel at buoy Alpha (at 6:20). Then up the shipping channel (which was quite busy) to Liverpool. I was a dredger sandwich filling for part of the way: DEO GLORIA ahead of me and CITY OF CARDIFF behind. I locked into the marina at 8:10 with a FV (Wave Dancer) and a nobby (Spray). I was surprised that more boats were not coming back in after a day with such excellent weather.
Shipping at Liverpool: Dredger CITY OF CARDIFF; cruise liner AIDAVITA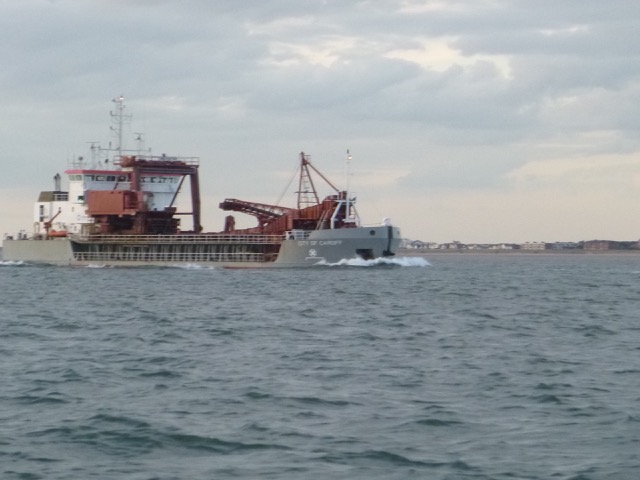 Piel to Liverpool 66.2nm (via a circuitous route).
Trip (157.6 nm; 26 hours run; circa 17 galls fuel) mainly at my displacement speed of 7 knots through the water or less.
A record of the depth and track of my voyage is available from teamSurv
Clicking on an image should give a higher resolution picture. If even higher resolution versions of the above images are wanted, please contact me. All information given in good faith, but please do not rely on it.
Back to index here