MARLIN trip into Dee estuary 14 October 2020
Wednesday 14 October. High pressure at last. Leave Liverpool Marina at 11:10 (HW 9:54 8.7m; LW 16:35 2.1m; HW 22:12 9.1m). I was the only vessel in lock. Fairly calm (NE force 3) and mostly sunny but with some swell from the north.
Liverpool waterfront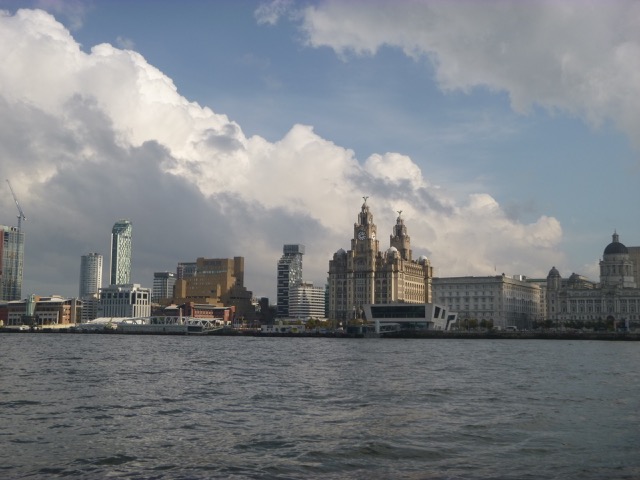 RFA Tideforce on the Cruise Liner terminal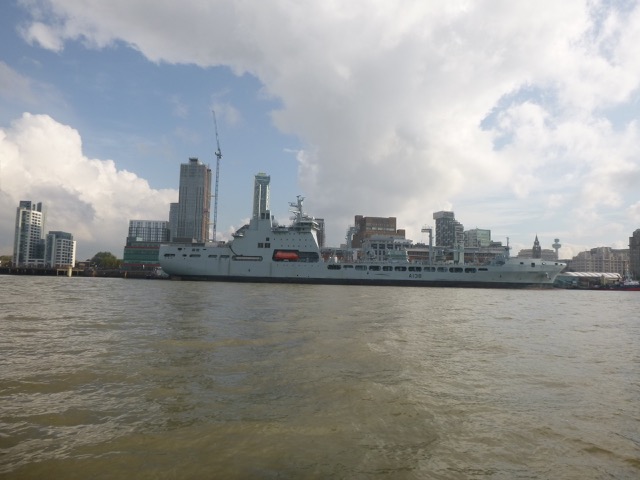 It doesn't take long to get to Brazil: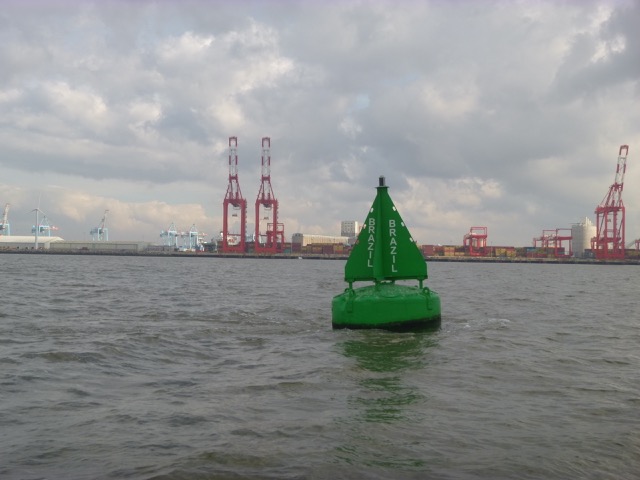 Proceed past New Brighton (at 11:35) and through Rock Gut [this is charted as lying north of the Rock Channel and bisecting Brazil Bank]. I found the seabed can rise as much as 1.5m above CD - similar to what I observed previously - 1.3m.
Depths in the Rock Channel and Rock Gut from my 2020 trips (depths in metres over CD)

Head across north Wirral coast to Hilbre Swash (He3 buoy)
A double bed (for seals):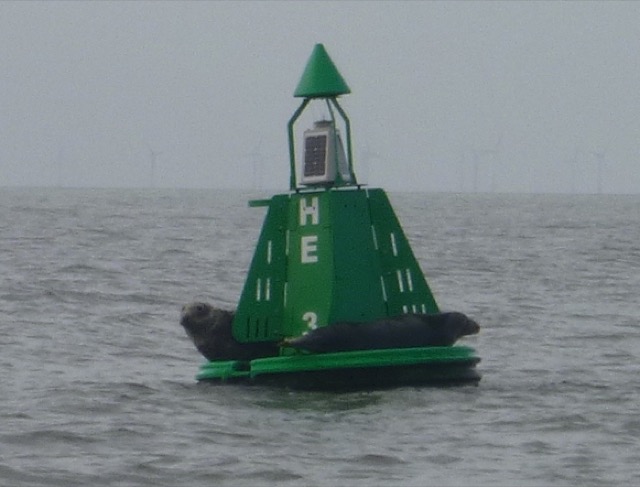 Then round Hilbre Island and across to buoy He4. The SE corner of the Hoyle Bank was not yet dry - so the seals were not yet in position (13:00). I intended, since it was before half-tide, to explore the Welshman's Gut. This [_not_ my stomach] used to run along the south side of the Hoyle Bank and provide a sheltered route going east or west. I remember that there was a buoy (S. E. Hoyle) marking the route when I first visited the area (1980s). I headed across (towards Mostyn) to see if there was a passage at that time. I eventually had less than a metre below my keel and, not wanting to get stuck there with a long wait to refloat, I turned around. After some surveying, I found a nice flat sheltered area to dry out and, duly, anchored. There was some current but only tiny waves.
During this time, more and more small vessels came to Salisbury Bank (nearby) and then, as the tide fell, started collecting cockles (eventually over a dozen boats).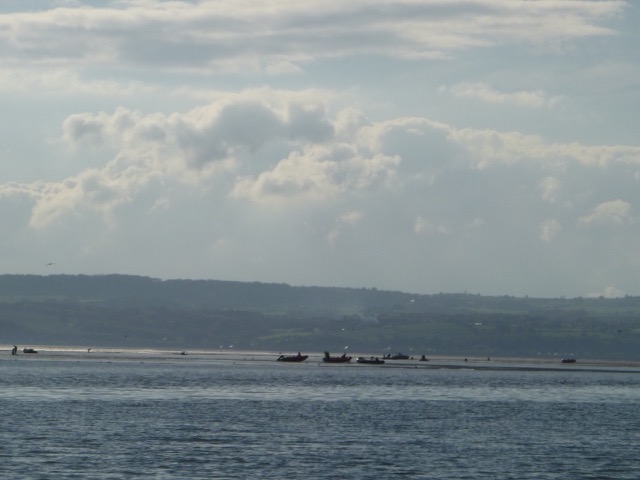 Depths (in metres over CD) near the edge of Hoyle Bank (Welshman's Gut) - distances in metres, + are my anchoring waypoints: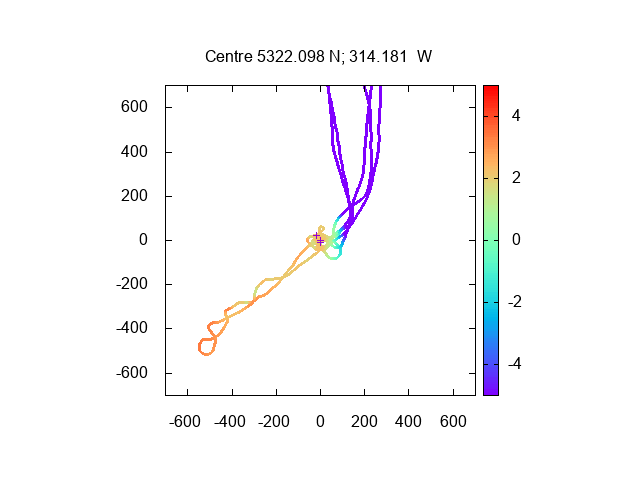 By 2:15, I was aground (at 53°22.093N, 3°14.178W) and the location was dry by 3:00. The location was firm sand and I expected, as usual, to dry out with Marlin tilted at 20°. Instead, Marlin settled nearly upright into a small lake (presumably scour from the current while anchored). This was good (easier to move around onboard) and bad (harder to reach under the side to change the anode).
Marlin aground with the SE corner of the Hoyle Bank (where seals haul out), Hilbre Island and Burbo Windfarm beyond.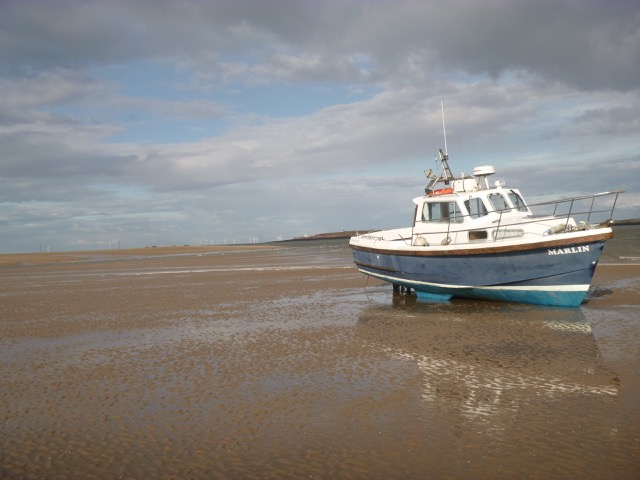 At low water, I could see that I was on a flat area of firm sand, separated from the Hoyle Bank by a narrow drainage channel that runs close to the Bank. View to west (towards Mostyn and along the start of Welshman's Gut):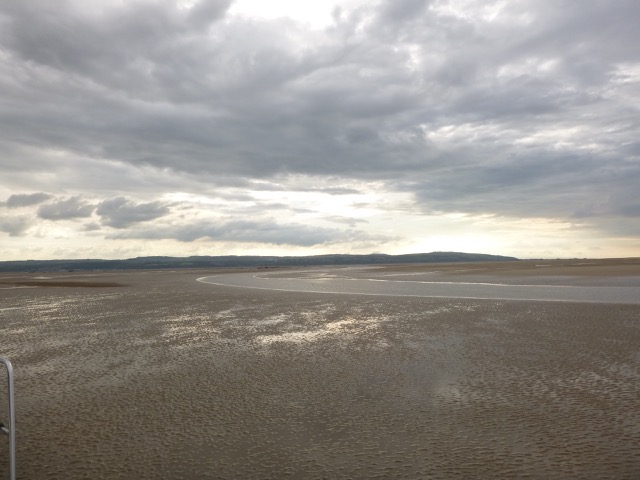 I refloated gently and was under way by 6:10. The sun set at 6:15.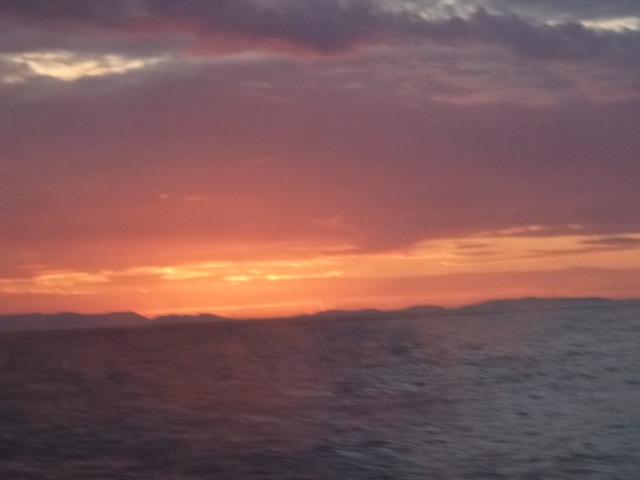 While waiting off Liverpool marina, I was startled by a loud bang. This turned out to be from a nearby fireworks display - which had some rockets that burst at height.
I reached Liverpool Marina at 8.00 and entered the lock at 8.12 with just one other boat.
Trip 29.2nm, mostly at slow speed [6 knots through the water].
If higher resolution versions of the above images are wanted, please contact me. All information given in good faith, but please do not rely on it.
Back to index here