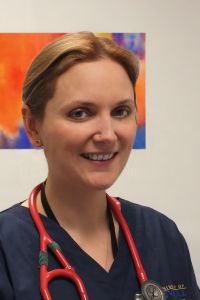 Professor Hannah Hodgkiss-Geere
Professor In Veterinary Cardiology and Education
BVM&S MSc PhD DipECVIM-CA (Cardiology) SFHEA FRCVS RCVS Specialist in Veterinary Cardiology and EBVS® European Specialist in Veterinary Cardiology
Hannah graduated from the Royal 'Dick' School of Veterinary Studies (RDSVS) in 2006 with distinction. During her veterinary degree she intercalated and undertook a full time Master of Science by Research in virology. Upon qualifying from vet school, Hannah entered full time mixed practice in rural Staffordshire where her interest in Cardiopulmonary medicine initially developed. Following mixed practice she entered small animal practice prior to returning to the R(D)SVS and Roslin Institute to undertake a PhD in Canine Adult Stem Cells with a particular interest in Cardiac and Mesenchymal stem cells. Following the PhD she became a Senior Clinical Training Scholar in Cardiopulmonary Medicine, again at the R(D)SVS, undertaking the ECVIM-CA Diploma in Cardiology.
In 2014 Hannah joined the University of Liverpool as Lecturer in Small Animal Cardiology and gained her European Diploma in March 2015. She was appointed Senior Lecturer in Cardiology in December 2015 and Professor of Veterinary Cardiology and Education in Spring 2023. Hannah obtained Fellowship of the Higher Education Academy in May 2018 and Senior Fellowship in summer 2022. She became a Fellow of the Royal College of Veterinary Surgeons in Autumn 2022. Hannah is Director of Undergraduate Recruitment for the Veterinary School and Deputy Head of Department for Small Animal Clinical Sciences. She enjoys teaching students, seeing cases and undertaking research.
Clinical Interests
Cardiac and Mesenchymal Stem Cells
Canine pericardial disease
Cardiac and mesenchymal stem cells
Heart rate variability
Effect of obesity on heart disease
Teaching Responsibilities
Hannah is involved with the clinical rotation in cardiology, with all senior veterinary students spending one week with the Cardiology Service, with a few students returning for the cardiology elective.
Hannah lectures in the 4th year "management of disease" course.