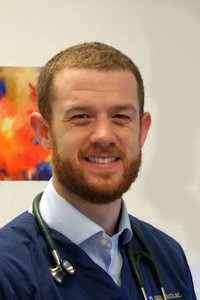 Professor David Killick
Professor of Small Animal Oncology
BVetMed PhD CertSAM DipECVIM-CA (Onc) MRCVS RCVS Specialist in Veterinary Oncology (Small Animals) and EBVS® European Specialist in Veterinary Oncology (Small Animals)
David qualified from the Royal Veterinary College in 2003. He worked in mixed and then small animal practice for the next 4 years. Between 2007 and 2010 David was a resident in Veterinary Oncology at the University of Liverpool. After his residency he returned to the RVC to study for a PhD identifying novel targets for anti-cancer immunotherapy.
David was awarded the Royal College of Veterinary Surgeons certificate in small animal medicine in 2008 and the European College of Veterinary Internal Medicine diploma in veterinary oncology in 2011. David is an RCVS and European specialist in veterinary oncology. In 2014 David was appointed Senior Lecturer in Veterinary Oncology at the Small Animal Teaching Hospital.
Clinical Interests
David is interested in all aspects of clinical oncology, especially the treatment of canine oral malignant melanoma, feline vaccine associated sarcoma and histiocytic diseases in cats and dog.
Teaching Responsibilities
Teaching veterinary undergraduates, and postgraduate interns and residents within the Small Animal Teaching Hospital.
Teaching veterinary surgeons enrolled on the RCVS certificate in advanced veterinary practice courses taught by the University of Liverpool.
Research Interests
Novel molecular targets for canine anti-cancer therapy.
Use of biomarkers for staging and prognostication in canine cancer.