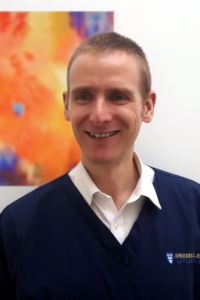 Dr. Alistair Freeman
Senior Lecturer in Small Animal Soft Tissue Surgery
BVM&S PhD DSAS(Soft Tissue) MRCVS RCVS Specialist in Small Animal Soft Tissue Surgery
Alistair graduated from the University of Edinburgh in 1994 and then completed a Junior Clinical Training Scholarship at Edinburgh. After 2 years working in general small animal practice he returned to the University of Edinburgh in 1997 to complete a 5-year Wellcome Trust Clinical Research Training Scholarship, during which he obtained the Certificate in Small Animal Surgery and completed a PhD studying the tissue-specific expression of the glucocorticoid receptor gene. He joined the staff at Liverpool in 2002 and gained the RCVS Diploma in Small Animal Surgery along with RCVS Recognised Specialist status in 2012. After a brief spell in private practice in 2016 he returned to the SATH at the start of 2017.
Clinical Interests
Wound management and reconstruction
Surgical oncology
Minimally-invasive and interventional procedures
Teaching Responsibilities
Clinical and didactic teaching of surgical skills and general soft tissue surgery to 3rd, 4th and 5th year veterinary students.
Research Interests
Epithelial healing
Portosystemic vascular anomalies
Teaching methods