Management School launches new Centre for Sustainable Business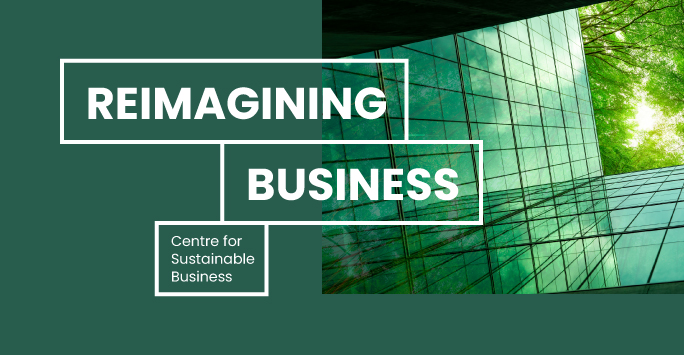 The University of Liverpool's Management School is expanding its existing portfolio of specialist research centres, with the launch of a new Centre for Sustainable Business (CSB) this autumn.
This new research Centre will be launched in a hybrid event at the University's Central Teaching Hub on Tuesday 18 October 2022 at 5pm, as part of the School's 20th Anniversary celebrations, alonside the Centre for Organisational and Employee Wellbeing launch.
Reimagining Business
Under the theme 'Reimagining Business', the event is an opportunity to connect with business and nurture research collaborations, to better understand and find solutions to their sustainability challenges.
Businesses, policymakers and consumer organisations are welcome to join this new network of ideas, knowledge and experience, to collectively think how to do things differently, and reimagine a more sustainable future.
The event will be hosted by the Centre's Director, Professor Jo Meehan, and keynote speakers Jeremy Nicholls (SDG Assurance Framework Lead at the United Nations Development Programme), Kate Downes and Katie Dean (Assistant Director for Evidence, Research & Intelligence, and Transformation Lead respectively, at the Liverpool City Region Combined Authority).
Jeremy, will provide an overview of the UN's Sustainable Development Goals and Impact Standards, and how businesses need to proactively move beyond legally compliant Environmental, Social and Governance (ESG) criteria, to gain a competitive advantage and prepare for more stringent regulation.
Kate and Katie, will share their experiences of working with researchers to reimagine a sustainable future for the Liverpool City Region, by developing a long-term social value strategy for the year 2032.
Addressing real life business sustainability challenges
The CSB aims to become a trusted hub of evidence-based actionable insights for businesses, civil society organisations, policy makers, consumers and other groups, searching for solutions in response to the climate emergency and social justice issues.
The Centre will act as a broker and 'translator' of academic research, stimulating provocative dialogue on business sustainability challenges to support the development of new research agendas.
The three main priorities for the Centre are 'Non-Financial Reporting & Accountability', 'Responsible Consumption & Circularity' and 'Disruptive Technologies & Shaping Ecosystems'.
The focus will be on how research in these areas can provide evidence to help businesses respond to climate change and social inequalities.
The Centre's goal is to make these insights accessible via practical managerial guidance and recommendations via case studies, reports and audio-visual content, adapted to a non-academic audience.
"The CSB will be a research and education centre, but we want to have an impact", said Professor of Responsible Procurement and Director of the CSB, Professor Jo Meehan.
"We're trying to help businesses step away from making things incrementally less bad, towards a more transformative outlook, for example by embracing the circular economy and the sharing economy.
"We have teams of people working in really diverse areas of sustainability research.
"This wealth of knowledge is constantly changing, and as well as feeding it into our curricula, we want to make it accessible to organisations outside the University, to ensure it has an impact on business practice and legislation."
The establishment of the new research Centre reinforces the School's commitment to urgent and ambitious action on addressing sustainability challenges, by shaping world-class academic research with a direct impact on organisations, policies and society.
If you would like to attend the CSB launch event on 18 October 2022, and other business development activities, contact busdev@liverpool.ac.uk to join our mailing list.