Self-service portal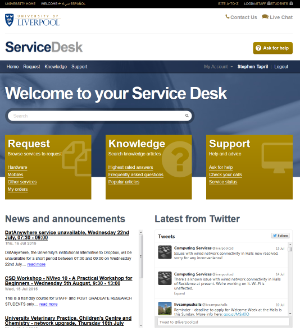 IT Services have a self-service portal to receive requests for support and specific IT services. The new system was introduced to enhance the provision of IT support.
You can use the self-service portal to search for answers to some of the more frequently asked questions – making it much easier to find a solution without needing to ask for help.
If you do need to get in touch to ask for help then you will be able to use the portal to submit your request online and keep track of progress as we work to resolve the issue. You can still by telephone, using online chat, or visiting us in person.

The self-service portal can also be used by staff to request services such as University mobile phones provided in partnership with Vodafone. The range of services available to request through the portal will continue to expand and will include, for example, requests for equipment provided through the PC Scheme and for access to key business systems such as Agresso.
How do I access the self-service portal?
You will see a desktop icon labelled IT Service Desk if you are using a PC running the Managed Windows Service (MWS). You can double-click on this icon to load the portal in your web browser (e.g. Microsoft Edge):

Alternatively, you can log in to the portal online at: servicedesk.liverpool.ac.uk
Explore some of the features of self-service