Mailing lists
A mailing list allows a sender to send one email to a specific list address. The email message is then transparently sent on to all the subscribers of that list.
If there is a group of people you email regularly, a mailing list may be more convenient than a group or a distribution list in Outlook.
To request a mailing list, contact the CSD Service Desk. We'll need a few details from you to set up a list, this article in the Knowledge Base has more information.
Common Questions and Tasks
How do I login to manage my mailing lists?
To manage your lists you need to login to LISTSERV. Your login details will be either your mailname@liverpool.ac.uk or your username@liverpool.ac.uk.
Once you've logged in successfully you will see a page similar to the following: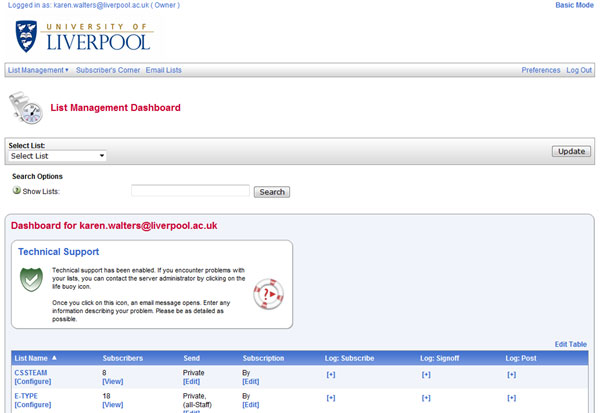 I've forgotten my password?
If you've forgotten your password:
Click on get a new LISTSERV password.
‌
Enter your email address in the box and your new password in the boxes provided then click on Register Password.
You will see a Confirmation Sent message that an email has been sent to your mailbox. To activate your password, follow the instructions contained in the message.


How do I find out what lists I own?
Log into Listserv, your lists should be displayed in the Dashboard If you cannot see the lists that you own, contact the CSD Service Desk – it may be that your lists are associated with your email address in a different format e.g. @ liverpool.ac.uk or @liv.ac.uk.


How do I find out who is on my list?
From the Dashboard, click on [View] to see the subscribers to a particular list.

How do I add or remove someone from my list?
From the Listserv Dashboard, click on the drop down arrow next to List Management and select Subscriber Management.

Select the list that you wish to amend.

Either search for a subscriber or add a new subscriber to the list.



How do I delete a list I no longer need?
If you have any lists that you no longer require, please contact the CSD Service Desk in order to have these removed.
How do I add list archives to my list?
Adding "Archives" to your list means that all posts to the list are kept within the Listserv system and archived. To add this feature, pleas contact the CSD Service Desk.
How do I add or remove a list owner?
To add or remove a list owner:
1. Go to the main lists screen and click on Configure under the list you want to add or remove the owner from.

2. Select the List Maintenance tab.
‌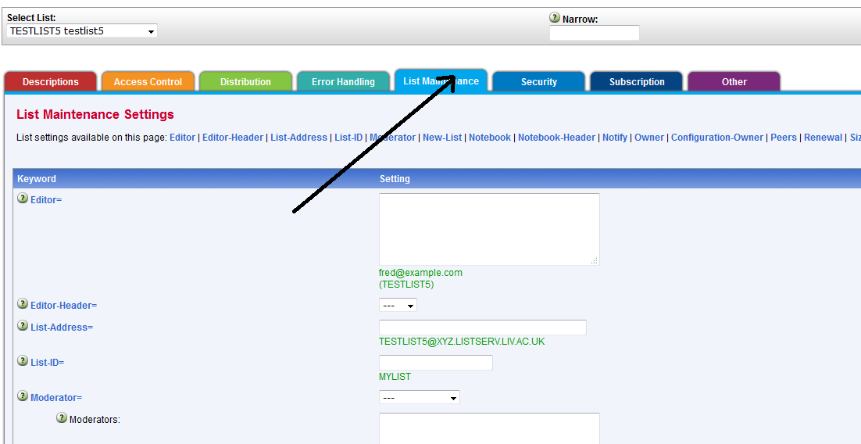 3. Scroll down and the Owner field will contain email addresses of current owners. Owners who do not receive emails about list errors will be displayed in the Quiet field. To remove an owner delete their email address and to add an owner type in their full email address - make sure each owner address is on a separate line.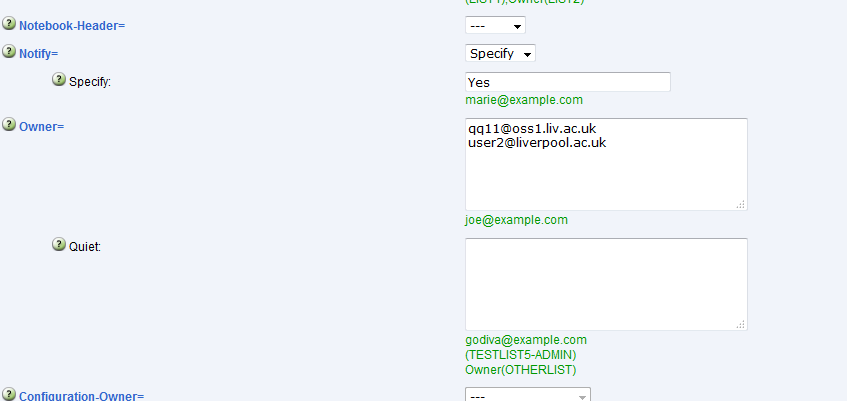 4. Scroll to the bottom or top of the page and click on Save on the right of the screen to update the list.