Heseltine Institute at the RGS-IBG annual international conference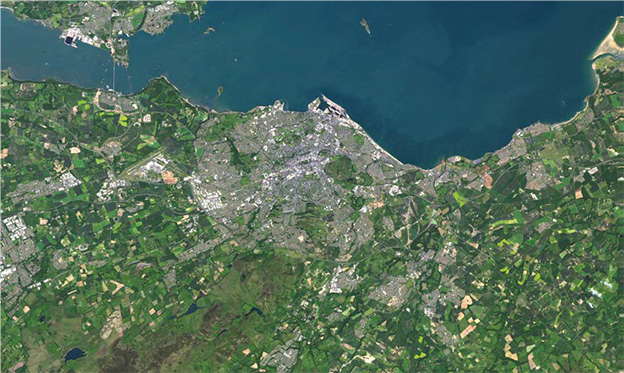 It is clear that new models of urban governance are needed which promote prosperous but, equally, fair, sustainable and resilient cities. But what are the alternatives and can they really do any better?
This August, researchers from the Heseltine Institute will contribute to the debate around alternatives to the neoliberal city at the Royal Geographical Society – Institute of British Geographers Annual International Conference: a high profile three-day event beginning Wednesday 28 August that will attract over 1,800 geographers from around the world.
As part of the event, Director of the Heseltine Institute, Professor Mark Boyle, as well as the Institute's Dr Alan Southern and Dr Matthew Thompson, will be making a number of significant contributions – further details of which can be found below.
Sessions convened
Authors Versus Critics Panel: Brendan Murtagh's Social Economics and the Solidarity City
Mark Boyle (University of Liverpool, UK)
Matthew Thompson (University of Liverpool, UK)
Alan Southern (University of Liverpool, UK)
Sponsored by the RGS(IBG) Geographies of Justice Research Group
Social Economics and the Solidarity City explores the impact and potential of the social economy as a site of urban struggle, political mobilization and community organization. The search for alternatives to the neoliberal logic governing contemporary cities has often focused on broad and ill-defined political, social and environmental movements. These alternatives sometimes fail to connect with the lived realities of the city or to change the lives of those exploited in neoliberal restructuring. This book seeks to understand the capacity of the social economy to revitalize urban ethics, local practices and tangible political alterity. Providing a critical account of the social economy and its place in urban and state restructuring, this book draws on a range of international cases to argue that the social economy can be made a transformative space. Evaluating community enterprises, social finance, and solidarity economics, author Brendan Murtagh maps the possibilities, contradictions and tactics of moving the rhetoric of the just city into local and global action. This panel will place all of the above under review and discussion.
Experimental Recipes for a Radical Municipalism
Matthew Thompson (University of Liverpool, UK)
Bertie Russell (University of Sheffield, UK)
Sponsored by the RGS(IBG) Participatory Geographies Research Group and Urban Geography Research Group
In June 2017 Barcelona hosted 'Fearless Cities', the first gathering of an embryonic global movement dubbed 'new' or 'radical municipalism'. From Rosario, Argentina to Jackson, Mississippi, these initiatives see activists developing strategic approaches to municipal institutions with the aim of transforming urban-economic governance in resistance to growing inequalities, democratic deficits and social injustice. This builds on a long and ideologically-diverse history of municipalism(s) – from pre-Westphalian city-states; through paternalistic 'gas-and-water' municipalism of nineteenth-century English local authorities and their turn, in the 1980s, to New Left municipal socialism; to Marxist, anarchist and feminist thinking on federalism (Kropotkin), libertarian municipalism (Bookchin), right to the city (Lefebvre) and commoning (Federici).
What is arguably 'new' – and 'radical' – about the present moment is the geographical breadth and speed of replication of comparable experiments worldwide; their shared vision to 'feminize' decision-making processes; the blurring of state/civil-society boundaries; the decentring-without-jettisoning of the state in theories of social change; an emerging politics of scale that challenges conventional hierarchical interpretations; and the radical democratization of urban economies through co-operatives, commons and re-municipalisation.
This session aims to inspire critical debate and discussion of movement-relevant research and action concerning radical municipalism – oriented towards activists, practitioners and policymakers as well as researchers. The session format begins with a roundtable discussion, with presentations limited to 10 minutes to allow more time for dialogue amongst all participants/collaborators in the room. Principal contributions must pose a genuine question/provocation – a real uncertainty that presents challenges both for the contributor and for municipalist movements – which will be shared and openly discussed. The aim is to galvanize new thought, action and collaborations, through exploratory questioning, rather than find definitive answers.
Papers delivered
National Spatial Strategies as a Response to the Revolt of the Rustbelt
Mark Boyle (University of Liverpool, UK)
Forty years of neoliberal economic development, growing inequality and uneven geographical development in combination with a decade of biting austerity, Brexit's uneven geographical risks and impacts, and the potential geographically polarising consequences of a much vaunted Fourth Industrial Revolution, necessitate that urgent attention is placed (once again) on national spatial planning and national spatial strategies. There is an urgent need to interrogate the spatially differentiated impacts of currently spatially blind national policies and resource allocation practices and within the context of debates concerning new varieties of capitalism, economic democracy, institutional and regulatory shifts, alternative growth paradigms, diverse economies, and evolving thinking on market-state-civil society relationships, to work towards a plan which fosters polycentricity, more strategic and spatially conscious and purposeful investment in support of a wider number of flourishing second-tier city regions, stronger local institutions, and a dedicated pursuit of sustainable urban development. Countries will prosper if the right balance of city-regions prosper; a more distributed space economy will address unsustainable social inequalities, will be good for the economy overall, and may arrest the currency enjoyed by at times regressive political populisms in the UK's left-behind communities. The purpose of this paper is to bring into conversation the national spatial strategies currently being pursued in Wales, France, Northern Ireland, Scotland, and the Republic of Ireland – so as to inform each of the others and to extract lessons for England, a nation with an unfortunate absence of consequential national spatial strategizing.