What does the Autumn Budget mean for Liverpool City Region?
Posted on: 29 October 2021 by Tom Arnold in Blog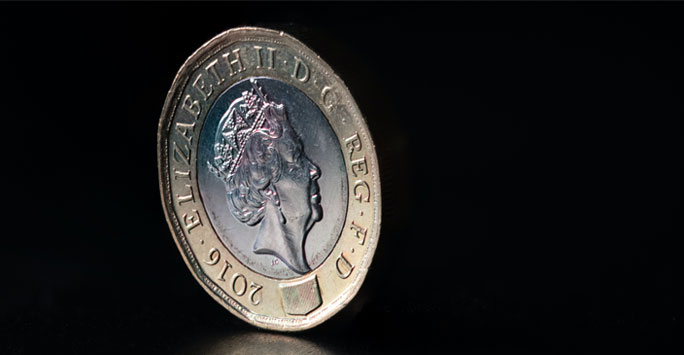 Chancellor Rishi Sunak announced the Autumn Budget and Spending Review on Wednesday, setting out the Government's tax and spending plans. In this blog, Heseltine Institute Research Associates James Hickson and Tom Arnold explore the implications for Liverpool City Region and discuss what the Budget means for local government and the future of devolution in England.
---
Budget headlines for Liverpool City Region
Wednesday's announcements presented Liverpool with an unexpected gift – £2m towards a new Beatles museum. Aside from this somewhat eyebrow raising initiative (there are already two dedicated Fab Four exhibitions in the city centre), there were several notable headlines for Liverpool City Region:
Transport: LCR Combined Authority will receive £710m for investment in Merseyrail, improvements to stations, cleaner buses and expanding the cycle network.
Rates relief: Retail, hospital and leisure properties will benefit from 50% relief in 2022/23.
Three LCR projects have been awarded money through the Levelling Up fund: Liverpool Docks Cultural Regeneration (£20m); LCR Transport Infrastructure – levelling up for recovery (£37.5m); and the Wirral Woodside Waterfront and Gyratory Reconfiguration (£19.7m).
More broadly, the budget partly rowed back on a decade of local government austerity with total departmental spending increasing 3.8% a year on average over this parliament. Local government will receive annual averages increases of 3%, although reductions in business rate income will impact local authority finances. Spending in almost every department remains well below that of a decade ago however, as demonstrated by the Institute for Fiscal Studies.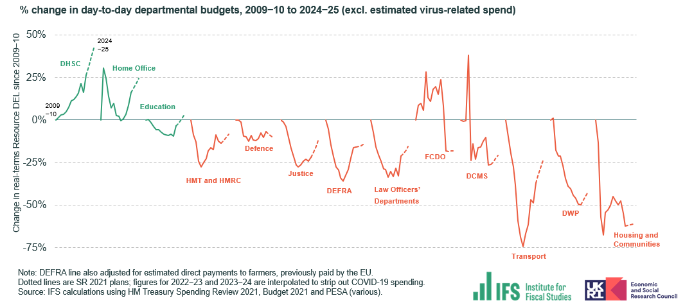 Will the Budget 'level up' Liverpool City Region?
The long-promised Levelling Up White Paper is now due for release "before the end of the year", but there were some indications of how this agenda might be fleshed out over coming weeks. A series of performance metrics were revealed, alongside an objective to develop a "sustainable and resilient local government sector that delivers priority services and helps build more empowered and integrated communities". The even more long-awaited UK Shared Prosperity Fund, designed to replace the EU's regional structural funds which contributed to the redevelopment of Liverpool's docks through the 1990s and 2000s, will provide £2.6bn across the UK over the 2020-25 period. However, it remains unclear how this funding will be allocated, and this figure is well below the £7.7bn provided by the structural funds between 2014-2020. A fifth of the UKSPF has already been set aside for Multiply – a scheme designed to improve numeracy levels amongst 500,000 adults across the UK. The Levelling Up Fund is larger in total, at £4bn, but only covers individual capital projects worth up to £20m each.
Recent weeks have seen a flurry of announcements on the government's plan to move towards Net Zero, but there were few new firm financial commitments in this budget. The chancellor demonstrated his reluctance to introduce green taxes, and moves to cut Airport Passenger Duty for domestic flights were surprising on the eve of the UK hosting the COP26 summit. A serious commitment from the Chancellor towards decarbonising housing stock was also absent, despite the scale and urgency of investment required (an estimated £12 billion in Liverpool City Region alone) to reach Net Zero targets. Even more surprisingly, perhaps, there was no mention in Rishi Sunak's speech of freeports, described by the Chancellor in his spring budget earlier this year as a policy "on a scale we have never done before" that would "bring investment, trade, and, most importantly, jobs, right across this country". However, only £25m has been allocated next year to offset tax reliefs at the eight freeport sites, including Liverpool City Region. There was also no sign of the Integrated Rail Plan, which will be crucial in determining the future of HS2 and Northern Powerhouse Rail.
What next for devolution in England?
The 2021 Autumn Budget and Spending Review provide further evidence of the government's preference for centrally-managed, project-specific funding for local government. With major new funding streams such as the Levelling Up Fund and UK Shared Prosperity Fund administered centrally by the UK government, and decision-making criteria unclear, Mayoral Combined Authorities (MCAs) such as LCR remain reliant on the discretion and good will of central government, with little scope for increased fiscal independence at the city region level.
While local government will receive its first real terms increase in grant funding for over a decade, councils and combined authorities are more limited in fiscal and policy scope than their counterparts in many cities across Europe and North America. Devolved, city-region administrations risk being marginalised as merely delivery arms of central government, responding chiefly to central government priorities. This squanders the opportunity for devolved administrations to govern in their own right, leveraging meaningful financial independence and political control to do things differently, respond dynamically and intelligently to local contexts and needs, and innovate new approaches to policy or institutional design.
Previous work by the Heseltine Institute has articulated how deeper devolution of powers and funding to MCAs represents an unexploited opportunity to deliver a more effective and resilient recovery from the COVID-19 pandemic, and redress the UK's uneven economic geography. The Liverpool City Region All Party Parliamentary Group has similarly advocated for further devolution of powers and long-term funding to help Level Up the city region and respond to the climate emergency.
The Levelling Up White Paper offers an opportunity for government to reconsider their approach to English devolution and unlock its full potential as a driver for local and national prosperity, sustainability, and resilience. In particular, deeper fiscal independence and political autonomy for MCAs would not only bring English cities more in line with their international counterparts, but would also help national government deliver its levelling up agenda more effectively by allowing places to invest and intervene in a way that is aligned with local needs and priorities.
Whilst set piece Westminster events such as the Budget will always be important and of consequence to places like Liverpool City Region, our aim over time should be to reduce their significance through real devolution and greater financial and political independence at the local level. Rather than relying on the largesse of the Chancellor to fund projects, programmes, and interventions, places should have the freedom to take make more spending decisions locally.
---