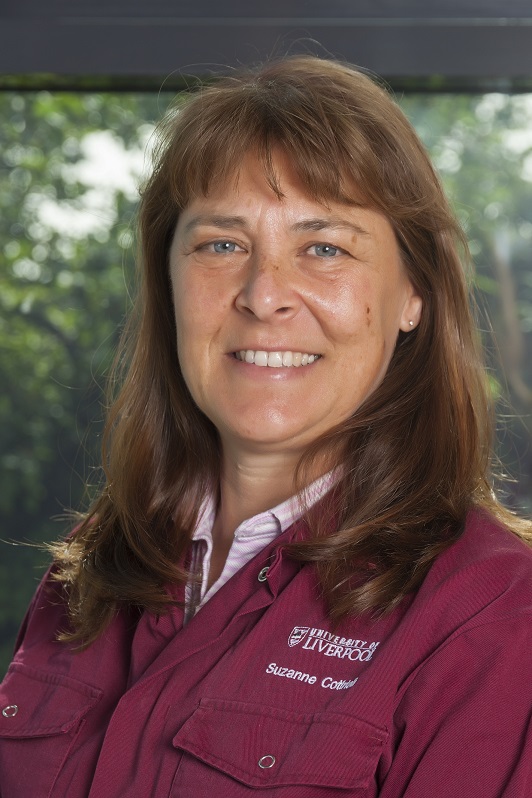 Suzanne Cottriall
Chartered Physiotherapist Programme Co-ordinator for PgDip and MSc Veterinary Physiotherapy
BA, BSc, MSc Vet Physio, MCSP, Cat A ACPAT
0151 794 9453
Biography
Suzanne is a Chartered Physiotherapist who has specialised in Animal Physiotherapy. She is the Programme Coordinator for the Masters in Veterinary Physiotherapy and provides clinical services for both small and large animals at the Leahurst site as well as off-site equine physiotherapy.
She qualified in 2003 as a Physiotherapist and gained her Masters degree in Animal Physiotherapy in 2007 from the Royal Veterinary College. She worked in a mixed animal physiotherapy practice for 2 years and then started her own business. Alongside of this Suzanne worked at Chestergates Referral Hospital until 2015 when she joined Leahurst full time to work as a clinician and lecturer. She has presented internationally on small animal physiotherapy and published research on Equine Training Aids. By working so closely with the vets within the University of Liverpool a broader veterinary service is now available at all points of the clinical process helping to ensure the inclusion of physiotherapy in small animal and equine care.
Suzanne enjoys riding and training her horse for dressage as well as walking her 2 dogs, especially in the Lake District.
Research interests:
Physiotherapy and rehabilitation.
Teaching:
Fellow of the Higher Education Academy (FHEA).
Responsible for veterinary undergraduate teaching of veterinary physiotherapy.
Programme coordinator of Veterinary Physiotherapy