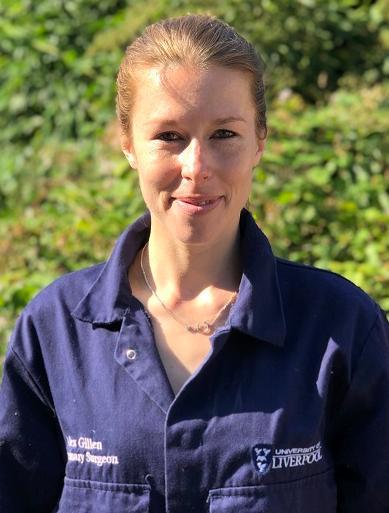 Alex Gillen
Senior Lecturer in Equine Surgery
MA MS VetMB CertAVP DipACVS DipECVS FHEA MRCVS
0151 794 6041
Biography
Alex graduated from Cambridge University in 2007. Following completion of an internship in sports medicine and imaging at the Animal Health Trust in Newmarket, Alex joined an equine practice in Dorset. In 2012, Alex moved to the USA and completed a surgical internship in California, prior to moving to Auburn, Alabama for a surgical residency and Masters degree. From 2016 to 2019, Alex worked as an assistant clinical professor in equine surgery at Iowa State University, becoming an ACVS diplomate in 2017.
Clinical Interests & Research
Alex has a broad range of surgical and research interests. Her current research includes methods of abdominal closure, investigations in intra-abdominal pressure, radiation therapy and management of specific orthopaedic conditions.