Mechanical Engineering with Management
Return to top
Course overview
The Mechanical Engineering with Management MSc aims to develop your academic knowledge, skills and understanding of mechanical engineering and management topics to an advanced level. It will enable graduates to meet the needs of industry and to progress into senior positions with engineering management or related industrial sectors.
Introduction
A postgraduate degree in Mechanical Engineering with Management is the basis for a career in a profession that offers an extremely wide choice of employment opportunities worldwide. Students engage in a number of activities that not only develop fundamental knowledge but also provide the tools to critically evaluate and apply knowledge to developing solutions for real world engineering challenges.
Mechanical engineering deals with the design, development, installation, operation and maintenance of anything that has moving parts. Mechanical engineers are needed in almost every industry from transport and Energy to Healthcare and sport. Mechanical Engineers have highly valued skills and are in demand worldwide. They have problem solving skills using reasoning, resourcefulness and innovative approaches whilst capable of careful attention to detail and understand how to work in multidisciplinary teams.
BEng Aerospace, Mechanical or Civil Engineering Graduates from University of Liverpool are not eligible for this programme.
What you'll learn
An understanding of modern management tools, practical project management and the skills needed to thrive at entrepreneurial activity
Concepts of Engineering Fluid Mechanics, and in particular: the role of viscosity in fluid mechanics, including the no-slip condition and the concept of vorticity
Gain an understanding of nuclear engineering
Understand advanced manufacturing techniques using lasers
Alternative and conventional energy generation methods
Concepts required to maintain structural integrity.
Accreditation
This programme is fully accredited by the Institution of Mechanical Engineers.
Course content
Discover what you'll learn, what you'll study, and how you'll be taught and assessed.
Starting in January 2024
This course is available to start in January 2024, which means you will graduate in the summer graduation. If you choose to start in January 2024 you will undertake Semester two modules first, followed by your dissertation project and then undertake Semester one modules in September. Please view more information about the modules and your funding options on the course page.
Semester one
Please note that students starting in January will undertake the modules from Semester 2 first, followed by their project over the summer, and will undertake the modules from Semester 1 between September and December.
Compulsory modules
ENGINEERING FLUID MECHANICS (MECH627)

Credits: 15 / Semester: semester 1

The module provides students with the fundamental concepts of Engineering Fluid Mechanics, and in particular: the role of viscosity in fluid mechanics, including the no-slip condition and the concept of vorticity.

The basic principles of laminar and turbulent flow through pipes including definition and evaluation of the Fanning and Darcy friction factors.

The concept of a boundary layer, including separation and transition, and basic equations for friction factor in laminar and turbulent flow with zero pressure gradient.

The calculation methods of bluff-body drag using drag coefficients with qualitative explanations the potential-flow theory including the concept of irrationality and the principle of superposition.

The analysis of compressible flow through constant-area ducts accounting for friction or heat transfer and to use the Fanno – and Rayleigh-flow tables.

The analysis of external compressible flow including expansion and compression turns (Prandtl-Meyer expansions and oblique shock waves).​
Nuclear Technologies (MECH434)

Credits: 7.5 / Semester: semester 1

The module provides an understanding of nuclear engineering, with coverage going from the atomic scale through to the bulk scale. The topics will cover reactor dynamics, design and operation, lifetime behaviour, evolution of technologies and nuclear waste. For example, understanding the implications of the fission/fusion processes themselves on the behaviour of the core.
PROJECT MANAGEMENT (MNGT502)

Credits: 7.5 / Semester: semester 1

Project Management is a core skill for professional engineers of all types and a sound education in this subject area is required by the professional accrediting bodies. The knowledge and skills developed in this module will equip students for their future UG project work and for their careers ahead.
This module teaches students the theory of fundamental techniques in project management, risk management, and cost management.

In this modules student undertake a group "virtual project" in which they undertake all stages of project management involved n a major construction projects. The five virtual project tasks require students to apply their theoretical learning; and they provide an opportunity to develop key professional skills.
ADVANCED MODERN MANAGEMENT (MNGT352)

Credits: 7.5 / Semester: semester 1

The Aims of this module are as follows:

To introduce the student to various aspects of advanced modern management.

To develop a knowledge and understanding of modern management tools.

To stimulate an appreciation of management and its importance in organisational success.
TECHNICAL WRITING FOR ENGINEERS (ENGG596)

Credits: 7.5 / Semester: semester 1

To develop technical writing skills for engineers. English Language Centre deliver the module for non-native English speakers, Engineering staff deliver identical syllabus, assessments and learning outcomes for other students.
Optional modules
COMPUTER AIDED DESIGN (MNFG604)

Credits: 7.5 / Semester: semester 1

To introduce the student to the latest 3D tools and techniques used by designers.

To develop a wider knowledge and understanding of integrated systems design.

To stimulate an appreciation of modern design and development methodologies.
FINITE ELEMENT ANALYSIS (MECH452)

Credits: 7.5 / Semester: semester 1

In this module the students will gain a basic understanding of the Finite Element method and learn to use Abaqus Finite Element software. This software will then be used to analyse a variety of different problems which are relevant to both mechanical and civil engineers
LASER MATERIALS PROCESSING (MECH605)

Credits: 15 / Semester: semester 1

​The module will cover: how lasers work, what are the key beam properties of high power lasers, how the beam is deployed and delivered to the process/workpiece, safety in laser materials processing, and the working principles and industry practice for a range of laser processes.
ADDITIVE MANUFACTURING (MNFG610)

Credits: 7.5 / Semester: semester 1

To provide an overview on the role of additive manufacturing in new product development.

To develop a generic understanding on the principles and the complete process chain of additive manufacturing processes.

To provide an awareness on recent developments in additive manufacturing and associated technologies.
ADVANCED ENGINEERING MATERIALS (MATS301)

Credits: 7.5 / Semester: semester 1

This module aims to understand advanced engineering materials, focusing on non-ferrous alloys and composite materials. It covers the processing, heat treatment, microstructure and properties of Al, Ti and Ni alloys. It introduces constituent materials, manufacturing methods, test methods and mechanical response of composite materials.
Advanced Fluid Mechanics (ENGG419)

Credits: 15 / Semester: semester 1

Advanced Fluid Mechanics covers fluid motion in a range of problems of engineering interest. Both laminar and turbulent flows will be considered. Limiting cases of the equations of motion will be solved analytically and with the aid of simple numerical methods programmed in Matlab (R). The full equations of motion will be described and solved numerically using the open-source Computational Fluid Dynamics software package OpenFOAM (R).

The module will be delivered via a series of lectures, computing room exercises and tutorial sessions. It will be assessed through three courseworks (30%) and a final examination (70%).
Programme details and modules listed are illustrative only and subject to change.
Semester two
Compulsory modules
ADVANCED MANUFACTURING WITH LASERS (MECH607)

Credits: 15 / Semester: semester 2

This module provides an understanding of the principles of advanced manufacturing techniques using lasers and how these are being explored through current/recent research and adopted by industry.
ENERGY AND THE ENVIRONMENT (MECH433)

Credits: 15 / Semester: semester 2

This modules discusses energy generation and usage, and how they complement each other. The topics are introduced in lectures that then lead onto a case study on a specific topic.
ENTERPRISE STUDIES (MNGT414)

Credits: 7.5 / Semester: semester 2

The module teaches the concepts of Entrepreneurship, Intrapreneurship, Company Infrastructure and Investment Proposals. It is taught using lectures, class questions, case studie sand a comprehensive coursework assignment. Successful students will have acquired knowledge and understanding at mastery level of the process and how itis executed in a modern industrial environment.
STRUCTURAL INTEGRITY (ENGG409)

Credits: 15 / Semester: semester 2

This module introduces the concepts required to maintain structural integrity. Topics covered are: detecting structural defects, predicting when defects will cause failure, and mitigating against failure.
Optional modules
DESIGN FOR ENVIRONMENT, MANUFACTURE AND ASSEMBLY (MNFG413)

Credits: 7.5 / Semester: semester 2

The aim of this module is to provide an introduction to the tools and methods of Eco-design, Design for Manufacture and Assembly using real, everyday products as examples.
Programme details and modules listed are illustrative only and subject to change.
Final project
You will undertake and complete your final project during the summer.
Compulsory modules
MSC(ENG) PROJECT (60 CREDITS) (ENGG660)

Credits: 60 / Semester: summer

The purpose of the project is to provide students with the opportunity to plan, carry out and control a research project at the forefront of their academic discipline, field of study or area of professional practice. The student will report findings both orally and in writing. Detailed instructions are provided in the PG handbook distributed at the outset of the programme.
Programme details and modules listed are illustrative only and subject to change.
How you'll learn
You'll learn across a variety of teaching methods, like lectures, seminars, and tutorials – some online and some in person. You'll also access asynchronous online content on a weekly basis with personal tutorials and take part in group work projects, based on engineering grand challenges faced by global society today.
There's opportunity to get hands-on too with active learning lab sessions, laser micromachining and lab work using special design software such as Finite Element.
How you're assessed
Across your modules, you'll be assessed in a number of different ways, including exams, lab activity, business plans, case studies, project journals, poster presentations, and both group and individual project work.
Your final project work will be based on a topic of industrial or scientific relevance, and will be carried out in laboratories in the University or at an approved placement in industry. You'll examine this project in your dissertation and show evidence of in-depth understanding, mastery of research techniques, ability to analyse assembled data, and assessment of outcomes.
Liverpool Hallmarks
We have a distinctive approach to education, the Liverpool Curriculum Framework, which focuses on research-connected teaching, active learning, and authentic assessment to ensure our students graduate as digitally fluent and confident global citizens.
Your experience
The School of Engineering has a well-deserved and highly respected reputation for its excellent experimental and computational facilities. Our £32 million redevelopment includes the state-of-the-art 'Active Learning Labs', a cutting-edge teaching facility, one of the largest and best equipped in Europe.
Virtual tour
Chat with our students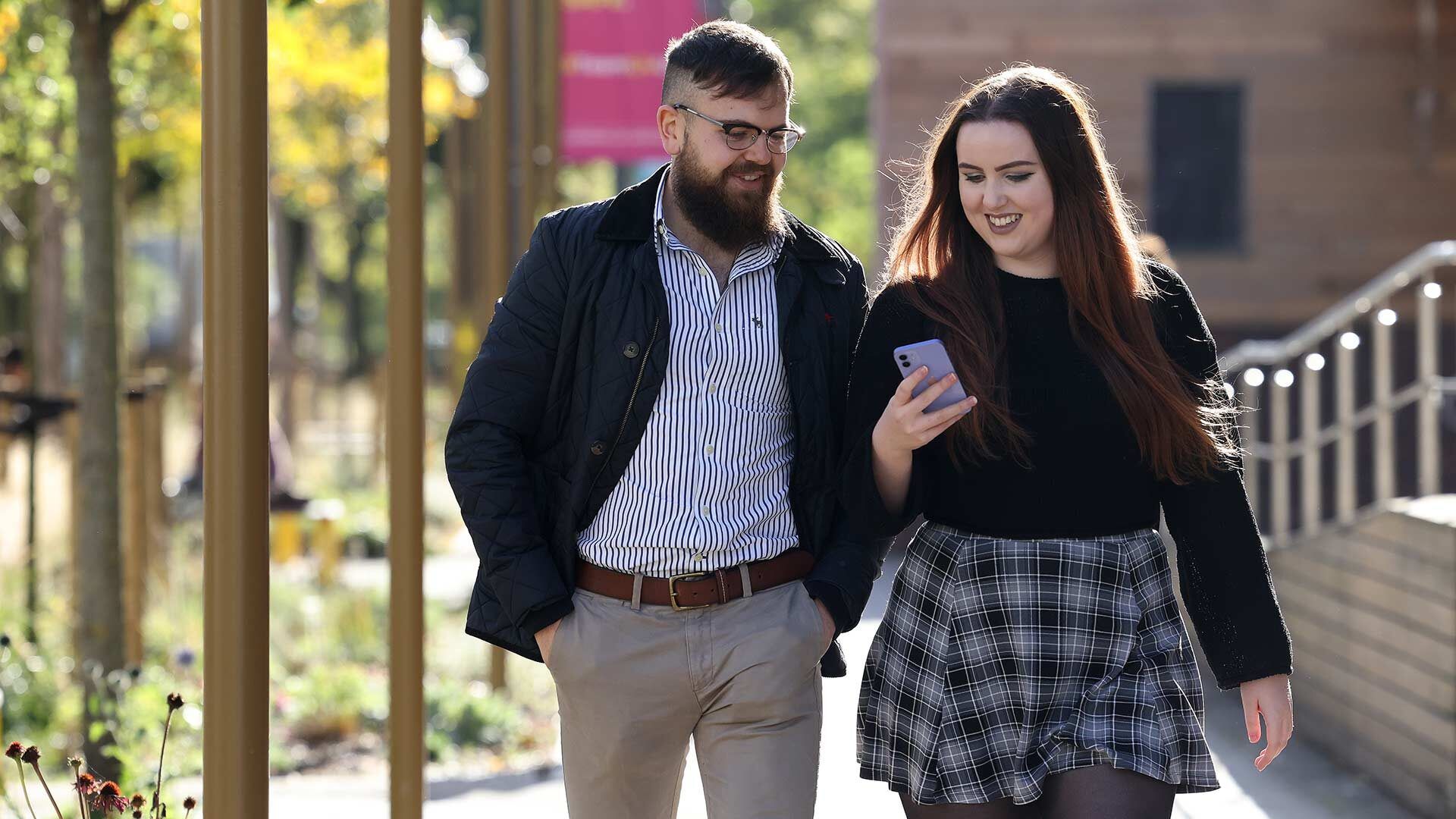 Chat with our students
Want to find out more about student life?
Chat with our student ambassadors and ask any questions you have.
Careers and employability
We equip our students for rewarding careers and our graduates have found jobs in a wide range of industries and organisations, both in the UK and abroad.
Programmes include a strong practical element and incorporate the latest academic and industry research, enabling you to work effectively at the forefront of engineering.
Your future
Career Destinations are wide and varied. Some employers include:
Agusta Westland
NHS
BAE Systems
Ford
Jaguar
Unilever
Armed Forces
QinetiQ
National and International bodies such as EPSRC and the European Commission.
Fees and funding
Your tuition fees, funding your studies, and other costs to consider.
Tuition fees
UK fees

(applies to Channel Islands, Isle of Man and Republic of Ireland)

Full-time place, per year
£11,950
International fees
Full-time place, per year
£26,350
Fees stated are for the 2023-24 academic year.
Tuition fees cover the cost of your teaching and assessment, operating facilities such as libraries, IT equipment, and access to academic and personal support.
If you're a UK national, or have settled status in the UK, you may be eligible to apply for a Postgraduate Loan worth up to £12,167 to help with course fees and living costs. Learn more about tuition fees, funding and Postgraduate Loans.
Additional costs
We understand that budgeting for your time at university is important, and we want to make sure you understand any course-related costs that are not covered by your tuition fee. This could include buying a laptop, books, or stationery.
Find out more about the additional study costs that may apply to this course.
Scholarships and bursaries
We offer a range of scholarships and bursaries to help cover tuition fees and help with living expenses while at university.
Entry requirements
The qualifications and exam results you'll need to apply for this course.
| Your qualification | Requirements |
| --- | --- |
| Postgraduate entry requirements | You will usually need a 2:1 at  undergraduate level or equivalent. This should be in Engineering or Science with appropriate knowledge of core engineering science topics at bachelor degree level. |
| International qualifications | If you hold a bachelor's degree or equivalent, but don't meet our entry requirements, you could be eligible for a Pre-Master's course. This is offered on campus at the University of Liverpool International College, in partnership with Kaplan International Pathways. It's a specialist preparation course for postgraduate study, and when you pass the Pre-Master's at the required level with good attendance, you're guaranteed entry to a University of Liverpool master's degree. |
English language requirements
You'll need to demonstrate competence in the use of English language. International applicants who do not meet the minimum required standard of English language can complete one of our Pre-Sessional English courses to achieve the required level.
English language qualification
Requirements
IELTS
C
View our IELTS academic requirements key.
International Baccalaureate

Standard Level 5

TOEFL iBT
88 or above with minimum scores in components as follows: Listening and Writing 19, Reading 19, Speaking 20.
INDIA Standard XII
70% or above from Central and Metro State Boards
WAEC
C4-6
Hong Kong use of English AS level
C
More about life in Liverpool
Discover more about the city and University.
Why study at Liverpool?
Liverpool bursts with diversity and creativity which makes it ideal for you to undertake your postgraduate studies and access various opportunities for you and your family.
Accommodation
To fully immerse yourself in the university experience living in halls will keep you close to campus where you can always meet new people. Find your home away from home.
Fees and Finance
Discover what expenses are covered by the cost of your tuition fees and other finance-related information you may need regarding your studies at Liverpool.
Contact us
Have a question about this course or studying with us? Our dedicated enquiries team can help.