Liverpool Confucius Institute Delivers Mandarin Taster Session at Formby High School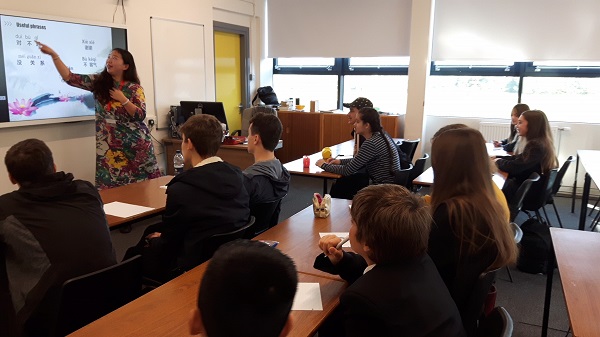 The Confucius Institute at the University of Liverpool has recently delivered a successful Mandarin Taster Session at Formby High School, including pronunciation, characters and numbers.
The feedback from the school was highly positive: 'The pace and content were just right for the group and the students were all enthused afterwards. The PowerPoint was very clear and suitable for all levels and everything was presented in a very nice, clear and welcoming style.'
Ms Chunxi Zhou, an experienced tutor from Liverpool Confucius Institute who delivered the session said: 'It has been a pleasure to deliver this Chinese language and culture session to Formby High School, and get the chance to know these amazing and passionate students.' She also passed on her best wishes to the students in the hope that they will be inspired to learn know more about China and Chinese language in the future.
The school expressed interest in prospective collaboration with LCI: 'We will continue to promote Mandarin to our students wherever we can, and if we are able to afford a set of lessons at some point in the future we would not hesitate to get in touch.'
Discover more