2nd Annual University of Liverpool Industry-Chemistry Engagement Meeting (IChEM).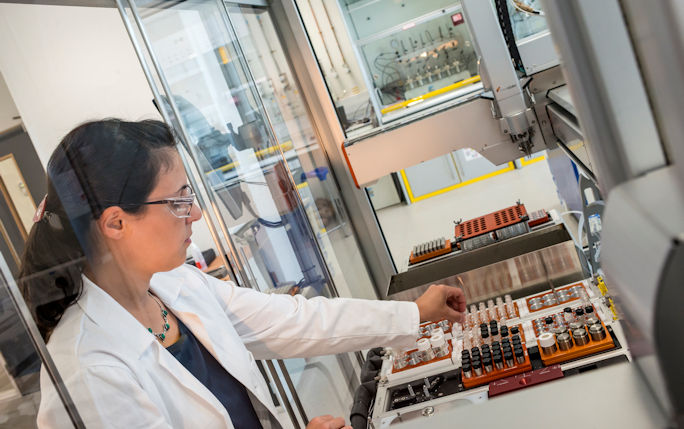 An event specifically for business and industry to find out about the University's Department of Chemistry research, facilities and collaborative opportunities is taking place in the Brett Building on the University Campus on 5th and 6th September 2019.
The Industry-Chemistry Engagement Meeting (I-ChEM) two day event that will showcase a number of research areas where Liverpool has particular expertise and facilities which industry can access.
Day one will focus on Functional Materials and Day two on Biotechnology, organic synthesis, computation modelling and characterisation.
The Department of Chemistry was ranked 2nd in the country in the most recent assessment of its research and has a well-established track record of working with industry to provide technological solutions and develop new products.
Recent examples of impact include providing catalysis expertise to develop a green and low cost manufacturing process and delivering low toxicity, cost efficient class of antifouling materials to reduce CO2 emissions for the maritime sector.
The I-Chem event aims to bring together new and existing partners from industry to discuss collaborative opportunities in addition to information about the various engagement routes available to support these activities
Professor Neil Berry, Head of the Department of Chemistry, said: "The Department of Chemistry here at Liverpool is a global leader in fundamental science and technology development and this event provides the opportunity to showcase the diversity of our science to industry and encourage debate, garner direction and facilitate interactions. We welcome the opportunity to work with new partners and to further develop our programmes of activity with established collaborators."
The University's Chemistry Department boasts a number of unique, world-leading facilities that industry can access alongside accompanying technical support. In particular delegates will have an opportunity to visit and to explore potential engagement routes with the Materials Innovation Factory.
This recent development houses one of the highest-concentration of materials science automation robotics in the world and has world-leading expertise in automated materials discovery.
The amalgamation of world leading research and unique automation facilities means that University chemists are at the forefront of the discovery and development of a new generation of advanced and functional materials and that the research and development process can be accelerated by a factor of 200.
The University's Stephenson Institute for Renewable Energy is a leading UK centre for developing clean and sustainable energy technologies. It has a specific focus on energy dissipation and friction, wind and marine energy, fusion technology, photovoltaics, carbon capture and storage, sustainable feedstocks, batteries, fuel cells, hydrogen generation and storage, solar harvesting, energy transport.
The Open Innovation Hub for Antimicrobial Surfaces develops and share knowledge and innovation in the science of antimicrobial surfaces. It brings together the expertise, ideas, and resources of industry, the NHS, academia to create rapid innovation pipelines by developing connections and forging partnerships.
The Surface Science Research Centre cuts across the disciplines of chemistry, physics, biology and materials science, and combine the efforts of both experimentalists and theoreticians. The overarching ambition of this work is to achieve nanoscale control, design and assembly of function.
For full details of the programme and to register to attend please visit University of Liverpool Industry-Chemistry Engagement Meeting (I-ChEM)