Community engagement – shaping the long-acting technologies pipeline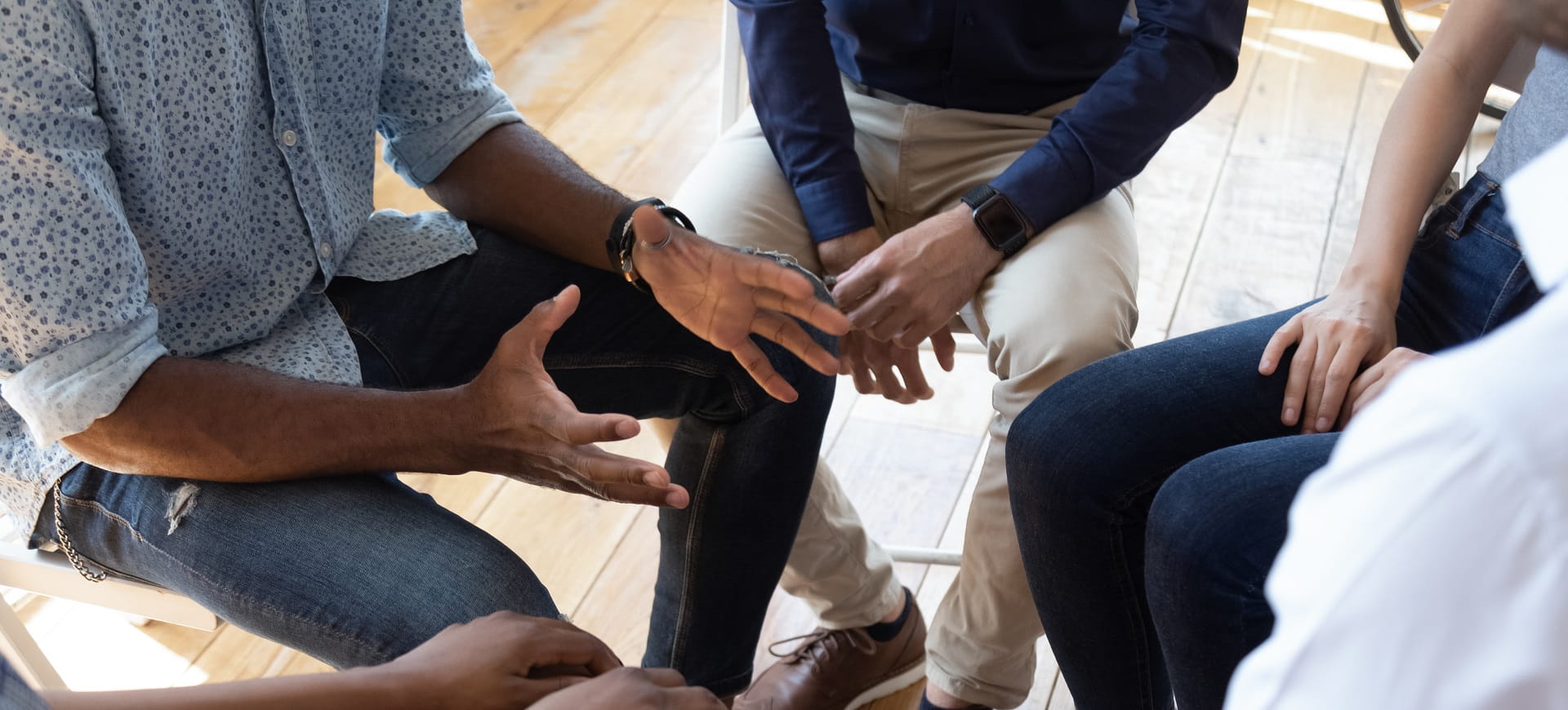 The latest World Health Organisation (WHO) reports estimate 58 million people globally have chronic hepatitis C virus (HCV) infection, with about 1.5 million new infections occurring per year. 75% of these cases occur in low- and middle-income countries.
It is estimated that oral drugs at the point of diagnosis provide a 98% cure rate if an entire oral regimen is completed. However, in LMICs, access to medication can be complex with issues around stigma and pill burden resulting in poor completion rates.
The LONGEVITY Project aims to repurpose current oral medications as long-acting formulations that can cure HCV with a single injection at the point of diagnosis. Our new medicines can provide rapid therapy, reduce issues around pill burden and simplify drug delivery. By improving access and patient acceptability to a curative treatment the project could, contribute massively to the target set by The World Health Organisation for global elimination of this virus by 2030.
LONGEVITY and Community Engagement
A critical aspect of LONGEVITY is effective engagement with affected communities to ensure that patient needs are at the forefront of our product development. Community participation, and endorsement of long-acting technology (LAT) research is key to our objectives which is why the Centre of Excellence for Long-acting Therapeutics (CELT) has partnered with Treatment Action Group (TAG) whose vital work and expertise in community engagement spans thirty years.
TAG catalyses open collective action by affected communities, scientists, and policymakers to ensure that all people living with or impacted by HCV, TB and HIV — especially communities of colour and other marginalised communities experiencing inequities — receive lifesaving prevention, diagnosis, treatment, care, and information. They are science-based activists working to expand and accelerate vital research and effective community engagement with research and policy institutions.
Long-acting Technologies Community Advisory Board (LAT CAB)
The LAT CAB, an initiative set up by TAG in partnership with AfroCAB, are a team of community experts shaping the long-acting technologies pipeline. Their work will ensure that affected communities have a platform to engage with our researchers and to make a meaningful contribution to the R&D of the new drugs we create. LAT CAB experts will also advise on research questions, survey and trial design, price points, and access issues.
Why do we consult communities?
Providing this platform for communities is critical to the LONGEVITY project as it provides a comprehensive understanding of the priorities of patients and where healthcare programmes are lacking in their communities. Our researchers can then ensure community feedback is a critical factor in the R&D process to establish new medicines that are affordable, suitable and applicable for the complex settings in which they will be used.
Progress so far
The LAT CAB consists of 12 members from 11 low- and middle-income countries with excellent knowledge based on technical skills, activism experience, engagement with civil society networks, and quality of application materials. LAT CAB members are people with lived experiences with malaria, tuberculosis and HCV with strong civil society and policy experiences and relationships in their countries and regions, who may benefit from the development of long-acting medicines.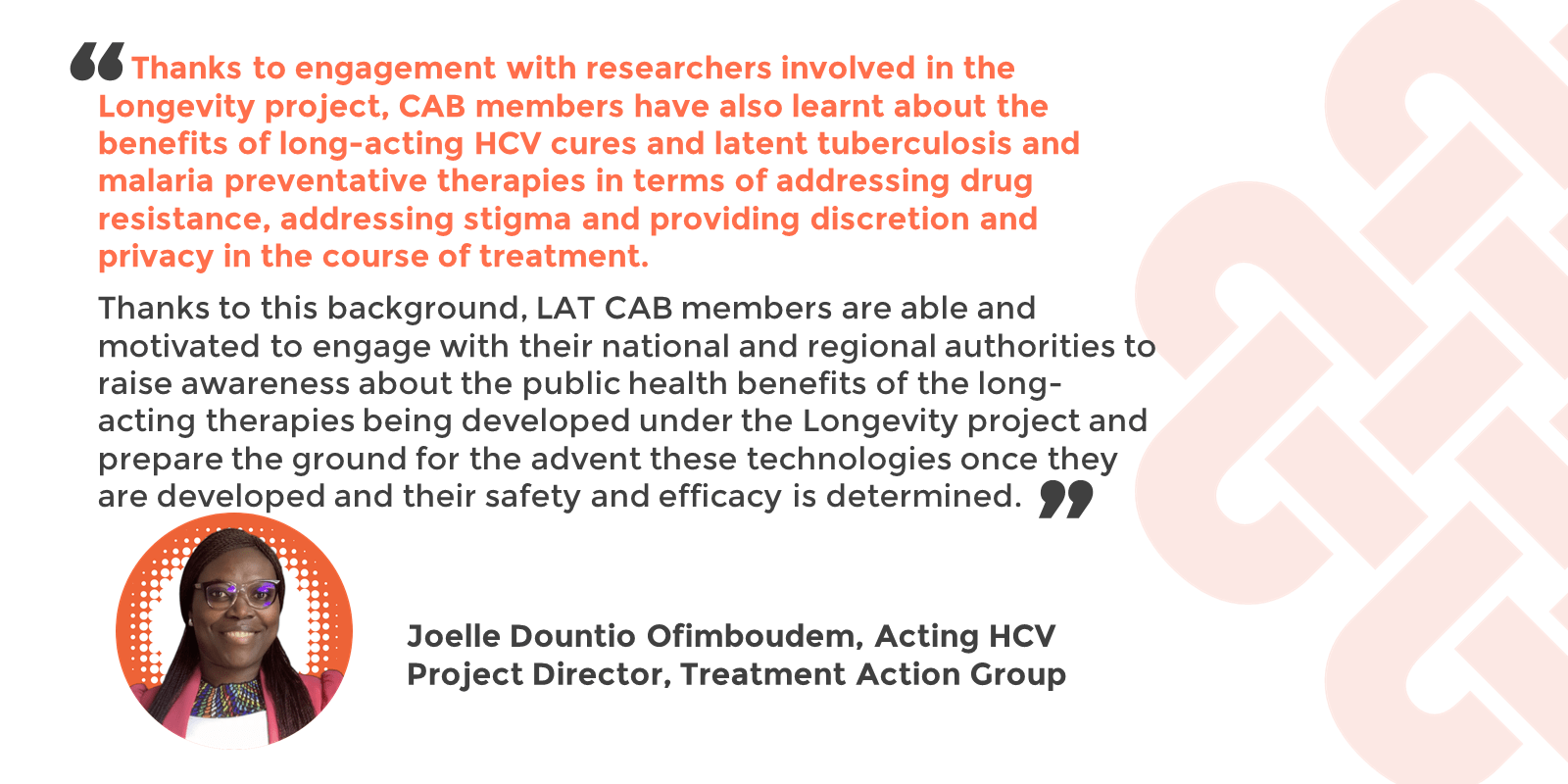 Since its launch in 2021, the LAT CAB has made excellent progress. Learning from the developments in long-acting HIV prevention and treatment therapies, LAT CAB members' understanding of long-acting technologies generally, policy options and other factors that promote and sustain access to health technologies, and how to identify and advocate for the removal of treatment access barriers have been enhanced.
---
The LONGEVITY Project is funded by Unitaid
The project also involves critical partners and collaborators in the Clinton Health Access Initiative, Johns Hopkins University, Medicines Patent Pool, Tandem Nano Ltd., Treatment Action Group and the University of Nebraska Medical Center