Developing a single-injection cure for hepatitis C virus for low- and middle-income countries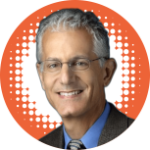 Dr. David Lee Thomas is a professor of medicine at the Johns Hopkins University School of Medicine. He is trained in internal medicine and infectious diseases and cares for patients with chronic viral hepatitis. Dave leads the Hepatitis C programme for the Unitaid funded LONGEVITY project for CELT.
From 2006-2022, Dr. Thomas served as the director of the Division of Infectious Diseases and the Stanhope Bayne-Jones Professor of Medicine. He remains a Professor of Medicine in the School of Medicine and of Epidemiology in the Bloomberg School of Public Health. He is a co-director of the Centre for AIDS Research Clinical Core.
For world Hepatitis Day 2022, Dr Thomas shared his expertise on Hepatitis C virus as a world-leading clinical researcher.
---
The LONGEVITY project has been established to develop long-acting medicines for low- and middle-income countries (LMICs) and aims to develop a single-injection cure for hepatitis C virus that can be administered at the point of diagnosis. What are the challenges for bringing these medicines to the clinic?
We need to broaden the concept of a "clinic". Most people with chronic hepatitis C around the world don't have access to a traditional medical clinic and that's why their infection remains undiagnosed and or untreated. The vision behind a test and cure model is that in any place where testing can occur can become a 'clinic' where treatment can also be provided. Examples include harm reduction programs, correctional settings, and mobile testing vans. Since testing can be done in those settings, providing curative treatment would also be transformative.
There are technical challenges to taking medications that work well by mouth and formulating them to be delivered in a steady quantity for a sufficient time to mirror the daily ingestion of pills. There are also regulatory and commercial obstacles to adapting existing medication for long acting uses.
The theme for World Hepatitis Day 2022 is 'Bringing hepatitis care closer to communities'. With current antiviral medicines having more than 95% cure rate, why has treatment been out of reach for people in low- and middle-income countries?
Many places in the world do not have access to effective primary care. Effective primary care relies on not only medical practitioners and a venue that is conveniently located for persons to receive care but also includes access to medical testing and to treatments that may not be available in a particular region or even a country. Moreover, once testing kits and curative treatments are available in a country, there needs to be a way to pay for such services, which can be challenging in low- and middle-income countries.
Effective programs for elimination require that there be widespread testing of asymptomatic persons. That's a huge challenge that requires access to all the population and systems to track who has not yet been tested. Even in high-income regions, deploying routine testing is a challenge. Note that 20-100 persons need to be tested to find one person living with HCV. That is an expensive process and requires a strong public health commitment. Moreover, expanding testing is most valuable when coupled with curative treatment, as well as prevention. You don't want to tell someone they have a chronic potentially fatal condition but not give them a way to be cured. Eliminating HCV also means preventing new infections or reinfections among those initially cured.
If long-acting injectables (LAIs) are deployed in LMICs, how can they enhance current healthcare programmes and what impact can they have on people living with Hepatitis C virus?
Broadly, long acting treatments that can be provided as a one-time cure for HCV make it possible to cure at the same time as discovering a positive test. That allows elimination to occur in places without existing clinical infrastructure and for persons who can't access the existing medical infrastructure. Imagine a mobile unit that has point of care HCV tests and curative long-acting treatment or a harm-reduction program that sees thousands of persons living with HCV and could couple testing with cure. Testing and cure can occur anywhere.
The ACTG MinMon study led by Dr. Solomon already showed that HCV can be cured by providing treatment at once, without monitoring or detailed follow-up. A long-acting treatment goes further by eliminating the need to prescribe pills, store them, and remember to take them daily.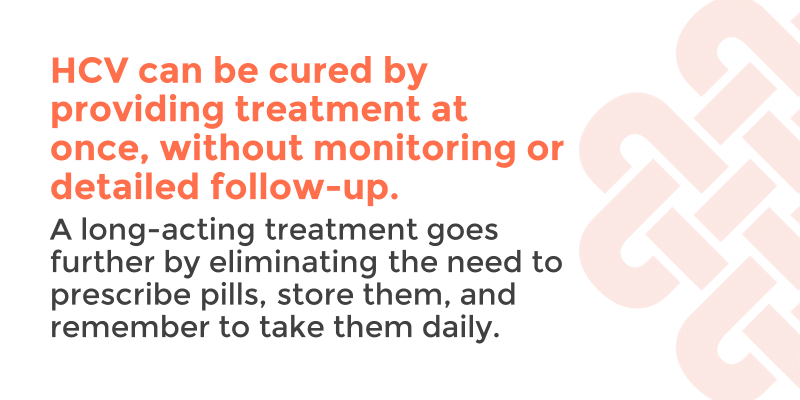 Community engagement is fundamental to the LONGEVITY project in ensuring that long-acting injectables are acceptable and meet the needs of affected communities. Is there any indication of how LAIs would be received by HCV affected communities?
We did a survey of persons living with HCV infection to understand their interest in receiving treatment by long-acting approaches. We asked about injections, implants, and long-acting gastric resident approaches in comparison to taking pills for 8-12 weeks. We asked in the United States, India, Australia, and some European sites. Of those responding, 37.7% most preferred an injection, 5.6% an implant, and 6% a gastric residence device, as compared with 50.8% who stated they would most prefer taking 1–3 pills per day. (Weld Clin infect dis 2021). Another more detailed study is planned to dig deeper into the preferences of persons living with HCV, but I am confident that a long-acting approach should be an option.
Hepatitis C virus can be cured by taking three daily tablets for eight weeks, amounting to 168 tablets for a full course. By repurposing these drugs as a long-acting formulation, 168 tablets can be replaced by one injection, relieving the ongoing burden that daily tablets have on patients. Aside from reducing pill burden, what other clinical benefits are there for LAIs?
So that's one way to cure HCV. It is also possible to take 1 pill a day for 12 weeks, or 84 pills. Either way, a long acting approach may also avoid the stigma that comes with having pills for HCV infection. Eliminating stigma associated with pills is viewed as one of the reasons women prefer long-acting HIV PrEP to pills and why long-acting PrEP worked better.
What progress has been made so far on a long-acting injectable cure for HCV? Are there any exciting new developments you can share?
I am extremely excited about recent breakthroughs by the laboratory of Professor Steve Rannard at Liverpool demonstrating proof of principle that HCV medications can be formulated into long-acting injectable solutions.
---
The LONGEVITY Project is funded by Unitaid
The project also involves critical partners and collaborators in the Clinton Health Access Initiative, Johns Hopkins University, Medicines Patent Pool, Tandem Nano Ltd., Treatment Action Group and the University of Nebraska Medical Center