The development of an in-depth and highly relevant understanding of ADRs has a positive impact on patient safety. We achieve impact because we are able to develop relevant knowledge and applicable solutions. This is all enabled through:
Close working collaborations with industry partners and academia
Insights gained from patient groups
A sophisticated network with NHS and regulators
Giving a detailed understanding of the infrastructure and the opportunities.
Our mission
Researchers at the Centre for Drug Safety Science advance our knowledge of the fundamental mechanisms of clinically important, and currently relevant, adverse drug reactions. We do that in order to develop strategies to improve the benefit-risk ratio of current and new medicines, for the benefit of patients, industry and regulators.
The unique work at this centre also contributes to the career development and training of the next generation of drug safety scientists, nationally and internationally.
Our aims
To provide new knowledge that will inform the future design and development of medicines
To act as a catalyst for future research into areas of high importance for ADRs which are not currently adequately addressed within academia
To provide an environment that will enable the development of cross-disciplinary research programmes into the fundamental mechanisms of ADRs
To provide an environment for collaboration between scientists from academia, research institutes, government and industry
To provide an environment that will foster the training of the next generation of drug safety scientists.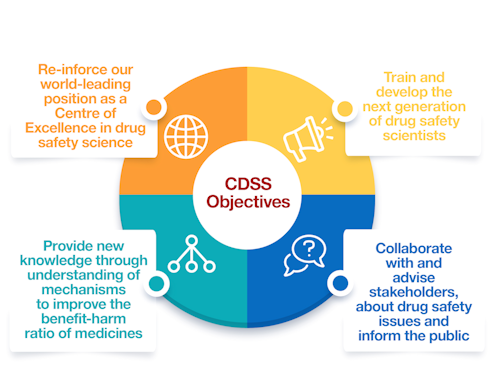 Back to: Centre for Drug Safety Science