An International Student's Guide to the LivUni Careers Fair
Posted on: 6 October 2023 by Aditi Gupta in Hints, tips and advice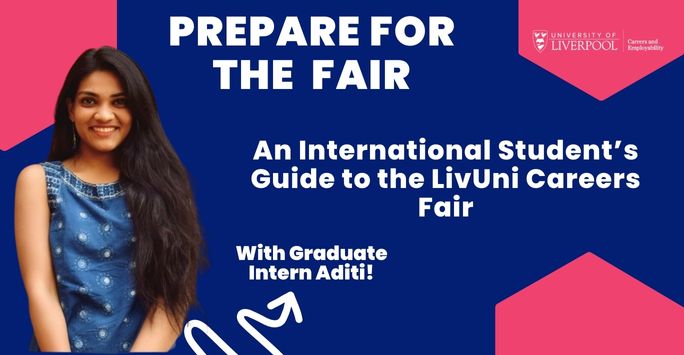 Careers Fairs can understandably be a bit overwhelming and may look difficult to navigate, especially for international students who have never experienced one before. Here is an insider guide on how to make the most out of the LivUni Careers Fair as an international student.
What is a Careers Fair and why attend a Careers Fair?
Careers Fair are events where employers from a range of sectors visit campus to meet students at the University of Liverpool. These student-focused events are places where students and graduates can find out more about different organisations, the job opportunities offered by them and get their questions answered by company representatives.
Our LivUni Careers Fair is targeted at all students (and graduates) from every degree discipline and all year of study. If you have your heart set at a particular kind of job role at a certain type of organisation, this event can help you find out more information about the required application and selection processes.
If you are not yet sure of your career path and are still exploring different options, this event can present you with options that you can later think and research about. And if you are just looking to build your employability network and meet with relevant employers, then this event is just the place for you!
Attending a Careers Fair is highly recommended for international students as it can give direct access to employers in the UK who offer jobs and other work opportunities such as placements and internships. It can also help you understand how the UK job market operates and how application and selection processes may work slightly differently from your home country.
Before the Fair
Register Yourself and Plan Your Day
It is important to plan your day in advance as you may have lectures that occur at the same time as the Fair. You can register for the Fair on Handshake or drop in anytime between 10:00am and 3:30pm.
Research and Shortlist Employers
Start by reviewing the list of employers who will be attending the Fair. Due to time constraints, it might not be possible to meet with all the employers at the Fair. It is advisable that you shortlist some organisations that will be your top priority organisations to meet at the Fair. For example, if you are looking at a career in teaching, it might be strategic to focus on organisations such as the Department of Education-Get Into Teaching, Teach First or the Tutor Trust while targeting Bank of America and BNY Mellon may be helpful for students who are interested in the banking sector.
At the same time, it may be worthwhile to keep an open mind towards other employers who may not exactly match your field of studies as employers in the UK can be quite flexible with regards to field of study. It can be quite tempting to direct your focus to just big corporations but you can consider diversifying your options to include non-profit organisations, SMEs and start-ups.
Student Circus will also have a stand at the Careers Fair. This online platform is available to all University of Liverpool students and is full of job opportunities from employers who are actively looking to recruit international students – make sure you speak to the team on the day.
Prepare Questions for Employers
In order to make the most out of the limited time that you are offered with the employer(s), it is important to research organisations in advance and identify the most useful questions to ask.
You can rely on different sources for your research which can include the company's official website, their LinkedIn page, news articles, among others. You should aim to ask questions that offer information which is not found on official company sources. By being inquisitive and asking impressive questions, you can make yourself stand out at the fair.
Following is a list of some questions that can get you started:
What kind of clients/customers does the company deal with?
What sort of training programmes are offered to new hires?
What are some issues/challenges that you would say your organisation is facing at the moment?
What would you say are the biggest rewards and challenges in your job?
For a more detailed understanding of the kind of questions that you can ask your prospective employers, visit this resource on Handshake.
While it may be tempting for international students to ask this question directly, it is advisable to build a rapport with the employer before asking sponsorship-related questions.
It is advisable to look through the "Target the Right UK Employer" course on e-CareersGrad which might provide you with insight into UK employers who actively hire international students and graduates. Follow this link to get access to e-CareersGrad
International students who are considering the Graduate Roite Visa or International students who may be looking to go back home after graduation can also benefit from the fair as a number of organisations are multinational corporations with offices in different countries.
Keeping all these points in mind, here are some questions that international students can pose to employers at the fair:
Do you consider applications from international students?
Have you hired international students in the past?
Do you have offices in my home country (e.g. India, China, the UAE, etc.)?
What do you know about us?
Prepare an Introduction
Presenting yourself properly to the company representative matters. The people you meet at the fair could be your future employers/recruiters so it is best to present yourself in an impressive manner.
One part of this can involve how you approach the employer at their stand. You can start by preparing a professional introduction of yourself that lets them know about your degree programme, any relevant experience that you possess and your expression of interest in their organisation.
This introduction can serve as a means to alleviate any potential nervousness that you may experience before the event. Additionally, this can serve as a good means of building rapport with the employer which can be followed by the main questions you may have for them.
Prepare Answers to Employer Questions
Employers may also ask you a few questions during your chat. It is good to anticipate their questions and prepare answers to them in advance.
Here is a starting guide of the kind of questions that you may be asked by a company representative at the Careers Fair.
Why are you interested in this area of work?
Why did you choose your degree?
What kind of activities are you involved in outside academic life?
During the Fair
During the initial stages of your conversation, do demonstrate that you undertook some research about the organisation which has informed your questions.
Try to jot down the information that is provided by the employer as this can be a useful addition to your cover letter or application form! Also, be sure to note down the name and contact details of the person that you speak to and ask if they are happy to be contacted through LinkedIn or email.
At the end of your chat with them, thank them for their time and move to the next employer on your list.
After the Fair
In order to truly make use of this valuable networking opportunity, be sure to follow up with the employers you meet at the Careers Fair.
You can connect with them on LinkedIn and add a note where you thank them for their time and valuable insights. You can also refer to your notes and mention any important and unique subject that was discussed by them. In the future, you can use these connections to ask for any advice related to selection and application processes and/or job referrals.
Reaching out to employers can also demonstrate initiative that is appreciated by and impressive to recruiters and makes you stand out among others.
Make sure to drop-in to the Career Studio to speak to our team of Career Coaches who will be able to help you explore your options, connect with employers, and be ready for every stage of the recruitment process – from updating your CV to preparing for interview.
---