I Got Hired: M62 Vincis
Posted on: 15 August 2022 by Samantha Riella in Graduate stories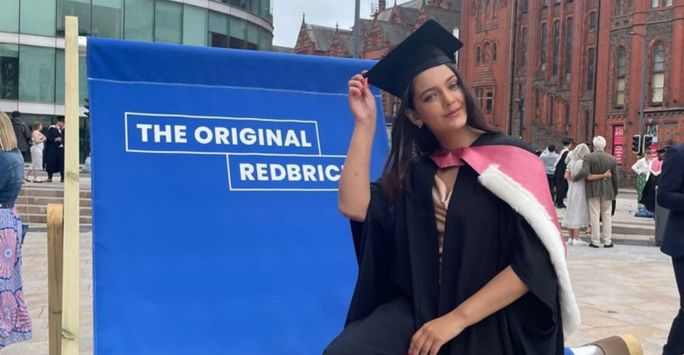 Mia Hargreaves, a recent Communications and Media graduate, tells us more about her current graduate role.
Mia Hargreaves is now working for M62 Vincis as their new Junior Presentation Consultant. Mia tells us more about the skills she has learnt throughout her studies that have helped her transition into the workplace and how the Career Studio helped land her current graduate role.
What was your best experience while studying at the University of Liverpool?
Within my course, I was able to take modules from different degrees which really opened my eyes to varying disciplines from taking a module in the English Language to Politics that made me realise how diverse and vast I can adapt the knowledge of my core degree to other degrees that the university has to offer. 
What did you do during your degree to prepare for the transition into the workplace?
I worked part-time as a Bar Staff for the Liverpool Guild of Students during my last year of university, which opened my working world experience, especially for such a big institution with so many people coming in and out. I was able to work with different age groups and gain skills you wouldn't think you would obtain from working behind a bar that I can apply to an office environment. 
Can you share an insight into your graduate role?
Typical of any graduate student, I initially only applied for graduate jobs on Indeed which limited my chance of obtaining a job due to the vast number of applicants they get a day. I applied to various different jobs for months with no luck until I looked further afield with the help of the Career Studio that introduced me to Handshake. The jobs there were much more catered towards a graduate like me that didn't ask for years of experience that I couldn't offer. After a few job applications, I received an interview from M62 Vincis that led to two more interviews and now the job I have been offered. 
I have always been a confident presenter and quite the personality in my friendship group so the job that was offered just made sense. The job entails overseeing the end-to-end production workflow of client presentations, the visualisation of information into infographics and the coaching of clients. With all this, I am looking forward to thriving in the office environment they have created and adding to the connections they have made with clients while putting my degree skills to work!  
How has the Career Studio helped you?
I went to the Career Studio a couple of times during my last year of university which gave me the right tools and websites to apply for jobs to preparing me for interviews such as asking me specific questions about the jobs themselves and the company.
Every time I stepped out of the Career Studio I truly felt prepared for every interview I went to and ultimately ended up getting a job from all the help.
What are your top tips for students currently looking for graduate roles?
I would definitely recommend going outside of the world of Indeed, while it appears to be the best place for jobs due to the vast amount of jobs going, it is certainly the hardest place to apply. Create profiles for LinkedIn and Handshake, and apply for jobs that might not be your dream job but will certainly get you on the job ladder to achieve it. I was so certain of becoming a social media marketer and realised that my skills were much more suited to being a Presentation Consultant.
---