Facility for Antiproton and Ion Research (FAIR) top management visits Cosylab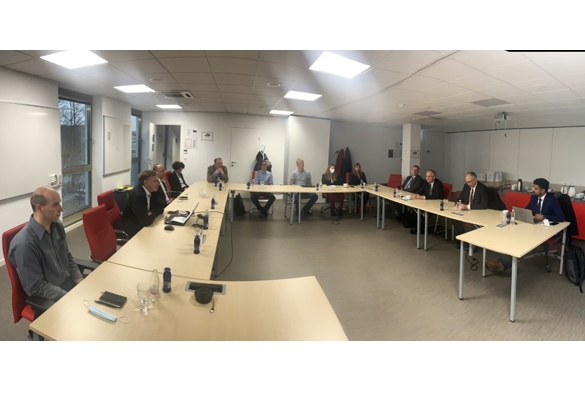 AVA partner Cosylab recently hosted the senior managers from the Facility for Antiproton and Ion Research (FAIR) at GSI Darmstadt who visited the company to present the current functioning of FAIR, learn more about the technology and services provided by Cosylab and discuss future cooperation with this mega science facility. FAIR is under construction at GSI Darmstadt who are also a partner in the AVA project.
Facility for Antiproton and Ion Research in Europe GmbH (FAIR), Darmstadt, Germany, is an international accelerator facility for research with antiprotons and ions. At FAIR matter that usually only exists in the depth of space will be produced in a lab for research.
Cosylab is one of the leading partners in Tehnodrom, a consortium of 12 Slovenian high-tech companies developing and supplying high-tech research equipment according to the specifications of the FAIR Center, namely the control system for the accelerator and components of the beam diagnostics system.
"The participation of Cosylab and other Slovenian high-tech companies in large scientific projects, such as FAIR, is important for strengthening the development competencies based on joint work with top experts from around the world and for the exchange of scientific knowledge and practical experience, while it also brings the multiplicative effects of the investment to Slovenia and other participating countries. We are proud of the Cosylab's and other experts working together with scientists and engineers from around the globe to enable the FAIR Center's fascinating discoveries in basic research, gain new insights into the structure of matter and the evolution of the universe," said Dr. Mark Pleško, Co-founder and CEO of Cosylab.
This article is based on an original article published on the Cosylab website which can be found here: Facility for Antiproton and Ion Research (FAIR) top management visits Cosylab