Liverpool School of Architecture Swims to Dublin!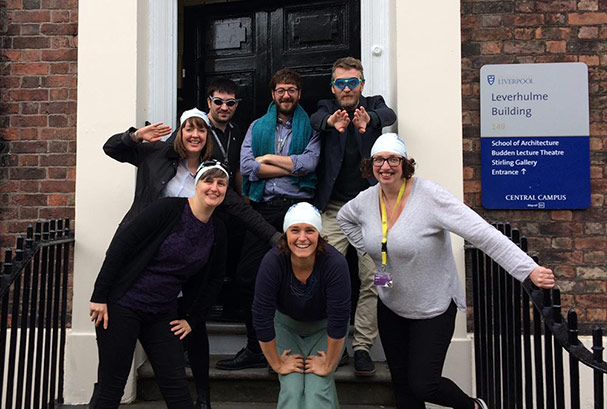 Colleagues in Architecture are swimming the distance from Liverpool to Dublin over 12 weeks to keep fit in term time & support the spinal injuries charity Aspire
Team members: Nour Al Tarsha, Sandy Britton, Emma Curtin, Ben Duvall, Anna Gidman, Matthew Howarth, Niall O'Hare, Lucretia Ray, Torsten Schmiedeknecht, Nick Webb, Hazel Weir
Colleagues from Architecture working in the technical team, professional services and academic roles, joined by friend of the school Nour Al Tarsha are swimming the distance from Liverpool to Dublin (mostly in the pool). Over 12 weeks, between us, we will swim 246km, roughly the distance across the Irish Sea between Liverpool and Dublin.
Each member of the team has identified a distance to swim which will be a personal challenge for them based on their physical ability and personal commitments. As the autumn term progresses, work gets busier and the mornings get darker and colder and exercise can seem like a low priority but this year we plan to keep swimming to get/stay fit and raise some money for Charity. We started in September, we've now passed the 50km mark and are well on the way to 100km! To track our progress across the Irish Sea, there is a Blue Peter style "totaliser" in the Leverhulme Building Staff Room.
The charity we are supporting is Aspire. Every eight hours someone is paralysed by a Spinal Cord Injury and Aspire provides the essential equipment, advice, housing and grants that spinal cord injured people need to live their lives independently. This is a big challenge, but the more we raise, the more of a difference we'll make, so any donations are very welcome!
Click here to sponsor The LIverpool School of Architecture Swimming to Dublin