Architecture + Bluecoat Exhibition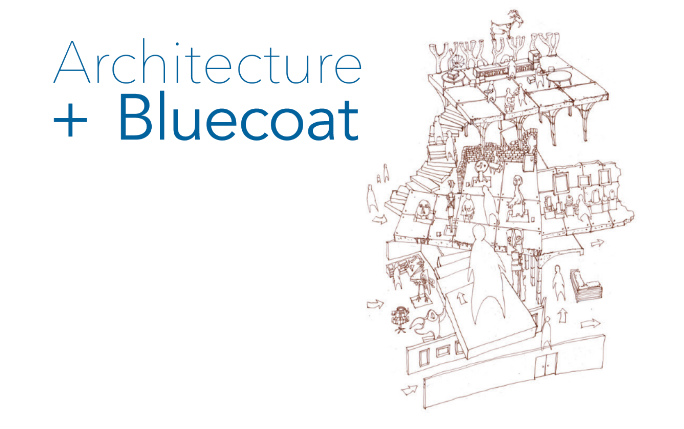 Whilst an interesting and significant building in its own right, Bluecoat is intrinsically linked to the progress and practice of architecture in Liverpool. Linked exhibitions of rarely seen archival material and live events will explore a number of themes: the early architectural history of the Bluecoat building, the ever-changing nature of the physical space as it grew from a small parish charity school, to a building accommodating 350 pupils in a booming city and those who built it alongside the relationship to the wider built environment of Liverpool. This thread will be followed through to the building's transformation into the UK's first arts centre.
For several years in the early 20th Century it was the location for the University of Liverpool's pioneering School of Architecture and Civic Design under Professor Charles Reilly, where the arts and architecture coexisted thanks to the influence of the co-resident Sandon group of artists. The building later became home to Liverpool Architectural Society and a number of Liverpool architectural practices in the mid-20th century.
The awareness of and affection towards the building from a large number of skilled architects was key to the renovation following the catastrophic war damage of 1941 and this phase will be examined in the context of the numerous historic changes, and the extensive renovation and new building of 2008 to create a purpose-built contemporary gallery space.
Architecture + Bluecoat: process and product will draw on these themes and highlight new work produced in 2016/17 by current students of the School of Architecture, responding to the existing structure and site of Bluecoat, imagining new solutions to the problems of accommodating the contemporary in the heart of a historic structure and suggest avenues for future discussion. This exhibition is curated by Marco Iuliano and organised with Jane Moscardini, Carla Molinari and LSA Studio 2 students, in collaboration with Bluecoat.
It will be inaugurated by Michael Wilford Saturday 22 April at 6PM. Open to all!