Architecture Student Wins University Christmas Card Competition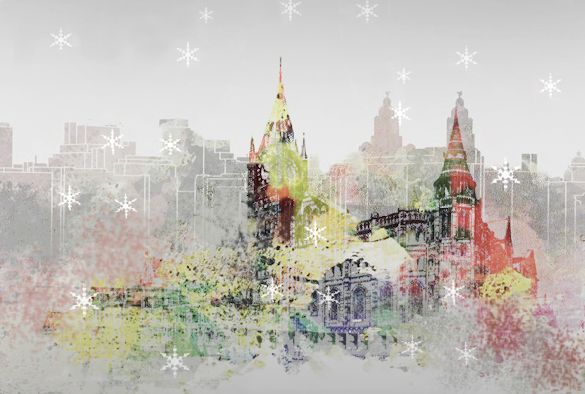 In this year's university christmas card competition, first prize in has been awarded to second year architecture student, Yu Guo.
The competition was launched by Vice-Chancellor, Professor Janet Beer, and received a variety of submissions, from photographs, paintings and drawings to digital designs. When creating their entries, students and staff were invited to offer their perspective about what makes Liverpool a unique place to live, work or study.
Yu used Liverpool's famous skyline as the backdrop for her card design. Speaking about her card, Yu Guo said: "The building is painted colourfully to show students' colourful and rich life at the University."
Yu Guo's design will also be used for this year's Christmas card, as will the two designs that scooped second and third place. The cards will be sent by Vice-Chancellor Janet Beer and the Senior Management Team to our stakeholders, alumni and donors.
Second place went to Tashia Anindwita, a second year veterinary science student and third place to Phil Kay, the Gardener at Ness Botanic Gardens.
Professor Beer said: "The standard of Christmas card designs we received was extremely high. Each year it gets harder and harder to pick just three winning entries. However, the designs we did pick are worthy winners.
Each card showcases why Liverpool is a unique place to live, work or study. We are very much looking forward to sharing the cards with our stakeholders this Christmas.".