Meanwhile In Liverpool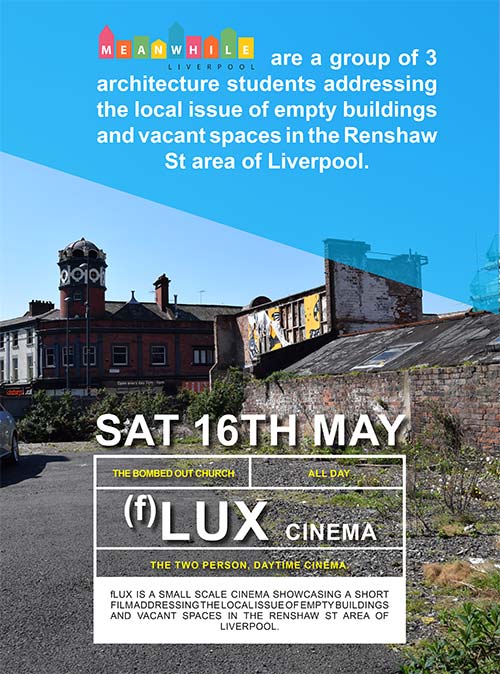 This weekend three Architecture students from the University of Liverpool are launching a pop up cinema, as part of their postgraduate thesis project, in Liverpool's iconic Bombed Out Church.
The small-­scale cinema is part of a 'meanwhile use' project designed by Harry Conway, Peter Mitchell and Alice Gibson to encourage development and use of vacant land in the Renshaw Street area of the city. The students, who are collectively known as Meanwhile Liverpool, decided to use their final project to tackle the issue of vacant land and empty buildings within Liverpool City Centre and to educate local people on the concept of 'meanwhile use'.
Speaking of the Meanwhile Liverpool project, Peter Mitchell said:
"Our research has found that there are over 600 vacant buildings within Liverpool's City Centre and, to put this into perspective, that land combined would be twice the size of the Liverpool One development. Our aim is to help these areas reach their potential by encouraging short-­‐term and temporary use from businesses and organisations, which would in turn develop a hive of activity.
As someone who was born and raised in Liverpool I am passionate about the success of this city. I believe that raising awareness about the severity of unused land in the city centre could go some way to providing new growth and opportunities for local people".
Following on from this, Ambrose Reynolds, Curator of The Bombed Out Church said:
"When Meanwhile Liverpool approached me to pitch their idea, I instantly understood what they were trying to achieve. The Bombed Out Church itself is a form of meanwhile use, and with this brings great social, cultural and economic value to our city centre.
I believe that more sites and buildings should be used temporarily to tackle local issues and help improve the community, in the same way the Bombed Out Church has. I encourage anyone wanting to find out more about the project or with meanwhile use ideas for the group to come to the screening on Saturday".
The Meanwhile Liverpool pop up cinema will be in The Bombed Out Church on Saturday 16th May. The cinema will be showing a film about meanwhile use from 12pm, then there will be a showing of Star Wars; A New Hope at 9pm.
Meanwhile Use
'Meanwhile use' is the temporary use of vacant buildings or land for a socially beneficial purpose until such a time that they can be brought back into commercial use again.
It makes practical use of the 'pauses' in property processes, giving the space over to uses that can contribute to quality of life and better places whilst the search for a commercial use is on-­‐going.
Meanwhile Liverpool
Established by 3 architecture students, in order to raise awareness and promote meanwhile use in Liverpool city center.
Proposing a low cost, 28 day festival that showcases the potential of 'meanwhile use' through a diverse range of temporary buildings and activities in these redundant spaces at various scales attracting a broad spectrum of society.
Event in bombed out church to promote the idea of this festival, to gather thoughts of locals, and to raise awareness of the issue of empty buildings and vacant land sitting unused for long periods in our city centers.
To find out more about Meanwhile Liverpool visit: https://twitter.com/Meanwhile_Lpool
To arrange interviews or to request any further information or visuals, please contact Harry Conway on m: 07751 478 504 or email at meanwhileliverpool@gmail.com