Exchange Students Visit Tianjin on Study Trip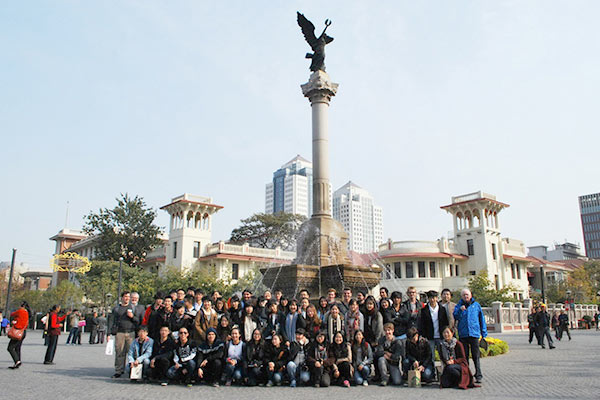 Exchange students from the Liverpool School of Architecture currently studying at the Department of Architecture at Xi'an Jiaotong-Liverpool University (XJTLU) have just returned from a six-day study trip through Tianjin and parts of Hebei province.
The trip was designed to give the students a unique educational experience by providing opportunities to visit historic buildings as well as more recent, contemporary architecture and urban design by both Chinese and foreign architects.
Highlights of the trip included visits to Dule Temple, the East Qing dynasty royal tombs, many of the former international concession areas in Tianjin, Tianjin Library and Tianjin Eco-city. The group was also fortunate to have lectures given by two of the foremost professors on architectural history from Tianjin University.
The first day started with a visit to Dule temple, one of the oldest surviving timber buildings in China, and which contains a 16 meter high statute of Buddha. The East Qing tombs are the largest, most complete and best preserved extant mausoleum complex in China. The students spent a long and busy afternoon visiting and sketching this vast site which contains stone arches, spirit ways, gateways, pavilions, bridges, sacrificial halls and burial halls. This was followed the following day by an interesting lecture from Professor Ding Yao on Dule Temple and the Qing tombs.
The group visited several former concession areas including Italian, Japanese, French and British areas and received an in-depth lecture from Professor Subin Xu on the international development of Tianjin from 1861 to 1945.
Other historic buildings visited include the Guandong Guildhall and theatre built in 1907, Xikai church also known as the French Church, Wanghailiu church built in 1859 and damaged in the Boxer uprising in 1900, Tianhou Palace, a Taoist temple complex, constructed in 1326 during the Yuan Dynasty, the Shi Family Residence built by a wealthy merchant in mid nineteenth century, and the former residence of the last Chinese emperor Pu Yi housed in the Jingyuan Garden.
You can read more on the study trip at the XJTLU web site.
Text: Edward Farrell
Photograph: XJTLU