New hope for the London Road Fire Station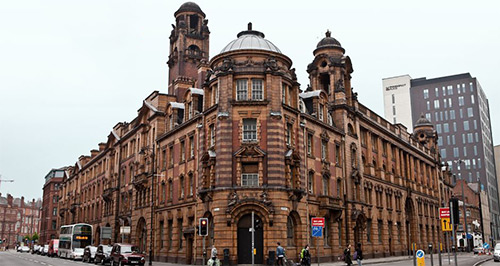 Emma Curtin, an architect and teacher at the Liverpool School of Architecture, is chair of the Friends of London Road Fire Station. They are celebrating this week. Following their 2 year campaign, Manchester City Council has decided to pursue a new Compulsory Purchase Order (CPO) to take the grade II* listed Fire Station from its current owners and see it redeveloped. Britannia Hotels bought the Central Manchester site in 1986 but have never developed it. The historic building fell into disrepair and has been on the "At Risk" register for 16 years. The terracotta faced Edwardian building has a courtyard typology and sits in a critical city centre location. In its heyday it was truly mixed use, housing civic functions including fire station, and coroners court, alongside a commercial bank and family apartments with amenities such as a laundry and social club. The architecture and location combined with the rich social history make the building an important but sadly neglected Manchester landmark.
Emma addressed the Council Executive last Wednesday, supporting their move and calling for a transparent process. The situation is made more complicated because the council carried out an unsuccessful CPO in 2010-11. Britannia Hotels have been given one more chance to begin development before the CPO process will commence. In the coming months the Friends will work with local partners to play an important scrutiny role and investigate a wider range of design proposals than the hotel, which already has planning permission. Working with the Program for Community Assets in Difficult Ownership they are engaging experts and the local community to explore new ways to address highly complex regeneration problems using the Fire Station as a major case study.
For more information visit the Friends of London Road Fire Station