MArch Graduates success in 3DReid Student Prize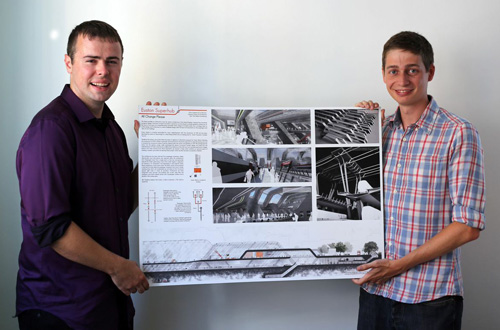 Two Master of Architecture graduates from the Liverpool School of Architecture have seen success in the national 3DReid Student Prize. Cai Shorman and Chris Campion were shortlisted for the top prize with just 5 other entires and won the Public Vote.
Cai and Chris's project to create a new main line station terminus at London Euston is exciting, ambitious and relevant. Their design thesis began with the general objective of investigating how HS2, the new UK high speed rail link, will impact on station design and they consequently undertook a rigorous investigation of current proposals across the UK network, interviewing key players and visiting the primary sites that will form through stations and termini. They came to the inevitable conclusion that the most important site for future development will be Euston, and although this would be a daunting task to undertake in a 13 week studio project, decided it was simply too exciting a challenge to refuse. Continuing their investigations, they explored the design challenges of creating not just a new station for HS2, but the more comprehensive problem of managing the interchange between the above ground rail station, the London Underground, the bus network, taxis and private transport.

The project involved extremely complex logistical and organisational challenges, but also great understanding of constructional, structural and environmental consideration. However, perhaps the greatest challenge, which they have succeeded admirably in solving, is in creating a clearly articulated contemporary architectural environment in which future passengers can easily find their way and also appreciate a dramatic sense of arrival in the country's capital. Cai and Chris's tutor for the project was Professor Robert Kronenburg, who said 'This massively complex building design, with its coherent urban identity, and elegant and celebratory form, is a remarkable achievement for just two students, working together as a team. It is a wonderful fulfilment of their full-time architectural education and launch pad into the profession.'
The prize winners were published in the Architects' Journal and on the 3DReid website.