MArch Graduate Receives National Eisteddfod for Wales Architecture Scholarship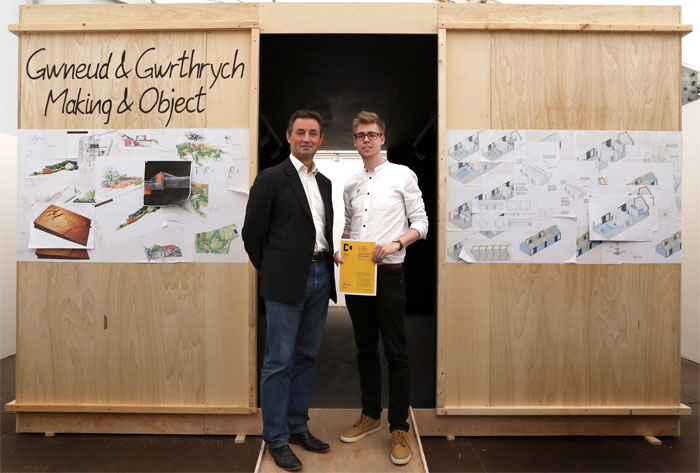 Richard Timmins, an MArch graduate from the Liverpool School of Architecture, has been awarded an architecture scholarship of £1,500, in recognition of his creative talents, which will enable him to complete a study on the effects of immigration on Welsh and French architecture.
Richard Timmins, 24, from Yockleton, near Shrewsbury, beat off stiff competition from 14 other young architecture students across the UK to receive the National Eisteddfod for Wales Architecture Scholarship, which is supported by the Design Commission for Wales.
The scholarship identifies and recognises the design achievements of talented young architects aged 25 or under, and aims to enable them to further their understanding of creative architecture.
Mr Timmins, who has just completed his masters in architecture at the University of Liverpool, won the award for his proposed design project that will look at the effects of immigration and colonisation on the everyday architecture of France and Wales. The scholarship will enable him to travel to France to carry out the methodology required to complete the study.
Richard Timmins explained: "My submission for the award was based on a proposal to look at the links in everyday life in Wales and France. I'm especially interested at looking into patterns of migration and how these can be observed in the fabric and architecture of cities, and am hoping to compare the two countries.
"I'm absolutely delighted to have won the architectural scholarship as it will allow me to travel to France in order to complete this study, carrying out independent research on a topic that I've studied extensively at university in Liverpool and at the Dessau Institute of Architecture in Germany.
"Architecture plays a vital role in the way that people live. The role that architecture plays in terms of the creation of both individual and group identity, fascinates me."
Scholarship selector Roger Connah, of Carleton University, Ottowa, said: "It was clear to us that Richard had not only identified an interesting area of work, but also reinforced his conceptual idea with a carefully thought-out programme. From his initial abstract and existing ideas, to his detailed programme of potential exploration, he clearly demonstrated how he would use the scholarship if awarded.
"The scope and questions he poses avoid any narrowness, and are an excellent example of how to broaden one's study without losing focus on the initial idea. We anticipate an interesting outcome."
Carole-Anne Davies, chief executive of the Design Commission for Wales, said: "We are pleased to help identify and nurture the design talent of the future through our on-going support for the scholarship.
"There was a huge increase in entries for the scholarship, from six in 2013 to 15 this year, all coming from a diverse range of educational backgrounds. It is rewarding that so many of the candidates are discussing their interest in architecture, culture and the environment so passionately and placing themselves in an international context. Richard's submission was thought provoking and stood out among a very talented field, especially with regard to detailing exactly how his scholarship will be used."
As well as the scholarship, the Design Commission for Wales is also supporting the Gold Medal for Architecture, which is being awarded to Cardiff-based architects Loyn & Co for its design of a contemporary and sustainable family home in Gower, and the Plaque of Merit, which is going to Crickhowell and Dinas Powys-based Hoole & Walmsley Architects for its Old Farm Mews development in Dinas Powys.