Architecture Student Drawings Commissioned for SOTA300 Branding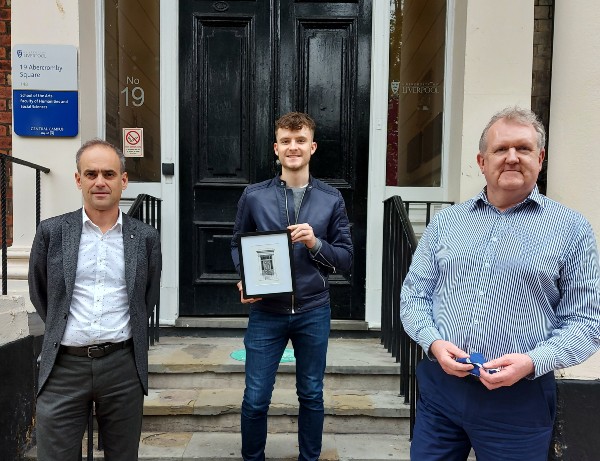 2nd Year Architecture Student Callum Hewitt has completed his commission to help rebrand the SOTA300 module with his unique line drawings.
Callum graduated in 2020 from the Bright Ideas programme, where he developed his Architectural Drawings business. Bright Ideas is a programme that offers funding and support to help students grow and mould their ideas, whilst providing specialist knowledge and insight from local leaders.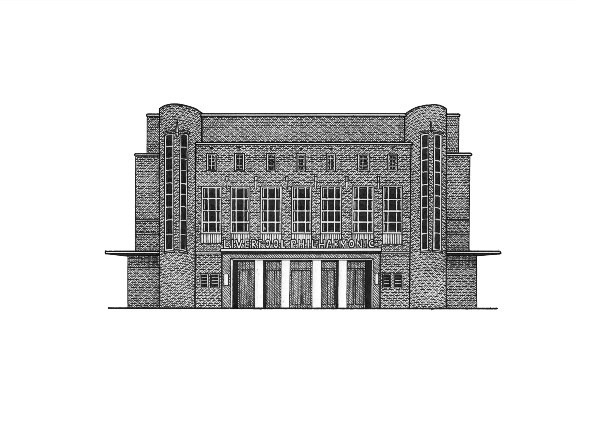 Liverpool Philharmonic by Callum Hewitt
Callum had experienced success at local markets and fairs with his eye catching designs. But once the pandemic hit, the market stalls closed, and Callum had to pivot his business online. When we asked Callum about transitioning online, he said;
'Selling work online is a completely different ball park. You rely on images and text to sell your product whereas in artisan markets, customers can see the art in the moment and I can talk to them to see their interests and connections to my pieces. Along with this, selling online means moving to online marketplaces where there are many people selling similar products. The more experienced sellers are at the top of the searches whereas smaller new accounts are hardly seen at the bottom. Therefore, I have found it difficult. I am working with Bright Ideas to find out new ways to promote myself online and kickstart my business digitally.'
Through Bright Ideas, Callum has been able to explore multiple income streams and has added new features that he hopes will attract new clients, and send his business from strength to strength. After completing the programme, Callum was awarded £500 from the University Enterprise Fund from the Careers and Employability Team to grow his ideas.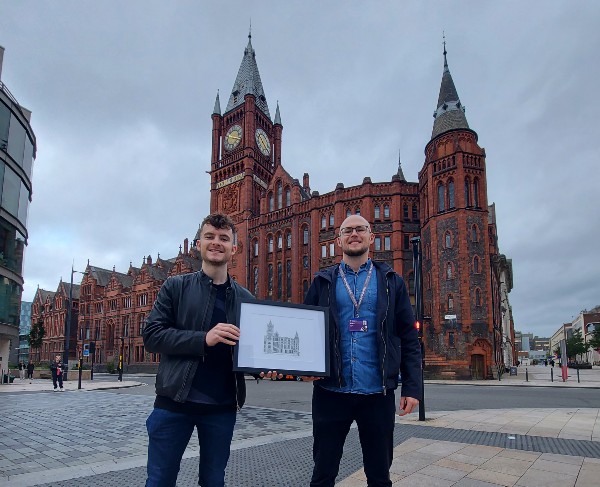 Callum with Sam Bird, Placements & Employability Officer outside the Victoria Gallery & Muesum
Sam Bird, Placements & Employability Officer:
'We knew Callum from his work with Bright Ideas and the Enterprise Funding – we were really impressed with his work and really loved his unique style. We had been looking into a rebrand of our SOTA300 placement module for some time, and thought this would be a fantastic opportunity to work with one of our students as part of the rebrand.
We commissioned Callum to produce line drawings in his unique style for a number of our partners throughout the City and the Wirral including FACT, Future Yard, The Everyman Theatre and the Victoria Gallery & Museum. We wanted to highlight the fantastic institutions we work with to offer our SOTA students placements and create a buzz around the module, and Callum's artwork will be used going forward on promotional materials, course handbooks, presentations etc.'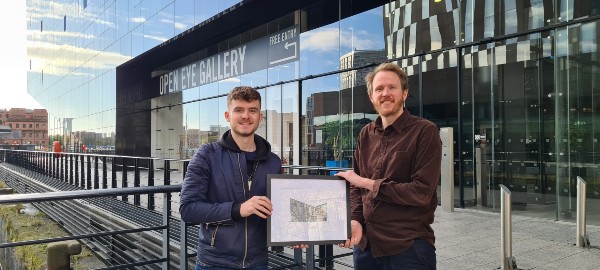 Callum presenting his drawing to Open Eye Gallery
As part of the commission Callum produced a framed print of each of the SOTA300 partners, as a thank you for working with the School and supporting our students.
As well as raising the profile of work placements for SOTA students, this branding commission has helped us to connect with our existing placement students. One of Callum's prints of the Everyman Theatre was sent out to students in China who completed their placement with the theatre remotely during Lockdown. This print has really helped to connect the students to their placement organisation through the pandemic, as they were unable to spend much time there.
The next round of Bright Ideas opens in the new year. If students would like to find out more about our Placement modules or learn about Bright Ideas or other funding opportunities including the Employability Bursary, please contact Sam Bird at artsplacements@liverpool.ac.uk
If you would like to see Callum's work and support his journey, you can follow him on instagram @hewitt_sketches or check out his website: https://hewittsketches.com/