"M'Hamid Oasis Morocco" film lands at La Biennale di Venezia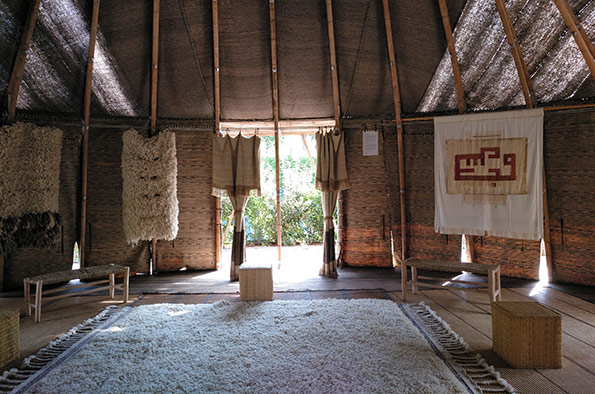 On Wednesday 13th October M'Hamid Oasis Morocco, an award-winning film produced by Monika Koeck of CineTecture, which documents the restoration, recording and inventorying project by the University of Liverpool's ArCHIAM Centre and the Spanish NGO Terrachidia in the most remote oasis of the Draa River Valley, was screened as part of a symposium that took place from October 13 to 16 at The Majlis: A Meeting Place at la Biennale di Venezia.
The Majlis hosts an exhibition that responds to the theme of the Biennale Architettura 2021: How will we live together? Showcasing artworks and rare artefacts from the Dutch National Museum of World Cultures in the Netherlands and Sheikh Faisal Bin Qassim Al Thani Museum in Qatar, as well as several other important collections, the project presents a platform for transnational and transhistorical exchange. At its core is The Majlis itself: a bamboo structure designed by Simón Vélez and Stefana Simić, with tent panels made of pure wool by Ahmed Chmitti and the women weavers of Boujad. The Majlis stands in the midst of the garden designed and planted by the landscape architect Todd Longstaffe-Gowan.
Organised by Caravane Earth, INTBAU and the Smithsonian Center for Folklife and Cultural Heritage, the symposium approached the Biennale's theme from a range of perspectives related to traditional and vernacular architecture, discussing the contemporary challenges of living in a changing climate, preserving traditional crafts and ways of life, the lives and livelihoods of craftswomen and craftsmen, and their contributions to communities.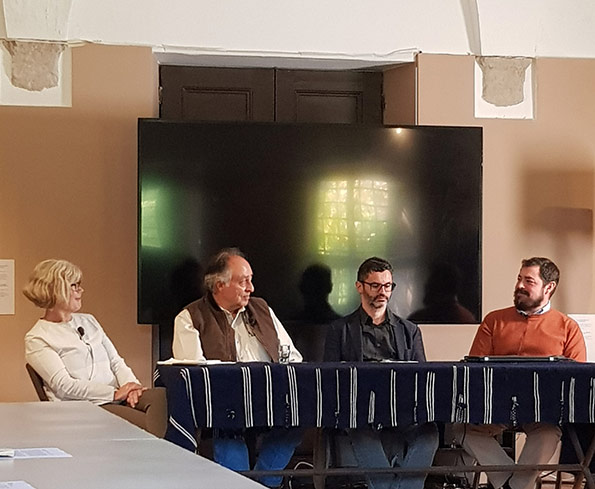 Photo: Alejandro García Hermida, 2021
A discussion took place on 14th October with Alejandro García Hermida, David Rivera, and Alberto Parra – an adobe master from Albuquerque, New Mexico. It was moderated by Marjorie Hunt, Folklife Curator at the Smithsonian Institution.
As Harriet Wennberg, Executive Director of INTBAU, puts it, "The film transported participants in The Majlis Symposium from Venice to the M'Hamid Oasis, providing an immersive sense and feel of the workshops ahead of the panel discussion on the use of earth in building in the USA, Spain, and Morocco. After viewing the film Alberto Parra commented that he recognised and understood all that he had seen, in the language of earth, in traditions formed a continent away."