LSA and Bright Ideas student Callum Hewitt on his drawings of Liverpool buildings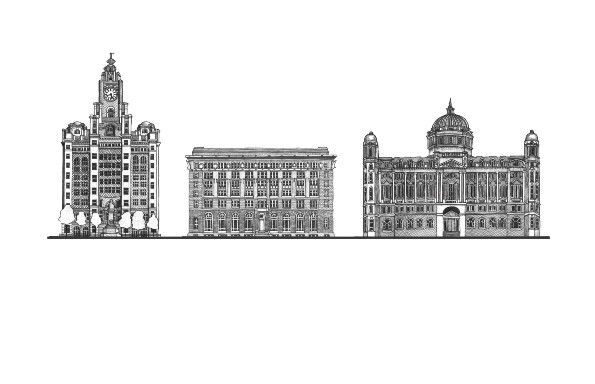 Callum Hewitt is an Architecture student who creates unique drawings of buildings in Liverpool and sells them as prints. Callum mainly sold in markets around Liverpool, but due to the pandemic has had to move online. He joined the Bright Ideas programme to help grow his business.
How did you get into drawing?
I have been drawing for a while but I never thought I was any good at it and rarely practised during school and college. I was required to draw for projects which I dreaded because I had a preconception that I 'couldn't draw'. During the 1st Lockdown I decided it would be a good idea to practise drawing for my university degree - architecture. From then I drawn for at least 4 hours 5/6 days a week as it was a great way to spend my time in lockdown, it eased my mind and was relaxing and I enjoyed it and could really see development with every drawing. By the end of the 1st Lockdown I had a social media for my drawings which encouraged me to draw often and to a high standard. Then when restrictions were eased I got talking to a lady at a local artisan market who turned out to be in charge of the stalls and offered me a place after seeing my social media!
Describe your illustration style in three words!
Clean, precise and detailed
What attracted you to Bright Ideas?
I was really interested in Bright Ideas as I saw it as the next step for my small business. I was in need to some business knowledge, advise and someone to help me grow as an illustrator
How have you found the transition to selling work online?
Selling work online is a completely different ball park. You rely on images and text to sell your product whereas in artisan markets, customers can see the art in the moment and I can talk to them to see their interests and connections to my pieces. Along with this, selling online means moving to online marketplaces where there are many people selling similar products. The more experienced sellers are at the top of the searches whereas smaller new accounts are hardly seen at the bottom. Therefore, I have found it difficult. I am working with Bright Ideas to find out new ways to promote myself online and kickstart my business digitally.
How are you finding studying Architecture at the University?
Architecture is a real passion of mine, I have done work experience in the past with my friends at Unit3 so I had a little insight into what to expect. The work load is challenging but as I have a clear drive and interest in architecture, all the work doesn't feel like a chore as I thrive to learn about new buildings and how they work around people and nature.
What are your top tips for aspiring illustrators?
Develop a style, whether this be a digital and drawn style. Work hard to enhance your style, try recreating pieces that others have done in your style. Adopting and developing a style is your identity so you should hold true to this. It is key to take every opportunity as it comes and keep developing your skills as there is much more than merely 'illustrating' to learn. You must enjoy what you do, what you illustrate, how you illustrate otherwise it will quickly become a chore and its something you should love to do!
Follow Callum on Instagram @hewittsketches and visit his Etsy shop here.