Michael Wilford comments the progress towards the new LSA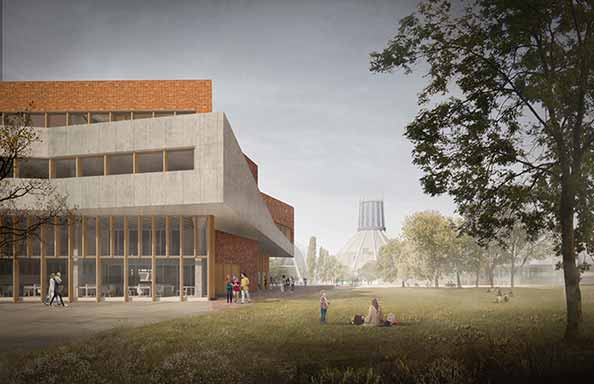 It is very encouraging to observe the LSA project following its most recent stage of development and watch it grow out of the initial embryonic idea apparent in the competition winning design into a stimulating mature building.
What is particularly exciting is the manner in which the new extension is expressed as the latest in a series of three buildings accommodating the School, each reflecting the architectural period in which they were built. The sequence progresses from the formality of the Georgian terraces addressing Abercromby Square, through the less rigid Reilly/Stirling at the centre of the composition, to the dynamic informality of the ODT Building forming a key element of the heart of the University Masterplan.
The three buildings express the primary activities each contains – offices/workshops/studios – and are woven together by a diagonal circulation system, linking the major spaces both in plan and at the variety of existing floor levels in section.
The construction and cladding materials used in each of the three building elements provide a demonstration of how buildings can proudly express the preoccupations and ethical philosophies of the eras in which they are designed and constructed.
The new LSA has the potential to be a remarkable building both for the University and the School of Architecture. Truly exemplary architecture at the focus of the academic community.
Michael Wilford, visiting professor, LSA
Despite the global pandemic, the University of Liverpool remains committed to creating a forward-thinking campus that meets staff, student and visitor needs: the Liverpool School of Architecture remains a prime objective in achieving that goal. Approval has been given to progress design through to RIBA stage 4 for which there will be a review in the Autumn 2021.
More info on the Architects' Journal