Dr David Chow made guest editor for Special Issue "Climate Change and the Built Environment" in the journal Sustainability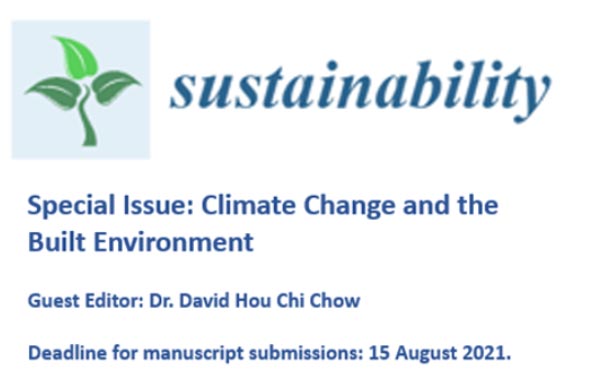 With over 20 years of experience in this field of research, Dr David Hou Chi Chow was made the guest editor for the Special Issue on "Climate Change and the Built Environment" in the international journal Sustainability.
David (Daveed) is an expert on future climate change and its effects on the built environment. His main research interests are in the field of how energy consumption in different types of buildings will be affected by future climate change, as a result of excessive greenhouse gas emissions, as well as further urbanisation resulting in increasing urban heat island effects (including in rapidly developing economies such as China and the Middle-East). Recently, his PhD students have completed their studies looking at passive means of coping with future climate change in places such as Saudi Arabia, Indonesia, and China.
Buildings are large consumers of energy and as a result, also high emitters of carbon dioxide. Building designers need to produce buildings that will not only mitigate the effects of climate change but also adapt to the changes that will inevitably happen in the next few decades.
David hopes this Special Issue will bring together ongoing research from around the world so we can learn the effects of climate change have on buildings and what can be done to improve building performance under climate change. Topics include case-studies, computer-model simulations, generation of climate-change weather files, effects of urban heat islands, and implementation of carbon reduction policies.
Further information can be found here on the journal website