CAVA Production Wins 2020 Global AI Film Award
Winner of 2020 TVE Global Sustainability Film Awards
We are pleased to announce that the CAVA team Monika Koeck (Producer/Director, CineTecture) and Richard Koeck (Executive Producer, Director of CAVA) have won the tve 2020 Global Sustainability Film Award in the digital innovation category "Artificial Intelligence (AI)". Their documentary film Coronavirus Pandemic: Making Safer Emergency Hospitals received several accolades this year, and also won the 2020 The Impact DOCS Awards Competition (see below).

‍THE FILM
The film was produced in collaboration with Prof Andrew Woods (Cambridge University, BPI) and Prof Alan Short (Cambridge University, Architecture), whose research aims to intervene in the current Covid-19 pandemic with the development of a series of practical architectural design solutions. Monika and Richard have produced a creative research output – using sophisticated digital film and animation techniques – that show how the concentration of airborne virus, experienced by patients and healthcare workers in buildings and makeshift hospitals in the wake of the Corona Virus crisis all over the world, can be significantly reduced.

The film was jointly funded by the University of Liverpool (Covid19 ODA Response Grant/GCRF) and BP Institute, Cambridge University and forms part of a major initiative to Impact architectural design and public policy in relation to the Covid-19 pandemic.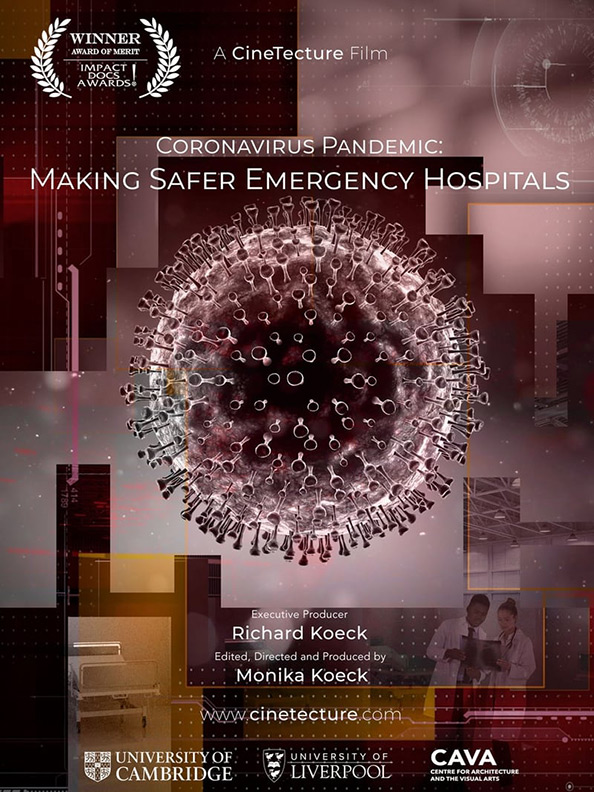 ‍THE tve AWARD
The tve awards recognise films that are sitting at the forefront of environmental and social change and which inspire audiences with real world solutions for a more sustainable future. Launched nine years ago, recipients of this prestigious award have included major international film/TV/broadcast companies, such as the BBC with David Attenborough's documentary "Blue Planet" in 2018. Monika Koeck's work and CineTecture have an unprecedented record with tve. After 2013 and 2019, this is the third time that Monika Koeck and CineTecture have been recognised with a first prize of the tve film awards. The award ceremony typically takes place at the BAFTA (home of the British Academy of Film and Television Arts); the 2020 ceremonies took place as on online event.

CAVA & CineTecture
CAVA and CineTecture has a long track record of successful co-productions at the intersection of research and creative filmmaking. Founded in 2007 by Monika and Richard Koeck, CineTecture specialises in film and media productions focusing on research, impact, and public engagement in relation to art, architecture and cities. Previous broadcasts, films and installations produced by CineTecture have featured in festivals, galleries and national museums worldwide.