AJ Student Prize 2020 nominees revealed
The School has also announced its two nominations for the AJ Student Prize 2020. Open to all RIBA and ARB accredited schools and courses across the country, the prize, now in its third year, has seen submissions from 54 schools of architecture. Judging for the prize will take place in September with the results announced later in the month.
In the Undergraduate category, Daniel Pritchard-Clarke's project The Space Between was nominated.
Tutor citation In beautifully drawn depictions, this project has carefully crafted moments of flexible spatial experience, combining responses to economic, climatic and social challenges into a manifesto, strategy and detailed propositions. Transitions from public to private domains across thresholds are subtle, accessible, low-impact and humane and the proposal offers layers of delightful moments and mechanisms to achieve and exceed the brief. This is an understated, careful and elegantly communicated project. Sandy Britton, Sarah Green, Tony Lees, Giles Wheeldon and James Nichols
In the Postgraduate category, the project Counterpoint: Towards an Urban Dialectic by Andrew Lane, Patrick Dunne, and Matthew Thompsonwas nominated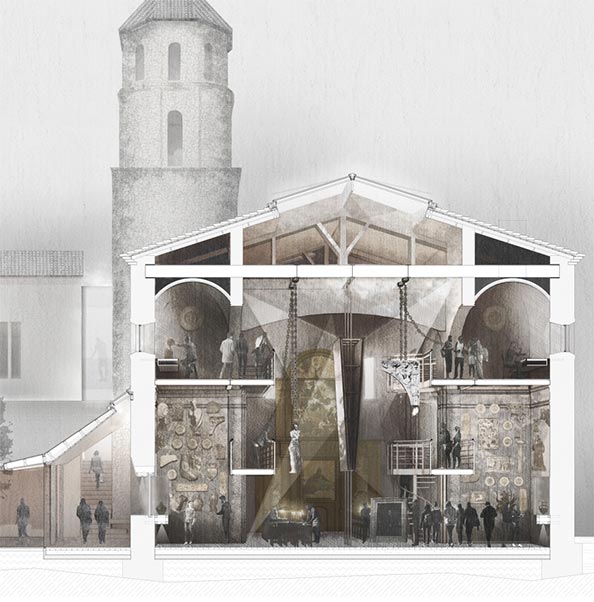 Tutor citation This excellent design thesis focuses on the development of a regional strategy and methodology to creatively tackle the problem of rural depopulation across Europe and the demise of historic sites. It projects a thoughtful assessment of the role of heritage in development, which has become increasingly critical in conservation-led heritage management. The thesis proposes an integrated, regional approach to resist depopulation and safeguard settlements from uncontrolled tourism. Soumyen Bandyopadhyay