Rethink 2025 Shortlisting Success for LSA Students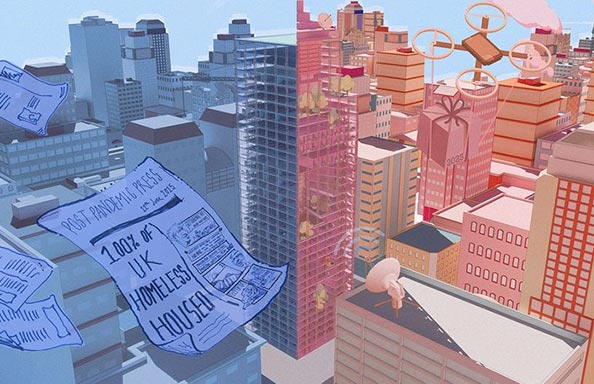 2018/19 graduates Benjamin Holland and Olivia Dolan together with UWE graduate Katie Williams are part of the 12 strong shortlist for Rethink 2025.
Rethink 2025, organised by the RIBA, looks at the design possibilities for a post Covid world of 2025. With an emphasis on how the pandemic has changed human interaction and how Architecture and design can alleviate the worst effects, entries were open to all members of the RIBA.
Their entry, Get Everyone In, looks at the problems of homelessness and empty units with the RIBA comenting:
"A clever mix of political cartoon, reuse and repurposing. 'It neatly ties together issues around homelessness and empty units. It is a solution that made sense,' said Sarah Castle. PM Boris Johnson is seen pledging to get everyone in and bring the homeless off the streets during the pandemic, a promise that has now run out. The proposed reworking of an office tower sees communal health facilities on ground level, brings nature into with gardens at the mid level and has a plan for translating a deep plan office floor into hostel-style bedrooms on upper floors. There is also a space left for some office workers. The entry text spells it out this investment in social infrastructure: 'With the government using funds to lease redundant floors, instead of investing in short term fixes, we can reduce the rent overheads of big businesses who have benefit hard by the pandemic and have a reduced need for their office space."
You can read more about Rethink 2025 here